Is Survey Money Machines Legit?  
Allegedly Survey Money Machines was created by Hailey Yates in 2005 – a long time ago now!  So, according to the website, Hailey was a stay at home mother who has made a tonne of cash just by filling out surveys online.
To be fair, it does say on the front page that you WON'T get rich doing this, so at least they're honest about that.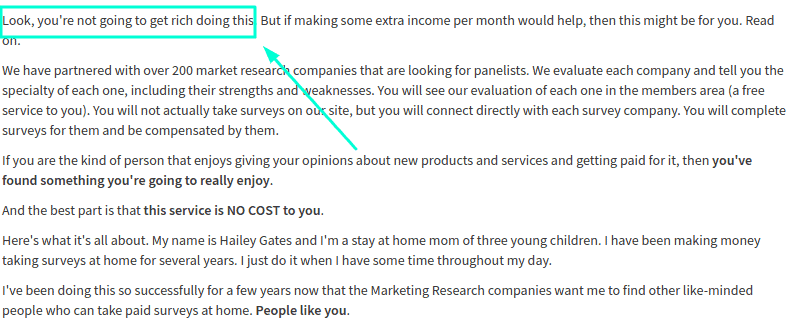 It's a familiar little story about the stay at home mother and the survey taking to make extra cash, it's a bit of BS – but at least she's not saying you can quit your job for this.
There are parents all over the globe looking for a way to make a bit of extra money from home and stay-at-home moms, (or mums, as we say in the UK!) are a prime target for scams.
They're always going to be a natural target – not just for scams of course, but any work-from-home based opportunity.
Because so many mothers, (and fathers too, lets not forget those) are looking for a way they can bring in some money, but still stay at home and look after their kids.
I should know, I was one of them myself!  I really was one of those people searching for weeks online for some legitimate way I could make money from home.
It wasn't easy, it's a bit of a maze once you get searching and I pretty much started to think that most things online could potentially be a scam.
I tried survey sites too, but they were just too frustrating to do for long.  Initially, I entered competitions/sweepstakes online and I had some success with that, but it wasn't a reliable source of income.
After feeling that the sweepstake area was becoming too difficult to get a good return, I eventually stumbled across affiliate marketing and saw some potential there.
The thing is, once you do start to learn about the legitimate opportunities online, you're much more likely to take a chance on them.
Which is also why I recently started my own Tshirt business this year, with Merch By Amazon.  I saw an opportunity, I knew right away it was legit and I took action on it right away.
So, What About Survey Money Machines!?  Is THIS a legit opportunity?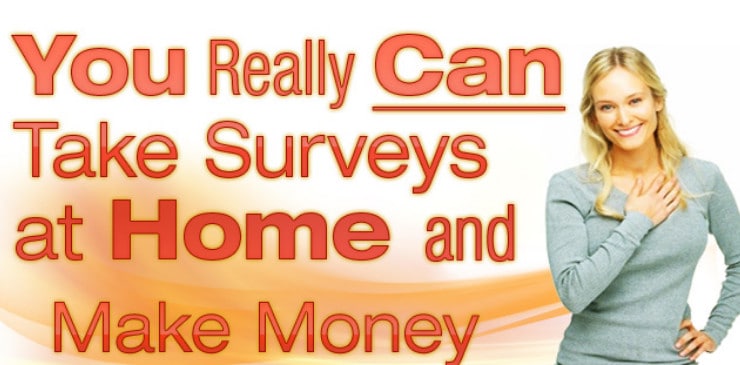 Survey Money Machines is actually not a "real," survey site at all, but a middleman company like survey sheep, (which I just reviewed here).
This website is completely free to join.  However, this site, (or "Hailey," if she is in fact a real individual) will be earning commissions for you signing up via their links.
There's nothing wrong with this, you won't lose out anything by signing up via them and you won't have to pay anything, this is just what affiliate marketing involves.
Survey Money Machines ARE providing a service of sorts, it's just not a very good one.
Essentially they're linking you up with survey sites online, that mostly look legit and they will get some reward for doing so.
But these are all sites that you could find online yourself, they're not specially selected for you, they're not all the best survey sites out there.
The survey sites they're offering will just be ones that they have some affiliate relationship with.
For example; there are many survey sites out there that have referral programs attached to them.
I recommend various products or services via this blog, but I won't just recommend something because they have an affiliate program attached, I have to actually think the product is decent and good quality.
Signing Up With Survey Money Machines:
Signing you was simple by simply adding my email address and name.  However, they did ask me if I'd like to be "fast tracked," to receive the highest paying surveys, for signing up to their newsletter.
Immediately, this just sounds like a ploy to get you on their email list and potentially receiving spam from their sponsors.
When I arrived, I was half expecting a whole list of survey companies.  But actually, there were only three available. 
I was instructed that I needed to sign up for these three now and that after I'd signed up, I would be shown another 5 companies that "match my profile."
The lame thing is here, that none of the companies they show you have anything to do with your profile!
They're just directing you to the survey sites that best suit them, depending on what commission they're earning.
The initial three survey companies I was introduced to were:
Two of which I have reviewed and signed up to in the past and they're linked to above.
So, they're legit sites – they're not sending you to total scams here.  But they're certainly not without their faults either!
Survey Money Machines Pros Vs Cons:
PROS
Various signs about the website telling you that this is NOT a get rich quick scheme, so at least they try and put that out there.
May be useful for people who have no previous knowledge of survey sites and don't want to put the time in to research them.
CONS
Some false money/income claims:
They claim you can earn $1-$32 a survey.  I have never in my life seen a survey pay $32.  Usually, the the most you'll make is anything from under a dollar, to $2.
You'll likely get spammed if you use your regular email address to sign up, (I always suggest having a totally separate email address for survey sites).
Surveys can take forever to complete, (that's just the case with survey sites!).
You will get disqualified/thrown off surveys often, (again, one of the most common complaints against survey sites).
Conclusion:  Is Survey Money Machines Legit?  
Survey money machines may give you some false expectations, but despite what it looks like on their homepage, (a scam!) it's pretty much what it says it is.
They're not a survey company in their own right, but essentially like a portal into other survey sites.
They just introduce you to other sites where you can potentially make money – and, (from what I've seen thus far) they're directing you to some of the big name survey sites that have been around for years.
So, really, it's the sort of site that someone might go to that has no idea about what survey sites are out there, nor which are legitimate ones to sign up to.
It means the process is made pretty straight forward for someone that doesn't want to research the companies, or seek out which ones may suit them best.
Do you have any experience with Survey Money Machines?  I'd love to hear your stories, leave me a comment below!
All the best,