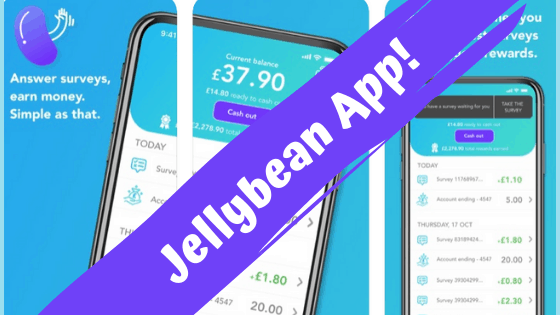 Can you really make money with the Jellybean Survey App? Well, there are a zillion apps available these days that claim to help you make or win money via apps.
But it's worth knowing going into it, that it's generally pocket money at best and aren't a serious way to make an additional income.
Jellybean is currently only open to the residents on the UK.
As far as paid surveys go, you can only make a very small amount of money if you're very persistent with them & reach the payout threshold.
While you may be inclined to think that SOMETHING is better than nothing, some of these Apps can be pretty dull & difficult to make money with.
But what about the Jellybean App?
My initial impression was that this was quite a cute looking App. I found it while browsing the App Store and it's also available on Google Play.
How Does Jellybean Work?
Jellybean is a paid survey App, that will theoretically allow you to earn money for completing paid surveys.
There are many survey sites available online, but not as many via Apps.
(For reward site apps, my favourite is this one).
Just download the app via the App Store, or Google Play – it's free to do.
You'll then be prompted to open an account, you will need your full name, email address and password here.
You'll then be taken to a basic dashboard – when I arrived, it said my first survey was waiting for me.
But first, I seemed to be taken to a profiling questionnaire – which was quite long, around 10 minutes or so I think.
This is where they ask you things like, what your household income is, what your occupation is and what you do in your free time outside.
When I'd finished this, there was a survey waiting for me to complete.
However, when I clicked the link to go into it, the screen was blank and the only message available to me said, "loading survey."
Then I had another message telling me that there were no surveys available right now.
Overall, pretty disappointing because there were no other surveys to do and no explanation for how long they would take.
However, around 10 minutes later – another survey appeared.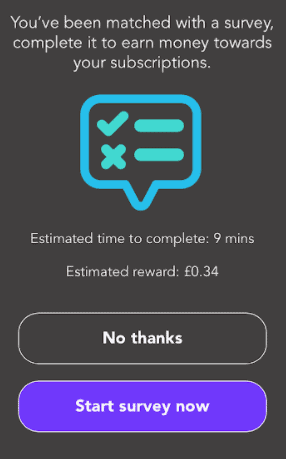 Only 34 pence on offer for a 9 minute survey, but it was a start.
Unfortunately I didn't qualify for the survey and was only able to complete part of it before it shook me off. 🙁
The next day, I was offered another survey in the morning – this time 15 minutes for £1.
I had to answer a whole bunch of profiling questions, to see if I was a match.
This probably took at least 3-5 minutes on their own and then I was told I didn't qualify for this survey either!
This is the main problem with surveys, not being able to qualify and you can imagine spending hours merely trying to qualify for a single survey.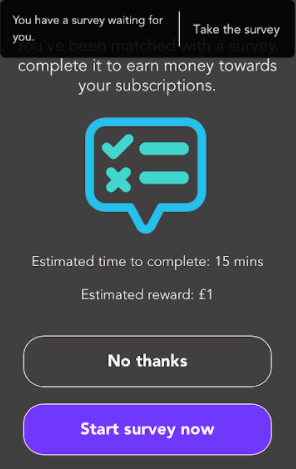 Not qualifying for surveys is the norm for most people, so you do have to be a patient and persistent type of person to stick with them.
Jellybean Seems…. very Basic?
There was really a limited amount going on here. It's possible they may add to it over time, it seems it only just started this year.
It may be that in this time in 2020, there just aren't many surveys about in any case.
This could be due to people not being in work of course but, more than this, any spend on advertising has drastically reduced in many cases for most businesses.
I thought I'd at least find some information on the app itself, a disclaimer or some T&Cs on the app, but I couldn't see anything obvious.
However, they do have their terms available on their website.
I'd just like to see a little more going on… Right now, there is literally just a dashboard where you can see how much you've made.
That's why I prefer more interactive sites like Swagbucks, because they have many more additional ways you can make & save money.
Feedback For Jellybean App
Understandably, because this is a new App – there are not many reviews out there right now.
At the time of writing, there are only 9 ratings for this App on the App store, with an average of 4.4 stars out of 5.
It looks like there a couple of lower ratings out of that small bunch.
However, there aren't written reviews yet, just ratings.
What About Cashing Out?
One good thing about this App, is that the cashout threshold is relatively low.
You need £5 in total to cash out and seeing as some surveys appear to be around the £1 mark, you may only need to do five of such surveys to cashout.
But you actually need to be able to complete surveys… If you're going to make any money and these seem sparse.
It doesn't state on the App how you can withdraw your cash and I initially presumed it was PayPal…….. but I was wrong.
If you go to their website, it actually says you'll get paid into your bank account ………. but that could take 30 days!!!!
With a majority of sites and Apps paying by PayPal now, or via giftcards, this would be the ultimate deal breaker for me.
Bad enough that it could take you a long time just to reach the cashout amount…. but then you have to wait 30 days to get it!?!
Is Jellybean Survey App Worth It?
From what I have briefly seen so far, it's not for me.
I've only been offered a couple of surveys and I haven't qualified for either of them.
While you only need £5 to cashout, you then need to wait 30 days to get paid when you do.
Most of all, there is barely anything going on here. You may or may not be offered a survey to complete, but that's all that's going on.
Hopefully they will improve the App in the future, but for now – it's not happening for me!
Aside From Apps – What Else Is There?
I enjoy trying out Apps, but for the most part – the actual pay is terrible for the amount of effort you need to put in.
Payout wise, doing usability testing pays more and you can do some of those via your phone, (this is where you can test out new websites & apps and provide feedback).
As far as making money in the long term – see what 10 side hustles I've tried in recent years.
Do you have any survey app recommendations? I'd love to know…. Let me know in the comments!