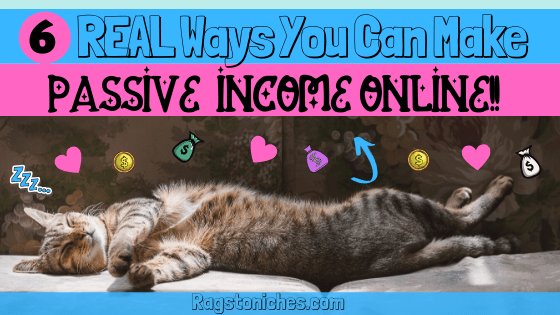 Making money in your sleep, or making money in your Pajamas are terms very frequently tossed around online, because they sound so appealing.
But what does passive income really mean? Does it mean you can just sit around in your PJ's all day doing nothing and see the cash roll in?
Well, no. At least, not initially.
When it comes to passive income, most of the work is done at the beginning. The work is front loaded.
This initial period of time where you are building, is the most difficult but eventually, you can experience money coming in, without the same amount of work to maintain it.
How much work you need to do to maintain your income depends on the opportunity and also whether you're working to BUILD your income further.
Building passive income MAY require you working for a long time without making any money at all.
That's the investment you make to reap the rewards later on.
I believe that building passive income, is by far the most beneficial things you can ever do.
This is why I have focused on attempting to build several passive income streams over the last several years.
Some haven't worked so well, some I've got bored with and given up, others I've had varying levels of success with.
You won't always succeed at the things you attempt, but if you want to generate passive income badly enough……. You will get there in the end.
Today I'm going to outline 6 potential ways you could start building passive income today and all of them you can start for free.
1. YouTube Videos:
yes tonnes of people are on YouTube from all ages and you may be thinking it's really over saturated.
But actually, that's not the case. The obvious way to make money is from Ads, but you need a massive audience and how much you make depends on the niche you target and how much advertisers pay in your space.
Some YouTubers will upload videos every day in the beginning. But hold on… it's not all about Ads.
You can write product reviews and use affiliate links to generate commissions and you can also successfully use YouTube to drive traffic to your blog or website.
2. Create Online Courses:
Online education is a growing industry and people love video courses, which are much easier to create than you may think.
You don't have to be an expert in your field, you just need to know more than the people looking to learn about it.
This is even better if you already have an audience online – for example; a blog or website.
Websites such as Teachable make it easy to create your own online courses that you can sell on your own blog, promote online and even have affiliates promote your course for you.
But you could also create courses on well-known platforms such as; UDEMY.
Udemy have some great courses available that can teach you, from scratch, how to create your own profitable online course.
3. Make Money Blogging:
While making money blogging isn't going to easy for most people, it is something I highly recommend as a long-term goal.
In other words, this is not something that most people will just pick up and start making money within a couple of months…. It CAN happen, (for example; Anastasia Blogger has amazing results using Pinterest).
I've been blogging now for around five years and at some points I was writing posts around 3 or 4 times per week to try and generate traffic.
Blogging is no longer my no.1 income source, so I have reduced my input to only one or two posts per week and still make a regular income from Ads and affiliate marketing.
This could be as low at around $500 a month, but over some months it's been over $2500 a month. So, It's not just pocket change!
Check out my free guide to creating a money making blog here.
4. Affiliate Marketing:
One way that many bloggers or YouTubers make money is via affiliate marketing but it's such a huge area, it's worth mentioning on its own.
Affiliate marketing involves recommending products and services via tracking links that are personal to you.
When someone goes via your tracking link to a product or service and makes a purchase, you will earn a commission.
One of the most famous affiliate programs for beginners is Amazon, however there are thousands of programs available online.
One of the best ways to make money with affiliate marketing is to have a niche blog or website that has fairly narrow content.
Because, that way you are providing your reader with the exact recommendations that your audience are already looking for and your conversion rates are going to be higher.
That being said, general lifestyle bloggers have also had great success with affiliate marketing too.
The thing with niche sites is, you generally need a lot LESS website traffic to make regular sales.
Related: How to make your first affiliate sale.
5. Printables & Ebooks:
All these sorts of products are great because they all involve something that you can create once and then can sell multiple times over.
Printables are popular on platforms such as Etsy – but if you're in the USA, you may also be interested in Amazon Ignite for creating teaching related resources.
You can easily create ebooks online, using the Kindle Direct Publishing platform.
They have some really great free guides to help you get started and you don't need to stop at ebooks – Amazon also print paperbacks, (see below).
If you already have a blog or website, an ebook could provide your readers with valuable content.
This could be something you could give away for free, in exchange for someone joining your list, for example.
You can also put links to your blog or website within your ebook and this could be an additional way to generate traffic.
One way you can simply and easily create Printables for free, when you don't have any great design skills, is via CANVA.
Canva is a brilliant design program that you can use directly online, without needing to download anything and their free membership provides tonnes of value.
I've used Canva for years now and use it every – single – day… Check out the video below that shows you one way you could create a Printable to sell on Etsy.
6. Paperback Books On Amazon:
As well as ebooks, (or audiobooks!) – it's also now very easy to publish your own paperback books to sell on the Amazon platform.
Not only can you publish your own fiction or non-fiction books, but you can also sell low content books.
Low content books include things like notebooks, journals, planners, activity books, colouring books and so on.
This is something I decided to get into towards the end of 2019 and is now one of my main income sources.
Having very limited design skills myself, I am gradually trying to build up my skill set over time.
Having had some limited success selling Tshirts online, (with my own designs… I tried!). So, I'd had some experience with print on demand before I started this.
To briefly explain print-on-demand… this is where all the printing and shipping is down for you.
You can simply upload a PDF file to Amazon containing your book cover and interior and they will do all the printing and shipping of your book.
You will then earn a commission per book sold. In my own case, this is generally $2-$3 per book.
How much profit you make per book, will depend on things like – how many pages your book has and how highly you price your book.
This may not sound like much, but if you start getting a bunch of books selling on a daily basis, it can certainly add up.
Another great thing about Amazon KDP, is that you can sell on multiple platforms across the World.
Related: 8 Reasons Why KDP Is Better Than Merch.
Low content aside, if you've always wanted to be a writer – you don't have to try and go down the traditional publishing route.
Amazon has made it possible create and sell your own paperback books, for FREE and earn some pretty good royalties.
You can also sell your book as an ebook in the kindle store & even create an audiobook version using ACX.com.
Pin Me For Later!
What About You?
So, those are just 6 ways you could potentially generate passive income & make money in your Pajamas…
But there are many more. If your passive income opportunity of choice is missing, let me know what works for you in the comments below!
When I first came online, the first way I started to generate sales, was via affiliate marketing on my website.
If you'd like to do the same, I started learning here for free!
All the best!