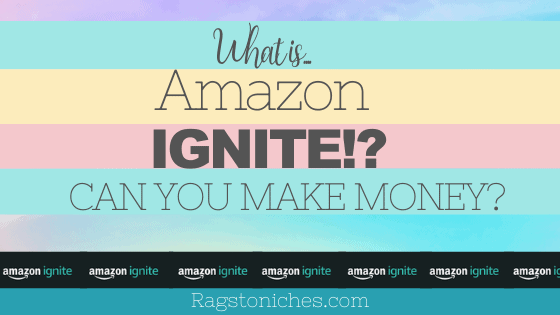 What is Amazon Ignite? Could this be yet another way to make money on the Amazon platform?
Why, yes it is indeed.
But this is brand new info to me – so new in fact, that I can't even participate in it yet, as it's only open to US residents.
But I wanted to bring this info to you, as I'm sure there are plenty of you guys that could take advantage of this.
If you're new to my blog, I have been making money with Amazon for a number of years.
As an Amazon affiliate, selling T-shirts & other clothing items with Merch By Amazon and most recently, self-publishing books with KDP, with Amazon.
So, What Is Amazon Ignite?
This platform is a space on the Amazon platform, where you can buy teaching rescourses and sell to parents or teachers.
There are many different types of content you could create here – from work sheets, to lesson plans, posters, charts, games and even print out classroom decorations.
Printables are something that are already really popular on platforms such as Etsy, so it looks like Amazon are trying to capitalise on this opportunity too.
You don't have to be a teacher to sign up to this, but they do want original content that you have created yourself.
Right now, the application process seems a lot like Merch By Amazon, in that it is invite only.
All that really means, is you have to fill out a basic information form and they will either accept you on to the program or not.
Don't worry though, I do know of people that have been accepted and they didn't have any specialist skills or anything like that…
Despite the fact that Amazon talks in the video below about being a "K- through 12," educator – you aren't currently required to be a teacher to join Ignite and you don't need any particular qualifications.
It's simply a case of filling in some basic information in their application and getting started.
What Can You Sell On Amazon Ignite?
You can sell unique, original teaching resources that are educational in nature – although things like classroom decor related items are also accepted.
You will need to own the rights to your own material – just as you would with your Merch shirts, or KDP books.
There are various files you can upload on to the platform, so there should be no boundaries for anyone creating and uploading mateiral.
How Much Can You Make On Amazon Ignite?
You will receive a 70% royalty on all of your sales.
But if your products are priced under $2.99, there will be a $0.30 fee to pay.
Payment wise, it will be monthly via direct debit.
You also aren't "locked in," to solely selling on Amazon.
So, if you already sell your printables on Etsy, that's no problem and you can continue to do that.
Below is an example of the type of thing you could upload to Amazon, the product below is currently available to buy on Etsy.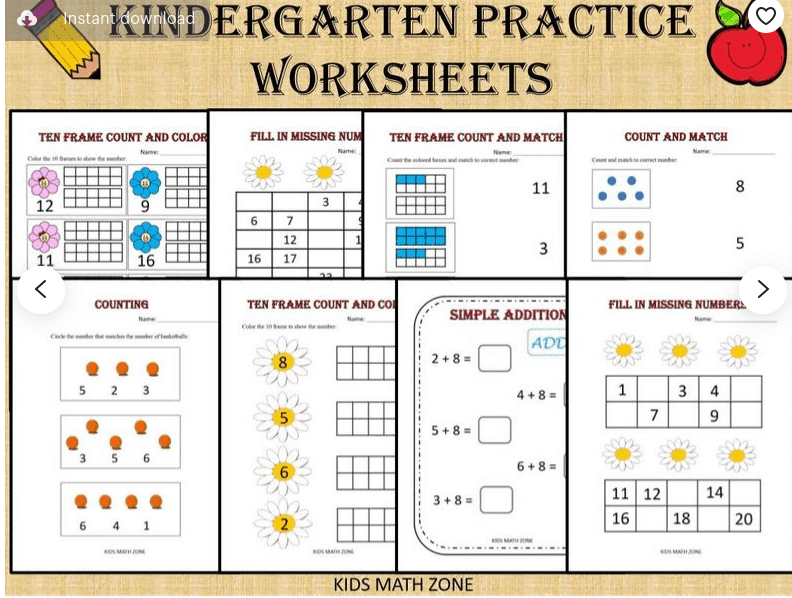 How Do You Join Amazon Ignite?
You can sign up here and request an invite.
They only ask basic questions – such as your name/email.
They ask for a website URL – so, if you do have a website related to this, (such as selling your own printables or teaching resources) then definitely add it.
They then ask how many digital resources you are intending to sell and what grades you're intending to concentrate on.
They're looking for resources for everything from Kindergarten, up to grade 12.
Obviously, whatever you do say here won't be fixed – so, if you say you're going to create resources for grades 6 and 8, but then decide to go with earlier grades, it doesn't matter.
There is then a section to talk about anything else you think they should know.
Here is a good space to mention any experience you have, should you have any.
If not, you can just say something along the lines of…. That you're excited to create valuable teaching resources to teachers and parents and look forward to contributing.
How Do You Get Started?
If you're anything like me, your mind may have felt a little blank at first, wondering where you'll get your ideas.
One thing you can check initially, is what is ALREADY on Amazon right now.
Go to Amazon and go to the category: "Digital Educational Resources." Which is the correct category.
It's tricky to determine from Amazon alone, what is good to go for!
Because there is no BSR rating and so, you can't see what is popular and what is actually selling.
You might want to check out teacherspayteachers.com – which is doing a similar thing and give you ideas.
You could also check ETSY for teaching resources and as an offline option – what about checking out books in your local bookstore?
There are tonnes of education books out there that can give you plenty of ideas when it comes to activity sheets.
While you don't want to straight up copy other peoples work, you can take inspiration from these things and come up with your own ideas.
Also, it's a good idea to check out the common core math standards and the English Language Arts core standards, which can help guide you.
Remember though, you don't have to create something really complex – start simple and just get something done.
You have to start somewhere and it's better to learn as you go, rather than just get stuck in the research stage.
So, start with something super simple, (unless you're already experienced in this area of course!) and then expand your knowledge and expertise as you go.
Other Ways To Make Money On Amazon?
There are various ways that you can make money with Amazon, from being an affiliate, to being a self-employed delivery person with Amazon Flex.
I wrote about some of these opportunities here.
For me, as I write this, I've had the most Success with Amazon with self publishing.
But I also continue to make some money as an Amazon Associate and with Merch By Amazon.
Amazon is such a huge platform now and is continuing to provide people with new opportunities to earn money from home.
Amazon Ignite is simply the new opportunity right now….. What do you think will be next?
Should You Just Rely On Amazon?
Making money with Amazon is fantastic – but the idea of relying SOLELY on that in the long term, makes me nervous.
That's why my aim has always been to build different income streams and not rely on just one…
Granted… Several of mine right now are with Amazon! ? BUT….
My main income streams is unconnected to Amazon and that's my website.
Having your own blog or website is worthwhile because it's something you can grow over time, something solely you own and you can earn from it in a variety of ways.
Whether you get paid via paid advertising, affiliate marketing, or selling your own products, there are many opportunities.
If you'd like to learn how to do that – I recommend the free training here.
It's where I first got started!
So, what do you think about Amazon Ignite… Are you going to give it a go? Let me know in the comments!
Save For Later…