What's this Lucky Now App claiming you can make money for free… Is Lucky Now App legit & can you really win cash for zero dollars?
Welcome if you're new to Rags To Niches, I have reviewed quite a tonne of these Apps & tried them out over the last year or so.
I love to hear about your experiences with these Apps, so if you have anything to say about this, (or any other related App) please let me know in the comments!
So, what is Lucky Now? Well, it looks practically identical to an App I just reviewed called Lucky Go.
It's an App that includes games like free scratchers, raffles and lotto games.
You can build up cash wins and get gift card rewards – both from cash wins and saving up your gold coins.
The games are fun to play, but winning real cash is going to be the challenge here!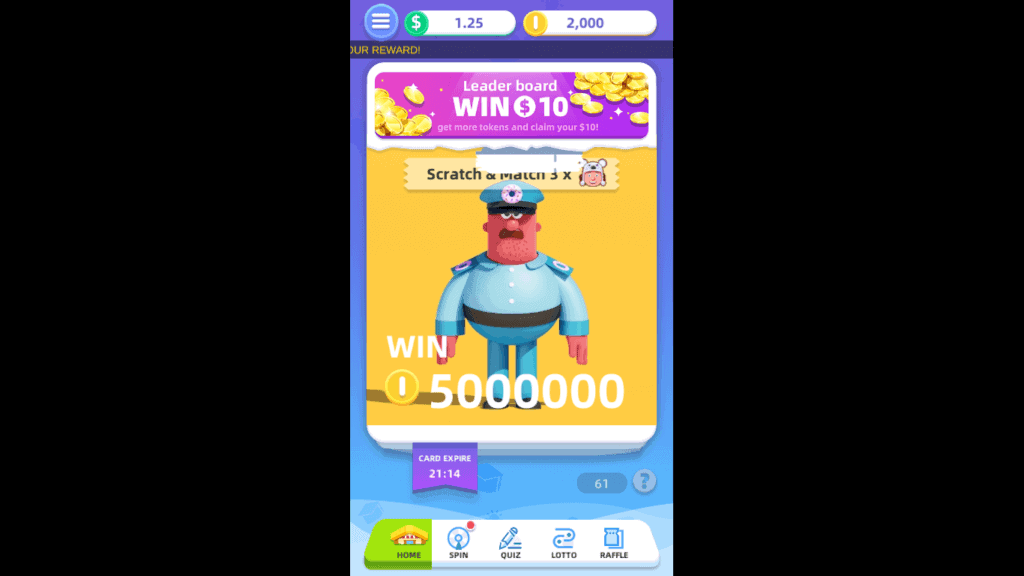 want to make more long-term? This place showed me how.
Lucky Now App First Impressions:
This App has a cute design, graphics and sound effects.
It's easy to login & get started right away as soon as you've downloaded it and it's very clear to know what to do next.
Immediately I was confronted with my first Scratcher and I won $1 and 2000 gold coins.
The next scratchcard I tried, I won $0.25.
During the next go, I got a free entry into the hourly $1 free raffle, (spoiler… I didn't win it).
After this, I needed to watch an Ad to unlock more games. You can also double some wins, by watching another Ad.
Want to make & save money online – get a $5 bonus for trying this free.
Why All The Ads?
This is how Apps like this can give away money and make these Apps completely free to play.
The creators will get money per Ad shown to their users – but ultimately a portion of their profits will be given away in prizes.
It can be annoying to be constantly be interrupted, but if it's how you get these games for free – it's just the way it is for now!
What Games Are Included On Lucky Now?
Scratchcards – Various scratch cards with cute graphics, real cash prizes and gold coins to win.
Spin To win Wheel Game – Spin the wheel to win cash prizes and gold coins.
Quiz Game – answer quiz questions to win coins & other mystery prizes when you answer 30 questions.
With the Quiz game, I reached 30 questions and the mystery prizes included: 20,000 coins, 5000 coins, $0.05 and $0.08.
A bit of an anti climax, as I thought these mysteries would be a bit more exciting. I won 20,000 coins.
Lotto Games – You can win up to $100,000 with 6 numbers in Lotto, but I don't like your odds!
That said, the odds of winning just $5 on the Lotto game are also insanely low.
I'm imagining that a bunch of these similar App all share the grand prize across multiple different Apps.
You can check out the odds of winning different prizes in the lotto below! Many people don't think to check these out, but they're pretty enlightening!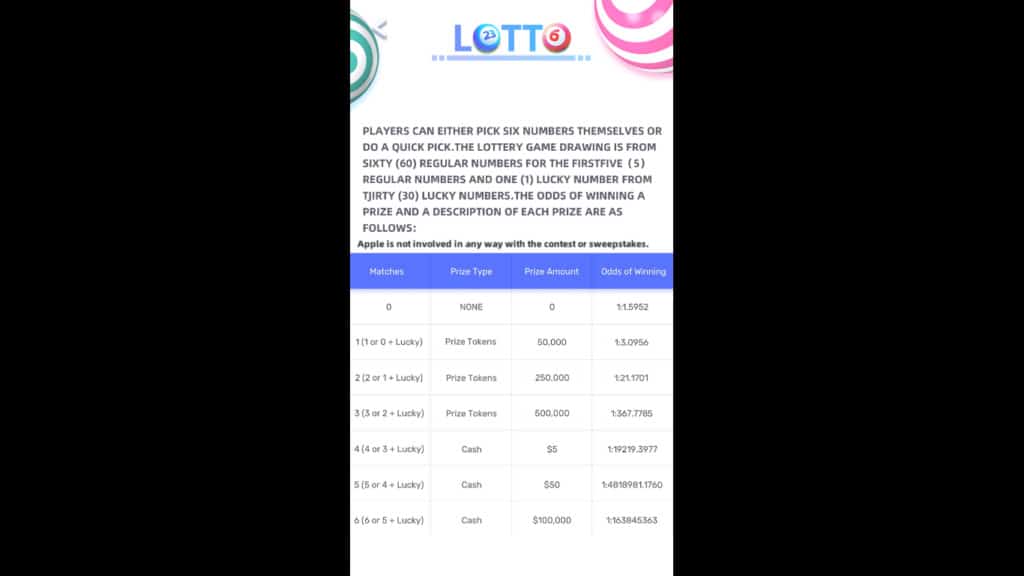 Raffles – There are also daily, weekly and monthly raffles where you can win up to $1000. You can play spin to win games to get more free raffle tickets.
Cashing Out With Lucky Now App:
If you're "lucky," enough to actually win any money on this App, you may be wondering how much you have to win to cash out… and how you do it.
Well, you need $10 in winnings to cash out with either PayPal or Epayments – which isn't bad!
However, with similar Apps like Lucky Day, which also has a threshold of $10, many people claim they get stuck before they can cash out and don't win anymore.
I've now seen that Lucky Scratch App are suggesting people do a "60 day challenge." – play every day for 60 days and they say you win money…. (presumably enough to cash out, although they don't say that!).
If you're lucky enough, (or persistent enough) to generate 20 million gold coins, you can get an awe inspiring…. $1. ?
What Do Other People Think Of Lucky Now?
Lucky Now is on the App Store & Google Play at the time of writing this.
On the App store, it has an average of 4.6 stars and close to 10k ratings so far.
Weirdly I saw one five star review that was calling it a scam…. must have made a mistake there!
Complaints claim that you can't actually reach $10…. that no one replies to their email, that there are glitches and too many Ads.
This year, a lot of people have complained that the App keeps closing. Those that like it just find it fun & addictive.
On Google Play, Lucky Now has over 2000 reviews and 4.4 stars on average.
Some people have claimed to win a real prize and then there to be a connection error & to have lost it – plus all the same complaints that can be found on the App Store.
As usual with these Apps, people say they get stuck just before they reach $10 and will spend months winning zero.
So, while the initial average score looks good – a lot of people do have negative opinions here.
Have you managed to cash out with Lucky Now App? Let me know in the comments.
Is Lucky Now Worth It?
It really should go without saying that if you're downloading this App PURELY with the hope of making tonnes of money, it's not worth it.
That is, it's not going to be worth it for the vast majority of people.
A teeny amount of people could get lucky and win a bigger prize.
If you forget about the money aspect, you may just enjoy. Some people find these a good substitute for the real thing.
If you find yourself spending loads of cash on REAL scratchcards or gambling, then you could try something like this instead.
Some people do get a bit of a thrill from doing them, even when they know their chance of a win is slim to none.
If you can get that thrill for free, why not?
If You're More Serious About Making Money:
If you've been searching around for some way to make, win, or save money online and aren't sure what to do…
I'd recommend that you stop looking for quick fixes and an easy solution and consider putting some work into something that can pay you in the long-term.
In my search to make money from online efforts, I've tried these side hustles.
But I still make the most today from my main blog here. From paid advertising & affiliate marketing.
I recommend trying this, if you'd like to learn about that.
That concludes my review for now — but please do leave a comment if you want to share anything!
I'd also love to hear from you, if you have had any luck with a similar App to this!