My Cash Freebies Review: A Scam?  Or Worth Investigating?
​My Cash Freebies and similar websites offer a popular way to make money online; because they are offering you a potential way to earn cash and prizes, for minimal to zero investment.
While there are some sites that are similar to My Cash Freebies that are scams, there are many others that are legitimate and do offer a genuine way to make money online.
My Cash Freebies claims to have set up in 2009 and You'll able to sign up from the following countries: USA, Canada, UK, Australia, Denmark, France, Germany and New Zealand.
In my cash freebies review, I will explain to you what this website is about, how it works; whether it's a legit opportunity or a scam and whether I recommend it to beginners.
If you have any questions about My Cash Freebies, or would like to share your own expeirence, please do leave me a comment below!
>>  To start building an income online long-term – try this out.
What Is My Cash Freebies?  How It Works!

The idea behind this website is simple enough and what it reminded me of initially was Cashcrate; as they do focus heavily on their referral program and also are based around cash offers, (although cashcrate also have paid surveys).
However, the way these guys operate is a little different and more similar to instant payday network.
So, simply put:  you sign up for free and then you complete some paid offers to earn credits.
Generally, this involves often signing up for a trial of a product, website, or membership program.
You fill in your details and you will need to save up credits in order to exchange them for cash or prizes later on.
These aren't all free offers however, some are paid.  You also have to carefully check the T&Cs for each offer.  You will need to cancel your membership with the free trial prior to being charged.
Although, I know with at least some offers, you do need to keep your subscription after the tial for a certain time period, or else you're not compensated.
Rules per offer will be unique, so you need to check this beforehand.
In addition to cash offers, they also have a referral program, (which means you're compensated for bringing others to My Cash Freebies to sign up) and they also have the opportunity to win prizes.
My Cash Freebie Offers:
Once you sign up, (which does require you to fill in your real address, name and telephone number) you will be sent to a page with a variety of offers.  See below for some examples.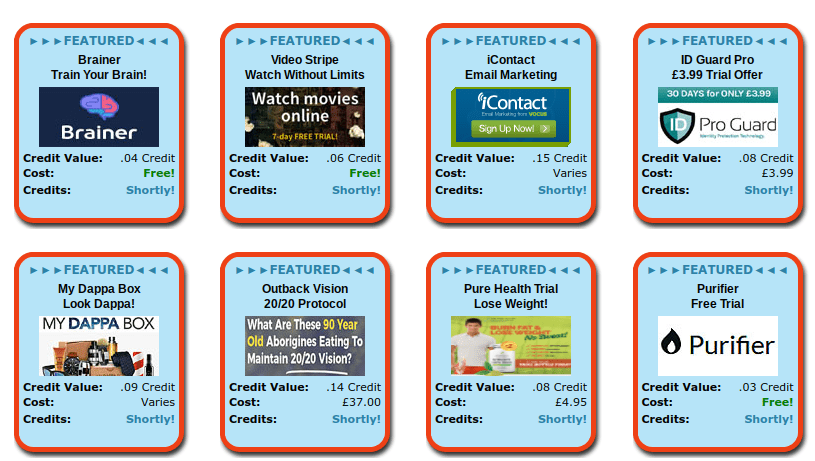 Each offer has a value.  Some offers may only be for a fraction of a credit, while others will be a full credit.   You need to earn a full credit to be eligible to withdraw awards and refer others.
There is also an instructional video letting you know how you should proceed.
The value you get per offer can vary wildly.  If you look carefully, you will see that you will get the most credits for things that you need to pay for.
So, I'm in the UK and the most I could get for an offer was 1 credit, but I'd have to sign up to WIlliam Hill Casino and deposit £20.
Casino type offers tend to be the highest paying when it comes to paid offers.
This doesn't suit me, as I've already signed up to a majority of casinos for matched betting opportunities.
But if you want to progress quickly to reach your initial credit, then taking up the higher offer opportunities is the way to go.
It's really important here to mention again, that if you do want to complete some offers – you will need to always check the T&Cs PER offer to avoid being charged.
Some offers will continue to take payment from your credit card on a monthly basis, if they're part of an ongoing membership, delivery service, or subscription.
This is where a lot of the complaints come in for these sorts of offers.  Many people complete them and then just forget to cancel.
In addition, some people have claimed to cancel these offers and continue to be charged.
Make sure you use a credit card that you have easy access to and only sign up to offers by reputable companies – if something doesn't look right, you could always research the company you're signing up to, prior to completing an offer.
How Many Offers Will Be Available?
What you're offered via My Cash Freebies may strongly relate to where you are from.
For example; I'm in the UK and there were 36 offers available to me – but for some people there may be more.
Personally, I would like to see a lot more variety of offers open to me.  There didn't seem to be a great deal of choice and aside from the casino offers, nothing that offered much in the way of credits.
The second largest credit opportunity available was for an online dating service!!!  Well… being married, that might put me in an awkward position, being discovered on match.com… 🙂
My Cash Freebies Referral Affiliate Program:
This website does seem to push their affiliate program quite significantly and there seems a variety of ways that you can earn a fair amount from the program, if you have a way of reaching a lot of people interested in making money in this way.
For example; if you have a large social media following, YouTube channel, or blog and you've made some money with my cash freebies, you could recommend to your audience that they do the same and earn a commission when they complete certain offers.
With a lot of "freebie sites," like survey related sites, their affiliate programs aren't particularly profitable unless you may have hundreds, or thousands of referrals and they need to be active – which most are not.
Alternatively, you can sign up to some affiliate programs that pay a fee straight away per sign up and that can be better, as so may do not end up taking action.
On the main page it says you can make $20 per referral; that is, once they have completed their initial offers up to the total of one credit.
I was initially a little confused about how their affiliate program works.  As you can select a "network," to sign up under and this determines how much you can make per referral.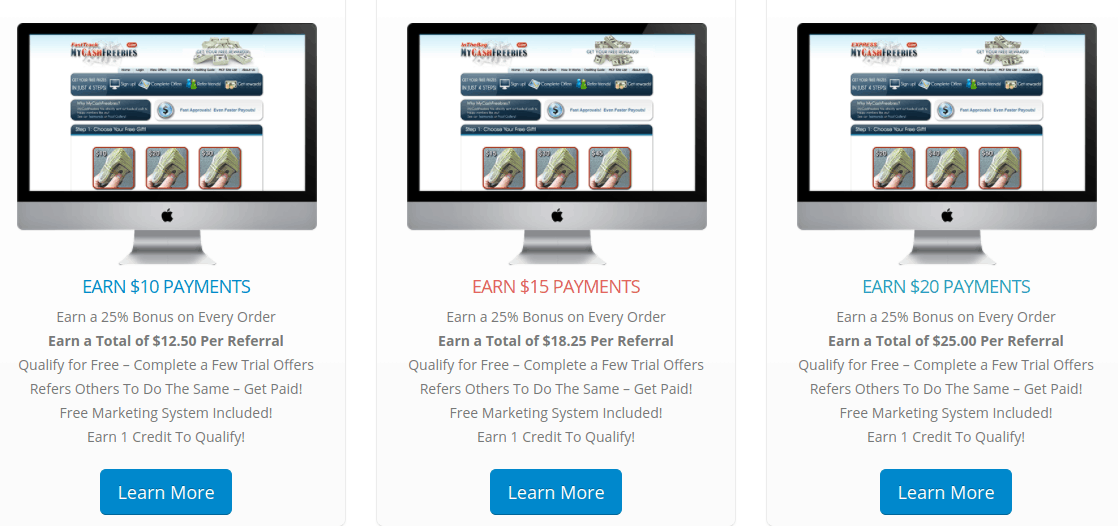 There were a variety of these options, right up to making up to $100 per referral.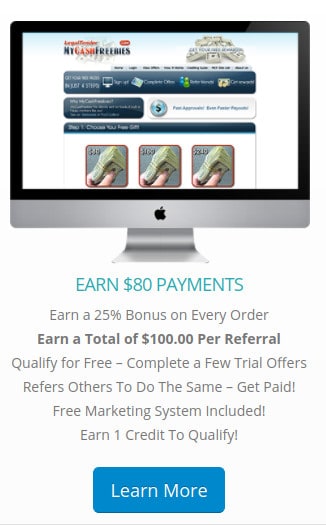 Which you choose would largely depend on how confident you are your referrals will be interested in completing the offers!
Because, if you choose a network that pays out a $100 commission per referrals, it's going to take you longer to achieve that commission, than it would if you select a $20 network.
As they will need to complete more offers to reach that threshold and therefore give you that commission.
So, let's say you choose the higher paying network, it may take your referral to complete 20 offers before you get paid anything, (total guess).
Whereas if you choose the $20 network, it may only take them a few offers before you get paid.
With that in mind, I'd probably go with the lower pay out, because you're likely to get far more of those.  People tend to get bored very quickly with this type of opportunity.
It looks to me as though people will try and earn from the affiliate program as soon as they've reached that 1 credit milestone.
If you have a big enough reach audience wise, there is no doubt potential here to make money from promoting this – if you wanted to.
While I signed up to this site for the purposes of review and I have completed paid offers in the past, it's not something I like to do now.
I tend to not be the most organised when it comes to these offers, I'll sign up to subscriptions and then forget about it until a month later and I've been charged.
The only way to complete offers successfully is to really be organised about it.
If you do want to give the offers a go: create a spreadsheet, get all the offers on there that you sign up to.  Put in there when you need to cancel and keep track of everything.
How Do My Cash Freebies Paid Make Money?
My Cash Freebies are just a large scale affiliate site.  They are paid by advertisers to get you to sign up for their offers, websites, programs and so forth.
All My Cash Freebies do, is then pay YOU a portion of their affiliate commission from other companies commission.
They make some money and you make some money and everyone is happy.
My Cash Freebies PROS VS CONS
PROS
Free sign up opportunity.
An affiliate program opportunity.  While the payments aren't recurring, they are fairly high value.
Plenty of training and information to help you get started.
Some free offers available.
​CONS
Because the affiliate program is potentially profitable; this leads some affiliates to become dishonest about the opportunity and advertise it more like a get-rich-quick scheme.  This is really common throughout the affiliate marketing industry, because false advertising make some programs appear like a scam.
Some offers say they're free, but you still have to enter your credit card info and will be charged within a limited time scale.  Sometimes the T&Cs can be confusing and sometimes they make it hard for you to cancel, (for example; you'll need to call them up and can't simply cancel online).
Most offers will require you to give personal details and credit card info out.
​Offer variety is limited an there weren't many to choose from.
It's unlikely you'll make a reasonable affiliate income from My Cash Freebies, unless you have some experience and understanding of online marketing, such as affiliate marketing and also have the potential to reach a lot of interested prospects online.
Beware:  You may get a lot of SPAM mail from signing up with some of these offers, it's recommended that you sign up with an email specifically for this purpose.
My Cash Freebies Review Conclusion – Is It Legit?
Completing cash offers for money is a legit way to make money online, but it's not as easy as a lot of these sites like to show.
It's also not the same as building your own business, because if you purely go down the route of just promoting Cash Freebies, (they give you a free website that you can drive traffic to) you're relying on their business thriving, rather than growing something independently.
If you already have a blog, website, or YouTube channel though, then this is something you could incorporate as an additional income stream if you wanted.
The reality is, most people will make a minor amount of money from signing up to a couple of offers and quit. 
That's why My Cash Freebies rely so heavily on their referral program.
They want you to bring people in – because it doesn't matter how long people stick around, just how many offers are completed over all.
What that means is, a majority of people that sign up to my cash freebies will really get very little out of it at all.
But a small minority could end up benefiting quite substantially from bringing people in to complete offers.
Does it matter?  Not really no.
Some of the offers will give you some sort of benefit.  For example; you may find a site or service that you wouldn't have otherwise and get to trial it, or get some money back for what you're putting in, like cashback.​
I guess what I struggle with, is that these websites are really void of anything of value.
My Cash Freebies get paid to send you to offers that you don't really want, so you can qualify to refer others to sign up to these offers that they don't really want, so that they can qualify to sign up…. and so on and so on…   It's all a bit vacuous, isn't it?
---
I hope you found this review helpful, if there's anything else you'd like to add – please leave a comment below.
If you'd like to make legitimate money online in the long term, there are other options.
A couple of years ago, I signed up to a free 10-part course in an online community that opened my eyes to the world of affiliate marketing.  You can check it out for free here.​
All the best,