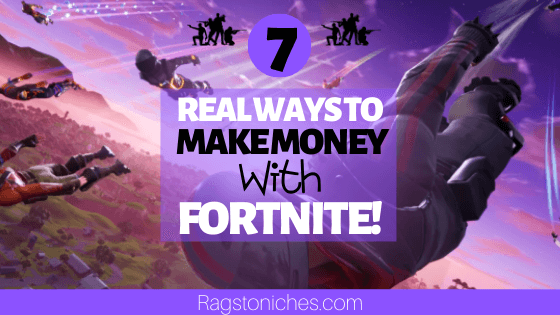 Today, I wanted to talk about some REAL ways you can make money with Fortnite.
I wrote a post a while back about how to make money with Roblox, which – at the time – was my kids favorite online game.
However, some things have changed in recent months and my younger son has started playing Fortnite instead.
I wanted to figure out if it was appropriate for my son before he was allowed to try it.
The idea of a game where you need to be the last person standing and kill everyone you come across – sounded pretty brutal to me.
Which is why I downloaded it myself in the first place, to check it out and play it myself.
To be honest, I had been pretty curious to try it myself since I heard about it for the first time.
After playing it for a while, I concluded that it's a good game in a variety of ways.
And it's not of the mind-numbing variety.
For example; it calls for problem solving and strategy.
If you play with others, it will also require you to work efficiently in a team.
Also, none of the "violence," is of a gory variety.
You do kill people with a variety of weapons, (often guns)… that much is true.
But considering that fact – there is not gore or suffering witnessed.
Well, as well as enjoying the game, I now also know enough about it that I can engage with my son in a conversation about it.
I feel this is also beneficial, as it makes the games something that we can share.
Rather than it be this thing he does alone, that no one else understands.
In this post I am going to outline 7 REAL ways that you can make money with Fortnite!
However, watch out for the first idea! It's frowned upon and could potentially get you banned.
If you want to stay in the safe zone, scroll down.
1/ Sell Your Fortnite Account:
This one is problematic, because it could get you banned.
Therefore, it's not something I can recommend, but I thought I'd mention it, considering it certainly does go on.
It makes sense that popular accounts with tonnes of kills under their belt and special rare items they've collected during their Fortnite journey, are going to be worth money.
The good news is, they are worth money!
The bad news is, the account that is sold could be banned by Epic games if it's discovered.
That said, I'm guessing it's quite difficult to get this figured out. Unless you're advertising the fact all over the net.
Right or wrong…. This is still something that goes on & if you're a Fortnite superstar that can create desirable accounts – no doubt you could make some money.
2/ Online Fortnite Tournaments:
You can make real money with Fortnite with online tournament.
You can find these on platforms like Gamerz Arena and tournaments.
You could even set up your own tournament with people you know and create a cash prize.
You can also place Ads online to find players who could be a good fit/match to join in a tournament.
There is one major tournament which is run officially from Fortnite, but you'll only get included in that if you're a TOP gamer online.
If you are, there can be some crazy money up for grabs. As one teenager discovered, when we scooped the $3 million first place prize.
3/ Be A Professional Fortnite Gamer Online:
I wrote a post a while back about how you can make money online playing video games.
One way is via the platform Twitch, where you can make money from playing video games in real time, (live streaming) while people watch you.
Some gamers will also have YouTube channels, where they build up a following.
So, you could set up a channel that specifically focuses on Fortnite and become an expert in that niche.
Once you build up an audience, you can make money via sponsorship deals, paid advertising and affiliate marketing.
You can also earn via something called Rechaaarge, which allows your viewers to make a donation of money to you!
Do make money in this way, you're going to need to have an engaging enough presence that keeps people coming back for more!
But if you like this idea, don't get put off by any lack of confidence…. Different personality types will appeal to different users!
It could be that your particular style is unique and you need to build your OWN tribe, so don't compare yourself to anyone else.
If you find you don't like it and it's not your thing, try something else.
4/ Fortnite Coaching:
One way you could make good money with Fortnite, is being good enough to coach others online!
With it being such a huge phenomenon now – even parents have resorted to paying for their kids to get Fortnite coaching.
I guess with the mass amount of money that some professional gamers can make, it's no wonder that some parents encourage this interest.
According to this article, Fortnite coaches can earn anything from $28-$140 per hour too.
Not just small change!
I noticed that there are already a tonne of gigs on Fiverr here, offering coaching at affordable rates.
Other places I've found that offer Fortnite coaching include:
So, hey…. If you're thinking that your Fortnite skills are really not up to the level where you'd be able to coach.
Here's an idea..
Get some coaching!…. Reach the higher levels required for YOU to become a coach yourself :).
Once you're at the coaching level, you may also want to consider the option below and earn money for BOOSTING accounts as well!
5/ Boosting Fortnite Accounts:
This idea is a simple one. Someone gives you access to their account for a period of time and you BOOST their account to a higher level.
Someone may want more wins under their belt, (or maybe their first EVER win…).
They may want you to complete daily quests, or achieve certain challenges & reach particular goals.
You could charge a different amount of money, depending on the level of difficulty and time the challenge will take you to complete.
Or you could potentially just charge by the hour. There are lots of options with this one and is a lot more straight forward than coaching is.
If you're interested in Fortnite boosting, you could check out the following sites and surely, there is many more besides.
6/ Create Fortnite "Inspired" Merch:
Creating merchandise inspired by any brand and selling online, is going to be a grey area.
What isn't allowed on one website, is allowed on another.
So, prior to jumping in, I'd check out the legality on some of this.
But as an example; there are a whole bunch of Fortnite inspired items for sale on Etsy right now.
Everything from Fortnite chocolate V-Bucks coins, Fortnite personalized artwork, mugs and clothing items….
As you can see from the water bottle example; the image is clearly fortnite related, as is the style of writing… But it doesn't say "Fortnite," on the actual item.
If you're going to opt to create any type of Fortnite Merch — created something that's inspired by the game, would be a safer route.
If in doubt, I'd contact Etsy directly, or check their website for terms and advice.
7/ Support-A-Creator Program… (The Fortnite Affiliate Program):
At the time of writing, this is quite new and there are no guarantees it will stick around.
It's also highly probable that the terms will change, in relation to what I mention here.
Essentially, this IS the Fortnite affiliate program, but it isn't something that just anyone can join. There are certain conditions you need to meet.
For starters, you need to be creating Fortnite related content in certain fields, (see below) and have a minimum of 1000+ followers on a social media platform.
If you're eligible, you can make $5 for every time your referral spends 10,000 V-Bucks.
This includes both free and earned V-Bucks.
Obviously, to make anything reasonable from this affiliate, you're going to need a lot of active sign-ups.
The best way to get up-to-date terms, is to check out their info page here.
Interested in other ways you can earn from affiliate marketing? You can learn more here.
Pin Me For Later…. 🙂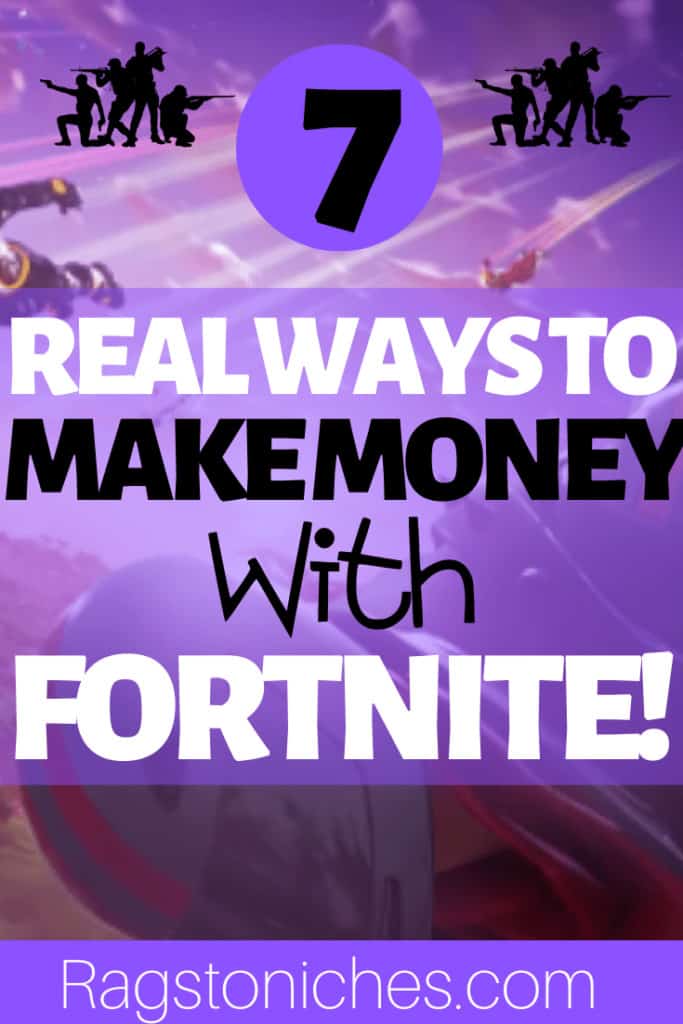 How Will You Make Money With Fortnite?
So, those are 7 real ways that you can make money with Fortnite… But which way appeals to you?
Or is there some other way that you can make money with this game, that I haven't mentioned? Let me know in the comments!
Looking To Make Money Online?
If you're looking to make money in the long-term from an interest in gaming, you could consider building a gaming related niche blog.
If you could incorporate YouTube into the mix, all the better.
Having an established website and blog in the long term, provides you a platform from which you can grow your own online presence and brand.
By creating content about things that interest you, (in this case, gaming) you can gradually attract visitors to your website and make money in various ways.
Check out these 14 ways you can make money from a website.
I make the most from my website via affiliate marketing & paid advertising… (those Ads you can see on this page).