Shopitize App Review: Is This App Dead?
I wanted to talk about the Shopprize App UK today.
This is an App based in the UK, where they claim that you could save £1000 a year or more by making savings with their cashback offers.
(You can check out one of their promotional videos below).
However, after reading an article on MSE, claiming that many individuals had been wrongly locked out of the App and owed money, I was intrigued to find out if it was still active.
The article had been written at the end of 2016… so, how were things now?
For my readers in the USA, you may want to check out similar app to this, called the IBOTTA APP.
For those in the UK, I recently reviewed Checkoutsmart.
I downloaded the Shopprize app via the app store on my iphone, but you could also find it on google play.
Stick with me to the end of this article, where I give you some other suggestions for Apps you may want to try – because this one looks like it's on the way out!
What Is Shopitize About?
Shopitize claim you could potentially save £1000 or more per year on your grocery shopping, by taking advantage of their app offers.
All you need to do, is firstly to check out the offers on the App prior to going to one of the main grocery stores, (Tesco, Morrisons, Asda, Waitrose, the Co-operative and Aldi).
For example; you could earn 75p cashback by ordering a certain brand of fizzy drink, or a certain brand of yogurt.
There are also mini challenges you can complete to reveal more offers.
You then need to scan the Barcode of the product and check they're on offer; before taking a picture of your receipt, in order to prove you've purchased the item.
Once you've built up a good amount to withdraw, you can take your money out via Paypal, or direct to your bank account.
I Think I've Used This App Before…
Once I'd downloaded this App, I had deja vu!
I'm sure I downloaded this app years ago, (in my comping days) but stopped using it, because a lot of the products available, weren't things I'd normally buy.
I also ended up forgetting to take pictures of the receipts and so on, struggled to get the APP to accept my receipts and felt like a bit too much of a faff at the time…
But registering was a quick process, so I thought I'd see if anything had changed anyway.
The Shopitize video below explains the how the App works in more detail.
But… No Offers Available?
When I registered however, there were zero offers available to me. Zero offers at all. Zilch. Nada. Not from any supermarket.
So, that seemed like quite a waste of time and I wondered if the offers may just appear after a certain amount of time after registering.
However, there seemed to be nothing in the bonus section, nothing in the challenge section and I'm sure I caught site of a tumbleweed floating along the the screen….
What Do Other People Say About Shopitize?
After taking a look around the web, I could see that plenty of people were complaining about Shopitize and all signs seemed to suggest, that it could be shutting up shop anytime now!
So, why is the App still available to download?
According to one review, Shopitize have stopped replying to anyone on social media since the end of 2016. Things are not looking good.
(comment – found here)
People have been fuming after being locked out of their Shopitize accounts, (claiming they were falsely accused of fraudulent activity).
In one case, someone had saved up to £600 on the App and had been saving it for Christmas.
While I do save up my points/cash on certain cashback sites that I deem highly trustworthy and unlikely to fold, (such as Swagbucks) I wouldn't recommend keeping your money piling up.
Take out any money from these sites that you'd be unhappy losing, to be on the safe side.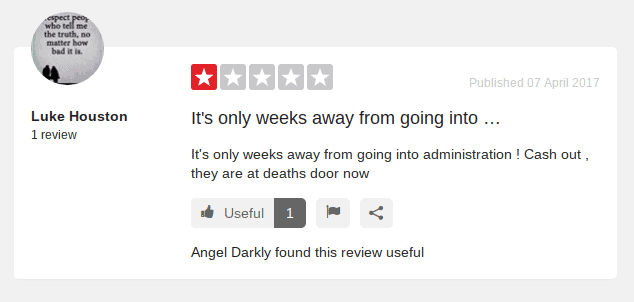 It has also been claimed online that Shopitize are millions in debt.
I guess time will tell whether this App will disappear off the face of the App stores… or have a comeback at some point.
If you're checking it out, keep me updated and I can look into this further in the future – let me know in the comment section below!
If Not Shopitize, Then What?
When I started this review, I thought I was simply looking into another App that could potentially you a little extra money.
I've only recently started looking into Apps as a way to make or save money, (one being Job Spotter recently, that I quite liked) and this was one I stumbled on by accident.
Yet, the reality turned out to be quite a waste of time at this stage!
Now, I have yet to review other shopping related Apps that I can recommend in the UK, but if you're looking to an alternative to Shopitize- here are some you may want to check out:
Checkoutsmart: I have reviewed this recently and have been using it myself, really enjoying it so far. It's a cashback app.

Receipt Hog

: I am loving this one at the moment. This is Another one that will earn you cash for taking photos of your receipts, you can also win at "hog slots," complete surveys and more.

bigDL App

: There Seem to be fairly positive reviews to date. Find discounts and vouchers for popular stores.

Shopmium

I will soon review this app – another app where you can gain cashback and discover apps.
When I've reviewed the Apps above, I will link to those reviews directly from here too.
If you're looking for other ways to make a bit of extra money, you may also want to check out my top 10 survey sites UK and my top 6 extra income sites.
Making Money Beyond Apps & Pocket Money…
Additionally, if you're looking for more of a long term option, I suggest building your own blog or website, because there are so many ways you can earn from that as you grow.
I make the most money online right now from affiliate marketing and display ads…I'm not at all technical, so this is really something anyone can learn.
Training wise, you can start learning here for free.
If you'd like to share your experience with Shopitize, or any other App – leave your comments below, I'd love to hear from you!
All the best,