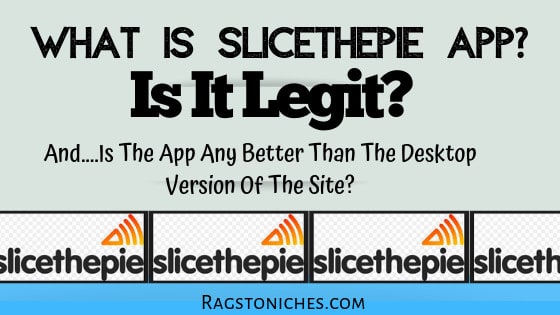 I joined Slice The Pie several years back now and wrote an in depth review back then – but I'd never actually tried the App.
It was sometime later that I even saw there was an App.
I presumed it was new because Slice The Pie still say in their T&C's that they don't have an App!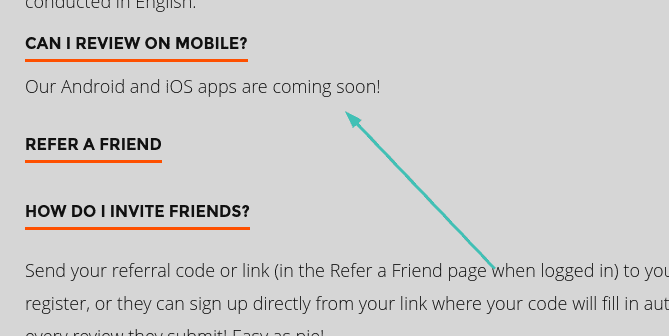 However, reviews on Google Play date back to 2016! So, I'm unsure why they don't mention it on their website.
In any case, one way that I've regularly written about making money online – in is making money writing product reviews.
Slice The Pie provides an opportunity for this as well, albeit a very small one.
Want $5 Free Join My Top Rewards Site Swagbucks & Make Money From Cash Offers, Games, Surveys & More. Click Here To Join & And Get $5.
So…. What Is Slice the Pie About?
Originally Slice the pie was all about listening to music, writing mini reviews and getting paid for it – that's how it all started.
However, now you earn money for sharing your opinion on other things as well.
By writing these mini reviews, you can earn some additional money.
This isn't life changing money by any means, it's pocket money at best but it's also pretty enjoyable…………
But is the App any better than the website version?
I downloaded the app to find out & decided to write up this quick Slice The Pie App Review….
If you have tried this App and have any thoughts you'd like to share – let me know in the comments!
So, Slice The Pie pays you for writing mini reviews – but how?
Well, Musicians in all kinds of genres submit music, in order to get feedback from regular folk online.
Obviously, this feedback would be really important and you could potentially influence musicians improve or change their creations from your input.
You need to listen to every song for 90 seconds before you write a mini review, which is only a few sentences long.
You'll be able to submit, once you've written enough words. Sometimes Slicethepie will have an issue with it and you'll need to revise it.
These days though, ,it's not just music you review and you can now can write reviews in a variety of categories.
I've seen various categories pop up from time to time – on things like clothes, accessories of all kinds, homeware items, toys and even commercials and TV series!
So, there can be quite a broad scope there that you can check out and write about.
However – when I downloaded the APP – there was only music that I could listen to and review, there wasn't the option to write other reviews!!!
I have seen other people say they COULD review other things on the App, so I have sent them a message asking them about this.
This was a bit of a let down. The music section requires you to listen to 90 seconds of a song to do anything at all.
So, the other reviews you can do are overall quicker.
My experience writing a review on the App was also challenging – as I twice seemed to be logged out and once was after I completed the review.
I wrote the review and pressed submit, only to be logged out.
When I returned, unfortunately my review was not registered and I'd have to listen to the song all over again :(.
It seems I'm not the only one to experience problems with this App – I talk about that a bit more below.
How Do You Use Slice The Pie App?
Downloading is easy – simply go to the App Store Or Google Play and search for Slice The Pie.
Right now, they are not linking to the App via their website – actually as I mentioned above, they're still saying on their website that the App is coming soon!
Once you've downloaded the App, you can sign in using any credentials you signed up with the website already, or just create a new account with your email address.
Once you're logged in, there are currently just three icons at the bottom of the screen.
One section leads to reviews – which right now only takes me to complete music reviews.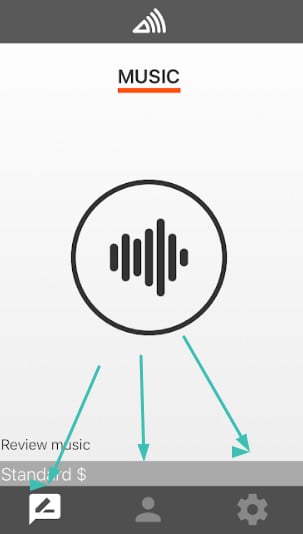 The middle icon takes you to your profile and this is where you can see your current balance, how many reviews you have done and how many friends have joined via you, (your referrals).
With my slicethepie review, I accumulated around 108 referrals and even though you can earn 20% of referral earnings for 60 days and 10% after that —- you won't make much money at all unless you have thousands of active referrals!
I made around $3 in total from over 100 referrals.
For the most part, standard referral programs with review sites really aren't rewarding unless you have thousands of referrals.
But if you find something you can really get behind and promote and have access to many people that could be interested, then you can make a bit.
You might be interested in this post: survey panels with referral programs.
The third icon for this website leads you to a basic section that includes their about page, T&Cs, FAQs and the log out button.
How Do You Do A Review?
By clicking on the far left review icon at the bottom of the App screen, it will take you immediately to do a review.
In my case, this only gave me a music option – but maybe they will change this.
You then need to listen to a song for at least 90 seconds before you're able to write a review.
When you've written enough, you'll have the option to submit your review and then you're shown how much you will have made.
Unfortunately, you can't see how much you'll make on the app right now, until you've already completed the task.
This is the same on the website. But with the website, you can see which categories are BONUS ones.
Sometimes you can choose bonus categories that pay quite a bit more money per review and I'd always recommend doing these first.
Is It EASY To Make Money With Slice The Pie?
I've seen some reviews of this platform say that it's EASY to make money with this website or app.
But is it really?
Well, the answer is both yes AND no.
Certainly the tasks are very easy and some of them can be enjoyable too, but the amount you get paid for writing the reviews is very small.
So, while it may be easy to make 10 cents or something on Slice The Pie… it's not going to be EASY to make even $10.
Because it will take a lot of time and many people just won't feel that the time they need to put into this, really justifies the payout.
This isn't so much a money making opportunity, as it is entertainment.
It's something you can do to pass the time and make a small amount while you do it.
Tips For Reviewing:
Make sure your review is honest – you can really say what you think.
Explain clearly what you liked, love, or dislike and don't repeat yourself.
Sometimes Slice The Pie will say that the review isn't on topic, or come back with some other suggestion for how you can improve the review.
It's a good idea to include some specific things that you like or dislike – rather than just a generic response, like "I liked the song because I like this sort of music and it was fun…. " —
You'd want to say something like, "I really enjoyed the beat in this song and particularly liked the guitar solo and how the song started slowly and sped up as the song progressed…." etc! You get the idea?
Once you've created your written review, you also need to give a score from 1 to 10. 1 being that you really disliked it and 10 being that you loved it.
For the other types of categories, it's pretty similar – obviously there isn't the timing aspect of 90 seconds.
But you need to give a good explanation of what you like or don't like about the product and be specific again.
If you don't like the design – why don't you like it? You can also then say if you'd buy it or not.
There is an additional scale showing exactly the amount you'd pay or not pay for the item and a sliding scale for you to show them.
Once you've submitted your review, you will be told how much you get paid for it and it really varies, although the seem to pay a lot less than they used to.
Do Slice The Pie Pay Less NOW?
From my experience and from what I see others say, they do pay less than they used to.
If you check out my Slice The Pie review, you will see how much I got paid for several reviews then.
For one I just completed just now on the website, (because the App wasn't accepting my reviews….) …. I only got $0.03!!! See below!
So I'd have to complete 10 of these just to make $0.30. 30 of them and I still won't have made a single dollar yet.
Yes, these reviews can literally be done in seconds – but there aren't unlimited reviews to do either.
In the past I had times where I had completed everything for some time and had to keep checking back to see if any new review opportunities had appeared.
However, how much you get paid can change depending on your star rating!
Somewhere along the way – I have been downgraded from 5 to 3 stars, (no idea why…!)… So, I believe it's no coincidence I got 3 cents.
If you're a five star reviewer, presumably you will get 5 cents per regular review.
How Do You Get Paid?
You can get paid via PayPal only here.
Once you have reached the $10 threshold, you can cash out.
This site doesn't offer other cash out options like gift cards or anything.
Also your email that you sign up with SliceThePie, has to also be your PayPal email.
However, I didn't do this right when I signed up initially and it was find, I just contacted them via email and managed to change my email address.
What Do Other People Say About Slice The Pie App?
At the time of writing, this App does have a bunch of mixed reviews and I would have expected there to be more on the App store.
Right now, the app has 3.9 stars on the App store.

On Google Play, there are a little more reviews, at under 400 – but the rating is worse, at only 2 stars!
Most of the negative reviews surround the glitching issues with the App – such as not picking up your location, or not registering your reviews and logging you out and so on.
Some of the reviews date back a long way, so it would be good if Slicethepie could resolve the negative issues.
As, it would be good to be able to do these mini reviews on-the-go.
Concluding Thoughts – Is Slice The Pie App Legit… It It Worth it?
It's a shame that Slice The Pie now seem to pay less than they used to and so far, I've been disappointed by the App.
So far, it has only allowed me to review music, but has logged me out during my reviews and has been overall glitchy and frustrating.
However, this is experience so far and it's not the case for everyone.
Ultimately, the App is free to try, so you may want to check it out.
However, before you do, I suggest you check out this site beforehand -which is a lot more user friendly and has more on offer.
Making More Online – Without Apps!
If you want to make more online long term, I urge you to look into other methods.
The problem with apps, survey panels and other small time opportunities – is that you won't earn very much and once you stop doing them, you stop getting paid.
I prefer to build things that will bring me in an income over time – is some cases passively.
By passive income, I'm not talking about not doing any work.
It's all about the work you put in today – paying you in the future, multiple times over.
If you'd like to make money in the long term, I highly recommend this free training for beginners.
All the best,
Pin Me For Later!