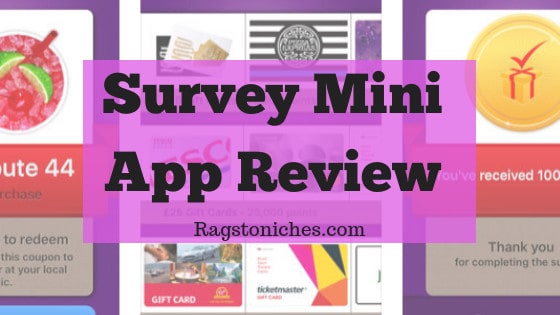 In my Survey Mini App review today, I will be exploring yet another money-making app.
There are many Apps out there that claim they can either make or save you money.
With limited success, some can do that.
But, for the most part, you can definitely make SOMETHING, but not very much.
Most of the time, what a lot of these Apps offer is more for entertainment value, than actually making real money.
Does that mean they aren't worth downloading?
That depends on what you're looking for.
If you're looking for an App that can make you a good side-income… I've not found one and don't believe one exists at the time of writing.
If you're looking for something that could be a bit of fun and make you a few dollars here and there, then yet, there are lots of Apps like that.
But what about this one? Let's see….
Related Posts:
What Is Survey Mini App?
Survey Mini pretty much spells out what it is in the title.
It's an App, that will pay you to complete surveys online.
Companies use surveys to conduct market research and find out golden nuggets of information, that they can use to better their business and increase their profits.
Naturally, they're willing to pay for this information.
So, they will hire companies to run their surveys, (like Survey Mini).
They will pay them a commission for each survey completed and Survey Mini then shares a cut of their payment with you.
Survey Mini has been reviewed by nearly 10 thousand people on Google Play at the time of writing and has an average of 4.0 stars.
On App store, it has under 200 ratings and only 3.4 stars at this time.
Not terrible by any means, but not great either.
I noticed that Survey Mini are quick to actually respond personally to some of the negative reviews themselves, which I always like to see and doesn't happen enough.
I will go into the online reviews in more detail a bit further down.
There are recent reviews that claim this App has gone downhill and no longer has many surveys to complete.
Do you have any experience to share? Let me know in the comments!
Signing Up With Survey Mini:
It's simple to download and sign up.
You can either connect your Facebook account or fill in your basic details.
I decided on Facebook originally, but found I was unable to connect via this method.
There seemed to bit a bit of a glitch, so I gave up on that and just signed in the slow way.
The main dashboard was really basic and the first survey you're given is simply a "welcome," survey.
The little surveys seemed to be like profiling questions, but each one is very short.
Here is an example of the titles of some surveys….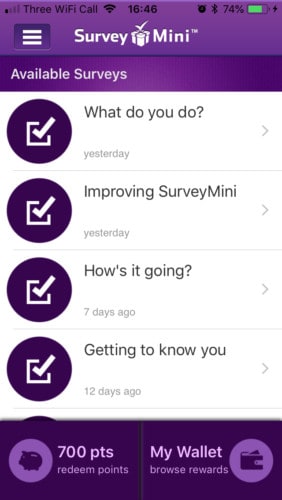 I already had 700 points at this stage, from doing a few of these mini surveys.
After a while checking out what else was available; I went back to the surveys and decided to check out the survey entitled; "What do you do?"
This was just about my occupation and took no time at all to complete.
After which time, I got an additional 500 points!!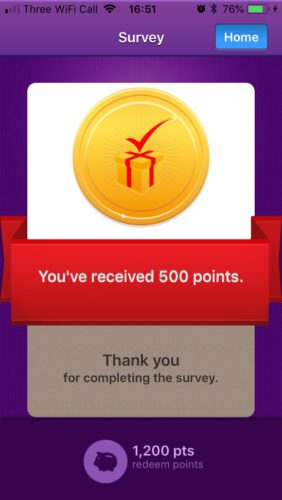 I completed all the other surveys available and by the end of that, I had 1700 points.
Unfortunately, by that stage, no other surveys were available to me and I would need to wait.
As all these surveys just seemed like profiling surveys and not actual surveys from companies, I was left wondering how many surveys would really be available.
Maybe it had gone downhill, like some people said.
Or maybe it really depends on your location – how many surveys are available for you to do.
How Much Are Points Worth On Survey Mini?
What's the worth in celebrating how many points you make, if you don't know what they're worth?
Well, what they are worth, is going to vary depending on location.
From my research, I believe that you can pretty much get a $10 gift card for 12000 points.
As I'm in the UK, I can see that info available to me – which is that you get a £10 for 12000 as well.
So, as £10 is actually a little under $8, you get more money for your points in the UK.
But perhaps you could also get less survey opportunities.
This is what I suspected.
So, I'd need to make another 10300 in order to get a £10 gift card.
You can see some of the other options in the UK below.
There is quite a good selection and you can expect the same in the US, but with US based stores.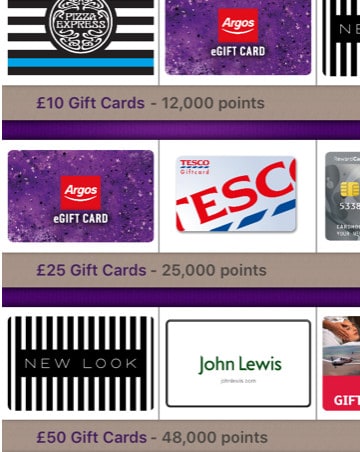 What Now?
So, stuck with my 1700 points and no surveys, I guess it's a waiting game.
Like I just mentioned; the surveys so far, seem to be more like profiling questions, (the sorts of things survey sites ALWAYS ask you when you join up and are meant to help you get sent surveys relevant to you, that you'll have a better chance at qualifying for).
So, I wonder how often real surveys are actually available.
It's disappointing to go through all the initial questions and then be stuck with nothing.
I will update this review when I start getting surveys and let you know how long it took.
Anyway, with nothing more to do, I decided to check back on some of the other reviews.
Perhaps this would give me some insight into how long I'd need to wait to get another survey.
Online Survey Mini Feedback:
Someone in August 2018 on Google Play, said they hadn't had a survey in TWO MONTHS… eish…

There were still lots of good reviews, so I wondered how some people were getting surveys and others none.
I figured this could be down to certain demographics and likely, what location people are in.
Another person below said they USED to get surveys, but haven't for ages.

Scrolling through the many reviews, I could see plenty of good comments, but rarely any that gave a time frame.
I wondered it most of these people gave up prior to reaching cash out.
I thought the two comments below were pretty worrying….
In fact, there were various messages talking about coupon codes that didn't work.
People also seemed to have trouble hearing back from customer service.
Many people spoke about having the App installed for years and not being able to reach the cash out threshold.
Is Survey Mini App Worth it?
I thought the App looked fairly promising originally, but I'm reserving judgement now, since I'm stuck with no surveys.
If I'm to take some of the negative reviews into account, I am expecting to not get very many surveys sent at all.
Time will tell.
Although, if I'm not send surveys soon, I'm just deleting the App.
Some of the good points were…..
Quick surveys.
Easy to do.
App seemed relatively simple and easy to use.
The bad points seemed to be…
The surveys have dried up for some.
It can take months, (or years in some cases) to reach target.
Complaints of fake coupon codes.
Complaints about poor customer service.
Complaints about the odd glitch on the App here and there.
There are so many Apps out there that do regularly have surveys, that I am doubtful this one is worth bothering with.
Even in the best cases, you're not going to be making much money, so you may as well stick with ones that you know you can make SOME money and that do pay.
Swagbucks is my favourite rewards site, which also has an App you can download.
I've also recently enjoyed the Ipoll App and Qmee App.
Survey Mini Review Conclusion:
It's unlikely that I'm going to keep this App installed, even if I do get some surveys.
I prefer Apps where you can rely on getting surveys regularly and also, that have a bit more going for them.
For example; other ways to earn or save money, (such as cashback or offers) would be nice and having a referral program, which means you can earn extra points or money for recommending the APP to your friends/family.
I think if you're in certain locations, you're going to get a lot more surveys and it may therefore be worth it for you, I just don't think it will for me.
Thankfully, it's completely free to download and takes no time to get through those profiling questions; so you'll quickly be able to see if you get surveys regularly.
Want To Make Money Beyond Surveys And Apps?
I enjoy downloading and reviewing Apps, but primarily that's because I enjoy sharing the info with others and adding content to my website here.
I make the most money online from creating and writing content on this website… But it wasn't always that way.
I spent a long time searching the internet for ways I could make a supplementary or full time income online and eventually realised the cold hard truth.
If you want to make real money online, you have to work for it and it won't come from doing small-time things like surveys or Apps.
If you're interested in how you can make much more online in the long term – I recommend you check out this training*
It's the training that directly enabled me to make money from home, (or anywhere I want to go with an internet connection!).
If you have any questions, let me know in the comments!
All the best,