Have you been looking for crane games you can play online, or on your phone?
Maybe you're wondering if they really will send you prizes if you win?
In recent times, I've checked out a few different real prize claw machine crane game apps – including:
All having variable reviews and different pros and cons. Toreba is another popular choice. But is Toreba legit?
This is one that I have avoided downloading for some months… but then I saw it gave 5 free plays for downloading, (at the time of writing this).
So, what did I have to lose anyway?
Want to start making money, rather than winning stuff? Get started here!
What Is Toreba? How To Get Started:
Toreba is a free to download crane game App that you can download via the App store or Google Play.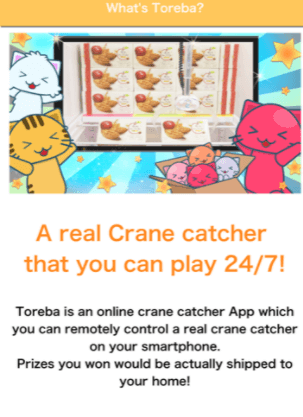 While it's free to download, it's not going to be free to play – however, you do get your first 5 games free.
You get the chance to play real crane games… (located… somewhere in Japan) and win stuff.
What sorts of stuff?
Well, toys, figures, plushies, random limited edition stuff.. (jiggling pudding maker!?) and more.
Before you play, there is a little tutorial you can check out and this will show you what to do.
When you do eventually play your first game, you get 88 seconds to take your turn.
If you don't take your turn during this time, your session is transferred to another player.
My First Turn On Toreba:
Unfortunately, I noticed many prizes were, "under maintenance," and this seemed to mean, I couldn't play them.
At the time of writing this in 2020, presumably they are low on stock and possibly employees, due to the recent global situation.
But there were still some prizes I could choose.
The first I decided on was already in use by another player and I was shocked to find 48 other people watching the machine!!!
I understand this is probably not only because it's a popular prize, but also because the claw is probably showing substantial grip & about to pay out.
3 people were also waiting and I couldn't seem to reserve my go for some reason.
I tried to have a go on a cute shark like toy.
My first three goes were pretty much wasted, as I tried to grasp how to use the controls.
You can only move right once and as soon as you lift your finger, that's where your move stops, so you need to get it right.
Then the angle of the camera changes and you can move up one move. Then the crane will drop.
I didn't get a good angle until my 4th and 5th goes.
However, the crane was so loose that, even with this large squishy toy, there was no hope the crane was going to pick this toy up.
I quickly understood while no one was watching or playing this machine. Doh.
At this point though, I still preferred the Clawee App, with how the controls and crane operate, (I also won with my free goes on Clawee).
Can You Really Win With Your Free Plays On Toreba?
While you can win real prizes with your initial free plays on Toreba, you're not actually going to be able to get anything shipped to you, unless you have a verified account.
That means, you need to have inputted valid credit card info, matched with your address.
If you're not keen to input your credit info on a site like this, just be aware that you won't be able to get anything shipped to you if you do win with your free gameplay.
Are There Only Claw Machines On Toreba?
When you play the different games here, you'll notice that they aren't all just your typical claw machines.
Some require you to pick up a toy and drop it through some bars to win, rather than just being picked up and dropped through a hole.
Others require you to pick up a ping pong ball and drop it into a hole…. (I have not tried this, but it certainly looks difficult), getting a little hook on to a grate, or pushing a toy off a platform.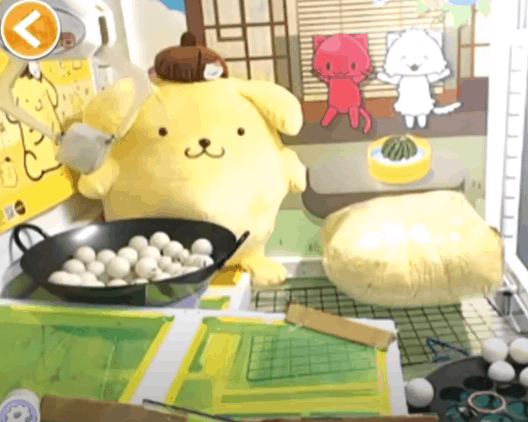 Even though these other games seem really difficult, it's nice that there is some variation.
What Are Some Toreba Perks?
You do get some opportunities for more free plays on Toreba, if you keep returning to the App each day.
On your 10th and 20th of every month, you can get two additional free plays for logging in.
At the time of writing, they also have a Spring Campaign, giving you one free play, every day that you login!
However, you need to pay a minimum of $9.99 in order to get your free daily plays…. So, I guess the *free plays…* aren't exactly free….
Toreba Shipping:
Shipping is free once every 7 days, after your last shipment.
If you request shipping with 3 or more prizes, you can get an additional 2 free plays.
They say free shipping is available in all Countries – apart from South America and Africa.
So, although they say free shipping, they then have a table of default costs if you require shipping within more than once in 7 days, (I'm not sure why you would need that!)
Also, the amount shipping costs, is going to depend on the weight of the package.
You should be prepared to wait around 3-4 weeks for delivery.
How Much Do TP Cost?
TP's are the credits you use to play the game and if you want to play outside of simply getting your free plays.
Many of the games that I saw were 2000 TP for one play.
The smallest amount that you can purchase is 5,000 TP, which is $4.99.
Essentially, what you need to know is that 1TP is the equivalent to 1USD.
Considering I used up all my first 5 plays with zero wins, that should have cost me 10,000 TP!
If I wanted to buy 10,000 TP, it would cost me $9.99.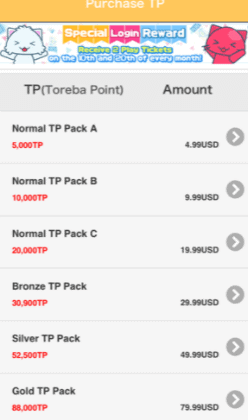 The largest pack you can purchase is worth 110,000 TP's and would set you back $99.99
So, I would have already spent $9.99 at this point and had zero prizes to show for it.
There's no way around it, these apps are definitely not cheap to play and much of this time, you're going to be better off just buying the toy.
…….. But then you of course wouldn't have the fun of game play.
What Do Other People Say About Toreba App?
If you're interested in playing the Toreba App, you may want to check out the Toreba Reddit, where some people have shared their wins and experiences.
Some people have shared a bunch of really cute looking toys that they have won.
You will also see that it's pretty easy to get addicted to these games, so spend and play wisely if you wish to do so!
On the App Store, Toreba only has 3 stars and that put me off for a while checking it out.
However, people are always going to leave some bad reviews for this app because it's both expensive, addictive and actually, pretty difficult to win.
Nevertheless, many people still enjoy playing it regardless.
On Google Play, Toreba also has 3 stars and over 23,000 ratings at the time of writing.
On reviewer mentioned that this isn't really an App for beginners to Japanese claw machines & that you should get some tips from YouTube before attempting to play.
Many people that play and win, are people who have played for many years and have got better at it over time.
So, I guess if you go on as a total newbie, be prepared that you may well lose a fair amount of money, in order to win a prize.
In the video below, you can find 5 tips to help you win big giant Plushies – but it also includes some good general tips.
For example; it's a good idea to watch people playing a machine before you do, to check whether the claw is gripping well, or if there is no grip, (and therefore, no point in playing yet).
Obviously, the more grip your claw has, the better chance you're going to have at getting a prize.
Is Toreba Legit?
Yes – but that doesn't mean it's going to be easy or cheap to win a prize.
If you do get lucky enough to win something, you will then need to wait 3 to 4 weeks for delivery.
If you're already a seasoned pro at claw machine games, then you may want to check it out.
If you're a newbie to these games, then I recommend checking out YouTube for some beginners tips.
It's quite strange the rush of excitement you can get from trying to win something that you don't particularly want or need.
Add to that the potential to lose a lot of money & this can be a dangerous addictive combo.
Only play with what you're prepared to lose!
What do you think about Toreba? Have you won any prizes yet? Let me know in the comments!
Beyond Winning Stuff… Making Money Online?
I started trying to earn extra money from home back in 2015 and have tried various side hustles along the way.
But the first way that I started making money, was via affiliate marketing and this can be a way you can turn your own passions & interests – into profit.
You can start learning for free here.
If you have any other apps or programs you'd like to recommend for me to check out – I'd love to know! Let me know in the comments.