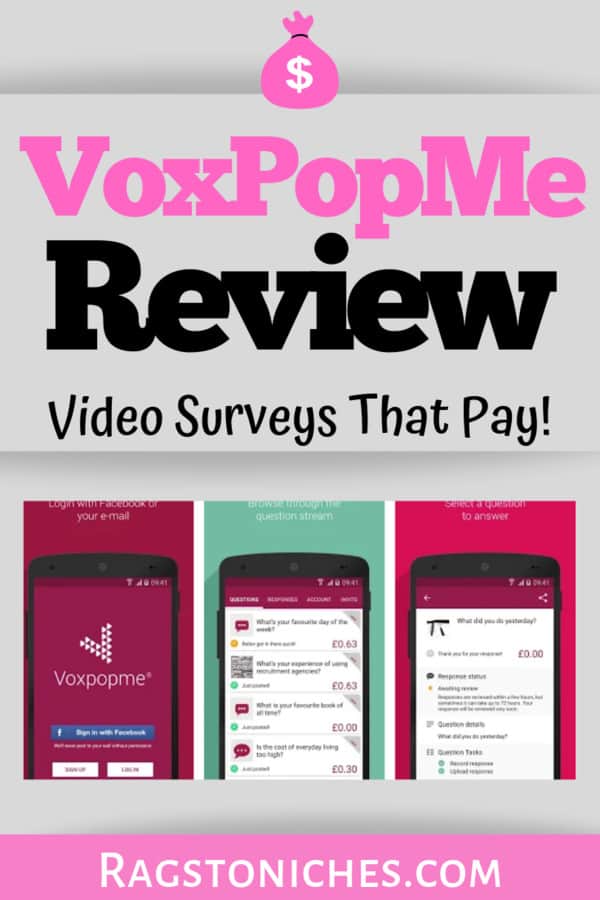 I recently discovered this app – it was a pleasant surprise and break away from the usual survey panels and Apps I normally look at!
So, I decided to write this Voxpopme review and share my personal experience so far!
….What is Voxpopme?
Well, it's a departure from the traditional paid survey panel.
Because, you answer some of these survey-type questions, with mini videos.
They're videos that you record straight onto your smartphone!
You don't need any fancy cameras or microphones and if you're not keen on the finished result, you can re-record or not upload it.
The videos you need to do vary in length – the first ones I did were 60 seconds, but I have heard you get some considerably less long, (around 15 seconds).
It didn't feel long at all though and the questions are really straight forward and easy to answer…
You may be asked about your opinion of a certain product, or you may be asked to share you experiences in certain situations.
I'm a little bit camera shy… But even I found this fun!
And while you don't earn much per video, I was kind of surprised how easy it was.
During this post… I will outline the following topics:
How to sign-up with Voxpopme,
Recording And Uploading Videos.
How Do You Get Paid?
Voxpopme referral program.
What do other people think of it?
PROS VS CONS,
Concluding thoughts,
Beyond survey Apps.
Looking to make more online LONG-TERM? Start learning here.
How To Sign Up With Voxpopme:
You can download this App, direct from the App store for IOS, or on Google Play on Android.
You can sign up via social media, (Facebook) or via your email and they don't need many additional details to sign up.
You'll just be asked for details like, your name, DOB, email and nationality – plus a password.
Once you've signed up, they'll ask you a few questions to get started. These are just basic profiling questions regarding things like your occupation.
There may then already be some questions you can answer by video!
I was given a video to do really quickly though and this was for 50p, (I'm in the UK – most people in the US report their first video paying 50 cents).
I was surprised by this because, you often have to do a fairly long written survey just to make this amount most of the time.
By contrast, doing a mini video seemed really easy.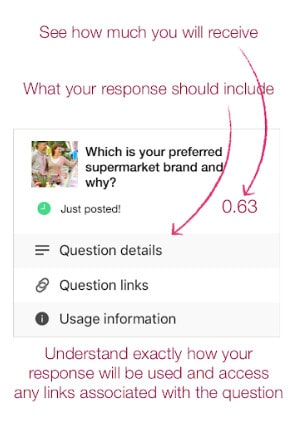 You'll be able to see, via the "usage information icon," (see above) exactly how your video will be used.
Your video may just be seen internally in some cases and that will be said.
Sometimes, your video will also be shown publicly, such as via social media, or their website.
So, if your concerned about where your video will be shown, check this out first.
Also, when you have completed the filming of your answer, you will be asked to share your response on social media.
You do not have to do this in order to get paid at all!
Your response at this stage as already been recorded and you can simply click back to the main dashboard.
However, just because you don't publicly share your video, it doesn't mean that Voxpopme won't share it at some point online.
Recording And Uploading Videos:
This bit was really a breeze and I was surprised how fast it was.
You'll find after answering some profiling questions, that an opportunity for a paid recorded question will come up.
Click on this and it will give you the info about the question; including how your answer may be used and how much you'll be paid.
Read the question carefully, you need to make sure you answer the question fully – or else your video could be rejected.
Once you know what you're going to say, click to "Start Task."
You'll then be sent to your camera, where you can click to start the recording.
How long the recording is, depends on the question. For my first couple, it was 60 seconds.
Once the time is up, the recording will stop and you can click to, "Upload."
The video will upload in a matter of seconds and you'll be directed to a page which prompts you to share your response on social media.
As I mentioned earlier, this is totally optional and you can simply click back to the dashboard if you don't want to do it.
That's it! Now you just have to wait until your video is approved and you will shortly see your payment in the account section of the App.
Once you've completed all the videos, you'll probably be prompted to answer more profiling questions.
You need to answer these mini surveys for free, but they will release further paid video surveys.
So, the more mini-surveys you do answer, the better chance you have of being offered videos.
How Do You Get Paid?
You can track your earnings in your account section of the App.
Once you reach £10, or $15 in the US, you'll be able to cash out via PayPal.
By the looks of it, it shouldn't take you long to reach this threshold, because the videos are so quick to do.
While I've only seen tasks for 50p and 25p, there are sometimes videos that pay more.
If you want the best chance of getting videos, switch on your notifications.
Companies are only going to need a certain number of responses and once they have those, the task will be removed.
Voxpopme Referral Program:
Like many Apps and survey panels, this App also has a referral program.
For every friend that you refer to the App, you make £1, ($1) – but so do they! So, it's a win-win.
They just need to get their first video survey approved & then you will get paid.
Sign up with my link here & we both make money.
What Do Other People Think?
At the time of writing, Voxpopme has 4.7 stars and v.close to 500 ratings.

People have commented regarding how simple it is to make a little extra money and that the videos are so easy to upload.
The ease of use with this App, was something that struck me as a real bonus.
The App has a slightly lower 4 stars on Google Play, with over 1300 ratings.
The less favorable reviews seem down to some people experiencing glitching with the App.
I personally haven't experienced any glitches yet.
Still, there are many 5 star reviews.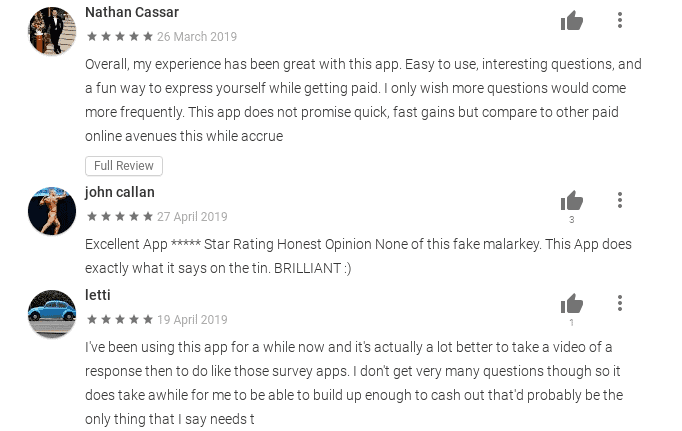 The feedback for this App is very high and the complaints appear to be minimal.
You're not going to make very much money with this App, but you can certainly make a little bit of pocket money here and there.
PROS VS CONS:
PROS
Simple to join & quick to get started.
A unique take on the usual survey-panel App.
Quick to create mini videos for cash.
Fairly low payout threshold.
Payment via PayPal.
CONS
You don't get anything for the profiling mini-surveys,
It's possible they will share some videos via social media, or on their website & you don't have control over that.
You won't make much, it's a small income opportunity.
Want a $5 bonus? I recommend this survey panel.
Concluding Thoughts – Will I Stick With Voxpopme?
I really like the idea of Voxpopme and despite my reluctance to be on video, quite enjoyed it.
That being said, the thought of my cringe-worthy videos being broadcast on the net somewhere, doesn't exactly appeal to me.
But if you're more of an extroverted type, then you may not care about that!
I think I'm going to keep going, at least until I reach the payout threshold and I'll see how it goes from there on.
What do you think about Voxpopme, are you going to give it a go?
Let me know in the comments & I hope you found this voxpopme review useful.
Beyond Survey Apps:
If you're looking for ways to boost your income, beyond pocket money potential – there are lots of opportunities.
You may want to check out my 40+ ways to make money online, for some ideas!
To make more passive income over time, I recommend starting your own website online, which you can earn from in many ways eventually.
You just need to look at it more as a long-term investment of your time, rather than a quick short-term gain.
All the best,
I started learning some skills here back in 2015, which showed me how to make money in the long-term!