PTC is notoriously thought of as probably the worst way that you can make money online.
But is Buxvertise a scam?  Or is this really a legit way to earn a little extra cash online?
I will give you some information about what this site is about and what it can offer you.  Then you can make up your own mind!
Let me know in the comments, if you have had any experience here, or would just like to ask a question!
Review in brief:
Product: Buxvertise
Website: www.buxvertise.com
Price: free to join, or $5 a month/$35 a month.
Income opportunity: peanuts.
Overall score: Not recommended.
Review in brief: If making money online was a wooden barrel, PTC sites, (paid-to-click) would be the scum stuck to the bottom – and this is no better.
What Is Buxvertise About?
Buxvertise was created in 2014 and is a PTC, (paid to click) website.
PTC websites have two key uses: either people are getting paid to click on Ads, or people are paying for their Ads to be shown.
Many Ads will be unsuccessful at bringing in quality traffic, because people clicking on the Ads are doing it to make money and not out of interest.
That being said, many of the Ads are for other PTC related sites and similar sites in nature, so for those types of Ads, I imagine they will be relatively successful, because that is what the audience is after.
The Ads are one of the most interesting parts of PTC sites for me, because so many of them look to be advertising for other PTC sites, or other programs that may appear particularly scam like.
Although, I once discovered paidtoreademail.com on a PTC site and it looked exactly like a scam, but actually it was just a legit survey site.  So, you can't always judge a book by its' cover.
Anyway, a majority of PTC sites I just wouldn't give the time of day to.  If you're going to view any at all, Clixsense is probably one of the better options.
How Do You Earn At Buxvertise?
The core way of earning at Buxvertise, is by clicking Ads, but they do have a few other ways you can make money too.
Clicking Ads:
You earn between $0.0001 – $0.0011 by clicking on Ads.  Yes, there really is that many zeros involved, (on the wrong end!).
There don't seem so many Ads available as on other sites I've viewed.
As with most, you simply slick on the Ad and you wait for 5 seconds, it will ask you to pick out a picture of an upside down cat, then you can go to the next Ad.
Wheel Of Bux: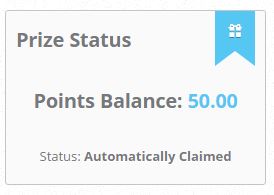 I won 50 points on this during my first spin.  By accumulating a certain amount of points, you can exchange them for cash.
However, you need 2000 points in order to earn a single dollar, or 1000 if you're  and eternity member, (I will discuss paid membership in a moment).
Daily Raffle:
If you click on 15 fixed Ads per day, you can get an entry into the daily raffle to win points.
Bux Grid – Earn Up To $1000:
A clix grid is also another common PTC feature.  This is where you click on pixels of a photo, with the chance of winning up to $1000.
I'm always dubious about the winners on these, I'd like to hear from anyone who actually has one that much.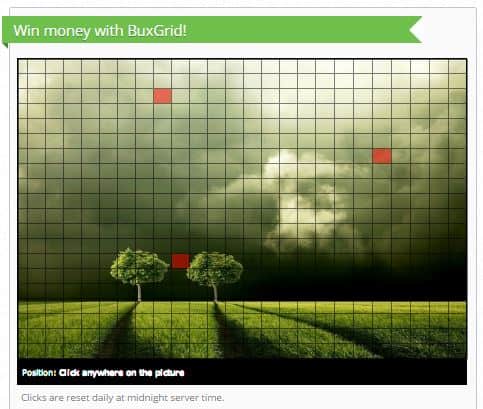 Other ways include surveys, CPA offers and mini tasks – although, if it's survey related sites you're after, this would not be a good choice.
Referrals:
You get a referral link when you sign up to Buxvertise and anyone that signs up via your affiliate link and is active can earn you commissions.
What you earn via your referrals will depend on what type of membership you have.
As a free member, you earn 50% of your referral earnings and this raises to 100% or 200% depending on which paid membership you have chosen.
However, you do need to click on 6 Ads per day before you can make any commissions from your referrals.
You also have the option to rent referrals – I'm highly suspicious of this concept frankly.  Particularly as some PTC sites claim you can rent into the tens of thousands at a time.
But where do all these referrals come from?  Many people have claimed that some of these referrals are really Bots – but this may also depend on the website.
You can rent your referrals for 42 days, but then you need to renew them, which costs between $0.06 – $0.07 per referral.
However, you would need hundreds of these referrals before you made even a few dollars – and you're also paying for them.
Many referrals become inactive.  Most people, (if they are people) will lose the motivation to continue with PTC sites – and who can blame them!
Free Vs Paid Membership
The free and paid membership options are as follows…
Buxter membership – $5 per month.
Eternity membership – $35 per month.
Essentially, paying for membership allows you to earn a little more per click and have more referrals, (rented or paid).
You can see a full explanation of these differences below.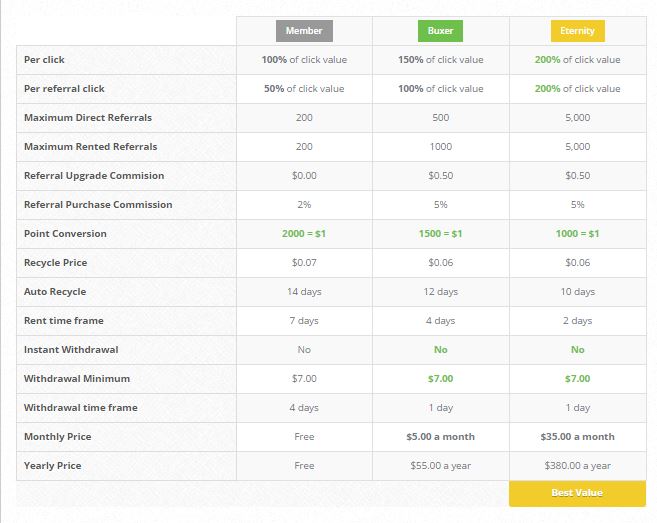 The only way I can see there'd be any reason at all to spend money on this website, would be if you were able to get hundreds or thousands of free active referrals who signed up via your referral link.
But even with a huge number of referrals, you would not earn much.
You may also consider the rented referrals option, but this is also risky because
1. you have to pay for them in the first place before you've made any profit and …
2. there have been complaints that rented referrals either don't work, or quickly become inactive.
Buxvertise Complaints:
Complaints have surfaced about Buxvertise, despite just being a couple of years old.
Complaints are what you'd expect from a PTC site, including:
"referrals," quickly becoming inactive.
No profit on investment.
Low earning potential.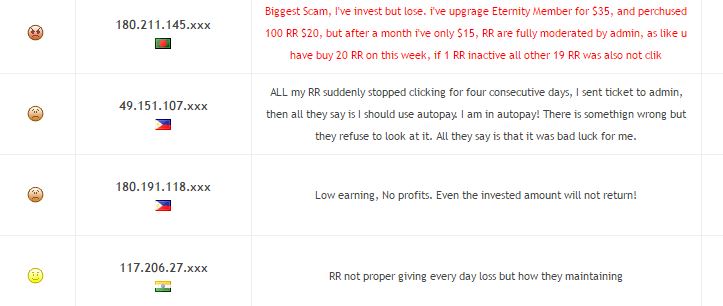 PROS VS CONS
PROS
Anyone can join – Wordwide.
They're paying out for the moment.
Forum available and live chat option.
They have paypal available – this is a good thing, as paypal offers refunds and good customer support, scam sites tend to avoid paypal.
CONS
Extremely low earning potential.
Appears to be less Ads available than on other sites.
Conclusion: Is Buxvertise A Scam? Or Legit
No, Buxvertise is clearly upfront about the price they're paying you to click on Ads and everything else on the website.
There are no false promises or deception, as far as I can see and at the moment, they're also paying out their commissions.
Many PTC sites have been criticised for not paying out and some stop paying altogether.
But just because I don't think this is a scam, does that mean I recommend it?  Hell no!
You'd earn more for your time on a survey or cash offer type site if you're really just looking to make a small amount on the side.
Or for a more longer term opportunity, where you can learn how to make more significant money online – you could check this out.
Do you have experience with Buxvertise or other PTC sites?  Leave me a comment below!
All the best… 🙂