TAKE NOTE: This program has since changed….  I have updated my review here.
It's important to say off the bat, that the creator of this the four percent group, has already been revealed to be a scammer previously.  On multiple occasions.
So, what is Four Percent Group?  Scam or a legit program?
Product: The Four Percent Group
Creator: Vick Strizheus
Price: $49 monthly and additional upsells.
Overall Verdict: Not recommended.
Vick has been caught scamming people before on several occasions, he's shown time & time again, he can't be trusted.
But that's certainly not the only reason that I give this program a negative score… read on to find out the details.
What Is Four Percent Group About?
The four percent group is based on the idea that, only around four percent of anyone who has an idea to really change their lives actually do anything about it!
I like that idea, it also seems pretty close to reality, in my experience.
But that doesn't mean that signing up for this particular program will be the answer either – and it isn't.
By joining this program, it's not so much a program – as a sales funnel.  By bringing people in, you can get a commission on products that Four Percent Group recommends.
The actual products that are recommended, are actually all high quality products.
But there is a catch.
You actually have to sign up for the products yourself, in order to promote them with your sales funnel.
This will add up to almost $200… and that will be almost $200 PER MONTH.
This is an ideal little trick that many similar programs play, as it means the creators will generate large, multiple commissions, off every single person who joins the program.
They don't need their students to make any genuine sales, they just need to get who ever joins, to purchase their recommended products and they'll make good money.
There is also a high ticket item they hope you'll sign up for – which could cost you up to 12k!
Yes, you can also earn a commission for selling this product and a nice 40% commission at that – but the trick is, you need to buy it first.
This Man Has Been Caught Scamming Before….
Vick Strizheus has had a scam related past, as he was a prison sentence previously for insurance fraud.
Vick was just 25 at the time and he went on to create several internet marketing products, including Big idea Mastermind, High traffic academy and Project Breakthrough.
Project Breakthrough was also recently been revealed to be a scam, which is no surprise, this had been talked about for sometime online.
Additionally, within "Big idea mastermind," it was discovered that Vick had switched affiliate ID's with some of the big affiliates of the program, so that he profited from their commissions!
note – did you get your affiliate ID switched?  Let me know in the comments!
It's this sort of thing that may put people off affiliate marketing to start with – can you imagine going to so much effort to promote this product and then have your commissions stolen by one of the creators?!
Related post – What are the PROS & CONS of affiliate marketing?
What Do You Get For Your Cash?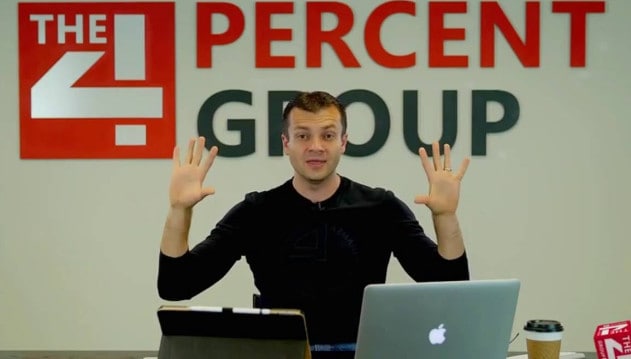 Essentially, Four percent group provides some training, coaching calls & made-for-you sales funnels, various tools and resources.
– A conference calls, once per month.
– Set of training videos.
– A membership area.
– 50% commissions on items sold.
– Sales funnels.
– Additional tools.
You'll be promoting some well known products, that are definitely not scams, (which is definitely a plus here).
Products include well known service providers, such as GetResponse and Aweber. Domain name providers, such as Namecheap. Plus various others!
The only thing is though, you could easily promote any of these things yourself, if you built your own website.
Useful Post – How To Make Your First Affiliate Sale.
As already discussed, you also need to sign up for some of these products if you want to make a commission from them.
Why The Four Percent Groups Sucks For Newbies:
Programs like this always claim that they are great for newbies, with zero experience.
But I have never found that to be the case.
If you're new online, or if you've yet to make any money – it can be tempting to jump into a program like this, that seems to take away all the hard work.
They provide the sales funnels, you just need to get eyeballs in front of the products.
But that in itself is much harder than it may seem for most people starting out.
Often programs like this just do not go into enough detail for people who are are brand new online.
If you want to make money online, you shouldn't take short cuts – you need to build your own website and learn the ropes from scratch.
Otherwise, you just end up in a situation where you have no real control. If the program crashes, so does your business.
If you're just planning on doing this for a short period of time, or if you already have an online business and what to do something on the side, then I can see how something like this could appeal.
But there are better programs that have this sort of automated set up – while it's not perfect, something like CB passive income would be better.
But if you're new online and you're really wanting to create a sustainable long-term business, you want to be the one in the drivers seat.
While it's not easy, it's not difficult to learn the basics…
so, jumping into spending a lot of money, before you even know for sure whether internet marketing is for you, just doesn't make sense.
Once you have your own website created, you can think about promoting whatever you want.
Another key reason this program is bad news for newbies, is that the traffic generation training only discusses paid methods.
Going straight into paid advertising can be so risky for people with no experience of it.
Useful Post:  Free Ways To Generate Traffic To Your Blog.
Is The Four Percent Group A Scam?
Just because this guy has a bad history and a history of scams, it doesn't necessarily mean that this is a scam, right?
That's certainly true, but personally, I'd rather join a program that has someone with a good track record fronting it, who is trustworthy.
I don't think this is an outright scam, but considering you have to purchase the products they recommend prior to promoting them – that's a giant warning sign.
Vick will benefit from anyone who signs up, just by them purchasing these products.  They know a majority of people signing up will not make a dime.
There are still people online who have said they're making money with this program though and stick up for Vick – some claim to love his training.
Unfortunately, you can't always trust the people who contact you, but I still take it on board and like to hear all opinions.
Are you a member of Four Percent Group? Please leave me a comment below.
If you're keen to learn about affiliate marketing, it's best to learn from scratch and learn the basics.
All the best,