What Is My Cycler, A Scam?  Or Easy Money?
So, they say that My Cycler is an advertising company – offering advertising services.  In addition to being a company, "straight line forced cycler."
My Cycler claim that you can turn a $10 per month investment, into multiple $50 per month profits.
The creator of My Cycler is Monos Sergakis, who says he is an experienced network marketer – actually, he was recently an admin for a pyramid scheme that launched just in April 2016.
That scheme was called "one world ads," and is predicted to collapse at some point in the near future, as it's been in decline since autumn 2016.
Perhaps this is why Sergakis thought he's better set up this scheme before the inevitable.
This is what people involved in these schemes do – they set them up, they crash down, they move on to the next – leaving a majority of any people that invested at a loss.
My Cycler – What Do You Get?
For your $10 per month, you're meant to get access to tonne of products.  A whole $5,000 worth they claim!  These products are meant to help you, if you have an online business. 
Products ranging from SEO tools, funnel systems, ebooks and videos…  Well, my guess here is that a majority of these products will be PLR products, or similar.
In addition, you're meant to get advertising credits – which, if it's like any of the other related programs I've seen, will probably not be used.
The advertising element is just a smokescreen for the complete lack of any tangible products on offer.
It's a way to avoid being revealed to be a scam and slip through the net.
The real thing people are paying for of course, is to make this "passive income," that the website talks about.  It's to make money, not buy advertising.
You can see the structure below, where your $10 should go.
Below is a table demonstrating how My Cycler is meant to work….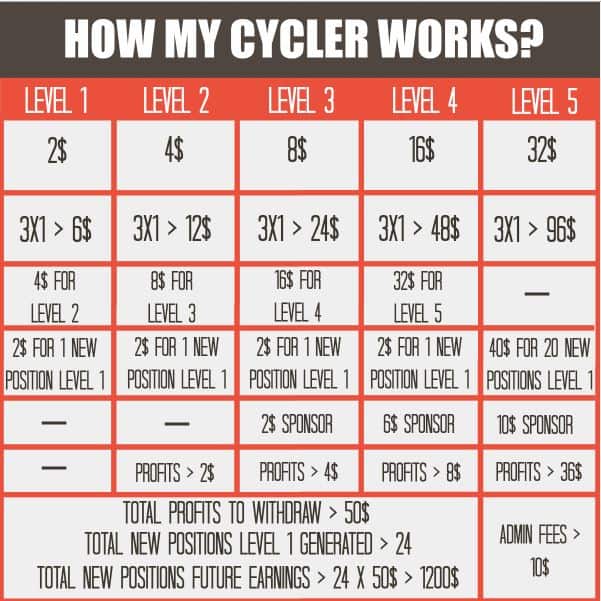 They also make it appear easy to partake in this – and that this is something that can sustain itself long term, but it is not.
But to sustain these programs for any amount of time at all, you need an endless supply of sign ups – as soon as sign ups dry out, the program collapses.
My Cycler On YouTube:

Just for informational purposes – I do not recommend this program.
My Cycler Claims they are an "Advertising site."
My Cycler say they are not a get rich quick scheme or ponzi scheme- they say they are an "advertising site, that caters to all your advertising needs…"

So, this is why they claim they are not a scam and yet, no mention at all about the Cycler element in the above paragraph – which is the entire point of this website.
You have to worry when a site has an explanation in their FAQ of why they're NOT a Ponzi scheme….
Especially when their explanation of what sort of business they are skips out on THEIR ENTIRE SELLING POINT: to make passive income.
They are selling this website as a way to make lots of money each month passively – they are not selling it as anything to do with being an advertising business.
It's right there in the title!  "NON-STOP PASSIVE INCOME!"….
What on earth does that have to do with purchasing advertising packages….?
Absolutely – nothing.
No Paypal Option:
My Cycler is not providing a paypal option and this is very often a warning sign.
Often when schemes like this have run into trouble in the past, or been reported – Paypal has frozen or closed down accounts.
Paypal explicitly states that they will not support anything considered to be a ponzi/matrix/pyramid type scheme and there are also contact details via their website to report any that are suspected to be.

So, it's no surprise that My Cycler does not use Paypal.

No Refunds:
Also be aware that you certainly won't be eligible for any sort of refund.
They claim in the FAQ's that purchasing positions in the cycler is "not an investment or deposit of any kind" and that any earnings are merely a bonus!!
Really?  That's not what it sounded like on their sales page is it?
On their main banners it says: "Non-Stop Passive income – turn $10 into unlimited $50 payments."
By that banner – would you have any idea here that advertising played any key role in this business whatsoever?  Of course not, because it doesn't play any role.
While some affiliates may get out of this – the mass majority of anyone who signs up, will be left with a loss.
Is My Cycler A Scam?
Cycler programs are being created constantly, all over the web.  To partake in them, you are supporting scam artists, who are getting wealthy at your expense.
You may think – so what if you lose a small amount of money, no problem.
But that's exactly what they're hoping for…
imagine just how many thousands of people think the same thing?  All those $10 certainly add up big time, but the juicy profits are not going to you.
As I said initially, there may be a small minority of people who signed up immediately as this site opened who may get a profit – most likely these are known by the creators and will gladly be showing their income proof around to bring in new recruits.
But a huge majority do not make their money back and make a loss – that's just the reality of these things so, be aware from the get go.
To make legit money online, you need to consider taking the time to build your own online business from scratch. 
While it's not an "easy option," it is one that is sustainable long term.
There are various platforms where you can learn to do that, but I recommend you start here – it's where I learnt myself and continue to learn… As there is ongoing training all the time.
Thanks for taking the time out to read this review – have you been part of any of these types of programs before?
Let me know in the comments.
All the best….

Other Posts That May Help!