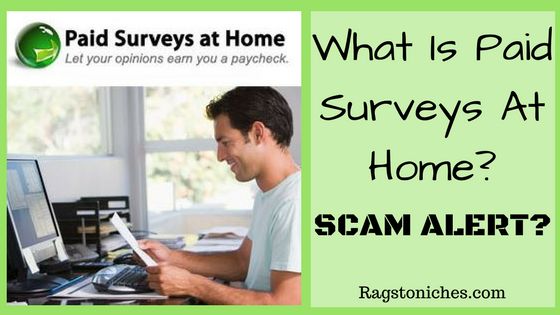 What Is Paid Surveys At Home:  A Scam or a REAL opportunity?
product: Paid Surveys At Home
Money Making Opportunity: pocket money
Creator: "Partricia Johnson?" Very likely a made up name.
Price: $68, with various downsells.
Overall Rating: 10/100
Review In Brief: What you're paying for here is a list of survey companies, that you can find for free online. They vastly exaggerate your potential earnings to get you to sign up and then, once they have your email address, they then send dishonest scam product promotions to you.
Prior To Payment
Before you pay for anything at all on their website, you need to enter your email address.
Right off the bat, this is an issue, because you will be subject to third party emails.
As well as paid surveys at home, (PSAH) sending you promotional offers too.
If you do sign up for this, I suggest you add a separate email address – or one that you rarely use.
What Is Paid Surveys At Home REALLY?
PSAH is a company that essentially gives you access to a bunch of survey related sites online.
All legitimate survey sites are FREE to join and many more than you would have time to participate in  are freely available for you to find online.
While I don't strongly recommend doing surveys as a worthwhile thing to do to make money online, some sites are better than others.
For example, I've positively reviewed plenty of sites such as Swagbucks, Prize Rebel, Earnably, Earn honey and cashcrate.
But: I review them as a way to make a few extra bucks here and there – not as a significant way to make money online.
Unfortunately, many people looking to make money online have a get rich quick mentality…
They often need money fast and they want it to be easy.
This makes people victim to scammers, who are waiting to take advantage of that desperation – or greed.
People are happy to take a small risk, if they feel the reward will make it all worth it.
Unfortunately, in the case of scams, it's a waste of your time and money.
The PSAH Sales Pitch
Once you've given your email address, you're taken to a video.
The guy in the video, says he was amazed when his friend showed him how much money he's made by just doing surveys.
He says that if you need a few hundred extra dollars per month, or even an extra THOUSAND dollars per month, then this is the opportunity for you.
"Kevin," talks about having a special trick that earns him hundreds of extra dollars a month…
this trick he's talking about are paid surveys.
Hardly a trick…millions of people partake in paid surveys worldwide.
If it was really SO easy to make hundreds or even thousands of dollars from doing paid surveys, do you not think a lot more people would be talking about it?
Generally what you do see, is REAL people moaning about paid surveys because they're such a slow way to make extra money.
They take a lot of time and effort – for very minimal reward.
"Kevin," also clearly states that you can make $5-$75 PER SURVEY!
This is program is very similar in nature to two other related products I've reviewed, "click4surveys," and "take-surveys-for-cash"
You will NOT get $5-$75 per survey. This is a lie.
Most surveys will pay $1-$2 if you are LUCKY!
But the lack of pay is not the only problem with online surveys.
Mega Survey Site Problem: You Don't Qualify!
You will only get paid if you actually complete a survey.
But often times, this is the where the real frustration comes in!
So often you will answer a whole bunch of questions and think you're doing well…
When you're suddenly chucked off because you no longer fill certain criteria.
Sometimes this happens when you're JUST due to finish!
So, you've then just wasted a lot of time and you are not paid.
This can happen time and time again.
>>How you can start making legit money online.
So, what do Paid Surveys At Home Give You?
They say they'll give you access to over 400 companies online.
Well, these are easily accessible websites, that you can find online for free in two seconds.
If you're going to have a go at paid surveys, you definitely do not need to be signing up to 400!!!!
All you would need is a handful of reputable websites to get started and those can be found by a simple google search.
I can't stress enough: survey sites are FREE TO JOIN!
You do not need to pay anyone for this information.
You can however, get a 60 day money back guarantee.
They say it will cost you $68 at first, but that you have a special coupon code to make it $34.
(Surprise – there is always a coupon code).
There are usually downsells as well, as low as $7… although, at the time of me checking this out, I wasn't offered it.
It might have been my pop up blocker! 🙂
PROS VS CONS
PROS
A list of survey related companies in one place.
60 day money back guarantee – so, at least there is that.
CONS
Dishonest info and projected earning potential.
Fake appearing testimonials.
Potential SPAM threat from giving your email address.
Survey sites are FREE to join, no need to pay.
>>This is where I started making money online.
Beware Email Spam!
Once you let them have your email address, you will be sent emails advising you on how you can make money online.
However, paid surveys at home are promoting scams.
One scam they promoted, involved a binary options trading scam.
Binary options scams are very popular these days – generally, they'll be selling an "automated system".
A binary options "robot," that will make money for you on autopilot.
The trouble is, it won't work.
Conclusion:  What Is Paid Surveys At Home?  Scam Or Legit?
While many would call this an outright scam, I would stop at saying it's very deceptive and dishonest.
What they provide you with will be something….
it's a database of survey related sites.
BUT it's something you could easily seek out yourself.  For free.
Also, by signing up with them, you could also be opening yourself up to additional scams.
Since, they have no issue sending them right to your email inbox.
So, What Now?
If you want to make money online, survey sites are one way to do it.
But it's not a good way.
it is a very slow, tedious and frustrating to try and make any sort of reasonable money with survey sites.
For the time you will be spending doing that, it'd be better to focus on something that could potentially make you much more over time.
I started online by entering sweepstakes/competitions and it was HARD work…
I put in long hours and – and while I did get some amazing prizes, it's not something I could rely on long term.
I've also tried many survey sites and they were very frustrating – because so often you don't qualify for surveys or are chucked off before you complete them.
I've been more impressed recently by usability testing sites, where you get paid a small amount to complete tasks and normally being recorded in some way.
For some tests you will get $10 for 20 minutes – certainly beats the going rate for surveys.
While you can earn more with it than survey sites, test availability can be slim from what I've observed so far.
My Personal Choice:
I make a majority of my cash online now via affiliate marketing and this is where I learnt how to do it.
They also have a free trial.
What sort of things have you tried to make money online – have you had much success?
Leave me a comment below!
All the best,