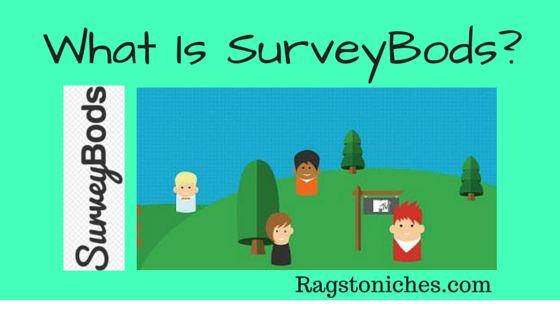 What Is SurveyBods?  Easy Cash Or A Waste Of Time?
I've seen SurveyBods described as a "quick way to make cash," – this comment was actually via a student site.
I've had a fair amount of experience of survey sites of all different varieties and "quick cash," is normally not something I'd associate with it.
You can make money, but it's going to be a small amount.  It's not a way you're quickly going to make a lot of money.
What Is SurveyBods? Review In Brief:
Website: www.surveybods.com
Pay: bank transfer/amazon vouchers/prize draw entries
Payout threshold: £15
Cost: Free to join
Overall Verdict: Legit! You can earn a small amount of money here, but it may take you a while to reach cashout.
Feedback online tends to be mixed and fairly average. The site is visually appealing and user friendly.
SurveyBods is a paid survey site where you can sign up for free, fill out some info and take surveys on a variety of topics, in exchange for a small sum of money.
You can also enter their prize draw, or exchange your points for prize draw entries instead.
You can earn between 50p and £3.00 per survey, with the lower amount being more realistic and surveys tend to be around the ten minute mark.
You need to reach their £15.00 threshold before you can withdraw any money.
You can either withdraw in amazon vouchers, which will be emailed to you – or by bank transfer.
Does Survey Bods = "Quick Cash?"
Well, first of all, you need to actually be offered surveys to begin with.
After I completed my profile in its entirety I had made £2.00.
That's all well and good, but then there were zero surveys available to me.
Having now reviewed tonnes and tonnes of survey sites, this can sometimes happen.  It can take a while for surveys to come in.
That said, seeing a big fat zero next to surveys, was not promising.


After a bit of research, I see that this is another downfall of this site, they don't offer many surveys.
Apparently this is in line with UK regulations.  But the problem with it is, it really limits your earning potential.
Useful Post:  My favourite extra income sites!*
But even if you do get a survey – You may be screened out.
Once you do get offered a survey, the second problem is – you may well not be able to complete it.
A common problem with a majority of survey sites – including this one – is that surveys are looking for a very particular demographic.
I seem to be in an unfortunate bundle of people who get screened out of a majority of surveys, (although apparently I am far from alone!)
If you don't fit in with their demographic, you will be screened out of the survey and unable to complete it.
I have now discovered two sites that don't screen out, (let me know if you know of any others!)… These are YouGov and Prolific.
Where you get screened out depends on the survey, but it can sometimes be after you've been answering questions for several minutes.
Then you're back to square one…. SurveyBods give you an extra "prize draw entry" as compensation.
So, that's something.  Many sites don't give you any sort of compensation.
Or at least a fraction of the amount you signed up to the survey for in the first place, considering you've just answered several questions for nothing.
Let's just say you have managed to complete the survey and you make 50p…
Well, you would then need to continue on with this, completing more surveys, (where possible) until you reached £15.
The time involved is impossible to predict, as it would depend on how many surveys you're screened out of and also, how many surveys are available.
Considering the relentless screening out and shortage of surveys to begin with, this doesn't appear like a way of making quick cash to me.
However, let's now say you've made your £15….
You now need to withdraw.  But it will take up to five days to receive an Amazon voucher via email.
However, it would take up to three weeks to receive the money in your bank, should you choose this option.
This is surely the slowest quick cash in the world?
If you can tell I was slightly irritated by this article that claimed SurveyBods could make you quick cash, you'd be right.
The article was aimed at students and clearly written by someone who had absolutely no intention, nor any experience of completing online surveys.
Online surveys do not provide anyone with "quick cash."
So, that all aside – if you're not expecting to sign up today and walk out tomorrow with a bundle of cash, is survey bods worth signing up to?
Well, actually…  The feedback for SurveyBods isn't all that bad.  They have just over 3 stars on Survey Police, as an example.
PROS VS CONS
Pros For SurveyBods:
SurveyBods allows you to make £3 for signing up if you link up via their Facebook link on their page here.
You simply sign up, fill in your details and you can quickly see your first money there, which feels encouraging.
Surveys range from 50p to £3.00 and this is certainly quite a lot more than I have often seen – however, the higher priced surveys will be few and far between.
Surveys are normally around the ten minute long mark and this brevity will help with how dull surveys can be!
SurveyBods is visually appealing and easy to navigate – some survey sites are really dull looking and the aesthetic appeal helps!
Cons For SurveyBods:
If you joined before 28/08/2013 your redemption level remains at the original amount of £25…  That doesn't seem very fair?
These people are loyal to surveyBods for over three years and yet, have to do £10 more work than anyone else before they get paid?!
You need £15 in the bank before you withdraw – not terrible, but not great.
Many survey sites are reducing this right down to £10 or even £5 and I feel this is much fairer.  With screening out being the norm, it can take a long time to make £15 and many people will quit before they get to it!
Lack of surveys
Lack of much going on at the site at all
It's be nice to have a forum or somewhere you can talk with other members, the actual content on the website is very minimal.
If you're really keen to try out surveys, it is a legitimate site and certainly better than some – but it's also not the best.
My favourite pocket money site?   Swagbucks. (£3 sign up bonus).
Beyond Survey Sites – Making More Long Term?
There are far more efficient ways of making money online in the long-term.  Although, most of them I wouldn't deem "quick cash," either.
Even if you're not a student, visit my post on how college students make money online – as they can be options for anyone, student or not.
Generally though, the way you can make money online takes time and normally isn't instantaneous – which is often not what people want to hear!
In my case, I've started building up little income streams that grow into something more significant in the long-term.
Some of those income streams involve affiliate marketing, which is how I make the most online right now.
If you'd like to learn how it's done…  access some free training here.
Have you had any experience with SurveyBods, or other survey-related websites?  Let me know in the comments below!
All the best… 🙂