What Is Two Dollar Click?  A Scam?  Yes!
I'm quite amazed that this site is still operating, many PTC sites have been eventually been closed down for being scams, so far this one is still open.
Get your voice heard and comment if you never received your payment.
Product:  Two Dollar Click
Price: Free to sign up.
Income opportunity: payment threshold $1000, but it doesn't pay.
Overall Rating: 0/100
What Is Two Dollar Click?
Two dollar click have been around for a few years now and they're a PTC site, that means you get paid-to-click on Ads for a certain amount of money.
With most PTC sites, this will normally be between a fraction of a cent per click and one cent per click.
However, with two dollar click, they claim that you can earn anywhere from $2 to $8 per click – with each Ad view lasting for between 30 seconds and 180 seconds for higher paying ones.
This is just so far and beyond what any PTC site actually pays.
In addition to clicking on Ads, you can also advertise your own products or services on the site.
You pay to have your Ad visible and your Ad will be one of the ones that pops up for people to click on.
A majority of the feedback I've seen has been from people just trying to make money from clicking Ads, so I don't know how reliable two dollar click are at paying out to their advertisers, (let me know below if you've had experience).

The best sort of Ads for PTC sites are generally Ads for OTHER PTC sites, or other make money online programs that are initially free to join, or have a low buy in.
Most people come on these sites because they want to make money and generally, they want to make it for free too.
Many people will not pay any attention to what the Ads are, so this can mean that much of the traffic derived from a PTC site is often worthless.
How Would You Get Paid?
They say that payments will be made each 60 days, so it's meant to take a couple of months to make it to you.
Once you've reached the threshold of $1000, you can request a withdrawal via Paypal or Payza.
However, that payment never does arrive – the payment will remain "pending…"
PTC sites do not pay anything like $2 a click, this is partly why they are such a giant waste of time.
Many pay fractions of a cent per click and it will take a lot of effort to just make a couple of dollars.
Generally, PTC sites are a terrible way to make money online.  The best I have reviewed was Clixsense and even then, that has it's problems and is still very low pay for the time and effort put in.
Two Dollar Click – 2.5 million active members?! Over 13 million paid?
If they genuinely had over two and a half million active members, with millions being paid out, you would certainly have more glowing reviews out there, than people screaming out that it's a scam.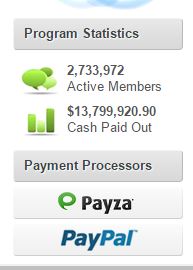 The reality is, anyone can also get referrals for this program and if only it actually paid out, lots of people could make a tonne of money from positively reviewing this site.
Unfortunately though, there would be no point, because once you reach the threshold, no money is paid and that doesn't matter whether your money has come from your own clicks, or your referrals.
Unfortunately, because the income promise seems so high, ($2 for watching a 30 second AD would be super easy money, wouldn't it?) people still jump on the chance and waste their time.
Who Is Two Dollar Click Aimed At?
These guys are targeting people who are really in need of money and want something that can pay them quickly and easily, no experience necessary.
A majority of people who have any experience with either PTC sites or making money online programs, would likely realise this is a scam right away.
That is because, PTC sites just do not pay that much per click for an AD.
The thing is, even the PTC sites that DO pay just fractions of a cent per click, have ended up being closed down for not paying their members.
So, what do you think the odds are that these guy will pay you at $2 or $8 per click?   Seriously, it will not happen.
Go ahead and try it to reach the threshold if you like, but you will be wasting your time.
Also, you need to pay for a premium membership, which I suggest you do not purchase – unless you want to lose your money.
If Two Dollar Click Is A Scam, Why Are People Still Signing Up?
It is interesting to see that so many people will continue to sign up for this, despite the warnings of a scam.
I imagine some people just think that, it's free to join so – why not just click on some Ads and see if they make the $1000?
That's another thing, the $1000 is a wildly high payout threshold – most PTC sites may pay after you reach a few dollars.
A majority of people bore very easily of PTC sites and quit shortly after starting – so, on this basis it is likely that a majority of people signing up never stick around long enough to reach that $1000 threshold anyway.
But of the minority that do, they will find customer support unresponsive and be waiting for months….and months… and months… with no payment ever made.
Beware Of Spam
If you're still unconvinced and want to sign up, be sure to supply them with a different email address to your usual.
They do not appear to have a privacy policy and it's extremely likely that your information will be sold to third parties.  This will mean additional spam flooding your inbox.
Proof That Two Dollar Click Cannot Pay…
You only have to use a little bit of common sense to realise that this company cannot possibly pay you $2, (or more) per click.
You can figure this out by knowing what the advertisers themselves pay.  If you want your AD to be clicked 1000 times, it will cost just $5.
This works out as half a cent per click.  This what Two Dollar Click will be making from their advertisers – and then they have to pay to run their site and who ever is working for them and so forth.
So, how exactly will they be paying $2 per CLICK to the people doing the clicking, when they only get half a cent per click from Advertisers themselves!?  You do the math.  That is an impossibility.
Referring Others
When you sign up, you also get the opportunity to refer others to the website.  If you find your own referrals using your own affiliate link – as a basic free member, you can receive 10% of your referral earnings.
But unfortunately, this will mean nothing considering you can't actually get paid.
If you're a paid member, (premium memberships ranging from around $20-$39) you can generate up to 200% of your referrals earnings – obviously, they want this to sound very tempting so that you may consider paying for a membership.
You can also pay for referrals, I do not recommend rented referrals – that can quickly become inactive and in this case, it would be completely pointless anyway, as you won't get paid.
I strongly suggest you do not pay for a premium membership – you can test it out by signing as a free member if you like, you will then see that you're not paid and at least won't have wasted your money.
Terrible Support
Support is basically non-existent, you can contact their "team" via an online contact form and that's that.
Many legit PTC sites will have active forums where people can answer questions and share their experiences, but that is not the case here.
Due to the amount of negative reports online already, it's hardly surprising that they have no forum for members to bring up their issues.
Complaints Online
Unsurprisingly, complaints resolve around the main key issue here: PAYMENT!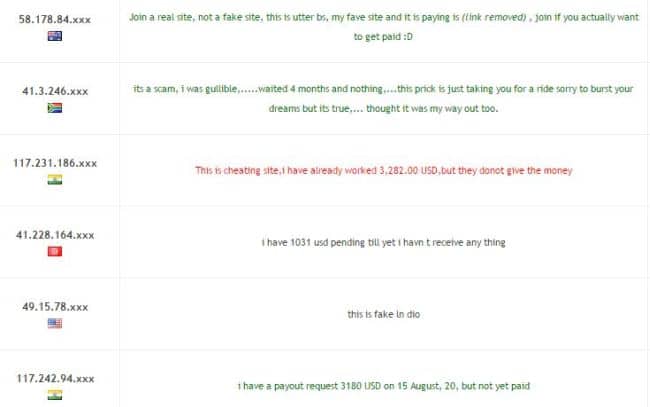 There are mass amounts of complaints online, all saying the same thing.  That this is a scam site that will not pay you your money.
You reach threshold, opt to pay out and absolutely nothing happens – there is then no response after complaining via their contact form.
If this site were legit, a huge number of people would be trying to get referrals for this program because it would be the highest paying legit PTC site to ever have existed… sadly, that is not the case.
Conclusion:  Is Two Dollar Click A Scam?
There is no doubt this website is not paying people, it is a complete waste of your time.
PTC sites will not pay $2 per click – the norm is fractions of a cent, you may get up to a couple of cents at a time rarely.  But certainly not $2!
As I've explained, they couldn't possibly pay out this rate for clicking on Ads, when the advertisers paying them are paying nothing like that per click.
Are PTC Sites Worth it?
PTC sites will generally target people who believe they do not have the skills or the knowledge to make money online in other ways.
They also generally want to make money easily, without having to put too much effort into it – and that's understandable, who wouldn't want to make easy money just by doing a few clicks here and there?
But PTC sites are the lowest income opportunity around when it comes to making money online.
Even paid surveys online pay more and generally I'm not a big fan of those either.
The first way I made money online was via affiliate marketing and it is a low-risk, low-cost model to get into, yet you can build up to a decent income over time.
It's  not "easy", but anyone can learn and you can make decent money with it with some hard work.   See this program review, if you're interested in learning.  Starter memberships are free.
How you signed up to Two Dollar Click?  Let me know in the comments!
Other Posts That May Interest You….
All the best….