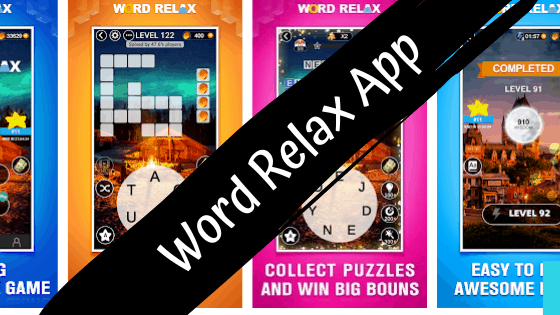 Will Word Relax App really pay you for playing a word game?
I've looked into all sorts of Apps that claim to help you make money for downloading apps, doing free scratchcards, paid surveys, paid offers and much more….
But Apps that pay to you to play games specifically is more of a new on for me.
Recently I've seen an upsurge in Apps that claim to pay you for playing simple word games and one of those is called Word Relax.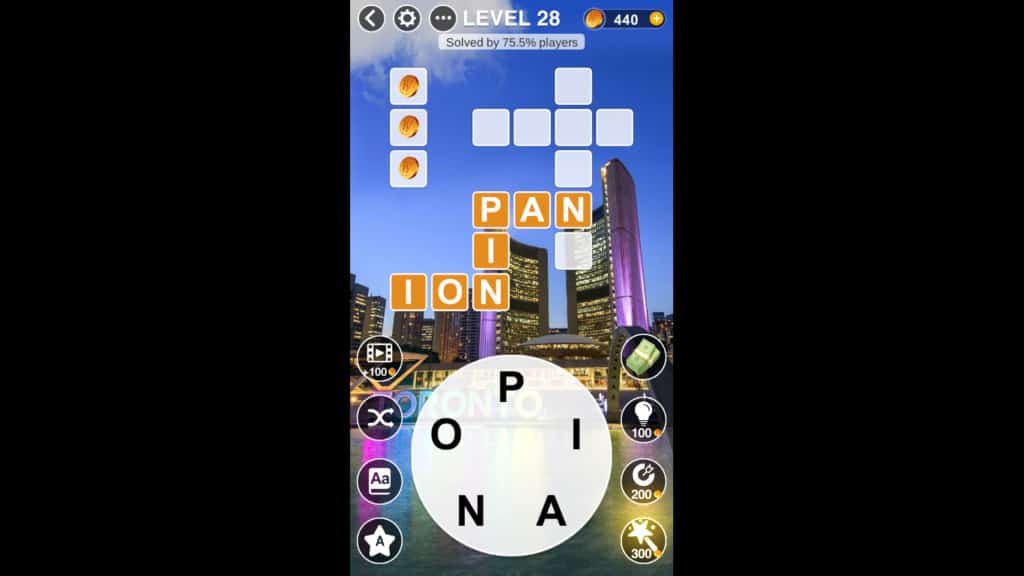 Want to stop making pocket change? Learn how to build an online income – like I have!
How Does Word Relax Work?
Simply download the App for free in Google Play and you can get started immediately.
You simply need to find words from a selection of five letters, that will fit in the word grid on your screen.
Words may be from two letters, to five letters long.
You can earn coins for completing different levels and also some cash along the way.
When, (or if) you reach $20, you can withdraw cash via PayPal, or exchange the money for an Amazon giftcard.
There are many, MANY levels and some of the words get more complex as you go.
If you get stuck, you can use coins you accumulate to pay for cheats, will I will explain more further down.
How Can Word Relax Pay You?
You will frequently need to watch Ads, in order to get more coins, or more to simply continue playing on to the same level.
Advertisers will pay Word Relax every time an Ad is viewed and the idea is, they will share some of their profits with you.
This is how you are able to play this game for free and, (theoretically) make a small amount of money.
Have you made money with Word Relax? Let me know in the comments!
How Much Can You Make?
It's not really about how much you can make, as to whether you can ever cash out.
Typically with this sort of App, (where free money is involved) they start out by giving you some money, (but not enough that you can withdraw).
Eventually they will give you less and less, until it seems impossible that you will ever reach the cashout amount.
For example; after the very first level of this game, it said I'd won $5 already.
Then it went up again to $9, very quickly. They obviously want you to keep going with this.
After that…. a big drop, I got $1.50.
Next I got $1. Next I got $.50 …. So, you see, it goes down.
Not only does it go down, but the period of time that passes before you get any reward at all, gets longer over time.
You also have to watch more Ads as time goes on. At first, I watched hardly any Ads, but as I progressed I needed to watch more.
Cash Vs Coins… What's The Difference?
You get cash via the game but that just stays in one place and you don't need to use that.
You also have coins that you collect and you can use these coins to skip viewing Ads, if you want), or to get things like additional clues or extra time in the game.
you can also get more coins, by watching more Ads.
In addition, there is a "task list," where you can get more coins for completing certain tasks.
For example, for using to hint cheats, you get 50 additional coins – or for sharing on social media, you get 50 additional coins, (see below image!).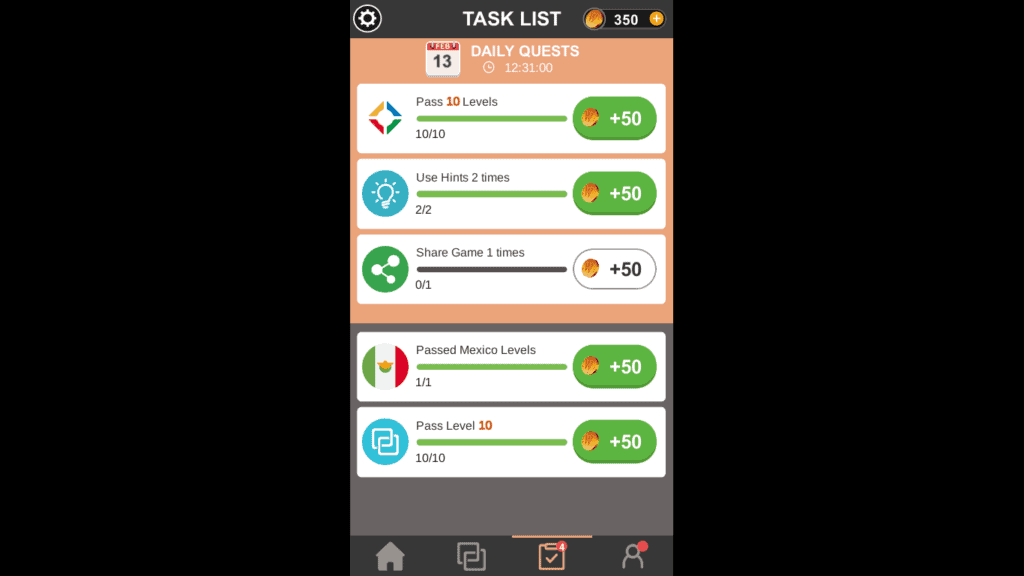 Cheats And Bonuses On Word Relax:
If you get completely stuck, there are some tricks you can buy – but they will cost you money in coins.
Here are some of the cheats:
Dartboard icon – you tap the tile to reveal latter, (cost: 200 coins).
Magic wand icon – tap this to reveal the entire word, (cost: 300 coins).
Hint – will give you a handy hint, (cost: 50 coins).
Obviously, it's better to just save your coins and not have to use these cheats or hints.
I used the cheats just to see what they were about and what they did – but I didn't actually need them up until this point in the game because, they just aren't that hard to figure out.
So, you can probably get by without using them!
Is This Game Misleading?
Having watched a lot of Ads for games like this now, I'm not surprising that people feel they're misleading.
The Ads often show people winning lots of money – when that's really far from the truth.
A majority of people just never reach the cashout threshold with these games and I constantly get messages from people who have spent many months playing a game and can't seem to manage.
These games are a bit different than what I normally look at though – I will keep going and see what happens.
How Much I Made….
By the time I gave up, (for now) I made $12.91. But the rate I was getting money was starting to very seriously slow down now.
I suspected it would soon go down much further very quickly.
All being said, I did still quite enjoy the game. The title of, "word Relllaaxxxx…" is pretty accurate, I found it quite relaxing.
What Do Other People Say?
This App currently has 4.6 stars on Google, with over 17k reviews and over 100,000 installs.
One reviewer said not to put any random non-existent words in the game, as they believe they make less money if they do.

Although, I'm very dubious as to whether this would have any impact at all.
As far as the money goes, people say it pays out initially an then it gradually disappears.

Many people that play this game just enjoy it for what it is. IF they happen to actually make money from it then that's fine – but if not, it's still a free game they enjoy.
Is Words Relax Legit?
I'd like to hear from some people who have actually won.
It's one thing to take an incredibly long time, but EVENTUALLY get to the cash out threshold – and quite another for it to be impossible.
Have you made it to the $20? Please let me know.
Aside from that, i'ts quite a fun game and it's fun to play – even without the promise of free money!
Beyond Freebies & Apps…. Want To Make More?
I became really interested in the idea of online business in 2015 and set about to make it my goal to at least build up a part-time income online.
Which thankfully I did achieve within the first year, but it took a lot longer to generate something more substantial.
I tried some of these ideas – some worked better than others.
But the one thing I've profited from more than anything to date, is having my own website.
How do you profit from a website? Well…. one way is from Ads when you have enough daily visitors.
Another is affiliate marketing, where you can recommend products & services and earn a commission for doing so.
Other ways still may include, creating your own products and courses, email marketing and more.
Having your own website means having your own piece of internet property, which no one can take away – & that means a lot!
Want to know how it's done? Check out the free training here – it's where I first started & it's great for beginners.
I hope you found my Word Relax review useful – please share your experience of this App, (or any others) in the comments section!