Clickbank Vs Amazon Affiliate Program:  Which One Is Best?
A common query for people just getting started in affiliate marketing – is which affiliate networks they should join as a beginner.
While there are many networks to choose from, (e.g. shareasale, CJ affiliate, affiliate window, Rakuten Linkshare… to name a few).
Two of the big names out there are:  Amazon and Clickbank.
I would like to point out before I begin, that there is no reason why you shouldn't join BOTH Amazon AND Clickbank.
You have complete freedom to sign up with multiple affiliate programs and do not have to be loyal to just one.
I have signed up to tonnes of affiliate programs in the past – including both Amazon and Clickbank.
In any case, everyone knows what Amazon is, many people have never heard of Clickbank.
Yet, Clickbank is actually one of the biggest marketplaces for digital products online today.
Which One Pays More?
Clickbank also pays out some pretty high commissions in comparison to Amazon – often in the 50-75% range.
Recently the Amazon commission structure has changed – Amazon commission started at 4% and can rise up to above 8% – as you sell more products.
The US now pay you a certain percentage, depending on what category of products you sell.
This was always the case for the UK Amazon and seems to be spreading across the various Amazon platforms.
While some people have seen a dip in their profits due to this change, others have found it has increased their profit.
Some people choose to disregard Amazon off the bat, because they think the commissions are too low. 
Which is a giant mistake, in my opinion.
If you're in a niche that would work well with Amazon, (such as specifically product based) you should not overlook it.
The Amazon Name Sells Itself:
Amazon associates is a great affiliate program for people brand new online, because Amazon are superstars when it comes to selling!
Amazon is a household name, so many people use it and more importantly, they trust it.
The best part about the Amazon affiliate program, is that whatever someone buys once they go through your link – you still get a commission.
I was making my first Amazon sales on one website I started early on…when I only had 20-30 unique visitors per day!
In fact, I barely touch that website whatsoever and have still made Amazon commissions every single month, for the last three years!!
That's insane to me considering I didn't make my first sale on THIS website for six months.
That's because I generally promote things on this site that people may never have heard of before.
It's far easier to send people to a platform they already know and trust and generate sales that way.
This is even more important when you're brand new and don't have any online marketing experience.
Sending people to Amazon, is just like sending people to one of their favourite stores and hoping they make a purchase.
So, once you have a website that's generating some decent traffic, you can do extremely well with the Amazon affiliate program.
There are plenty of people pulling in a full time wage being an Amazon affiliate alone…
Although, I wouldn't recommend putting all your eggs in one basket!
An obvious choice for an Amazon website, will be a product based website.
So, when people visit your Amazon affiliate site site – they're are normally already in a buying phase and you should target keywords to attract those type of visitors.
The big downside of Amazon is the 24  hour buying window – you only have 24 hours after clicking through your link for a customer to buy.
But even with that 24 hour window, it converts really well.
Amazon will be more of a natural choice if your niche is physical product based.
There is a massive variety of choice, (which is also growing all the time).
They're reputable, well known and trusted.  
Signing up with them is really simple to do also.
You will usually need a website to sign up with Amazon Associates, (although, I have heard of some people being accepted just with a large social media following).
If you do happen to have a large social media following and no website, you could sign up as a social influencer with Amazon instead.
PIN ME 🙂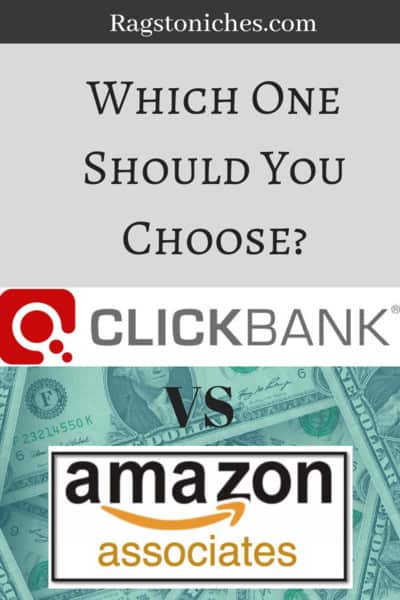 What About Clickbank?
If digital products are what you're after, then Clickbank could work for you.
Some common niches that incorporate Clickbank could be… fitness/muscle building, anxiety, affiliate marketing, dating or self development.
but there are many more besides.
Useful Post:  Choosing a niche – passion vs profit.
Bloggers in a majority of niches should be able to find a product that is a good fit for them.
The issue with digital products is, you can't easily recommend them without trying them out first.
If your blog is new, you'd be best to buy the product and check it out.
This could get expensive after a while and Clickbank will only tolerate so many refunds before they block your account!
If you're more established, you could approach the owner and ask for a review copy.
Clickbank has a 60 day duration cookie, so unless a customer goes via someone else's affiliate link after yours – you can get a commission if a customer returns and buys up to 60 days later.
Clickbank provides plenty of metrics to help you decide what products are worth going after too.
For example, Gravity.  
The gravity – is number which shows you have many affiliates have made a sale in the last 12 weeks.
They may have made 1 or 1000 sales, but each affiliate still counts as "1" on the gavity scale.
So, if a product has a gravity of 40, it roughly means that  40 affiliates have managed to sell at least one product within the last 12 weeks.
Clickbank is very easy to sign up to, but you do need to be cautious – as there are a whole bunch of poor quality products on there.
Pros Vs Cons Of Clickbank:
PROS
Wide variety of different products.
60 day cookie, so you may get a sale up to two months after a potential customer clicks through from your site.
Simple to sign up and promote right away.
60 day money back guarantee, which can make customers feel more at easy trying out products, (although more refunds could come your way too).
CONS
Products are hit and miss, there are some poor products.
You should buy the product ideally, to check that it's right for your readers.  Reviews alone may not be reliable.
They have some restrictive conditions before you receive your first payment.
Pros Vs Cons Of Amazon Associates:
PROS
Huge variety.
A household name, well trusted.
You can earn commission for any product bought, not just the product you link to.
Amazon are great at up-selling and suggesting related products, which can boost your sales.
Commission rises as you make more sales, (currently US, in the UK the commission is based on categories!).
Reliable payment.
Simple to use.
Great choice for newbies.
CONS
Only 24 hour cookie
Relatively small commission, unless you're selling a lot.
Conclusion:  Amazon Vs Clickbank, What Do You Think?
Both platforms have their place and whether you choose one or both, depends on your niche.
For example, Amazon doesn't make much sense for this site.  
Since it's based on ways you can make money online and is not at all product based.
But since I am already an Amazon affiliate on other websites, I still will use Amazon associates on this site too for things like – book recommendations.
Whereas, I have another purely product based site where a mass majority of the sales are from Amazon.
Clickbank products just wouldn't work on that site and are not appropriate.
But there are certainly situations where both would work very well too.
For example, say you're in the food/recipes niche or the fitness niche…
There are plenty of foodie or fitness related digital products on Clickbank.
but also plenty of physical products on Amazon – whether that be kitchen gadgets, fitness equipment or simply books would fit in well with those niches.
I believe it is good to have some diversity, just in case a certain platform stops running their affiliate programs or they close down.
While I highly doubt Amazon is going to shut down its affiliate program any time soon, (a significant part of their huge profits are all down to the affiliate program) – you never know!
So, having a bit of variety, should something occur, is always a wise decision.
Now that you've read this post, what do you think when it comes to Clickbank OR Amazon….  What works with your niche?
Let me know in the comments!
Do You Need Help Growing Your Niche Site Or Blog?
Whether you have already started your site, or are just in the planning phase, you might be feeling a bit lost.
It can be really confusing knowing which direction to go in and sometimes, this alone is enough to stop us in our tracks.
It's good to be part of a like-minded community, where you can bounce ideas, ask for help and get support if you need it.
Also, you never stop learning when it comes to this stuff – there is always something else to know.
That's why I recommend this platform...  Which has all the tools you need, to start growing your online business.
It includes hosting for your websites, tools, training and much more.
If you're not ready to join a training platform at this stage, I also set up a step-by-step guide here, which shows you exactly what you need to do to get started on your own!
All the best…

Want To Learn More About Affiliate Marketing? I Got Started Here!
Other Useful Posts: