*note: Ibotta is for US residents, you can find more apps here.
Are you tired of spending money on groceries and other necessities?
Well, what if you were told that you could get some of that money back by making simple purchases?
Great! … Now there is a way you can make extra money just shopping like you normally would!
All you have to do is keep your receipts!
Today, I'll be talking about Ibotta — a smartphone app designed to give you cash back on your in-store or online purchases.
In my Ibotta review, I will cover the following topics:
What is Ibotta about?
How does Ibotta work?
Getting Started,
Ibotta tips,
Who is ibotta for?
Pros vs cons,
Ibotta feedback online,
Is Ibotta legit?
Concluding thoughts,
Beyond cashback, (other tips to help you make money!).
Let me know if you have any questions, in the comments section!
What is the Ibotta app about?
When you sign up for Ibotta (no money/credit card required, it's 100% free), you will have access to a variety of your favorite stores, along with special offers and cashback deals.
These stores are not just limited to grocery products, but also includes things such as – pharmacy, clothing, home & electronics, travel, food, and so much more!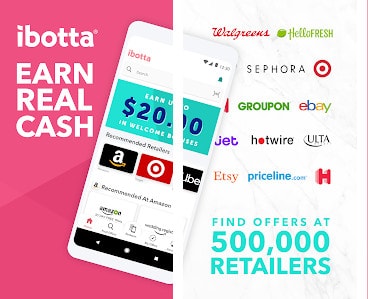 How does Ibotta work?
It's really pretty simple… While using the Ibotta app, you find offers that reward cashback deals before you go shopping and then add offers to your list.
To add an offer, click the red plus sign displayed on the photo icon. on the app.
Keep in mind, some offers may prompt you for a simple response about the product — don't worry, nothing too serious!
For example, if you select a cereal offer, Ibotta may ask, "Which cereal are excited to try?"
Answer: Strawberry. That's it!
You may also encounter short quizzes or be prompted to watch 15-30 second videos.
Now that you've added the offers, you are ready to go shopping.
You don't need to have the app active while shopping, but afterward, you will be able to redeem the offers by taking a picture of your receipt!
However, depending on where you are shopping, you may not even need your receipt.
Why is this?
Well, if you are part of a loyalty program at one of your favorite stores (and you have an online account), you can sync that with your Ibotta account.
Just sync the loyalty program account one time and Ibotta takes care of the rest!
You can expect your earnings to appear in your account within a few hours after your purchase or it can take an average of 24-48 hours for approval.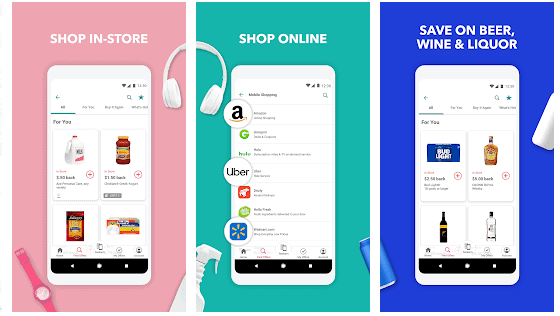 Getting started with Ibotta:
After signing up for Ibotta, (and downloading the the app via the app store, or Google Play)…
The first thing you should do is select the list of your favorite stores (you can always add more later).
You can also browse by the different categories, such as….
Groceries,
Online shopping,
Beer,
wine & spirits,
Pharmacy,
Clothing,
Beauty & wellness,
Restaurants,
Bars,
Specialty,
Convenience,
Crafts & gifts,
Home & electronics,
Travel.
Whoo….. What a list. 🙂
If you prefer to do most of your shopping online, make sure you are shopping within the Ibotta app.
While you are scrolling, simply tap the mobile shop button to get started.
You can earn your cashback rewards directly with PayPal or Venmo.
If you prefer transferring your earnings to a gift card, you can do that, too!
Looking for more ways to earn giftcards: Try these websites!
Ibotta Tips:
What else can you do with Ibotta?
Well, You can earn even more with bonuses, inviting friends, and using teamwork to your advantage.
You can receive bonuses in different ways, such as buying featured items, redeeming offers at specific retailers, and completing tasks.
You can check for these opportunities in the Bonus section of the app!
When you first sign up with Ibotta, you will also qualify for a $10 bonus if you redeem your initial rebate within seven days of sign-up.
Note: this does not include the "any brand, any receipt, any item," offers. Don't miss this chance for easy money!
If you refer friends, you'll also receive a $5 referral bonus – which is a much higher bonus that many reward sites…
(There are plenty that don't even offer referral bonuses!).
You will be given a referral code that you can share with friends and family.
As long as your friends enter the code while signing up, you will earn your bonus!
Your friends can also receive up to $20 as a welcome bonus too, so it's a win-win.
You can also sometimes earn more for referrals, when they do referral bonuses.
For instance, Ibotta has offered up to $55 for referring five friends before!
If you sign up for Ibotta with Facebook, your Facebook friends will immediately be a part of your team.
With the help of your teammates, you can reap the benefits from their spendings!
Teamwork bonuses can accrue quickly when you have a lot of friends.
It's simple — the more friends you have, the more you earn! 🙂
Who is Ibotta for?
This app is great for everyone looking to save a bit of money, from their regular purchases.
Whether you are a busy mom, college student, couponer, or just want a fun way to earn some extra cash, this app is good for you.
As long as you have the Ibotta app on your smartphone and shop on a regular basis, you are good to go!
PROS & CONS of Ibotta
Are you still considering this app?
Check out this list of Pros & Cons… to see if Ibotta is the right fit for you!
PROS:
As you can see, there are numerous perks from using this app!
Firstly, Ibotta consistently updates their offers — you'll never be stuck with the same products or deals.
Ibotta is also known for promoting seasonal deals.
One of the convenient features of this app is how it does not limit offers for in-store only, but it also contains a broad range of online cashback deals.
However, keep in mind that you must do all of your online shopping through the Ibotta app to reap the cashback benefits!
If you love to online shop, you can receive up to 15% cash back! Which is a great way to make savings.
Also, if you forget to check Ibotta before going shopping (which is less likely, once it becomes a habit…)
You can enable a feature known as Nearby Store Alerts.
This will send you instant notification when you walk into a store that partners with Ibotta… which is pretty cool!
If you want to avoid making a purchase that doesn't comply with Ibotta, you can use their barcode scanner on the product.
This will confirm whether or not the item you're buying is eligible for the offer on Ibotta.
There is one more thing you should keep in mind while shopping with Ibotta: unlike most traditional store coupons, you can combine store deals with Ibotta deals!!
Are you not sure what this means?
For instance, if you see an item marked as clearance at the store, you can still use the Ibotta offer.
…That's double the savings!
You can get even more incentives out of this app from its variety of bonuses.
You can keep track of the bonuses in the Bonus section, which is divided into what's available and what you have already completed.
You can then stack up your bonuses!
What does this mean? This means you can take a picture of your receipt and simultaneously receive rewards for multiple bonuses running at the same time!
Ibotta will always notify you when there's an opportunity to gain stackable bonuses!
CONS:
While there are lots of good reasons to use the Ibotta app, there are always going to be some Cons too!
One of the only major downfalls with this app that I've found, is that it can take some time to cash out your earnings.
You are required to have a $20 minimum before you are eligible to cash out – which is pretty high.
The cashback amount varies by product. It can vary anywhere between $.20 or more than $6.00.
So, you need to be dedicated to using the app, or else you're not going to even reach the payout threshold!
What's more, Ibotta will actually charge a $3.99 fee if your account is inactive for 6 months!
Another important thing to keep in mind is to not get swayed in by the great deals….
We all love great deals, but Ibotta is awesome ONLY if you use the offers/coupons for things you are already planning to buy!
The perks of this app can be counterproductive if you start buying items you don't necessarily need or want.
However, if you have a habit of staying away from certain brands because they tend to be more pricey, Ibotta can help with that.
Think of it this way: you can pick the cheaper brand or pick the brand that has an Ibotta offer and pocket some change.
Remember, this app is not intended to bring in loads of cash at a time, but it is supposed to offer the convenience of getting back some of the money you are already planning on spending.
Finally, some people have complained about being locked out of the app and cannot withdraw their earnings.
This seems quite a common thing for lots of cashback apps AND survey panels – usually when they suspect someone is trying to game their system.
I run over some of the feedback online below!
Ibotta Reviews & Feedback Online?
Ibotta has some negative feedback online too, as all cashback apps tend to do.
There have been a whole bunch of negative reviews on sitejabber.com – but there are only around 160 reviews in total, (both good/bad and average)…
Compared to the hundreds of thousands of reviews I mention below, from google play and app store!!
The most common complaints were and fairly typical of this sort of app…
Poor customer service,
Not receiving credit for scanned items,
Accounts being deactivated, with money left owing.,
Credits/bonuses not always going through.
However, there are also plenty of 5 star reviews too!
For example; Ibotta app has on average 4.5 stars, with not far off 400,000 reviews!!! Which is pretty crazy.

On the app store, it has well over 400,000 reviews and an impressive 4.7 stars on average!

So, the feedback is overwhelmingly positive overall.
Is Ibotta Legit?
Ibotta is completely legit and an opportunity for you to make cashback and savings on your purchases.
Ibotta was developed and designed in Denver, Colorado. This app has distributed more than $500,090,724 (and counting) to its users!
If you're wondering how this cashback system works, Ibotta is paid by retailers and manufacturers to promote their products and stores.
At the end of the day, your earnings are a portion of Ibotta's commission.
There's nothing to lose!
Concluding Thoughts:
Is Ibotta worth it? YES.
this app is 100% FREE, you don't have anything to lose.
Ibotta defines a whole new level of couponing, without the constant hassle of looking for new ads or trimming paper!
Ibotta is also much less time-consuming compared to traditional couponing. This app is great if you are actively on it and always looking out for new ways to earn cashback deals.
Just stick to your regular spending habits and you will see the app work its magic!
This app is zero-hassle and risk-free. Some users have made more than $300 in a year with Ibotta.
Sign up to Ibotta here and see what you think….
Beyond Cashback Online!
Fed up of just making some measly savings online? Why not *make,* money instead?
I will always be grateful to the platform that taught me how to earn money online from a blog or website – I started here, (you can try it for free).
There are many ways you can start generating an income online – if you're prepared to work for it, (ie; it does take time & effort!).
Here are some posts that could help you!
So, that concludes my review for today, feel free to leave a comment below and share you own experiences.
🙂