Is Baymack A Scam? Or Legit Way To Win Some Cash?
Baymack is a site that is available Worldwide and is likely going to be more popular in countries where the dollar is worth more.
It works like this: You sign up very easily via Facebook and you watch YouTube videos in return for entries into prize draws; where you can win cash.
However, you do need to watch a whole five videos before you get one entry.
If you do happen to win, you can choose from a selection of different gift cards, or cash/back transfer.
But can you REALLY win cash with Baymack? Or is Baymack just a scam?
I signed up and checked it out.
Baymack Review In Brief:
Website: https://www.baymack.com
Cost to join: Free
Money making opportunity: Lotto/sweepstakes, lucky draw!
Overall Verdict: Legit, but there are a lot of entries into these prize draws and the amount you win, isn't very much.  You are allowed to have 200 entries per person, per draw, (according to another source, this used to be less) – that's a lot of YouTube watching!
If you want to make real money online, I wouldn't just rely on lucky draws – where the odds are stacked against you.
But there is no harm in playing, if you enjoy it.  You may also find you discover new vlogs or videos that you may never have known existed otherwise.
I don't recommend this as a good way to make money online at all, but they're not just scamming you for your time.
You should be paid if you do win, but the chances of winning the big prize of the day, is very low.
*Would you rather make $100's, or even $1000's of dollars online?  *this training showed me how*
How Do You Make Money? Watch YouTube Vids!
In order to make money, through gaining entries into their prize draws – you need to watch YouTube videos for a period of time and then answer a question relating to what sort of video it is.
You will need to watch 5 videos in order to get an entry into the prize draw.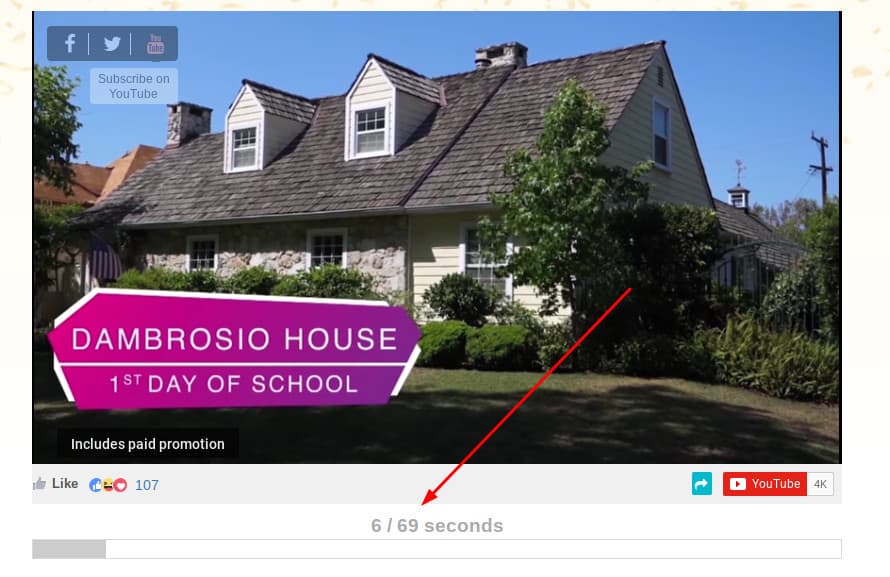 Unlike some sites these days, you can actually open a new window and do something else while the video runs. You DON'T HAVE to remain on the same page.
You just have to answer a question about what the video is and what category it'd be in.
For example; you need to answer whether the music you just heard was Pop, hip hop, rock, or classical.
The amount of time you need to watch the video seems to vary – sometimes it's 60 seconds, other times it could be 89 seconds.
Watch Out For Language….
One of the videos I watched had some extremely strong language on it.
I'm always surprised by the fact that YouTube fully allow swearing on their website and it's really difficult to filter as well, (or, in my experience – the filtering system doesn't seem to work?).
So, if you have young kids running around, you may want to keep the headphones plugged in.
Related Post:  My Top Extra Income Sites!
What Can You Earn With Baymack?
If you manage to win any prizes with Baymack, you can withdraw your earnings from as low as 2 cents I've heard – although the lowest I saw was from $1.
(I think this could depend on where you're located) I doubt many people would bother taking out less than a dollar though?
At the time of writing – some of the rewards included were:
Amazon gift card from $1.
Bank transfer from $10.
PayPal gift card.
Air BnB gift card.
Facebook game card.
Google Play gift code.
Hotels.com gift card.
App store/iTunes card.
Krispy Kreme.
Netflix voucher.
Uber gift code.
Plus there were a few others as well, so a good variety to choose from – including cash.
What options are open to you though, will depend on your location. Some locations will only have PayPal/bank wire transfer available as options.
Related Post:  14 smartphone apps that can make you money.
How Many times can you enter?
You're able to enter up to 200 times – per draw.  I believe this used to be a lot less, 200 times is a lot and I can really imagine people sitting on their computer all day trying to do it.
Considering you have to watch FIVE videos for a single entry, this would take you a long time and I certainly wouldn't recommend you spending that much time on this site.
Challenges To Make More:
Baymack have challenges you can do to get you coming back.
For example; when I signed up, they were offering a $0.6 bonus, if you got 15 entries into their prize draw for 3 days in a row.
So, that's 15 x 5 videos….. 75 videos for a $0.6 bonus!? It doesn't seem like much of an incentive to me.
Even if you just showed the videos in the background, this is only 6 cents – I don't see how this is worth your time and, since you can see how many entries are involved – you chances of winning anything are minute.
When I was on Baymak there were already nearly 30,000 entries into the prize draw and it was only mid-afternoon, (earlier in the day in many countries)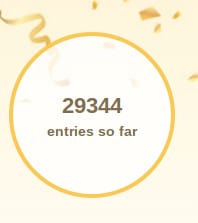 The fact that this site is open worldwide means the amount of entries is going to be very high.
How Much Can You Win?
How much you can win varies.
When I signed up, the main prize was only $25 for two winners.
$0.5 to 2000 winners and $0.01 to 50,000 winners.
I'm unsure why you'd want to win $0.01!? Why don't they have fewer winners, for a higher amount?
Occasionally, there will be higher prizes. Sometimes $100 and there has been a $1000 jackpot that somebody won, according to one video.
Although that seems rare and the main prize seems to be between $25-$125 for the most part.
Related Post:  How to make $100 a day online!
You Won't Make Much!
If you're happy winning a few cents here and there, that's probably all you will make with Baymack.
Personally, I don't see that that is really worth the time, considering the chances of winning a larger prize will be something like one chance in tens of thousands.
That's why I prefer extra income sites that will DEFINITELY pay you something for your time, rather than just relying on luck.
Extra income site link…
I used to spend hours and hours of my day relying on luck, by entering thousands of Sweepstakes a month.
As it happens, you can win some good prizes when you put that much time in it – but sometimes, you don't get rewarded for your time at all and it can just be a waste of time.
Just entering free lotto type draws though, is rarely going to be worth your time.
When I entered sweepstakes, some of those may only have a couple of hundred entries, or even a couple of thousand, (rather than tens of thousands). So, the odds were better.
Is Baymack A Scam, Or Legit?
Baymack does what it says it does here – there isn't a scam, but do I recommend it? Well, no I don't because I feel that this seems like a waste of time to me.
Perhaps there would be more point doing it if there were more prizes, or the prizes were bigger.
But the top prize I saw recently was $125 and there would have been many thousands of entries.
That said, if you enjoy watching YouTube videos in your spare time and can get the odd entry in, there's no harm in that.
The other thing is, you don't really have to watch them in full, because you can work out the category of the video just by listening to it.
Therefore, you could play the videos while doing something else, at the same time.
Making More Money Online – In The Long-Term!
If you're interested in earning more online WITHOUT luck… check out my 40+ ways to make money online.
However, if you're interested in starting an online business, that can generate you a part-time, or even full-time income eventually – there is more you can do!
I make the most online by running my own website…  I don't directly sell anything, but I do make money for writing about things that interest me.
I make money by promoting products and services that I recommend and via paid advertising on my site.
You don't need to be technical to do this, but you do have to be willing to learn some new skills.
If you'd like to know how you can do the same, *this is where I got started.
If you've got a story to share regarding Baymack, please leave a comment below!
All the best,