Is BeMyEye Legit And Safe?
Can You Make Money With BeMyEye?
Actually, yes!
BeMyEye is an app that is similar to Field Agent – because it pays you a small amount of money for completing mini-tasks.
In a sense, you're very much like a mystery shopper.
Checking up on certain things and giving your feedback.
The difference is, you won't be much of a "mystery.." as you'll be completing tasks and taking photos in full view.
So, it will be hard to be subtle about it.
I find these sort of Apps a refreshing change from your usual survey-related Apps and they also pay a lot better.
On the downside, how many "missions," you're able to complete, are going to be dependent on your location.
So, if you're out in the middle of the countryside somewhere and your local town consists of a small local shop and a few scattered houses, you aren't going to be able to find much use for this.
If you're in a large town or city however, you're obviously going to get more available to you.
From my understanding, you can download this app if you reside in the UK, France, Germany, Italy and Spain at this current time.
By the way, I don't rely on APPS to make money – stick with me to the end of this post to find out how I do!
What Is BeMyEye?
At the time of writing, BeMyEye has over 1 million downloads – whoa.
It's an App that gives you short missions to complete at stores near you.
This will involve going to the store in question and completing a series of tasks.
This could involve answering questions and taking photos.
You generally earn £5 for a 10 minute mission, but can potentially earn up to £25 for a mission.
Related Post: 14 smartphone apps that can make you money.
How Does BeMyEye Work?
1/ Download the App from App Store or Google Play.
2/ Activate "geolocation," which will check what missions are close by you.
3/ Check out the missions that turn up.
4/ Check "reserve," on the mission you're interested in.
5/ Sign up now with Facebook or email.
6/ You will be given a set amount of time to complete the mission.
7/ Once mission is complete and you've answered questions/submitted photo's, you now need to wait for your work to be accepted.
8/Receive payment into your BeMyEye account.
9/ Once you have £5 in your account, you can request a PayPal payment, (£20 if you want a balance transfer).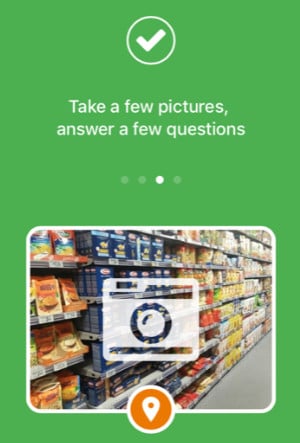 You are able to complete as many missions as you like, so theoretically you could earn some good money doing this.
If you don't have any tasks nearby, there are also some home-based "missions," available at times.
These are just like online surveys though.
Related Post: My Top Extra Income Sites!
What Tasks did I have available?
I live in a relatively small city, so I didn't expect that much to be close to me.
One of the best ones I saw, was £4 to go to an ice cream stand within a cinema.
There were a lot of questions to answer – mainly relating to the appearance of the stand.
I would also need to take photos.
If I had managed to complete it, it would have paid me £4.
Well, this would not bad at all if you were already going to the cinema….  (Hmm, it could pay for your ice cream).
Unfortunately, it wouldn't have been worth it to me, as a return bus to the location would cost more than £4!
Maybe some other day though.
A lot of the tasks involved going to car sales dealerships and I really wouldn't have felt comfortable doing that at all.
One reviewer also shared this feeling – as they documented what happened when they visited the car dealership…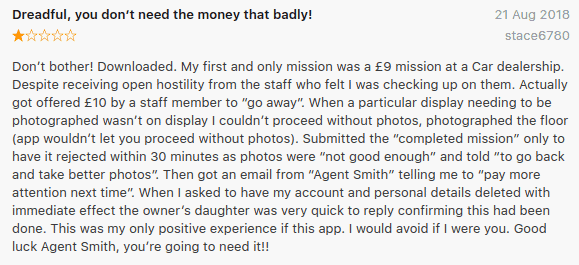 As you can see above, one of the workers in the place actually offered him £10 to go away!!
Pretty embarrassing?!
I mean, how self-conscious are you going to feel snapping photos in these places?
I guess it depends how confident you are and whether you real care or not if people are wondering what you're doing.
In my personal case, I know I'd feel uncomfortable in a car dealership taking photos.
It's not like these places are usually packed with people…
You'd normally have a sales person come straight for you as soon as you set foot on the property.
How Much Can You Make?
How long is a piece of sting?
This will really depend on how many tasks you have available and how many you're willing to do at the time.
As there is no cap on the amount that you could do, in a large city I imagine you could make some OK money.
As I noted earlier, it often isn't going to be worth your while to do if you have to pay for travel expenses.
But if you're within walking distance to the locations, that's going to be a lot more profitable.
What Do Other People Say About BeMyEye App?
BeMyEye has plenty of positive reviews online, for the most part.
It has 4.3 stars on the APP store.
It has 4.0 stars on Google Play, but with well over 6.5 thousand reviews, at the time of writing.

Some negative points seem to be….
Some people have issues with crashing/uploading photos.
No offers in certain countries/areas…  But that is to be expected.
Trouble with customer support.
On the plus side, many people enjoy doing simple/easy tasks for a small amount of money….
But still more than you'd typically get from most survey sites.
Review Conclusion….  Is BeMyEye Legit & Safe?
Yes – BeMyEye is a completely legitimate App that can make you a bit of extra money in your spare time.
If you're already planning on going into town anyway… Why not just see if a "mission," is available?
It seems like quite a fun way to make a bit of extra cash.
What do you think?
Have you tried BeMyEye?!  Let me know in the comments.
Making More Online – How Do You Do It?
All these little income opportunities can be a fun way to make a little bit extra.
But that's not going to help, if you're looking to make much more online.
There are so many ways that you can create a business online in the long term – I share some of those ways over at this post.
However, for me, the very best way is by having your own website or blog.
Because this is something you can grow over time and there is no ceiling to it…
The more traffic/visitors you have, the more money you can potentially make.
It's not a "quick & fast," way to make money… But it is a long term one that can grow into the future.
*this free training, will walk you through exactly how it works.
Let me know if you have any questions.
All the best,