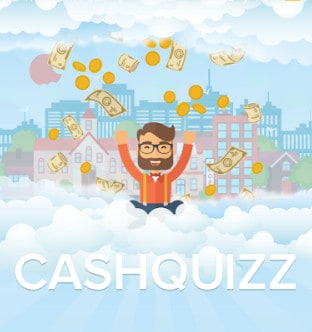 Is Cash Quiz App Legit, Or A Scam?
I joined Cash Quiz app without knowing anything much about it at all.
Once I signed up, I still didn't know much about it.
Many apps these days have either a tutorial, or instructions showing you what to do and where to go.
Instead, I felt a bit lost about what I was really meant to be doing.
After a while, I got to grips what it was about and I also checked out what some other people think of this app.
Can you really make money with Cash Quiz? Let's find out.
Review in brief:
Name: Cash Quiz
Product: Mobile App, quiz/trivia games, chance to win gift cards.
Cost: free to join, but add-ons you can purchase.
Money making opportunity: peanuts, if anything.
Overall rating: Not recommended. This app seems to have potential, but has too many issues for me to recommend it right now. Money wise, it isn't worth the time either.
*Stick with me until the end of this post, if you'd rather be making hundreds, or thousands of extra dollars online!
What Cash Quiz App About & How Does It Work?
This app allows you to play trivia games for coins.  If you accumulate enough coins, (minimum 10,000) you can redeem these points for gift cards.
There were various quizzes I could partake in and each quiz would earn me some coins. There was the Daily Quiz, which had a large prize of 100,000 coins.
The Quizzes available were:
History
Movies & Series
Geography
Food
Literature & Arts.
Along the bottom of the screen, I was searching for an FAQ – or ANYTHING to tell me what these coins were actually worth, or what they stood for.
At first I saw nothing to explain it, although I found out later what coins for worth and I will talk about coins and gift cards in a moment.
There were a few tabs along the bottom, so I checked these out first…
Booster Section:
This is where you could actually purchase various things. These included:
A starter pack,
Hand full of gems,
Pile of gems,
Bag of gems,
Jar of gems.
Gems treasure chest,
24 hour quiz booster,
Various VIP accounts, (this included things like; no ads and unlimited quiz attempts).
Earn 3 coins free, (watch a video).
Earn 2 gems, (watch a video.).
However, nothing clearly explained to me WHY I would want these gems. What do they do & why should I purchase them?
BUT then I saw the tiniest little "i," for information at the top of the page. THIS is where you could find out the information.
So, What Are Gems For?
Gems can be used to give you various perks to help you get through a quiz.
For example, you can get a 50/50 joker with 10 gems. Which will eliminate half the wrong answers. Or you can get an extra 5 seconds to answer, with 15 gems.
You can get gems without purchasing them, by playing games, inviting your friends to sign up to the app; or watching videos and ads.
Challenge Section:
Another tab running along the bottom, is the challenge section. Here you can create a new challenge and go against another player.
You can choose a random player and then place a stake to go against them. For example; you can bet 5 coins. But, if you lose, you will lose those coins.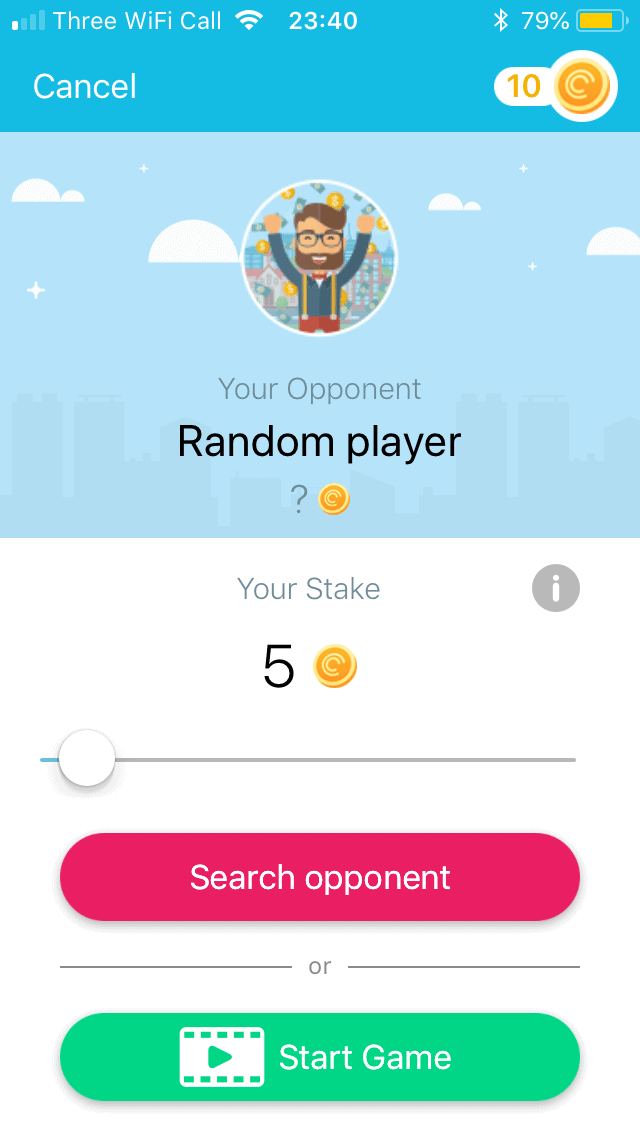 I challenged someone to 5 coins. I didn't do very well! However, on the last question – the screen froze and I couldn't come out or go anywhere on the app.
I cam out of the app and shortly after, I was able to come back in – but there was no mention of the quiz. I had lost my coins, so just presumed I'd lost that game.
Related Post:  My Top Extra Income Sites!
Top 100:
In the Top 100 section, you can check out all the top players. Next to their individual names were how many coins they had – but it also said how many dollars they seemed to have made.
Although, as someone in a review mentioned, they probably spent more money on this app than they made – just to actually reach these levels in the game.  Which is pretty nuts.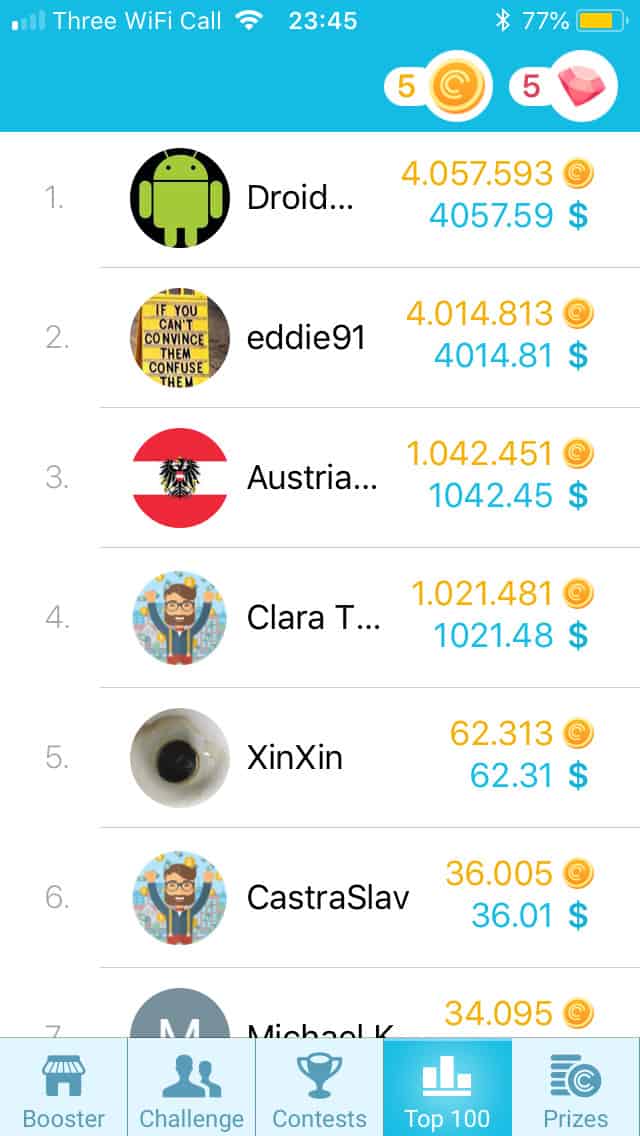 Checking Out The Prizes:
When I checked out the prizes, I can see that you can redeem gift vouchers in exchange for coins. So, the coins you're building up are actually worth something.
However, I'm still confused about the dollar sign next to the Top100 players, because there seems no PayPal option.
How Many Coins Do You Need?
To get a $10 Amazon voucher, you will need 10,000 points. Which does seem like a lot.
For a $50 voucher, you need 48,000!
Prizes include:
That was all I could see, at the time of writing. I'm unsure if you have more options, depending on your location.
How Often Can You Play?
Unfortunately, you cannot just play as many quizzes as you like.
You only have TWO free attempts a day. You then either have to watch videos/ads for some extra attempts, or purchase the ability.
Ads In between Quizzes:
In between quizzes, random Ads show up. One being to join a survey site called "Top 10 Best Paid Surveys." I have reviewed this site very recently and didn't write a positive review, their individual are Ads for them all over the net right now.
I'm not sure if they have control over the Ads shown, or if they are randomly selected; but I didn't see this as a particularly good recommendation on their part.
Mainly because, the site definitely over-exaggerates how much you can earn from paid surveys. For the most part, you'll be lucky to make less than a dollar per survey. You'd actually be lucky to make a dollar with most surveys!
What Do Other People Say About Cash Quiz App?
Having a look online, it seems that many other people are not very happy with this app right now. However, there are a lack of reviews on this app to be found at this point.
I thought it had been available on Google Play, but it may have been removed – because I cannot find it anymore. I personally have an iphone and was able to download it via the appstore.
Cash Quiz has 2.3 stars right now on the ITunes Appstore.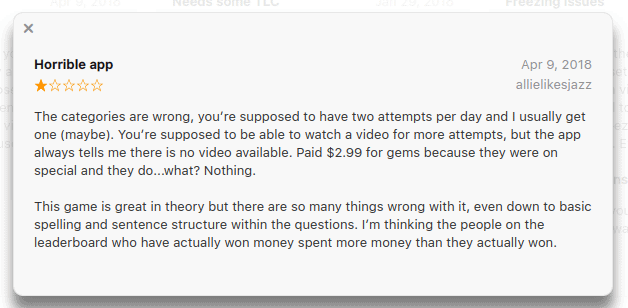 Complaints revolve around things such as: glitching, the categories being wrong, screen freezes, not being able to watch videos.
On another site, called mouthshut.com; I saw this app only has 1 star and a number of reviews. One person also claimed they had reached the payout threshold, but not been paid.
Do you have any experience with the Cash Quiz App? Let me know in the comments!
Is Cash Quiz App Legit… Or A Scam?
I've quite enjoyed checking out apps and do enjoy certain quiz ones,
(you may want to check my post: apps where you can win real cash).
While I like some of the cute graphics here and the quizzes are relatively fun; I still don't really get it.
I don't like that you're limited in the amount of quizzes you do; or that you're encouraged to spend money on buying extra gems or additional things.
Because, for the amount of rewards you can get, vs the amount of coins needed, it seems like quite a waste of time to me.
To top it off, the app seems glitchy and I think there could be more information/help & tips on the actual site.
Lastly, while I totally understand that these sites need to rely on ads to bring money in… I think the quality of the ads should also be important.
Sending people off to questionable survey sites that promise far more than they deliver, is not ideal in my opinion.
But hey, this is just my opinion. What do you think? Do you enjoy the Cash Quiz App? I'd love to hear from you…
Beyond Apps & Winning Prizes Online:
If what you REALLY want is an opportunity to make money in the long term; signing up to these kinds of apps are not going to help.
Yes, you can earn a tiny amount from apps like this.
Check out my 14+ apps that could make or save you money.
BUT, it's going to be a minor amount.
Not even pocket money in many cases!
That doesn't mean they aren't fun to use, it just means; they aren't going to make you much money.
If you're looking then, to make more online long-term: this training showed me how!*
You also may want to check out my big list of ways to make money online.
All the best,