You can get the "Make Money – Free Giftcards," App via the Google Play store at the moment.
Its an App that claims you can earn points by doing various activities online and then exchange those points for gift cards or PayPal cash later.
But can you legitimately make money for real? How much can you make and will it take you a long time?
I downloaded the App & took a look, I'll share with you what I found.
Want to stop making pocket change? Learn how to build an online income – like I have!
Signing Up With Make Money Free Giftcards App:
You can download this App in seconds and sign up with your email address or connecting Facebook.
I connected via email and had to confirm my email address prior to being let in.
Once you're in, you'll be sent straight to the main dashboard, which is pretty basic to look at.
There are different categories you can choose from – including:
Excellent Offer Wall, (which was actually misspelled – not a good start).
Perfect Offer Wall,
Nice Offer Wall,
Great Offer Wall, (excellent… perfect… nice and great!? :-o).
Pollfish Surveys,
Watch videos,
Invite Friends,
Rate Us.
So, all the offer walls will contain free and paid offers that will award you different amounts of coins.
Free offers will include things like – downloading game Apps and reaching a certain level.
Paid Apps will usually involve joining services or websites that requite a deposit.
You will then tend to get this deposit amount back, (+more) in the way of coins.
The paid offers will always be the fastest way to make your money, but they do involve some risk.
That is because they sometimes involve purchasing subscriptions, which will charge you periodically unless you cancel them.
Poll Surveys will link you up to paid surveys. Surveys are totally free but can be frustrating to do.
Surveys can be slow going, very dull and you will frequently not qualify for a survey – after already spending some time answering screening questions.
However, some survey panels are better than others. Click here to see some that I personally recommend – more than others that I've tried.
Is There A Referral Program?
Yes – you can refer your friends and family to join this App and then, you can earn 3% of everything they earn.
However, as referral programs for survey apps/sites go, this isn't a very high amount.
And because it's not a particularly interesting one to join, it's unlikely that people will stay around long.
My favourite survey panel for getting referrals is Swagbucks – who pay 10% of your referrals earnings, plus bonuses.
Plus, you can get a $5 bonus just for signing up for free here.
How Much Do You Need To Cash Out?
In order to cash out real money or giftcards, you need to earn their virtual coins and exchange those for rewards when you can.
For that you will need the following amounts to cashout with PayPal:
5,000 for $5
9,000 for $10
17,000 for $20
You can also cash out giftcards as well. You will need 20,000 coins to get a $25 Amazon voucher.
If you think it may take a long time, just to reach enough for $5… you'd be right!
Paid offers are going to pay the most – but the offers paying several hundred, or even a couple of thousand coins, are usually going to require you to pay something anyway.
I did see one game where you could win 2,000 coins – but you would need to reach level 11.
Which I'm guessing would be very hard to achieve if they're offering 2,000 coins to do it.
Lower value offers are going to include tasks like – joining other survey sites and freebie apps.
For example;
So, you can see that even by doing some of these offers, you'd need to do a lot of them before you could even make $5.
What About Surveys?
This App connects with Pollfish, where you can complete paid surveys.
I've seen Pollfish many times before and it's one of the most common survey providers that other Apps and panels use.
It's worth mentioning that the first survey you do will not be paid. You will also need to complete your profile questionnaire before starting.
Surveys can be quite frustrating because, you will frequently not qualify for a survey – even after answering some questions initially.
If you don't qualify, you're not rewarded for the time you've already spent answering questions.
Typically, surveys also don't pay very well at all either.
That said, they can be relatively enjoyable to do at times.
You can see how much I'd get for some of the Pollfish surveys below. Each survey was between 10 and 25 minutes.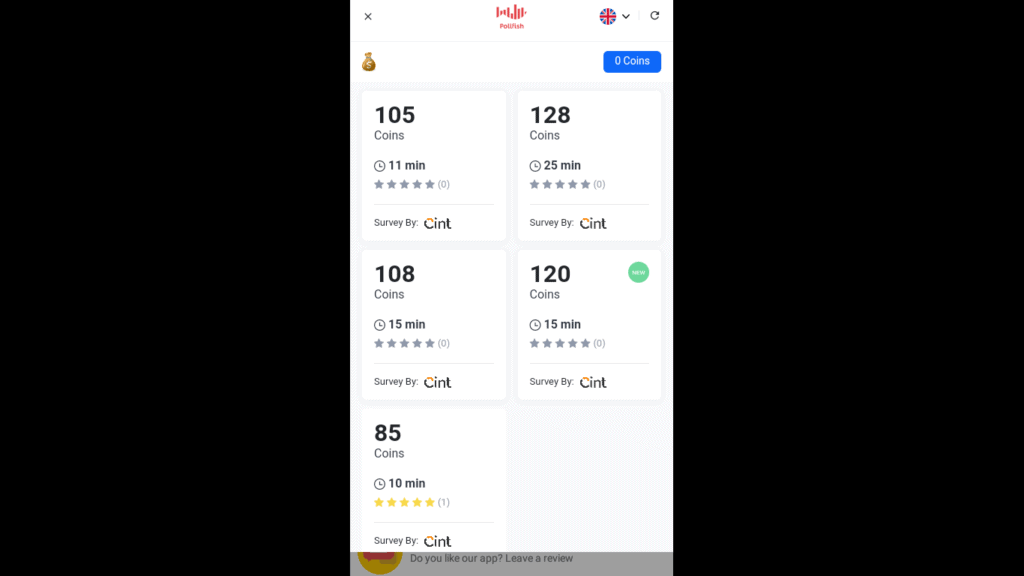 Coins ranged from 85 to 120 coins for a survey.
Let's just say you got a 100 coins for every survey you completed – you would have to complete 50 surveys before you could cashout just $5.
It would also take you over 7 hours to do, if every survey was only 10 minutes.
Although, chances are it would take you considerably more time than this.
What Do Other People Think Of Make Money – Free Gift Cards?
This App currently has an average of 4.5 stars, with almost 700 reviews at the time of writing.
Sometimes it looks as though reviews on Google Play or the App store aren't genuine – often because Apps can reward you for leaving feedack.
For example; one person wrote that they PAY well!?… Obviously, that's not the case in reality.
Someone else mentioned that you do need a crazy amount of coins to just get $5.
It's a bit of a mix, but there are plenty of positive reviews and they've done well so far, to maintain 4.5 stars.
They're also doing a good job at responding to any of their bad reviews.
If you have any problems with this App, you should be able to contact them at:  makemoney.bizoosoft@gmail.com
I'd love to know if you've cashed out with the make money app…. did it all go smoothly? Let me know in the comments!
Is The Make Money – Free Gift Card App Legit?
If you manage to reach the pay out threshold and ask for payment, then you should get paid.
The trouble is GETTING to that payout threshold, because the amount of coins you need is so high.
That is, when you compare it to how many coins you get per task.
The question in this case isn't really about whether it's legit – but whether it's going to be worth the amount of time it would take you just to make $5.
It doesn't matter if you enjoy doing the tasks, but for me – the App isn't enjoyable enough to hold my attention.
The good news is, all these Apps are free – so, the only thing you're really going to lose, is your time.
If You're Looking To Make More Online, (long-term plan!):
One reason make money Apps and survey panels are SO popular, is that people want easy ways to make money and they want to see that money as soon as possible.
But to make more substantial money online, you have to take the long game approach.
I make money from a a bunch of different methods online that I learnt about from scratch – including affiliate marketing and self-publishing!
Although, one of the best decisions & time investments that I made, was learning how to create and maintain my own website.
This is because there are several ways you can make money from your own website or blog!
When I got into this, I was a complete beginner and had no idea what I had to do at all.
This training helped me to get started – their free training is definitely worth checking out, if you're interested!
That concludes my, "Make Money – free gift card App" review for now – but feel free to share your own experience of this App in the comments below!