Is Vindale research a scam or legit?….
Well, Vindale Research is one of the longest withstanding survey companies on the internet today.  Although, I'm quite surprised it's managing to keep going with the number of complaints it faces!
Let's check it out..
Product: Vindale Research
Product owner: Nathanael Ehrich
Earning Potential: Peanuts
Price: Free to Join
Rating: 40/100
I'm not a big fan of online paid surveys in general.
Largely due to the relentless same complaints over and over again,  the not being able to qualify for surveys, delays in payments, (or no payment), poor customer service and the list goes on…
but I think I also understand why people seek them out and enjoy doing them.
People are often looking for an easy way to make money online, something they can do while watching the TV or just relaxing at home.
Something they don't really have to think much about!
While there are definitely better ways you can make money online I have wanted to check out some of these survey sites and figure out which ones are the most worth joining out of the bunch.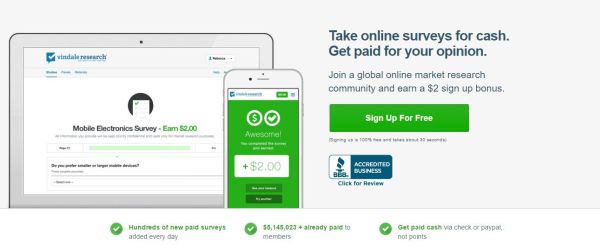 How can you make money on Vindale Research?
There are various ways you can make money on this platform.
Doing paid surveys.
Watching video surveys.
Reading promotional emails.
Referring others to sign up.
Various daily deals/cash challenges.
Posting photos with your check, ($5 for a pic).
Cash contests.
Vindale Research rewards people straight up with cash – not points or coupons, which is common on other sites.
However you do need to reach $50 before you can take out any money at all and this is a really high threshold.
A majority of people will just not stick around long enough to make $50, which means Vindale Research will get off paying a majority of people that ever sign up!
There are hundreds of new surveys added daily however, so if you love filling out surveys, you are in luck!
In order to get the best chance of qualifying for a survey however, ensure that your profile is properly completed and filled out.  The more info is known in advance, the better chance you don't get chucked out of a survey, (or so they say!).
Complaints
One of the biggest complaints, (and certainly one I've experience on many occasions now on survey sites) is that you're told you don't qualify, or that the survey has reached the maximum number of participants, when you've already answered a bunch of questions!
So, you answer a tonne of questions, don't qualify and get paid NOTHING.
The worst thing is when this occurs what seemingly moments before you're due to finish a survey.  Some say they have done a survey for almost an hour when this happens!
It's just not right that you're rewarded zero for your time when you've been answering questions that long.
Surely the qualifying period has long gone at that point!!  So, it seems there is something dishonest going on there.
Secondly, complaints surround payment.  Some not being able to recover any payment at all.  This is seemingly a dodgy aspect to many survey sites.
It's also difficult to judge though – as so many people DO receive payment in good time and have no problems at all.
What makes these certain people different to the point that they may be totally ignored by customer service?
One possibility is that some of these people may have actually been disqualified for some reason or other.
You do need to be careful to answer questions honestly, as they can catch you out if you're just giving random answers.
What can't be ignored is the sheer number of complaints this company has, they really need to address these issues!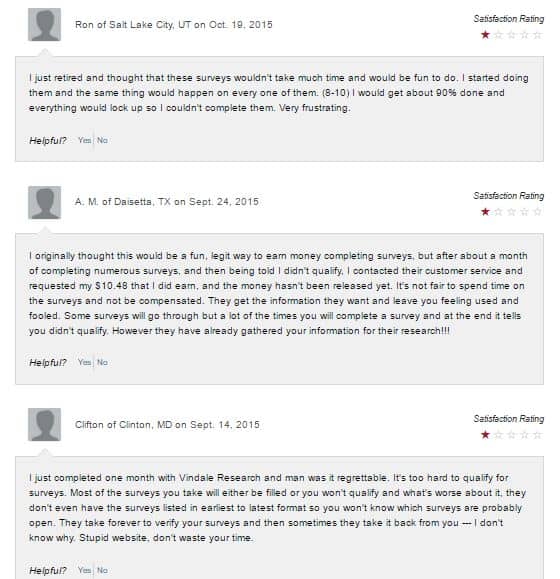 People have also complained that they have not been credited for referrals – even when their friends and family have signed up via their link.
Certainly there does seem a whole host of problems related to this site and if you DO encounter a problem yourself, you could have a long wait.  If you get a support ticket, you may be waiting five days before you hear back.
Considering the measly amount you may get from completing these surveys – is it really worth the effort?
While it may seem like a better option to complete surveys and earn something rather than nothing and say, watching TV.
Ok, you might be earning peanuts, but you're doing something. Right?
But a lot of people don't realise, (myself included not so long ago) is that you can spend that same time while you're watching TV or relaxing at home to start learning how to build a real income online, (full or part time).  (this is where I learnt how).
It's not easy, but it's a lot more rewarding than just lining someone else's pockets for a few measly dollars, for hours of your own time.
PROS VS CONS
PROS
They have a referral program for extra credit.
They pay in cash.
Paypal payments.
Payments for reading promotional emails.
Quite a nice layout of the website.
CONS
High $50 withdrawal threshold.
Multiple complaints.
Getting regularly "thrown out" of surveys for not-qualifying.
Conclusion: Is Vindale Research A Scam?
I can't say that Vindale Reseach a scam – because as many complaints as there are, there are also many positive comments and plenty of people that have been paid without any issues at all.
That being said, I still don't recommend it.  Not only is it definitely not one of the better survey sites I've come across, the pay vs effort is just not worth it anyway – in my opinion!
But that's just because I think if you're going to bother ploughing hours and hours of your time into something, there should be some reasonable reward at the end of that – either that or it has to be REALLY fun!!
I hope you found this review helpful, What do you think about survey sites?  Leave me a comment below!
All the best… 🙂
If you like survey-related sites, I prefer these.  They're a bit different and fun too!