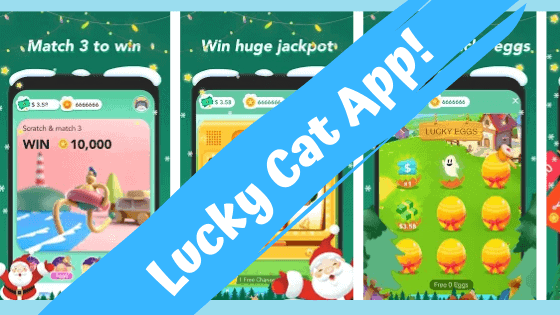 Welcome to my Lucky Cat review – which I was quite excited to try out, as it has a Cat theme and……. Yes, I love Cats.
But Is Lucky Cat app legit?
Well, it's incredibly similar to all of the most recent Apps I have reviewed – with many of the same pros and cons!!
Recently, they all seem to fall under a very similar design and layout, with practically identical games in many cases.
Some recent Apps I've looked at include…. Lucky Now, Lucky Go & Scratch Royale.
I hadn't seen Lucky Cat before, despite there being so many of these Apps available, however it has been downloaded on Google Play over a million times now!
So, is this App worth it – and how much do you actually need to earn to cash out?
I will cover all that & more – right now.
Take note: If you want to make more of a consistent income, Apps won't help you! I made my first $1000+ online years ago, after doing this.
What Is Lucky Cat App About?
At the time of writing, you can download this app on Google Play.
The App store stopped holding many apps like this after they changed their terms
But instead, the money-making/winning Apps on Google Play seem to have skyrocketed and despite the generally low income potential, they're extremely popular.
In this case, you can play virtual games in order to win cash and tokens.
Games include things like scratchcards, a slots game, spin the wheel and an egg hunt.
I will give an overview of the different games a little further down.
In order to play these games for free and to potentially win money, you will have to watch Ads frequently.
For me, this was every couple of games & and since these games are seconds long, it can get a bit much.
However, if you want to play these games, it's just something you have to put up with.
The main way to play is to have a go on the scratchcards.
You will get 50 unique scratchcards per day, but you have to watch an Ad after every couple of games.
Plus, you can watch even MORE ads to add to your winnings.
Scratchcard winnings vary – usually you'll get 10 cents or so here and there but there is the potential to earn $1000.
You can win tokens as well and these can be saved up too, to exchange for cash rewards, (although I have read this isn't the case, I'm unsure if it's changed back!).
Cashing Out With Lucky Cat:
At the time I reviewed the App, the cash-out amount was as follows:
10 million tokens – $10 amazon gift card.
30 million tokens – $30 paypal
30 million tokens for $30 google play.
Yes, you did read that correctly. 10 MILLION tokens before you can get a $10 gift card.
Yet it would appear that getting the tokens is probably easier than it is winning the actual cash… (or, at least more possible).
There were also starbucks and walmart options.
Cash wise – this App told me I needed $50 to pay out via PayPal.
Some have said the threshold was $10, but this is what it was for me! The $10 threshold was for the tokens.
Ways To Win On Lucky Cat:
There are various games you can play here and these are all free, aside from watching Ads!
50 different scratchcards a day, win tokens and cash.
Spin the wheel for tokens and cash.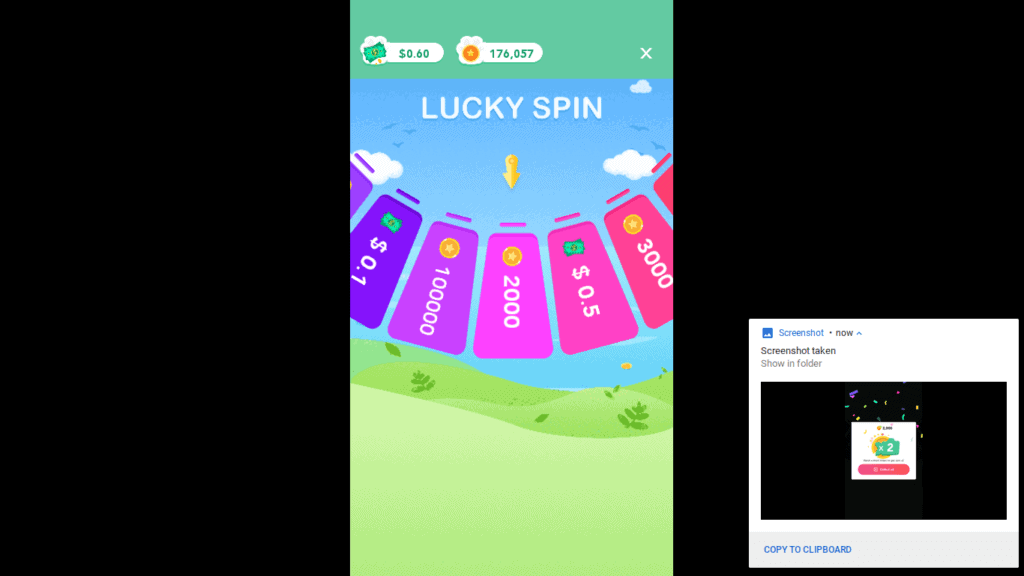 Like a slot machine, with some more chances to win.
Try and get to higher levels, try and hit the spinning wheel without hitting another of your knives.
Much like an Egg hunt — I found one Egg, but couldn't find the other two after a lonnng time of clicking about.
You can download other Apps to get a large number of coins.
You can get the most tokens this way.
For example; you can get nearly 8 million tokens for downloading an online casino.
However you do have to make a deposit to do so as well.
Seeing as many other apps out there play you straight cash in exchange for downloading apps – I don't see any point in wasting time here.
Play a claw game to grab gifts off of a conveyor belt.
But unlike the real claw games in reality – you actually stand a chance of grabbing these!!
I didn't seem to win much though and only tokens in my experience.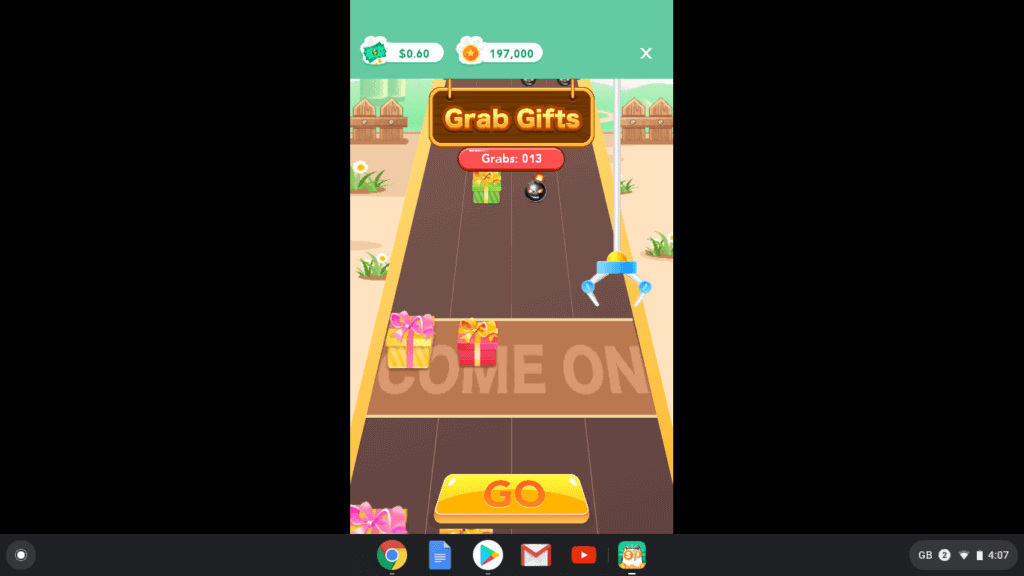 Why No FAQ?
Often with Apps like this you'll find an FAQ explaining things, including how you may withdraw your money and so on – but I couldn't see one here.
They do have a Terms Of Service section – which sometimes shows the odds of winning these games.
They didn't have them here for Lucky Cat though.
Can You Exchange Tokens For Cash… Or Not?
When I was on the App, it told me I could exchange tokens for cash.
However, some people are saying that this is not the case.
In which case, I don't know why they are still showing that you can – what's the point in tokens at all if you can't exchange them for anything?
I also see some people mentioning different cash out amounts.
I'm unsure if they regularly change this, or if it depends where you are in the world, as to what you see.
For me it was a minimum cashout amount of $50! Which is extremely high.
The minimum cash out amount for tokens was $10 at the time of me playing this App.
Is Lucky Cat App Not Paying Out?
Browsing some of the reviews on Google Play, I noticed an increase in negative reviews recently.
One person claimed to reach $10 and then be unable to cash out.
Others feel all the money slows down to zero once you get close to being able to cash out real money, (I've heard this time and time again over various of these apps).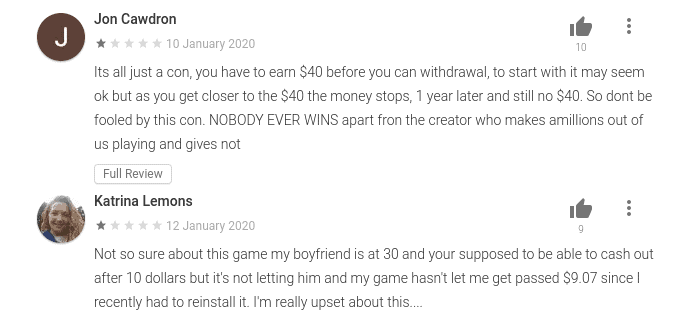 There is no doubt in my mind that these Apps are misleading.
If people are given the indication that they have some chance to win real money, then this should be a real opportunity.
It's no wonder people get angry about it, when they dedicate a lot of time to it.
What Do Other Reviews Say?
Despite the negative reviews, Lucky Cat has still managed to retain a 4.3 star rating and I am quite surprised about that.
However, like I said, they have had lots of negative reviews of late.
Many complaints include things like……..
There being way too many Ads, (to this, I agree. They seem longer and more prevalent than some others I've tried).
You cant reach cash-out because money dries up.
OR if you do reach cash-out, you won't get the money.
Lot's of glitches….. Glitching is something I frequently experienced myself during checking out this App. Often at the end of an Ad, it may freeze and I couldn't get back in.
Should You Bother With Lucky Cat?
I can understand these Apps can be OK for entertainment value, sometimes people just enjoy the game.
But there should be SOME real chance that you can at least reach the minimum payout.
It seems there have been frequent changes so, I'm uncertain that what I see is the way it's going to be when you see it.
The large amount of negative comments recently aren't good and it's understandable that people feel misled.
I've enjoyed playing Apps that are pretty much identical to this, but if you're purely doing it for money, then definitely don't bother.
Futhermore, I wouldn't go for this one – because the negative reviews, glitching & Ad overload isn't good.
Beyond Apps – Making More Long Term?
Lots of people feel these Apps are misleading and I agree.
Not all of these Apps provide the odds of winning, but when you do get to see it – you discover that the odds of winning anything are really shocking.
So, why do people bother?
Well, it's easy and some figure some chance, (however unlikely) is better than zero.
Others just enjoy the games and aren't so concerned with the winning cash aspect.
If You'd Like To ACTUALLY Money Long Term:
I used to try and win lots of stuff online in the past and did pretty well, but then decided to put some work into learning how I could make money in the long term.
Fortunately, I got hooked on the idea & it's been a lot more profitable for me – than just trying to rely on luck.
If you'd like to learn the same – I first got started here.
Thanks for checking out my Lucky Cat App review today, if you have any comments or experiences you'd like to share – please do let me know in the comments below!