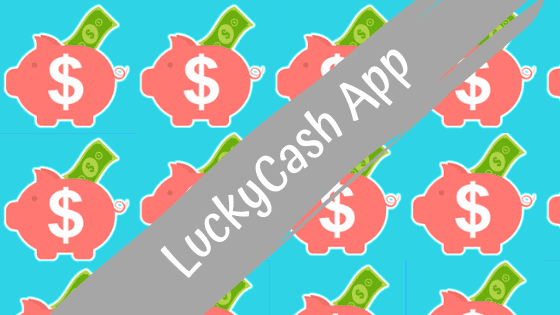 Welcome to my LuckyCash review – another App that claims to pay you free money, for playing simple games on your smartphone.
Their slogan claims that you can, "win money quickly…" But is that really true?
Many of these Apps actually take a long time to achieve even the lowest payout threshold, because any chances of winning are very low.
There are so many Apps fighting to compete now on the App store, all of which incredibly similar.
Recent Apps I've reviewed include – Lucky Money & LuckyGo Apps, but more seem to be emerging all the time.
Well, my first impressions, as far as LuckyCash go, were not good.
Mainly because, many of the graphics appeared to be blurry, (see below!).
It's a little hard to see from this image – but many of the graphics appeared blurry on the screen.
Also, I think anyone who created the App didn't speak English as a first language – as there were a fair amount of grammatical errors, or just things worded incorrectly.
In any case, the point of this App is to win virtual credits, so that you can exchange these later for real cash and Amazon gift cards.
So, I went and checked out how you can win money with this App.
Want to make & save money online – get a $5 bonus for trying this free.
How Can You Make Money With LuckyCash?
There are variety of ways you can win credits & these credits can be transferred into cash later, (or a gift card).
I will explain how many credits you need a little further down.
In order to win credits though, you can participate in the following………
Offers – here you get "mega offers," which vary greatly in how many credits you can earn. This is where you will sign up to other websites, products or services & earn a commission in the way of credits. Casino offers pay the most, but you also have to make a deposit.
Paid Surveys – Here they connect you up to two other survey providers. For me these were "Theorem Reach," and "Tap Surveys." You will earn some credits for every survey you manage to complete.
Cash Lotto – Each week, there is a jackpot to win. This week it was for 20,000 credits.
Watch Ads – Watch video Ads for 1 credit each.
Refer friends – Earn 30% of anything your friends/family earn when you refer them to join.
Daily Rewards – Earn 20 extra credits per day for logging in .
Wheel of fortune – earn a variety of credits. However, it seems that you need 8000 coins to play… I tried to play with 50, it said it was not enough.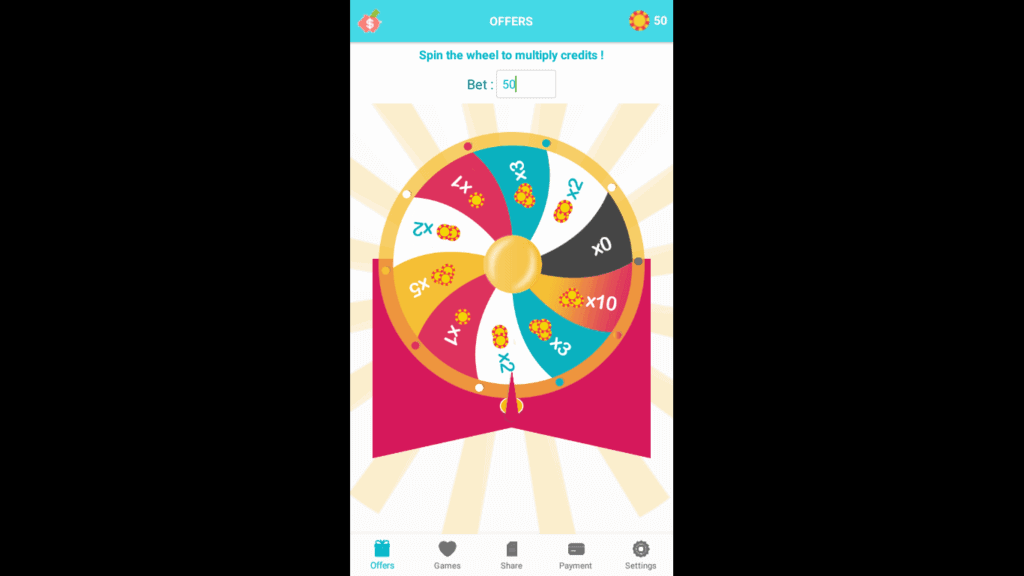 Asking For 5* Reviews?
In their list of ways to earn on the dashboard – they also have a link asking you to help them, by writing a 5* review.
Since it's in the earnings section, I presume you get some credits for this, but it doesn't tell you beforehand.
Even so, this has definitely led to many people logging in and leaving 5* reviews when they've only just signed up.
Can You Earn Credits Playing Games?
There was one section on the dashboard, showing you how you could earn credits, labelled "games."
As it's in the earning section, I presume they sometimes have games in this section, or maybe they haven't set it up yet.
When I click on the link however, it just directed me to an Ad to watch.
I got rewarded to view the Ad, (only 1 credit) – but there were no games available.
Maybe this is something they're going to add later.
Referring Friends & Family:
There is an opportunity to share on social media, or with friends and family and earn a percentage of everything they do.
So, if someone signs up with your referral code, you can earn 30% of everything they earn – for however long they are a member.
The issue is, many people won't make anything & won't reach the cashout threshold anyway, (unless they focus on the paid offers/surveys).
But I guess if you can win a portion of their tokens every time, this could help you to reach the cash-out threshold.
Cashing Out With LuckyCash?
One good thing about this App, is that at least there is a low cash-out option.
You can withdraw your cash to PayPal from just $5.
$5 PayPal = 5000 credits.
$10 Amazon voucher -10,000
PayPal and Amazon are the only two cash out options that have right now.
What Do Other People Say About LuckyCash?
As I mentioned before, because they'll reward you for leaving a 5-Star review, I believe this is what happens much of the time.
Seeing as this is something some people may do without even trying the App yes, it's going to be pretty misleading.
However, some people didn't hold back. Such as the person who wrote the one star review below……

Ultimately, this App is incredibly similar to some other Apps out there – but just not as good.
For example; I recently reviewed Apps like LuckyGo, LuckyNow, LuckyCat — all extremely similar, except those don't have blurry graphics.
Any chance of winning things are still definitely low, but the games are quite fun.
Is LuckyCash Legit?
All these Apps are usually legit – but at the same time, can be misleading.
For example; some people may feel they have a much better chance of winning money than they really do.
They may also overestimate how much they can make.
You're going to get the most credits on these Apps by doing "offers," but you often have to make a deposit to get the highest paying offers…. (For example; with online casino based offers).
Some other offers could include signing up to free trials, which you need to remember to cancel prior to getting charged.
Whatever you do make here, it's going to be small change rather than big money.
An Alternative To Apps Online, Making More?
For several years, I've been trying to build up an income from home and have tried many side hustles to get there.
Some have worked well …. others have been terrible.
Today, I still make the most profit from my website. Via affiliate marketing and paid advertising.
This is not something that happened overnight, it took plenty of work, but it certainly pays way better than any App.
If you want to learn how to do the same as me, step-by-step: I recommend the training here.
So, that concludes my LuckyCash review for today.
But please feel free to share your own experiences of other Apps in the comments.