Rewarding Ways Review: Legit Rewards Site?
Rewarding Ways is a survey and rewards site that will pay you for completing paid surveys, referring others to the site and doing paid/free offers.
There are also some limited options to get paid for clicking ads, or watching videos – but these are super low paid.
I've only recently checked this site out, but was impressed by the positive feedback about it online.  It's quite unusual for a site like this.  So many do have a lot of negative feedback.
But after checking it out further, I wasn't completely sure if it was all genuine.  What's your experience with Rewarding Ways?  Let me know in the comments.
What Is Rewarding Ways….  Review In Brief:
Website: https://www.rewardingways.com
Money Making Opportunity: Pocket Money.  Earn from paid surveys, offers, referrals and prize draws.
Cost To Join: Free
Overall Verdict:  Legit!  I think appearances can be deceiving in this case.  This site reminds me a lot of PrizeRebel – it has abit of a outdated appearance but, it actually has more going for it than a lot of sites like this.
There are lots of different offers and surveys available and they also have a low payout threshold.
Rewarding Ways – First Impressions & Signing Up:
Despite this website looking a bit old fashioned, it was super quick to sign up, (must have taken seconds) and the payout methods they accept are far from outdated, (Bitcoin is a cash out option, for example).
You don't need to give very much info – which I prefer.
Only an email address/name/username and an email linked to how you'll be paid…  Such as, your PayPal email.
You also get $0.20 when you sign up, as a mini bonus.
One of the first thing I noticed while scrolling along the tab, was that they have a payment proof section.  This is where you can see how much certain people have been paid.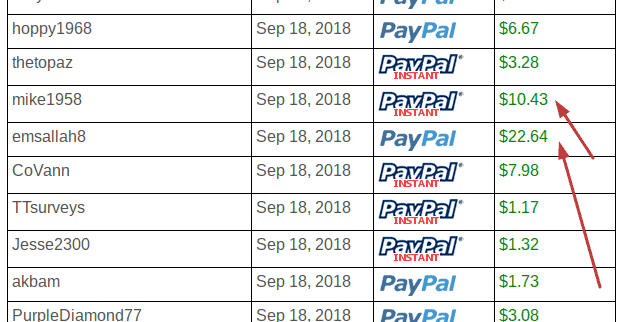 Most of the payouts were very small.  A couple of dollars here and there.  But there were a couple for more.
As  you can see by these though, this isn't a big cash, money opportunity.
However, I do like the fact that they are very open about this.
They will happily show you what people are ACTUALLY cashing out – not some made up figure.  Hopefully, this gives people more realistic expectations.
Ways To Earn With Rewarding Ways:
One thing I'm confused about is, you seem to be offered both points and cash on this platform.
With the surveys, some seem to pay in points and others in cash.  With the offers, it seems to be points.
100 points = $1 here.
Surveys With Rewarding Ways:
I noticed right away a tonne of different tabs for surveys.
As with many GPT sites, they tend to go with many of the same survey providers.  At the time of writing, these included:
Tap Research,
Revenue Surveys,
Live Paid Surveys,
SaySo Surveys,
Wannads Paid Surveys,
Worldwide Offers,
Pollfish Surveys,
A lot of the surveys seemed to be really low paid.
Another annoying thing is, you need to answer profiling questions for each survey router you go to – each question you answer leads to more surveys appearing.
When I went to Revenue Surveys, here are some of the offers I had…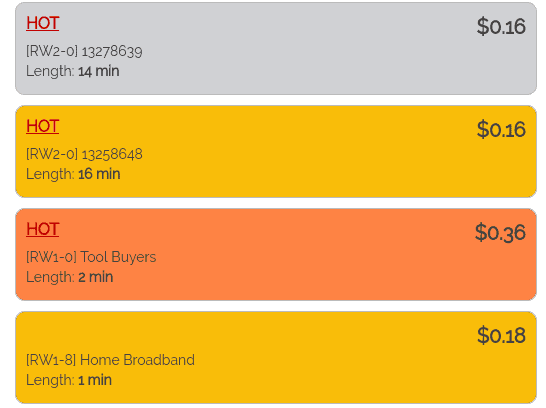 As you can see, all of them were under a dollar.  There are many sites that do at least pay a bit more than this.
However, with Tap Research, the surveys shown were shorter and you did earn a bit more for your time.
Some of the surveys seem a bit misleading though.
They will say, (for example;) 95 points for 5 minutes.
…But then you have to answer a bunch of profiling questions and it says you'll actually be awarded between 1-95 points, (depending how many questions you get).
I decided on one survey with Tap Research and I only got 9 points at the end of it.  It was only about 30 seconds long, but still.   That's 9 cents!!
You also have to keep answering the same profiling questions for every survey.  This gets very old very quickly, but unfortunately it's also extremely common.
Many that I tried said that they were already closed, or were unavailable. So, much of it was a waste of time.
Offers – Free & Paid… (Plus More Surveys).
Again, just like many GPT sites, rewarding ways links up with third party providers to bring you offers that you can complete for points.
These will be similar offers that you find on other sites and, if you're a regular to GPT sites, you will also recognise some of the names:
Offer Toro,
Revenue Universe,
Wannads,
Adgate Media….  plus many more.
I thought this section would just be paid/free offers.  But actually, there are more surveys here as well.  I did a survey after filling in my profiling info with Peanut Labs and made 47 points.
I have had a fairly good experience qualifying for Peanut Lab surveys in the past, so it may be one you want to check out.
The survey took me around 10 minutes.
Offers are free and paid and include things like – completing sweepstake offers, signing up to free trials, joining online casinos, downloading apps, joining other related websites, (survey sites).
Referral Program:
Rewarding ways has a reasonably generous referral program.
If you refer anyone to their website, using your affiliate link, you will earn 25% of anything your referral earns for life.
Many survey sites tend to be a lot lower – often around 10%.  So, 25% is much better.  However, unless you have a way of generating hundreds of referrals, you still probably won't make much from it.
Largely, this is down to only a small percentage of people actually remaining active on sites like this.  Many people simply don't remain active for long.
It's not enough to get people through the door, they actually have to interact on the site and make money.
As with most sites like this, they don't give you much advice as to how you should go about referring others -so, unless you have affiliate marketing experience already, it's unlikely you'll get many.
What Do Other People Say About Rewarding Ways?
This website has some really positive feedback online.  This is quite surprising, as so many GPT sites do not have good reviews.
They have 4 stars on Trustpilot right now.  I also noticed they're quick to respond to any negative feedback.

However, I'm not completely convinced that all the feedback is really genuine.  It's not very hard to buy reviews and I don't really see that this site has much more going for it than many other GPT sites.
What do you think?  Have you tried Rewarding Ways?  Let me know in the comments.
PROS VS CONS:
PROS
low $1 cashout.
A large number of different survey providers.
Large variety of offers.
Various payout options.
Worldwide access.
Earn 25% of your referral earnings – no extra cost to them.
CONS
Many surveys weren't available – you go to them and they are gone.
Many surveys I could see were v.low paying.
Still a low-income opportunity.
Rewarding Ways Review Conclusion:  Is This Legit, Or A Scam?
This is definitely a legit platform – but while there are plenty of surveys and offers available, many of them were very low paying.
Also, a lot of the surveys that I tried to go and do, were no longer available!
While the platform has a good referral program, you'd have to be referring hundreds of people, (who then become active members) to make anything much at all.
One good thing is that you can cash out from only $1, so you can see for yourself how you like it and you won't risk losing any of your money/time – you can just cash out right away.
If you have had any experience with Rewarding Ways, (whether good or bad) please let me know in the comments!
Also, you may want to check out:
Do You Want To Make More Online?
If you're sick of earning peanuts online from online survey sites, maybe it's time you started your OWN business online.
This is really something most people could do if they knew how, but most people don't even think about it.  Out of those that DO think about it, only a small minority put the effort in to achieve it.
But, if you're interested in making more online in the long-term, you need to stop simply exchanging your time for money.
If you exchange your time for money then, when you stop working – your income stops.
Whereas, I could stop working on my website tomorrow and I would still be making money from it.  From all the work that I have put in the past.
If I stopped working indefinitely on it, my income would eventually stop.  But I'm still rewarded each day, not for work that I put in today, but work that I have done in the past.
One of the best things about growing an online business, is there is such a low-barrier to entry and it doesn't cost much to set yourself up.
Want to know how I make money from a website?  This place showed me how.
All the best,