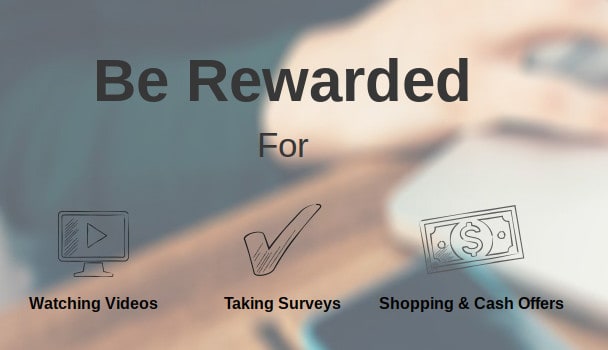 In my SendEarnings review today, I will be exploring what this website has to offer and figuring out whether it's legit and worth your time!
Send earnings is yet another paid-survey-related websiste, (so many popping up all the time!).
This is the type I generally term "all-rounders," because they tend to have a variety of ways to earn, like Swagbucks do.
Although, many people also call these type of sites: Get-paid-to websites.
SendEarnings will include ways to make money like:
Paid offers, (signing up for trials or other websites for a small amount).
Watching videos/playing games.
Completing paid surveys.
Searching the web.
Referring friends.
Recieving/clicking emails.
With send earnings, you also have the option of becoming a gold member, after you've reached a $30 payout threshold. 
After being a gold member, some of your rewards are increased.
This is the same situation over at Inbox dollars, or inbox pounds. 
So, I was not surprised to then discover that send earnings is actually operated by Inbox dollars!
You'll also need to be a resident of the USA to be able to participate on this website, so if you're elsewhere in the world – this one isn't for you.
Check Also: My Top 10 USA Survey Sites & Top 10 UK!
In my review today, I will be covering the following topics!
How does SendEarnings work?
How much can you earn with this website?
Is SendEarnings old news?
What do others say about SendEarnings?
Is SendEarnings A Scam?
Beyond Surveys – Other Ways To Make Money!
How Does SendEarnings Work?
SendEarnings works in just the same way as any of these pay-to-do sites work.
They'll encourage you to partake in various online activities – such as playing certain games, completing surveys and signing up to paid offers or services and they will pay you a small amount for each activity you complete.
SendEarnings will be paid a commission by advertisers to collect information from you, or to promote their products or services to you.  SendEarnings then pay you a percentage of their commission… and that's how this all works.
How Much Can You Earn With SendEarnings?
You can earn a $5 bonus for signing up with them, however their payout threshold is ridiculously high at $30.
This is a shame, because so many other similar websites have reduced their payout threshold now.
The truth is that most people do not stick at these types of websites for very long.
Most may check them out briefly, realise how slow it is to actually make any money and give up.
By having a low payout threshold, it gives people a chance to actually have a chance to see SOME reward for their efforts quite quickly and this is more of a motivator to continue.
These companies know that a majority of people won't stick at them long enough to reach a high threshold payout – which means they'll end up never paying a majority of people that sign up.
While it's completely possible to reach the $30 threshold, it's likely to take you a very long time unless you're into signing up for a lot of the paid offers.
Paid offers are often not free either, but they tend to pay much more than other activities on these websites.
If all you plan to do is complete paid surveys, then it will take you considerably longer to reach threshold.
Rarely have I completed an online survey that paid more than a dollar, but many more are more like $0.25 – $0.50 and another frustrating aspect of surveys is that you will get chucked off them relentlessly for not qualifying.
Advertisers are looking for a very particular demographic and so, qualifying for surveys can be hard.
Suddenly, a ten minute survey ends up taking an hour because you get chucked off multiple surveys before you actually manage to get through one to the end.
If you're thinking that being paid to read/click on emails seems like an easy way to make money…  well, you only get 2 cents per email, so you can do the math there.
Is SendEarnings.com Old News?
SendEarnings seems stuck in the dark ages when it comes to its competitors.
The payout threshold aside, the website itself looks old fashioned and isn't very visually appealing, or interesting to navigate.
In addition to this, they still only pay by check.  It's rare I come accross a site like this that now doesn't either have various gift card payment options, or PayPal as a withdrawal method.
In addition to this, they actually charge you a $3 processing fee for the privilige of sending you out the check!!!
Hold on a minute; doesn't that make their $5 "bonus," look pretty insignificant now?
Some complaints have also suggested that as they've almost reached the $30 payout threshold; all of the opportunities to make money suddenly dry up.  This is a common complaint to various websites similar to this one.
What Do Other People Say About SendEarnings?
Negative feedback about SendEarnings seems to resolve around the following:
Lack of surveys/opportunities to make money.
Accounts being cancelled prior to payout.
Poor customer service, (they do have a live chat option which I tried myself and they answered promptly; so I cannot vouch for that feedback personally).
They deactivate your account if you're not active for six months.
Not credited for offers completed, (this can be due to customer error at times).
Takes too long to reach the $30 threshold.
(image source – surveypolice.com).

(image source – sitejabber.com)
The member above suggests Swagbucks as a good alternative and I can vouch for that – they only have a $5 payout threshold and you can select a variety of giftcards as payment, but paypal is also an option.
Do you have any experience with SendEarnings?  I would love for you to share your experience. Please leave a comment below.
Is SiteEarnings A Scam; Or worth your time?
SiteEarnings is not a scam, in my opinion. 
It's operated via the creators of Inbox dollars and Inbox Pounds; who are a legitimate and I know people who have legitimately made money with them.
However, I don't think any survey-related site with a payout threshold of $30 is really worth your time and energy.
Because, when there are better alternatives that have a lower payout threshold and are overall better websites… So, why bother?
Down to the fact that there are better sites out there to try out, so I'd probably give this one a miss.
Beyond Surveys – Making More Online!
If you've been searching for ways to make money online and are wondering whether these sort of websites are going to bring you in a reasonable side income… they aren't.
At best, these sites will make you a little bit of pocket money.  But they aren't a genuine way to bring in anything more than that. 
But don't worry, there are tonnes of ways that you CAN make money online legitimately.
Right from pocket change, all the way up to full-time income opportunities.
If you're not sure where to start, I wrote about 40+ ways you could make money online here.
I make the most from writing posts on my own blog and you can learn how to start a money making blog here.
If you'd like to learn how you can generate an income from your own interests and passions – this training helped me most.*
All the best,