Is Six Figure Mentors A Pyramid Scheme Scam…
I've read and seen a lot about Six Figure Mentors.  There are some passionate people up there who want to stand up for this business and some very angry individuals too.
So, I'm Curious…  What's your experience?
Last week, I was directed to the program after viewing a YouTube video created by one of their affiliates.
These people seemed really genuine and like great positive people.
I've no doubt plenty of the affiliates are good people and believe they are promoting something of value here.
So, some people think it's amazing, while many others claim it's a scam, or pyramid scheme – which is it!?
Well, I don't want this review to just involve my personal take on it…
So, I invite you to share your personal experience of Six Figure Mentors in the comments below.
I know that many people who have paid big sums of money to access some of the levels of training, are bound to feel sensitive about anyone criticising it.
But there are also others who do feel angry, after losing thousands of dollars to the Six Figure Mentors.
My Introduction To The Program:
I had a look at their introductory 7 part sales video series, I checked out videos on YouTube and read a multitude of different reviews and comments from others online.
The six figure mentors is a program created by Stuart Ross and Jay Kubassek and they claim their program can teach anyone how to create an incredible income online
I was sent the first video to six figure mentors by one of their affiliates, who appeared to be a lovely middle aged couple, I guess they went all into this system to try and create the retirement of their dreams and who can blame them.
… So, I was curious what this initial first introduction video of the Six Figure Mentors would involve and eager to see what they had to say.
Well, rather typically, the first video was all about striving towards financial freedom.
They go on to say how they can teach you a system, that will change your life forever.
Exactly the type of thing you will hear listening to any over-hyped sales pitches for various internet marketing programs.
"You're here for a reason…. maybe it's burning desire, maybe it's necessity… what I can tell you is that we can provide you everything you need to create the lifestyle of freedom and flexibility in this digital economy…"
I really want to like Stuart Ross. 
He's a fellow Brit and – for some reason – the way he talks reminds me a little bit of Chris Farrell.
He's good at selling the Six Figure Mentors, I can see why people may feel compelled to join this program.
The interesting thing – is they have all this talk about how they're going to change your life and give you everything you ever wanted, (oh, with a little "hard work" thrown in, they do say that)…
But they don't actually say HOW anywhere during that first video.
They say you're going to be able to essentially create this successful abundant life, but they don't mention anything, regarding WHAT they will be teaching you yet.
Anyone sitting through that initial video will finish it and not have a clue what they could be potentially be buying into.
But that video will have intrigued you enough, that you will sit through the next videos.  Well, they are online marketers after all, this is what they're supposed to do.
So, you will go ahead and click on and be enticed in further.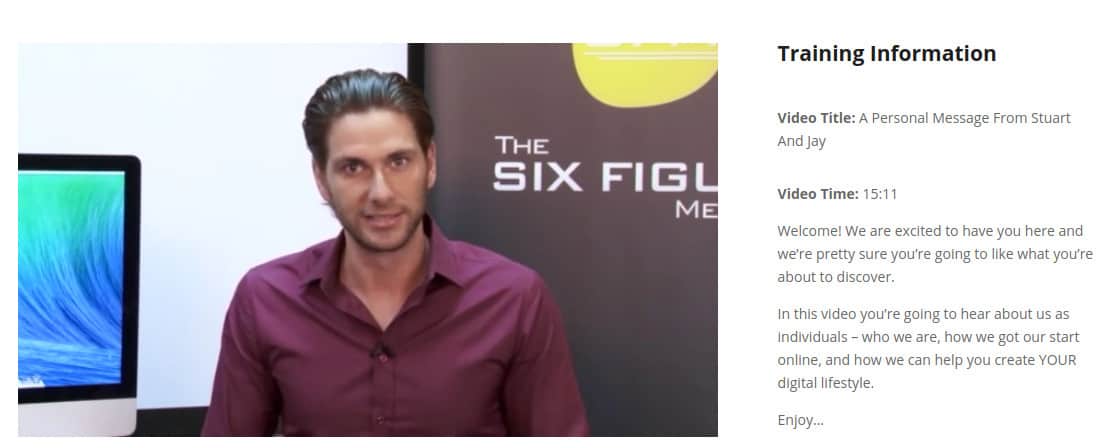 In the second video they talk with more depth and substance.
They talk about creating a website that can provide value and solve peoples problems and can recommend products and services to others.
Essentially, they describe what is known as affiliate marketing.
Affiliate marketing is a legitimate business model and one that I use myself.
it was this training that taught me about affiliate marketing & it's affordable, (free to start).
So, nothing they're saying is misleading at all and really they're just describing the business model of affiliate marketing.
They then talk about how people may often be interested in affiliate marketing, but don't take action, because they have something holding them back.
They say that people worry about things such as…
–  Being unable to set up a website
– Being unsure what niche to go into.
– Worrying that they're not an expert in a particular topic.
They then try to put your mind at rest by saying that actually,  you can get articles created for you affordably, by a professional and an expert in your niche.
Plus, that you can create a website super easily and so on.
This is all completely true.
One problem is: they mention purchasing 500 word articles…
which would never rank on the first page of Google! Far more in depth articles will typically rank on the first page.
Later on though, they go into more depth about the types of affiliate offers that you should promote that will be more profitable to you.
Ultimately offers that can lead on to higher ticket value items and give you more chance of getting multiple sales from each initial sale…
(really what they're leading on to here is getting you to become affiliates for their own offers and products).
You can purchase the initial set of training for $29.95 and this does have a 30 day money back guarantee.
Some people have been impressed by the training available at this level and if $29.95 was the only cost of this program, then of course this would be a cheap education.
But that is not the only price you'll need to pay for if you want to progress within the Six Figure Mentor training.
Further on in the free training, you're shown how to create a website at a click of a button; which is something they provide on their platform.
They show you how to set up a website via their own "internet business lounge," via the six figure mentors; which has a WordPress integration that you can use to create a website from a variety of themes.
Throughout the intro videos, although they give you plenty of info about how you can create your own affiliate marketing business, which initially struck me as a good thing.
But as the videos went on, I realised that they're actually very gently coaching you towards choosing the "easier road," and following their own system, rather than building a business entirely independently.
Am I right in this presumption?  Let me know your thoughts!
Following their own digital system, will involve buying and then selling their own products, including the Six Figure Mentors system itself, (that you've just signed up to).
But to follow their advice and just become affiliates of SFM is not an ideal long term business plan.
Because, to rely solely on their system, you are really restricting yourself as an affiliate marketer.
Six Figure Mentors Business Coach:
They also talk about you being allocated a business coach.
This is not just someone who is there to support you, but someone trained to determine how much money you could be willing to spend and to get as much money out of you as they can.
They know well, that speaking to you over the phone and building a relationship with you, a relationship of trust, is going to be one of the best ways to generate the most profit from you.
After you have invested thousands into this, you bet you're going to be passionate about recouping that investment.
But with a lot of negative feedback regarding this program, it won't take your prospective customer long to understand, that this may not be the best place to invest their time and money.
While they stress that affiliates can choose to promote any products they want… they do say that a large number of students choose to promote their own products.  
So, I feel they're trying to cover themselves here by suggesting they are giving people the education and ability to promote any products as an affiliate marketer.
Even though, the motivation behind the six figure mentors is clearly to point people towards promoting their own products.
They make it seem like an attractive option in comparison to many programs; because of the commissions you could make from their high ticket items.
Stuart Ross says: Six Figure Mentors is not a scam.
Stuart says this is due to the fact there is a 30 day money back guarantee, you can check it out for yourself and then you will be able to see whether there is value there, or not.
He also says that you get what you look for.
So, if you go and look for negative reviews of a particular thing, you will find them.
Therefore, he says, it's not always a fair way to judge a product or service.
While that's true to some extent, I think the problem here isn't with this initial $29.95 payment, for the initial training.
People have lost thousands and thousands of dollars with the Six Figure Mentors and this is not money that they were able to get back.
Additionally, there is a problem in getting people to pay more and more for products, in order for them to be able to sell them themselves – but at a really low commission rate from what I see, (see more below).
Meaning, it will take a long time and significant sales of high ticket products – to even break even.
Have you lost money with the six figure mentors?  Please share your experience below, whether good or bad!
Some Key Problems:
One of the primary things wrong with the Six Figure Mentors was that you had to buy all of the Six Figure Mentor products, in order to sell them.
So, if you want to sell their high ticket items, you have to purchase them first.
Now they have changed things a bit, so that there is a free affiliate program you can join too, but this won't allow you to sell their high ticket items.
A majority of people that you bring into Six Figure Mentors, are also going to then try selling their products, who are then going to recruit others, to sell the products and so on…
This will ultimately lead to a problem of over saturation.
While I don't see a tonne of blogs promoting SFM, (largely because they are not blogs that rank highly in the search engine) I do see a lot of blogs linking to SFM via YouTube and YouTube Ads, which seems to be one of their primary targets.
There is an incentive to get those you recruit others to sell SFM products, because you will also earn a percentage of their earnings as well and you can build a downline, just like a multi-level-marketing business.
SFM do not seem to want to be called an MLM business and talk about affiliate marketing primarily, but the SFM model does have an MLM structure; because you do create a downline below you.
With an affiliate marketing model, you get paid for a sale and sometimes you will be paid every month if your referral has signed up to a membership program… but you do not build a downline.
You do not earn a percentage of your referrals earnings, with a purely affiliate marketing model.
This is and important distinction I feel.
Because, there is more of a danger with MLMs, that they can eventually become little more than recruitment schemes.
This reality has been revealed multiple times over with many MLM businesses.
Related Post: Is LuLaroe A Pyramid Scheme.
What Can You Earn Selling SFM Products?
You can see for yourself some of the commissions you can receive for selling some of their various products.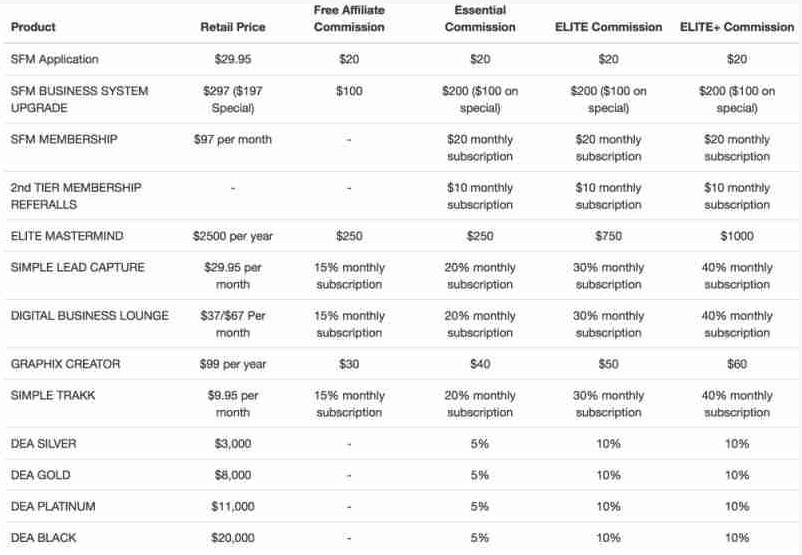 You'd think with such a massive investment on your part, you'd be able to sell these items for a return.
But just check out their highest priced ticket item of $20,000…  you only get a 10% commission back if you sell that item!?
I don't really understand that, I would have imagined the commission return to be considerably higher.
At a 50% return, for example; I can see more people willing to invest.
But 10%!?
Again, please give me your own thoughts on this!
For your $20,000, you can get to hang out with those guys and other internet marketers and I guess the idea is that some of their expertise will rub off on you.
Well, you're certainly paying a premium for that.
So, why do you have to purchase these high end products in order earn the highest commissions?
Well, they may say you need to experience what's on offer directly in order to sell them to others.
But really, this is how they make most of their money.
If you buy into the system and fail, (which will happen in a vast majority of cases) it doesn't matter.  They still get paid.
If they just let you promote their product without paying the high premium, they'd get paid far less, because a majority of affiliates won't be successful promoting Six Figure Mentors!
Conclusion: Is Six Figure Mentors A Pyramid Scheme Scam?
I am sure Six Figure Mentors contains some decent and worthwhile training if you're new to making money online and would like to know how some of this stuff works.
They do provide training that isn't solely related to promoting SFM, but they are still primarily encouraging you to go that way, by showing you how well you could make money following their own digital system.
The only way that I could conclude that Six Figure Mentors was a pyramid scheme, would be:
If I could be sure that the products they're offering at SFM are basically irrelevant to their main purpose and aim of bringing people into SFM.
I can't entirely say that right now…  but it seems close to this.
I do think that they are swimming dangerously close to those pyramid scheme waters.
With many programs being shut down with a similar structure…(Dare I say, MOBE!?)… I would imagine they could feel a little uneasy right now.
I think they must acknowledge this danger, by the fact they've now made part of their affiliate programs free to access.
No doubt, many people believe they've been conned out of thousands of dollars, but what do you think?
Do you think Six Figure Mentors a scam?  Let me know in the comments!
If You're Interested In Affiliate Marketing…  This Bit Is Important!
As Six Figure Mentors do start off by saying, there are skills you can learn that can help you build up your own business online from scratch.
You don't have to follow a system and you don't have to be loyal to one single brand/product or service!
In fact, it's unwise to do that – because then you are putting all your eggs in one basket and you become part of a company, rather than owning one.
If that company fails, so do you.
While there is a main training program I recommend on this website, I actually promote lots of different products and services… not just one.
I can promote anything I want and change it at any time that I choose – why not have the freedom to do that?!
For example – this is the main program that I recommend for beginners.
I recommend it because, it helped me to make my first sales with a niche site…. in the kids toy niche originally & also the kids room decor niche.
It's given me the skills to make affiliate sales, in any niche.
Plus, it's not full of upsells and hidden costs – it's just simply set up, which id unusual to find.
While those high ticket products may be awesome to sell when you make a commission, I think people do deserve value for money. 
Even more importantly, when they are just starting out.
WHY??!
Because – a majority of people fail at making money online!
Most people who try don't even make their first dollar online before they quit!
With this in mind, I don't think people should pay out thousands of dollars for training, when they're not even sure whether it's really for them yet!
If you think that paying for expensive training will make the difference between success and failure, it really doesn't.
More often than not, people just don't stick at it, (no matter how much they've paid!).
People could spend a lot less money figuring out whether something is for them.
That's why I recommend people choose some free training options – way before they consider paying for a highly expensive course.
Unless you have the money to throw away… 😉 .
You're welcome to share your own experiences below.
All the best,
Some other posts that may interest you: