What is my points about?  Is It Worth Your Time?
Before I start, I will state that My Points is only available to residents of the US or Canada..  So, to my other readers around the world, this one is not for you.
If you're living in Australia, the UK, or Ireland – you could check out Swagbucks as an alternative.
Fed up of making peanuts online?  You could try this instead.
How Do You Make Money With My Points?

My Points offers a variety of different ways that you can make a small amount of money.
This includes:  playing games, watching videos, completing online surveys, cashback offers, points for signing up to certain products and services and redeeming points on certain travel deals; (e.g. earning points for staying in certain hotels, or booking flights).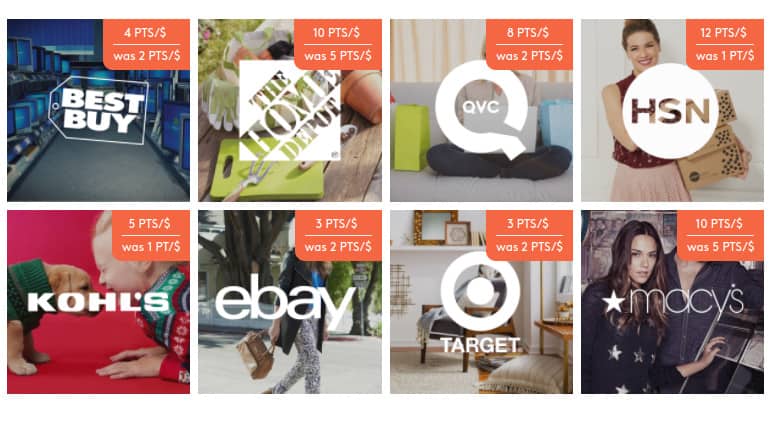 Just like at Swagbucks and many other similar sites, you can earn points from partaking in these online activities or taking up certain offers.
Once you've built up enough points in your account, you can redeem them for various gift cards, or via Paypal.
When it comes to most rewards, you can start redeeming from the $10 mark.  Although, if you're wanting a cash payment, you nee to reach $25 to withdraw via paypal.
What Are My Points Worth In Real Life?
You may wonder how many points you actually need in order to withdraw. In order to gain a $10 giftcard, you'd be looking at making between 1400-1700 points.
Different gift cards vary how many points you need to purchase them and this is changeable, but this will give you a rough idea.
How many points you can make, also varies wildly and will depend on what sort of task you're doing.
Some tasks will pay you a LOT more than others.  So; just to have a look at a few of the potential ways you'd be making points:
Online Surveys:
This is one of the more popular ways that people like to make money online, although they can also be one of the most frustrating.
As anyone who has regularly taken surveys will tell you: you will get thrown off a LOT and often after you've already wasted your time answering a whole bunch of questions.
One good thing here though, is the surveys do tend to be fairly short, at around 10 minutes or less.
You can typically expect to make around 50 points for a survey, but this will really depend on the survey you're doing.
One thing I do appreciate about My Points, is they compensate you 10 points if you get chucked off a survey.  Many big survey sties still do not offer any compensation at all for that wasted time.
Shopping/Cashback: 
This is one of the easiest ways to make points.  (if you like generating cashback, you may want to check out ebates as well).  This is a simple way to earn because it really takes zero effort on your part.
If you shop in certain stores via their link, you will generate a small percentage of cash back, in the form of points.
The varies from store to store; but typically you could make two to three points per dollar spent.  Although, I did see an offer for 10 points per dollar on a special offer, so potentially you can generate points quickly via this method.
Search With My Points:
My points also pays you in points to use their search engines.  This is one of my favourite features over at Swagbucks, because using a search engine is just something you do naturally online anyway; why not get rewarded for it in the process?
The difference with My Points, is they pay you depending on how many searches you do – but if you do just over 40, you can generate 100 points.
My Points Videos:
Videos are one of the lower paid options and not something I'd really recommend spending time on, unless you really want to spend time on them.
You'll only 1 point a video and there is a 10 video cap per day. They're only short videos, a few minutes long at most, but it's a bit of a time waster for so few points!
So, that's a little over view of some of the ways you can make money with MyPoints.  As you can see; the amount of points you can generate, really depends on the activity, or the company providing the offer.
A Useful Browser Extension:
The easiest way to remind yourself to build up your points, is to download the browser extension for My Points.
This will let you know if there is a cashback offer on a website you're browsing, or some points opportunity that you may be unaware of.
This is useful, because so often you're just going to completely forget to look for cashback offers before you buy something online, (well, if you're anything like me anyway!).
However, if you have any other browser extensions to alert you of cashback offers, then these can conflict with the My Points one.
My Points Referral Program:
You can also earn additional points through the My Points referral program.  By recommending My Points to your family or friends, (or your audience if you have a blog/youtube channel/website/large social media following) you can 10% of their earnings for the gestation of their membership and an additional 25 points on top.
My Points Complaints Online:
Unfortunately, this website doesn't have the best reviews online – there is plenty of negative feedback and complaints to be found.
This is extremely common with sites like this, especially if they have been around for a long time.  But it's something you should bare in mind before you sign up.
From what I can gather, they used to be better and have gradually gone down hill.  Many members claim they've been with MyPoints for 10 years and only recently have had problems.
There are a variety of different complaints but some of the following are common:
Lack of customer service.
Cashback offers not being tracked and therefore not getting points for the deal.
Having accounts deactivated/blocked for no reason, (often there will be some reason why an account is flagged, survey related companies can have strict policies – which could result in them banning people in error.  Although sometimes people also make some mistake without realising.  For example; being inconsistent with your answers in surveys is a common reason to be banned from a survey site but it's very easy to be inconsistent in answers without realising).  However, there is an unusually large number of complaints from people who have had their accounts closed in this case.
Less opportunities now, with smaller payouts.
Gift cards not arriving, then not being able to get through via customer service.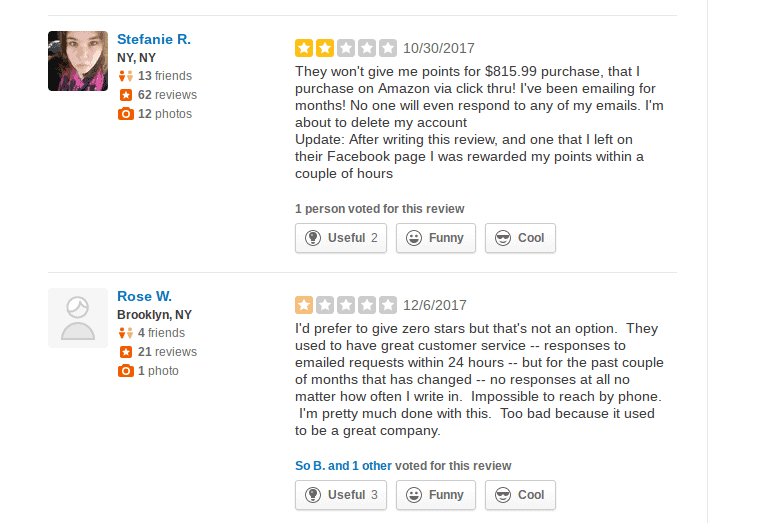 What is your experience with My Points?  Please leave me a comment below!
Is My Points A Scam? 
My Points has been around a long time and it appears that the vast number of these complaints have come up in the last couple of years.
It could be that they're currently struggling, but it's hard to make any conclusions about that on the grounds of complaints alone.
As the internet has grown, so has the number of websites like these and consequently, the competition too.
What I would suggest, is that I wouldn't want to risk building up too many points here without redeeming.  As a way of testing it, you could make enough points to reach threshold and then redeem, just see how the process goes.
It's also worth mentioning that, while there are many negative complaints online, there will be thousands of other people who haven't had any problem with My Points.
At least you don't need to spend any money to partake in these reward programs; but you could waste plenty of time.
There aren't any reward sites that escape criticism.  For example; Swagbucks is possibly one of the most successful website of its type online; but still has a lot of people who have complaints.
For every complaint, there will be many more people that don't have any issues with a company.
What's your story with My Points?  Let me know in the comments!
So, What Now?
You may have read this and come to the conclusion that it sounds like a fair amount of effort, without much reward involved.
Potentially zero reward if it doesn't work out, or you have issues like some of the other previous members have.
The reality is, these small time opportunities aren't going to bring you anything in but pocket money – at best! 
These aren't even part-time money making opportunities.  The people that claim they're making hundreds of dollars a month from survey or cashback sites; are bloggers, website owners and internet marketers who are making money from affiliate programs. 
These aren't regular people sat at home taking a few surveys.  (Although there are scam programs that claim you can make thousands taking online surveys – and they're very popular programs on clickbank!!!).
Every time you sign up to a survey company through a website/blog review, the site owner will normally make a small commission; or a percentage of your earnings in some cases.
There is nothing wrong with that.  I also make money via affiliate marketing.
But I don't think it's right to claim you're making tonnes of money online from actually doing surveys, or earning cashback – when you're clearly not.
I used to spend more time on Survey sites and money saving websites; but now it's usually for the purposes of review that I sign up.
If you'd like to know more about affiliate marketing – this post explains it.
I also recently did a post sharing some of the legit online companies that have paid me recently, which you can read here.
 Do you have a favourite money saving/making website…?  Share yours below in the comments.
All the best,