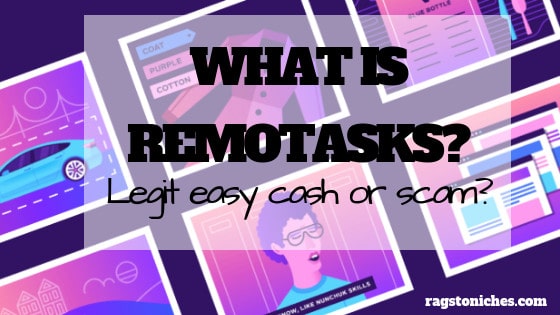 Welcome to my Remotasks review – I signed up to this platform to check it out and to discover, whether you can really make money here.
If so, how much can you realistically make?
The ability to make money from the comfort of your home, is becoming increasingly attractive to many.
Especially the ability to work online, which enables many people to work from almost anywhere.
However, although there are many platforms online that can help you make some additional money online, most of them do not pay very well, for the amount of effort required.
Many opportunities online, will pay far less than minimum wage, (for example) although can be popular in other countries, where the the *dollar,* is worth a lot more.
So, is Remotasks legit?
And…. Is Remotasks worth it, can you really make enough money here to justify spending time on it?
What Is Remotasks About?
Remotasks is a website where you can earn money for completing small tasks online.
In order to complete these tasks, you need to take tests to ensure you're capable of doing the job to a good standard.
Gradually, you can improve your skills and be able to take more tasks.
Some of the
Transcription: This is where you listen to an audio file and must write what you can hear accurately. This was the first test I had available and is trickier than you may think!
Image Annotation: Where you will draw around certain objects in an image, this helps to determine what objects are in the image.
Categorization: pinpointing keywords that will help describe what is present in the image.
Comparison: similar to image annotation, you draw around objects, to help explain what is there.
Image transcription: help to transcribe info from an image.
Data collection: exactly what it sounds like – sourcing data information on many topics via the internet.
This platform reminds me a lot of Amazon Mechanical Turk, although my initial impression was that the homepage and general layout prior to signing up, looked more appealing.
I knew it was certainly possible to make money on Mechanical Turk, but the higher paying jobs were reserved for people who had completed a vast amount of tasks, had experience and had completed certain qualifications.
This appears to be the same – the more qualifications you have, the more jobs you can complete and the more money you can make.
Therefore, it's not just something that you can go in and start making some half-reasonable money, you would need to commit some time here to actually build up your skills and qualifications.
That being said, the amount of money it seems you can make per task, or indeed… per HOUR are not very promising.
I will explain more as we go on.
My Experience:
When I personally joined, the only tests available to me were for audio transcription.
I was really hoping there would be more options.
If I fail this transcription test, does that mean there won't be other tests available?
In any case, I decided to go ahead and do it anyway.
I didn't really understand the instructions and had 8 tasks in total to do.
Eventually, (after totally getting it wrong) I figured out that I had to EDIT the existing transcription files and NOT completely transcribe all the files from scratch.
Anyway, I very gradually got through these 8 tasks, (with zero idea if I was actually doing it right….).
It took me over an hour to do, it was a lot of time and I found it really difficult to stay focused on task.
It's quite hard to keep paying attention and the tasks are boring, especially when you are given the same file to transcribe again slightly differently.
Then you have to wait – a couple of days later, I still hadn't heard anything and the test is still available to do on my profile…
So, now I'm unsure if it even submitted correctly.
However, even if I DID pass… $1-$2 an HOUR!?!
Up to $2 an hour is what they seem to predict that you can make from transcription, which is really low.
Imagine you did this for 5 hours; you'd only make $10!!!
There are so many different opportunities online, I wouldn't limit yourself to earning that sort of money.
In any case, you can also take up to each test 3 times – so, if you don't get it right first time, you can try again.
Although, three chances isn't that much when it's so hard to keep paying attention throughout all tests.
Personally, I'd have liked a bit more guidance about how to complete the tasks.
Because, if you'd never done audio transcription previously, you may have no idea what to do.
Remotasks Testimonials:
I did notice they had some testimonials on their website.
Such as the ones below…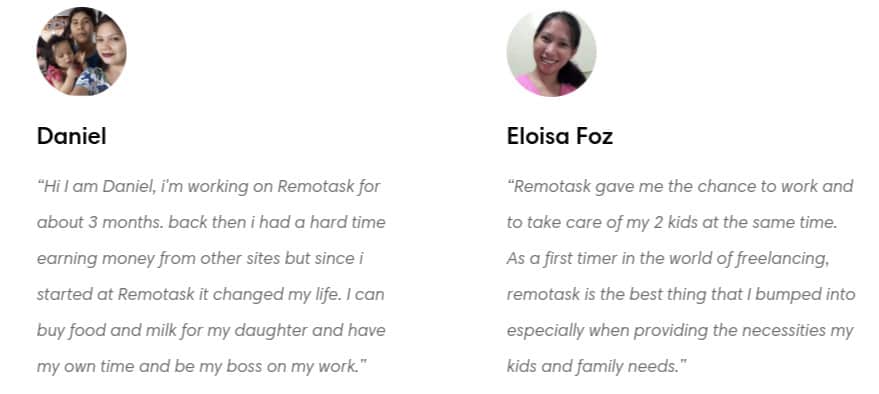 As you can see, they talk about it helping them be able to buy necessities – things like milk and food.
So, it seems to be more of a supplementary income and that's what I can see from the suggested amount you earn per hour for transcription on this particular website.
What's your experience with Remotasks? Let me know in the comments!
Strict Conditions – You Need To be Accurate!
Another thing that makes this work tricky, is that you need to keep a high accuracy rate.
Every test you do, will attribute to your overall accuracy score.
If that score gets too low, you will simply get thrown off the platform and banned.
I don't believe I'd personally be able to maintain concentration well enough to maintain a high score – the repetitive nature of the tasks will make it difficult for many people.
PROS VS CONS
PROS
Payment via Paypal.
No minimum set of hours worked, get paid weekly.
Quick/free sign-up.
Community available, where you get help and advice.
A variety of ways to earn.
CONS
Tasks can be very boring/repetitive,
Very low pay,
The tests you have to are long, easy to get distracted and make mistakes.
Only three chances to pass the test each time.
A low accuracy rate will lead to you getting banned.
Remotasks Review Conclusion – Is It Legit?
Remotasks isn't a scam and is a legit opportunity for some to make a small amount of money.
Is it worth your time? Well, that really depends!
If you're good at, (or even enjoy) repetitive tasks and believe you could maintain a high level of accuracy, then you may want to check it out.
Ultimately though, this is going to be way too little pay for most people to bother with.
These sorts of sites are always going to pay pretty low… However, I believe you can get paid higher for some tasks as you progress.
Personally, I was struggling to keep focused on the transcription test alone, so it's not going to be something everyone would be good at or enjoy.
If you've managed to do well on this platform, I'd love to hear from you!
Please let me know in the comments.
In the meantime, you may be interested in the posts below!!
If you're interested in making money in the long term; this is where I got started.🙂
All the best,