Why Is Keyword Research Important?
As many of my readers already know, I'm part of an online community, where people regularly talk about how well they're ranking for certain keywords online.
But with so many people brand new to keyword research, I see a lot of misunderstanding and mistakes that arise.
I outlined this a little bit in a previous post, where I talked about some common keyword research mistakes.
For the purposes of this post, I suggest check out getting a free trial account with Jaaxy – as that is the keyword research tool that I'm going to be using during this post.
Why Should You Do Keyword Research?
Primarily, we all what our content to be found and read by people, right?
Well, by targeting search terms that people will be looking for online, we can provide them with the content they're looking for.
It's not quite as simple as that though, because we also need to target low-competition keywords, in order to have any chance of ranking on the first page.
This is especially true if our blog or website is quite new.  Gradually, as your domain authority grows, so does your ability to rank for more competitive keywords.
However, even as a young website, if you target keywords with a very small amount of competition, you can still get ranked on the first page fairly early on.
Useful Post —> What Is A Keyword In SEO?
How Do You Research Keywords?
There are various ways you can research keywords.  If you want to start off via free methods, you could look at either of these posts to start:
However, one of the best investments I ever made, was getting a keyword research tool.
At Wealthy Affiliate, you can use their free keyword tool, which is included within their premium membership.
But for something more efficient and advanced, I got a jaaxy membership after just a couple of months and have used it daily since then – a couple of years now.
So, when it comes to Keyword Research – your first step is to figure out what you're going to write about.
Let's say, you already have an idea for an article.  Well, then you need to think about what sort of thing people are going to be searching for in that topic area.
Say you're writing about dog training, (a popular niche).  What would be something someone would be searching into google related to dog training?
What about…
How to train a dog, not to jump on furniture?
That entire sentence is a long tail keyword.  It also happens to be what, on the surface, is a low-competition keyword, according to Jaaxy:

The QSR in Jaaxy relates to the competition.  In this case, it says there is only one competing page in the search engines using this exact keyword.
So far so good.  There is only a small amount of traffic – an estimated 9 visitors per month to your post, if your post ranked on page 1 of the google search.
However, if a keyword has some traffic, even if it's only a tiny amount, it will be more than you think, because you will rank for other keywords too – not just just core keyword.
HOWEVER… this is not where your keyword research should end.
This is where some people make a vital mistake.  You can't just rely on this one piece of information alone.
What you need to  do now, is directly plug that keyword into Google and see what is ranking on the first page.
You'll also want to download the MOZ BAR, chrome extension, which is a completely free tool and can tell you the domain authority and the page authority of the results in the search engines.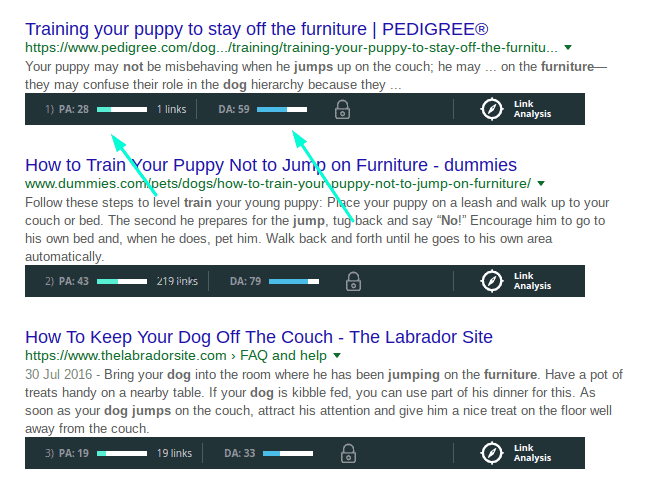 Now, compared to my site – which is coming up to two years old as I write this – the top results in google here have a much higher domain authority.
They also have some page authority here too.  On the plus side, they don't have the exact keyword in the title, but that would unlikely be enough to outrank them here.
To research further, you may want to see how many social shares or comments the posts have, which could also effect their ranking.
You may want to check things like, whether the keyword is actually anywhere in the content, how many images they have, are there any videos embedded.
I notice as I scroll down the page, plenty of other high domain authority websites – although, right at the bottom of page 1, there is a forum post and also a YouTube video ranking.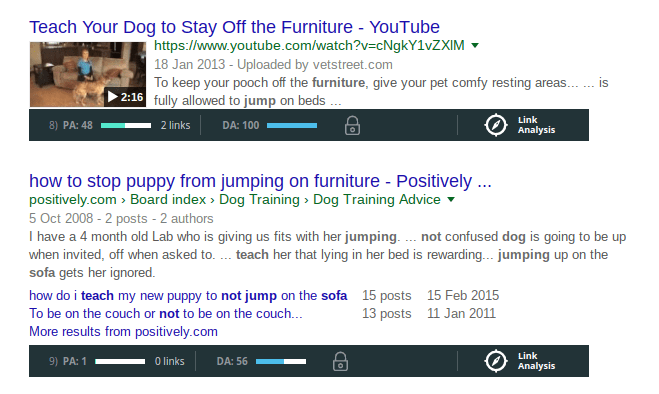 From here, I'd think it was possible to rank at the lower end of page 1, but that I'd have a better chance of doing so if I created a related YouTube video and embedded it in my post, OR embedded a YouTube video that's already popular into my post.
It's worthwhile knowing that videos also seem to rank well in this niche and you should think about creating your own channel, in order to drive further traffic to your site.
The lesson here is, that there is so much to learn from the Google search and doing thorough keyword research.
Make sure to check your keyword in the search results, prior to writing your post – every single time.
Does Keyword Research Always Matter?
No it doesn't!
That may surprise you… but hear me out…
Once your website grows to a certain level, you will come to realise what you rank well for and what you do not rank so well for.
You should then leverage this, by creating a lot more content that you do rank for and less of what you don't.
Makes sense right?
So, in my case – I will rank better for review related posts.  Does that mean I just write reviews and nothing else?  No, not at all.
That's not what I want to do – I'm interested in writing a variety of posts and adding variety will also make it more interesting for your followers.
But what do I do if I'm writing about an overly competitive topic?
Well, I will always usually still have a keyword in mind that I will check out, (most of the time).
 If there is an option, I will go for the lower competitive version of the keyword, (most of the time).
BUT I don't then go scrolling through the SERPS (search engine results page) and figure out if I will rank for the keyword because, most of the time, I already know the domain authority/page authority of those posts will be too high – there is zero chance I am going to rank for it.
So, I have to drive traffic to those pages, by other means.
I am not relying on the search engines for those keywords.
How I then drive traffic to those pages, is by linking to them throughout other posts.
The important thing to do, is to mention your other posts, (when relevant) within your posts that ARE ranking well.
That way, you can indirectly drive traffic to them.
Another way you can do this, is via social media.
Checking out what sort of content is repined on Pinterest, (for example) and creating relevant content for that.
Or sharing with related hashtags regularly, on Facebook, Twitter, or Instagram.
One thing to bear in mind though, is that you could one day, (when you have a big authority site) rank for the keywords you had no hope of doing early on.
This can really happen literally overnight at times and it's quite exciting when you start ranking for new keywords that you hadn't anticipated.
One Big Keyword Research Mistake To Avoid:
One of the biggest mistakes that I see time and time again, is a simple one to avoid.
That is … choosing keywords that no one is ever going to search for!
I think perhaps sometimes people are thinking of a title for their post prior to writing it and they check this title in their keyword search tool and see that it has zero competition.  
They normally see, it has next to no traffic as well, (in Jaaxy, it will show as <10 – meaning less than 10 searches, this could also mean zero).
Somewhere along the line, they've made the mistake of thinking, that this is still a good keyword to target.
Sometimes, because they have targeted these keywords in the past like this and they've ended up with some traffic to the post, so they figure this is OK.
The problem is:  In a majority of cases that I've seen, the keyword they're targeting is not actually something that someone would search in the search engines.
That's the reason there is zero traffic and zero competition.
The reason these posts then end up seeing some traffic at all – is because they're actually ranking for additional keywords and not the one they'd targeted.
People get excited when they're see they're ranking on the first page of Google for their chosen keyword.
But this will be pointless if no one is actually plugging their keyword into the search engine to find them.
If they're getting any traffic at all, it's likely from people typing in another keyword that's very similar and finding their post that way.
A way to see what keyword phrases you're ranking for and how many clicks you're getting for those search terms, is to check Google Search Console.
In Google Search Console:  Go to search appearance —> Search Analytics —> Queries.  You'll be able to see what search terms you're ranking highly for and can make further posts related to these.
Assessing Your Keyword:
Here is an example of a keyword with next to no traffic.  See above; the keyword is, "top 10 keyword tips."
While this is the sort of title a blog post may make use of – it is not something that someone is likely to type into Google and we can see that's the case after searching in Jaaxy.
More likely they'd type in, "best keyword research tips", or "keyword research tips for beginners".
But simply, "Top 10 keyword tips?"
The ONLY people that are searching for this….  Are other BLOGGERS doing keyword research themselves!!
As you can see, the keyword has zero competition and less than 10 searches per month, (that's the lowest Jaaxy actually shows).
By contrast, you can see the keyword below that:  "top 10 keywords,"  does have some traffic, but it's a broader keyword and you won't rank for that as it stands, unless you have a lot of authority.
You would need to create a longer-tail keyword.
So, you could consider something like: Keyword research for beginners.

However, from there you'd need to check the search results to really assess the competition for these keywords.
The key point is though, if you're wanting your content to be found in the search engines, there is zero point in targeting a keyword that no one will ever search for.
If you are looking for your content to be found organically in the search,  it's a good idea to see that there is at least a small amount of traffic going to it.
I have gone for keywords with zero traffic in the past – but that's either because, my intention isn't to necessarily get organic traffic to that post, or that what I'm writing about is so new, that there is no traffic for the keyword yet.
If the keyword you've researched has zero traffic and zero competition – you need to just ask yourself:  Would someone type this into Google?
Concluding Thoughts:
So, I hoped I've helped to outline why Keyword Research is important and how to do it more thoroughly than simply using a tool.
While keyword research tools are really worthwhile, don't rely on those alone to choose your keywords.
Always make sure that you also check out the SERPS, (search engine results).
If you haven't checked out Jaaxy yet, you can try it out for free here.  It is a worthwhile investment.
Have you struggled with Keyword Research?  You're welcome to leave me a comment below!
All The Best,