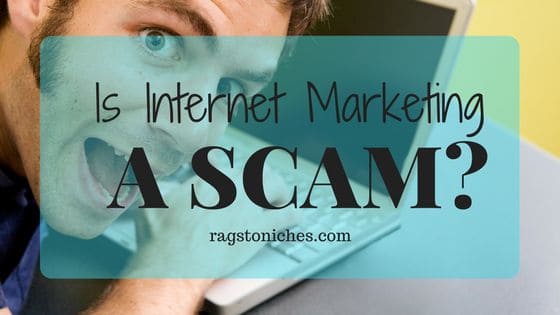 If you found this post, you've likely been looking for a way to make money online and are starting to wonder…
Is internet marketing a scam!?!
In this post, I will take a look at why people may sometimes view internet marketing as a scam and whether there is really any truth behind this!
What Is Internet Marketing?
"Internet Marketing," an umbrella term that refers to a bundle of different marketing strategies.
These may include…
social network marketing,
As for the last one….  I'm not a giant fan of network marketing, (although that's not to say it wouldn't suit you, some people really love it!).
Network marketing actually has a huge following of very vocal fans, despite it's low success rate.
Partially this may be because, they need to recruit other people into network marketing in order to be a success themselves, so they need it to be seen in a positive light.
Network marketing is also known as – multi-level-marketing, (MLM).
While there are some legitimate MLM companies, (big names such as AVON for example)…
There are many MLM's that have been considered scams and are often criticised for selling poor quality products and using dishonest marketing tactics.
Related post:  The difference between an MLM and a pyramid scheme.
A vast majority of people who enter an MLM, will end up worse off than they started prior to joining.
While many MLM's in on their own may have little to do with internet marketing –
 you will have the greatest chance of success with an MLM, if you employ internet marketing tactics to grow your business.
In addition, more an more MLM's are becoming internet focused – supplying individual websites and encouraging online marketing.
One of the most widely known and used methods of internet marketing is affiliate marketing and – while it's a legitimate way people can monetize their blogs and websites – many marketers try and sell it as a get rich quick scheme.
I will explain further about affiliate marketing a bit further on…
The Reality Of Internet Marketing
Internet marketing is not a walk in the park and takes hard work in order to become successful at it.
Unfortunately, there are many online programs that try and tell you that internet marketing can make you very wealthy, very easily.
Whether it be through some push-button system, "secret strategies" that can make you rich overnight, or automated cash robot – scam products are extremely common.
But, if it was all so-easy, don't you think everyone would be doing it?
Wouldn't everyone be a success?
Additionally, if someone had created some automated system that makes them millions – do you really think they'd be letting THAT cat out of the bag?
The Internet Marketing Struggle
When people first come online seeking out how to make money online, it's a minefield as different programs are promoted left, right and center.
What's more, there are so many differing opinions out there about what you should be doing, that's it's easy to become confused and overwhelmed.
People are often inspired into this by a few success stories they've read about, but try as they might, they never seem to get anywhere.
There is a whole spectrum of very bad quality of internet marketing programs.
While many may not always be total scams, signing up to them will often chuck you into a sales funnel and pass your email address on to other marketers – who will bombard you with relentless offers.
While many may contain some useful and honest training, many programs will constantly leave some vital information out, encouraging you to buy more and more expensive products.
People will buy product after product, trying to work things out and end up even more lost than when they started.
Many will quit before they've made a dime and will be in a far worse off position than when they started.
So, after a significant struggle, they give up and conclude that the internet marketing industry was just a scam all along.
While that conclusion may be understandable for people in that situation, it's also wrong.
Generally people give up around the 3-4 month mark, when that is also exactly around the time that many may start to see their first sales trickle through, (as long as they'd put the work in previously).
There can be a number of issues going on here…
There are a lot of bad programs online.  When someone has been let down a couple of times and whatever they've tried doesn't work –  they may conclude that everything to do with internet marketing is a scam.
There are legit programs available that can teach people how to make money online, but they require hard work, they also require you to implement the training and put in into action.
Unfortunately, many people skip the training, they do not take action, OR the action they do take is too small and too slow and they get frustrated that they are not progressing.
Many people take limited action and still expect huge results quickly.
Many people give up because they don't have the quick results they desire and they may give up before they've even looked into WHY they are not making money.
People may not implement what they've been learning correctly.  For example, they misunderstand keyword research, then get upset when they don't rank in google and quit.
Those are just a handful of reasons that people may not succeed at internet marketing.
Affiliate Marketing
The great thing about affiliate marketing, is that there isn't too much you need to get started – you can sign up to affiliate programs for free.
It's also not difficult to learn, although it does take a lot of work before you start seeing results.
You won't start making commissions overnight.  You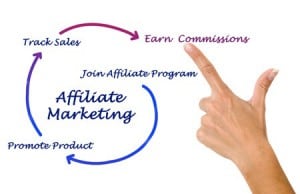 will need to learn a few skills to be successful and work consistently.
There is a high earning potential, but most people quit before they become successful with it.
As an affiliate marketer, you are simply promoting products on your own website, (it's very simple to create your own website these days – and one that looks good, even if you have zero design skills).
If one of the visitors to your website clicks through one of your affiliate links and buys a product, you receive a commission.
Usually somewhere between 4-75% depending on the product/company… but can range from 1-100%!.
Check out my  post on affiliate marketing to see a more in depth explanation of it.
So, one of the biggest challenges is getting people to your website in the first place.
This can be done by learning SEO techniques, (search engine optimization), keyword research and content creation.
Connecting to other people in your niche, guest posting, posting questions/answer sites, (such as quora) and social media marketing, can help build up your following.
Later down the road, you may also want to look at paid advertising via the search engines, (e.g. google adwords) or social media, (e.g. facebook ads).
Additional methods to generate sales may include:  video marketing, email marketing and kindle publishing.
One of my websites actually generates a lot of traffic from pinterest alone, so don't overlook the power of social media.
Related Post:  How to make your first affiliate sale online.
How to spot Scams online!
Due to a large number of scam courses and products, some potentially costing into the thousands of dollars and promising to make you rich online…
It's no wonder the internet marketing industry receives a lot of negative press.
Unfortunately, the sheer number of scams out there can make it hard to navigate for new people coming online.
The reality is, literally thousands of legitimate companies and individuals have affiliate programs that will pay YOU for bringing them in sales and selling their products.
Do you think all these companies would bother having affiliate programs if they weren't profitable for them?
The fact is, thousands of people make money from internet marketing, with affiliate marketing being a major source of income.
The range of products that you can promote, is limitless.
In order to avoid scams, remember to always look for the following:
They will often claim you could make six figures within a year.
They will often claim there is very minimal work involved.
Their website may have very thin content, not quality posts but short posts, which are likely stuffed with affiliate links or Ads.
Instead of focusing on the facts of the program, (an idea of what you may be learning) they will try instead only focus on how you'll be able to quit your job/have freedom/have an amazing lifestyle – and it will all be so easy.
They may talk about a "secret system" or similar, that's simple to set up.
They may claim that you can make money then "on autopilot" – with next to no work.
They will often show off luxury cars, big houses and the like.
What do you need to get started?
In order to get started with internet marketing, you will need the following:
Decent training to learn the basics – whether free or paid.
There is one program I consistently recommend to people getting started, because you can check it out for free and also get two free websites thrown in.
I'm still a member there myself and It's the best training platform that I've come across.  Click here to read my in depth review.  
Build Your Own Website – Today
If you want to check out just how easy it is to set up a website – fortunately it's very easy.
If you want to have a go for yourself, try setting one up now.
Simply type in the name of your new website above in the box and go and create your website.
For example, if you're thinking of building a new website about cat toys , you could type in "Awesome Cat Toys," or anything related that you like!
Alternatively you could use your name, it's really up to you. You'll be quickly told whether your website name is still available.
You don't need to over think it, you can actually delete the website and restart with a new name if you change your mind.
Conclusion
Many people come looking online because they want to make money FAST and reckon there must be an easy way that they can make lots of cash quickly.
The quickest way to make money online instantly would be to do something like sell your unwanted stuff on ebay or set up a Fiverr gig!
but if you're looking for a long term business, you need to be prepared to dedicate some time to it…  Just like ANY business in the real world.
One benefit to an online business is, it's certainly much cheaper to set up than a regular business.
You wouldn't expect to make money overnight with a regular businesses and exactly the same applies here.
Unfortunately there are plenty of people out there ready to POUNCE on desperate people that want to make money quickly, or who really want to make a tonne of cash but aren't prepared to put in the work.
Is Internet Marketing A Scam?
No, it's not a scam – but it is a space over flowing with scammers and scam products.
If you're clued up on what to avoid, you should be able to learn how to navigate the internet marketing world more safely.
The best thing you can do is get some decent training and just get started today.
A year from today, you will wish you started now – So, just get started, take action and make it happen – no regrets.
Click here to join a free 10-part taster course.
Have you been scammed before online?  Leave me a comment and let me know!
I hope you found this post useful!  Any shares are welcome of course.
All the best…. 🙂