I recently signed up with Irazoo in order to check it out for a different post I was researching – about websites that pay you to search the web.
But is Irazoo legit? Does it work? Or is it just a scam?
In this post; I will explain exactly how you can make money here, how much you can expect to make, the pros vs cons, what others have to say about it.
Let's get started.
Irazoo Review – Key Points!
What is it? A rewards website.
How much does it cost? It's free!
How much can you make? It's a low-income opportunity, so pocket money.
Who can join? Anyone from the USA, Canada, or the UK. You must also be 13 or over.
Is it legit? Yes, but it has a key flaw that has turned me off…. (I explain this further down!).
If you're looking to make $100's of dollars per month, reward sites will never get you there. Learn how to make more here.
What Is Irazoo About?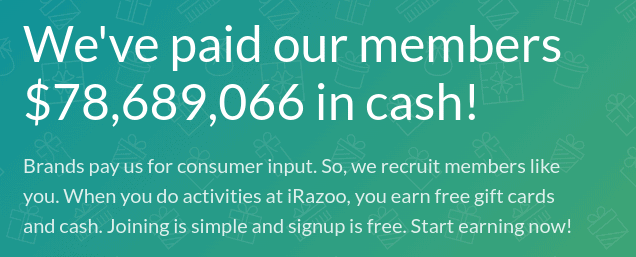 Reward sites tend to pay you a small amount to do a variety of different tasks, which sets them apart from your typical survey panel, that only offers paid surveys.
They have given away over 78,000,0000 to their members at the time of writing, as you can see in the image above.
Here you can get rewarded for…
surveys,
offers,
watching videos,
playing games,
searching the web,
referring friends,
downloading apps.
It's pretty similar in nature to sites like Swagbucks – or PrizeRebel.
By doing various activities and tasks you can earn points – by saving up these points, you can eventually exchange them for gift cards, or PayPal cash.
How Does Irazoo Work?
The video below shows how Irazoo works.
I don't really like how they are trying to appeal to stay at home mothers here because, they make it sound like you're actually going to be able to make an additional income.
If you think that an additional income is a couple of dollars every other day or something, then fair enough.
But really, unless you literally want to spend all day on this platform, or have some way of generating thousands of referrals, you won't make much.
It's pocket money and many people get bored of these types of tasks quite easily and so, won't stick with them long enough to make very much.
Ways To Earn On Irazoo:
Search and earn:
You can make a small amount of points by using their search engine.
The amount you get seems to be random, the first time I used it, I made 3 points.
However, when I was trying to claim it, I just got a buffering signal on the screen and it wouldn't load.
When I returned the next day, it still would not load.
Play Games:
Sometimes there will be ways to enter draws, to win additional points.
With one game right now, you need to score over 950 points, in order to be entered into a draw to win 1,500 points.
If you just want to play any game, you get 1 point per game played.
PLUS, 2 points per 5 minutes of game play, up to a max of 200 points per day.
Surveys:
To complete surveys, you first have to complete a brief profiling questionnaire.
It only takes a couple of minutes and is about your employment status, how much you earn, how many people in your household and so on.
You get 100 points for that and then are sent to the main survey dashboard.
This is where you're connected to third party providers, like peanut labs.
This is very common these days, but quite frustrating because, it means you have to answer the same old questions all the time.
On my main dashboard, surveys seemed to be for between 300-600 points.
I'll explain what points are worth a little further down.

Offers:
You can make the most money with offers, which tend to pay between hundreds and even thousands of points.
But you will often have to a little bit extra for the really high paying ones.
For example; you can make over 5,000 points for joining TimeBucks.
But you need to earn $5 on the Timebucks platform BEFORE you can get the points.
Some people may misunderstand this and think they only need to sign up.
Because Irazoo signs you up to third party offer sites, there are loads you can do.
They range between hundreds and thousands of points – many offers will involve you signing up to a free trial, or joining an other site.
In the case of online casinos, you also need to make a deposit.
The most important thing to remember is to ensure you read the T&C's and also cancel any trial before the end, to avoid being charged.
If you join lots of sites like this, you may find offers limiting – because they tend to have the same ones all the time.
Watch Videos:
Here there are a variety of videos to watch, however you can only earn 2 points per video watched.
They also sometimes have partner videos, where you can earn more – however, there were none available to me.
Downloading Apps:
Downloading Apps has become another popular way to make money online and via smartphones.
Actually, there are some Apps and websites, dedicated to this alone.
To download Apps here though, you have to connect to their partners – Offer Toro, or Persona.ly offers.
The amount you can earn from Apps varies widely… I saw anything from around 30 points, to several thousand points.
You don't JUST get the points simply for downloading the App though and it's important you carefully check the instructions, to avoid losing out on points.
If you download a game, for example; you will usually need to play to a certain level and with casinos you'll have to make a deposit.
A majority of the offers I could see available to me were – survey site related, many online Casino apps/bingo etc and various games.
Refer Friends:
Like many survey panels, they also have a referral program.
You can share your code on social media and earn 100-500 points depending on the Country…
But only once they've made 1000 points completing offers.
However, your referral will benefit from getting an extra 500 points for using your code – which kind of seems a bit unfair if you don't get anything?
Unfortunately, many people just don't take action on sites like this and since you don't get any coins until your referral makes 1000, you probably won't make much.
Tip: If you're interested in making money from referral's – check out these 7 survey sites.
Cashing Out – How Many Points Do you Need?
While I believe you can join from the UK, I couldn't see any specific UK payout options at this time.
The options were available for the US and Canada.
In the US – you need 3,000 points for a $5 gift card for Amazon, 6,000 for $10 and so on.
It's the same amount for Canada, but in Canadian dollars.
There were also a coupe of other gift cards available.
For PayPal – you need 12,000 points for $20 and 30,000 points for $50.
So, what tasks you actually spend doing are going to be the difference here.
If you spend your time completing offers and downloading Apps, you'll reach your target much faster than any other way.
What Do Other People Say About Irazoo?
I noticed there were some one star reviews online, on Sitejabber.
However, it's not enough to go on at all because, there were only four reviews!
They have over 100 reviews on Trustpilot, with an average of three and a half stars.

On the downside, some say they have waited a long time to get paid and they also mistrust the positive reviews on Trustpilot.
They also say that customer service is poor.
To be honest, the positive reviews looked iffy to me as well…
But I did see one below that looked genuine and pretty much reflected what I felt on the whole…. (until I found out the issue I mention below!!).
Do Your Points Expire?
Many survey platforms don't allow you to simply accumulate points forever.
However, I was shocked to discover that Irazoo only allows you to save points for up to 60 days!!
Compare that to a rewards site like Swagbucks… where your points won't expire for TWO YEARS!!!
This is just a deal breaker for me.
It can take a long time for people to make a decent amount of points, it's just not right to cut people off so quickly.
Also, I think they need to put this information somewhere prominent on their main page… I had to search their helpdesk to find out.
PROS VS CONS
PROS
Free to join,
PayPal option and other gift cards,
Many options to earn points – surveys, offers, playing games and so on,
Earn 100-500 per referral,
CONS
You need $20 to pay out via PayPal.
Resets your account to zero after only 60 days.
Didn't have UK cash-out options.
Limited countries you can join from.
Some opportunities could be limited, depending where you're based.
Your referral needs to make 1000 points, before you're paid anything and yet they get 500 points for signing up with you.
Concluding Thoughts – Is Irazoo Worth It?
I strongly dislike that they wipe your points within just 60 days.
To me, this is just way too quick, considering the amount of time it can take people to generate points.
Plus, there seems to be a fair amount of negative feedback online from other members.
Also, while I was checking this platform out, it had a few glitches – including not letting me use the search & win feature.
Ultimately, this is not a site that I can recommend at this time.
If you're interested in joining reward sites – you could try these 10.
Beyond Reward Sites – Making More:
Some reward sites can be OK for making a small amount of extra money….. And besides that, some are relatively enjoyable.
But none of them are actually going to give you anything like a "real additional income…"
Unless you class $10-$50 dollars a month a worthwhile additional income…. for all the hours of time you'd need to put into it.
What's more, you have to continue to put that same effort in, week after week, in order to continue to make money.
Several years ago, I got pretty obsessed with the idea of making passive income.
The idea of dedicating my time to activities – that could pay me multiple times over in the future, (not just a one off!!).
I have tried a whole bunch of things to make money online.
But right now, I make the most from having Ads placed on my website & via affiliate marketing.
Both of which do provide a certain amount of passive income now, (even though I still have to put work in to grow & maintain!!).
I didn't have the first clue about any of this when I started, but I first started to learn about it here.
I got started with the free training.
So, that just about concludes my Irazoo review for today………… Do you have anything to add about Irazoo?
Please let me know in the comments!