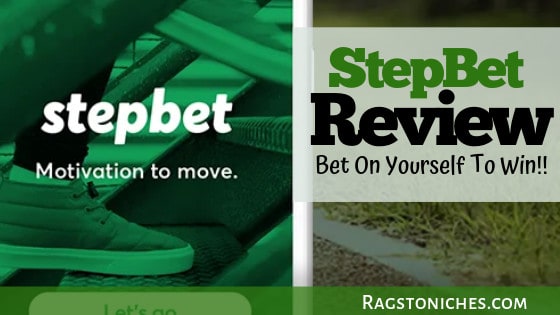 There seems to be a flood of bet-related Apps coming on to the App Store – seems every time I look, there is something new.
Which is great, because much of the time it's providing a great incentive to do something that we have already wanted to do – but could do with some encouragement to do it!
A couple of Apps I've recently checked out are Healthy Wage, (for weightloss!) and RunBet, (yup, for running….)
But what about StepBet? How does StepBet work and how can you make money?
In my Stepbet review today, I'll cover the following!
What is Stepbet?
Getting started with Stepbet.
What are other people saying?
Pros Vs Cons.
Concluding thoughts.
Rather be making money?
Tip: This training showed me how I could make money LONG-term!
What is StepBet about.
Each StepBet game is customized for you personally.
You will make a bet on yourself achieving goals that StepBet works out for you and win money if you keep your bet and fulfill your goals.
Much like RunBet, bets seem to be around the $40 mark and when you win your bet, you split it with other players that are also playing the same game.
You have to be committed to the task, because each game tends to last around 6 weeks.
If you don't reach your goal each week, you'll be disqualified and won't get a share of the profits.
Your activity is tracked via an activity tracker that you can link up with the App – I will explain that in the next section!
StepBet takes a 15% commission from each pot – after that, the profits are split between players.
If no one loses, StepBet don't take their commission and everyone gets their money back.
So, as long as you do stick to the task at hand, you're always at LEAST going to get your money back.
Getting Started With StepBet:
You can download the App for free on Google Play and the App Store.
Simply sign up to the free App and link it up with your tracker of choice, (Fitbit, Garmin, or Apple Health) and StepBet will take your activity history to come up with the ideal game for you.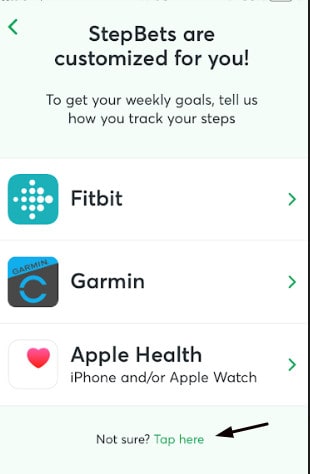 If you don't have one of the recommended trackers, (which I don't) you can use your phone, which may already hold enough info for them to create your goals.
So, in this case, if you have an iphone, (like I do) you'd select 'Apple Health' as your tracker when you sign up.
If you have a Samsung, select 'Samsung health' and if you have an android, select 'Google Fit.'
If you have none of these specific options, you can download one from the App store, (free).
It may be that your phone has not registered enough activity for you to get started.
In which case, you may have to walk around for a week with your phone, before it has enough data to customize your game.
For me, I linked StepBet to my iphone and it came up with a game for me in seconds.
You can see the game it suggested for me below….!!!!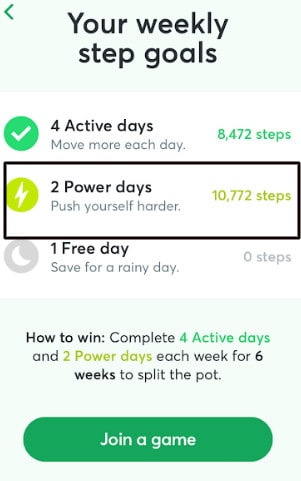 As you can see, the game it's suggested for me includes 6 active days – including two POWER days, where I need to walk at least 11,000 steps!!!

It's quite a daunting task when you see it like that and no doubt, a commitment to do it for a full six weeks.
When you click to join, you can then see how many people have joined and how big the pot is, (see below!).
Look at the size of that pot!!!! Over $27,000!!!!
But remember, most people will complete their challenge and so, you may not get very much money for playing.
However, hopefully the thought of losing your $40 will encourage you to stay on track.
What About Battery Drain?
My only concern with how it was linked directly with my phone, is that it may drain my battery?
Which is something I found to happen with Sweatcoin.
My battery drains in two seconds anyway and I already use Runkeeper on my runs outside for tracking, so I wondered if this would cause anything else.
Personally, having checked out reviews, this hasn't seemed to be an issue for anyone.
Also, one thing I found reassuring, was that you can cancel your bet within the first week, (which is a 'warm-up,' week).
So, if you find that it's too hard, or that your steps aren't tracking or you just don't get on with it, then you always have that safe period of time where you can cancel.
When I uploaded my steps, I was quite surprised how FEW steps I'd walked this week….. on Monday, I'd walked less than 800 steps!!
If I wanted to reach 8000+ and 10,000+ steps in a DAY… I could see this would be a challenge.
Even on running days, I wasn't reaching 8000 steps :-o.
I knew I WOULD be soon though, as I'm training for a half marathon and the long runs are coming up.
Even so, this is quite an eye opener and for someone who considered themselves pretty active….. Hmmmm :/
I could see for sure that I could EASILY lose this challenge.
Walking that much consistently 6 days a week, for 6 weeks, would be challenging.
But I see this as a good thing.
If I can see myself easily losing the challenges, hopefully there is a chance of getting a bit of money back when you win.
Because the tasks are matched to your own ability, it's going to be a challenge for everyone involved.
What Do Other People Say About StepBet?
StepBet are also the company behind – RunBet, DietBet and SweatBet!
So far, there is lots of good feedback online about this App.
At the time of writing, there are nearly 3000 reviews on GooglePlay, with an average of 4.5 stars.

The main issue some people face are steps not syncing with their phone – the technology isn't perfect, so this was a concern for me.
However, the best way to check is to make sure you use your practice week fully to ensure the App is correctly tracking.
Then if you don't feel confident, you can cancel your bet during that week.
On the plus side, many people have expressed how it's been a great motivator to them and inspiring to see people reaching their goals too!
StepBet also has over 5k ratings on the Appstore and on average 4.8 stars, which is amazing.

One thing I noticed was how StepBet calculate the steps you need to complete, based on your history.
This means, some people will have a step goal that's far lower than yours.
I can see that this seems fair enough, some people are fitter than others – but some complaints suggest that over time, their 'power,' days become too big for them to manage.
Perhaps this is something that StepBet can tweak over time.
If you're mainly sat at a desk all day, walking for several hours a day would be difficult.
PROS VS CONS
PROS
As long as you stay on track, you won't lose your money!
Can be huge motivation to reach your goals.
Easy to download & set up.
The chance to win a small amount of money.
Fun to participate in games with many others & also see them reach their goals.
Slick App, that's simple and straight-forward to use.
CONS
StepBet take 15% of any profits, before you get any.
Your challenge is calculated depending on your typical activity – so, some people will have lower targets to reach.
There are only a few activity trackers they link with, although there are options to link with your phone too, (I could just link via iphone).
You can't withdraw the cash back to your card, you get paid via PayPal.
If you don't have PayPal, you can get paid by check, but there is a fee.
Concluding Thoughts:
If you're purely looking for an App that can make you money, then this App probably isn't going to excite you.
It's going to take six weeks of hard work to get any money and, that may only be your investment back!
This App is really for people who want a big kick up the butt to start getting active and achieving their fitness goals!!
Having goals to reach and knowing there is a risk of losing your money, can be a big motivator for sure.
And, this isn't some easy breezy challenge either…
the games are there to stretch you and that is going to make them more rewarding!!
If you've got started with StepBet App, let me know in the comments how it's going!
You'd Rather Be Making Money?
If you're actually trying to look for ways to make money online, Apps rarely pay you more than a few dollars here and there.
You may want to check out these 40+ ways you can start making money online.
If you'd like some direction, I recommend the free training here – which is how I first got started! 🙂
All the best,