Apps aren't only for your Smartphone! Now we can use Apps on our laptops as well, with different extensions.
Using Apps online and on our phones, has become one of the newest ways people have started making money online.
But most of the time, making money with Apps only equates reward sites and generally, you can only make a very small amount of money with those.
But there is a different way you can money with some Apps – which is through their referral and affiliate programs.
This is where you may get a one off payment for getting people to register for an App.
OR, where you sometimes get a certain percentage of what your referral earns, for as long as they are a member.
Today, I'm looking at 10 Best App Affiliate programs that you can join – have I missed out one you like?
Let me know in the comments.
If you want to learn more about affiliate marketing in general, I recommend the free training here.
1 – Microsoft:
Microsoft is one of the most valuable tech companies globally.
It develops, supports, and sells licenses, computer software, and services.
Microsoft is popular for developing products like Microsoft Operating systems, Microsoft Office, and Web browsers -Internet Explorer and Edge.
It also has Xbox video game consoles as hardware products.
Microsoft offers several ways to earn revenue on Windows stores through paid apps, in-app purchases, and in-app advertising.
However, they introduced the Microsoft Affiliate program on Windows.
In this program, you can earn commissions as an affiliate by referring customers to both paid and premium apps and digital content in the Microsoft Store.
Once a customer lands on the Windows Store via your affiliate link, their purchases are recorded and attributed to you.
Here are the perks that await you as a Microsoft affiliate:
7% commission on Windows Store for the first 24 hours.
7% commission on in-app purchases from apps and games.
$5 on every Groove pass subscription
Note that all Microsoft products have a 30-day return period.
So, you'll have to wait for 30 days to receive your commission. However, this is not uncommon with affiliate programs.
Sign up as a Microsoft affiliate here.
2 – Apple iTunes:
Apple iTunes is a popular app available for use on mobile and other handheld devices.
It can be used for purchasing, downloading, and playing various media contents, (music, films, podcasts, games!).
You can also use it as a library to organize your own downloads.
As an affiliate, you can earn commissions by recommending any of their different products.
You could earn commissions by linking millions of songs and albums – as well as books, audiobooks, movies, and TV shows.
You will earn a 7% commission rate across all media sales – except for the Japan store, where you earn a 2.5% commission rate.
3 – FocusMe:
FocusMe is a productivity app and so, could work well in certain niches.
For example; this could be a good App to promote if you're in the productivity/organisation space.
Or if you have a blog that targets entrepreneurs, freelancers and business owners.
The aim with FocusMe is to help you work 25% more effectively, by avoiding multitasking and constantly checking time-draining websites!
FocusMe also helps to develop a workday schedule to get things done.
The app limits the time you spend daily and hourly on any website and application, (flicking between webpages is something many of us are guilty of…. ).
Potentially, when you start cutting out the relentless things like email, Facebook, or YouTube… You could potentially save hours every day.
FocusMe affiliate program offers a 20 % commission for each sale you deliver, and every subscription made.
4 – Ibotta:
Ibotta is a massively popular App, where you can get cashback and savings on your shopping!
This App could be promoted in many niches, because who doesn't like saving money?
But would do well in a money saving/frugal living niche – or a Mommy related blog would make a good fit.
If you want to sign up to Ibotta's influence affiliate program, you can make $2 per sign up.
While this isn't a huge amount, this could be a highly converting offer, because Ibotta is totally free to download.
Pin Me For Later! 🙂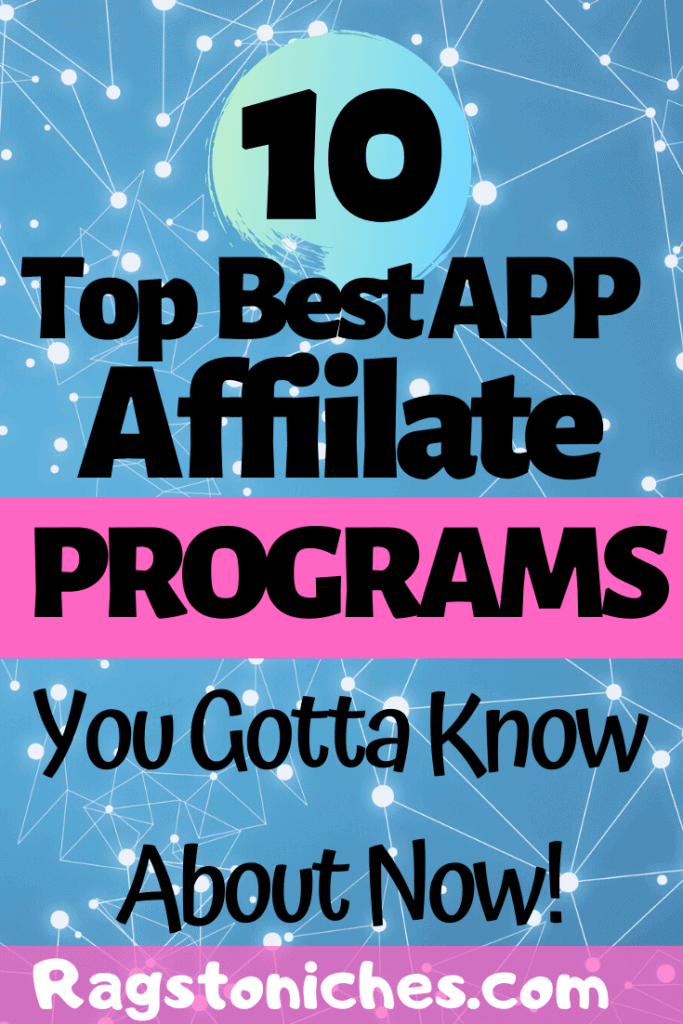 5 – Personal Capital:
This software helps its users manage their financial accounts which include watching net worth monitoring bank account, tracing hidden fee, and plans for retirement or education.
It can also come up with detailed budget information set by dates, categories, and specific merchants.
Mostly its customers are attracted by its compressed aspect of individual capital.
This helps them manage more than one account in one space.
Personal Capital claims their top earners earn as much as 50k per MONTH!
6 – Cash App:
This is a free app to download to your smartphone and install.
When installed, the user can make purchases, send money, and check balances.
It also comes with a debit card that is free to the customers to help them withdraw money at ATMs.
It is possible to deposit paychecks into the app instead of going to the bank – which is a pretty cool feature.
This will also earn them a discount.
With the Cash App referral program, you an earn 5 dollars for inviting a friend – using a unique code.
Unlike some referral programs, you are able to invite as many people as you like.
5 dollars per person invited, can easily add up to be a nice additional income.
Obviously, you'll do best promoting this product in a related niche – such as in a make/save money niche.
7 – Groupon:
This is a marketplace app that operates online via a website & App – it's a company that provides great deals online.
Whether it be products, travel, experiences, entertainment, restaurants… They have deals in many categories.
You can find merchants in categories such as hotel, travel, goods, and beauty- spas.
They also have coupons for brands such as Microsoft, Nike, old navy, and Nordstrom.
Groupon allows its customers to search by location, so you can immediately find the offers most relevant to you.
Groupon is also has a good referral program – where you can earn $10 per referral!
However, this only happens once your referral spends at least $10 within the first 72 hours of signing up.
8 – Swagbucks:
Swagbucks have a regular website, a chrome extension and a mobile App.
They also have a Trivia quiz app, where you can win real cash.
Swagbucks gives you the opportunity to earn money via things like cashback, paid surveys, playing games, completing offers and more.
You can also earn money from referring friends and family – or referring people via your social media channels/blog/website and so on!
When your referral signs up, you will earn 10% of whatever they earn – for the lifetime of their membership.
While 10% doesn't sound amazing, Swagbucks also regularly have promotions whereby if your referral earns a certain amount in a month – so do you!
Referrals tend to be active for longer with Swagbucks, in comparison to other reward sites, so it's worth checking out.
If you're already an established blogger or website owner – you can join CPA networks like the Panthera Network, or Maxbounty and get paid per sign up instead.
9 – Canva:
Canva graphic design software platform, that makes graphic design simple even for beginners.
With this tool, you can make a wide variety of different things…
Such as social media announcement fliers, logos, personal banners, postcards, invitations and even ebooks.
The software includes design elements used for creativity and images.
They are offering free accounts but still have a pro account that goes for 10 dollars monthly.
The pro account comes with a 30 days free trial period, which could be a converting factor as well.
If you're a CANVA affiliate, you can get up to 36 dollars on yearly subscriptions.
10 – Babbel:
This is a language learning App. It offers the software in different languages, including Spanish, Swedish, Russian, Turkish, Dutch, and many others.
An interesting thing about this app is that it helps customers with pronunciation through speech recognition technology.
The app has featured in The New York Times and on Forbes.
Its service is subscription-based and it costs its customers up to 12 dollars monthly, which is affordable for many.
Affiliates here earns up to 28 dollars on a yearly subscription.
There are various CPA affiliate networks that are also offering affiliate offers.
More Affiliate Programs For You:
That concludes 10 best app affiliate programs that you can join today & start making commissions soon.
You're going to get the highest level of conversions, when what you're promoting connects with your audience.
One way of knowing this is by asking them…….. What is it they want?… What sort of APP would make their lives easier, (for example).
Of course, it's not just all about Apps, there are many thousands of affiliate programs out there, for pretty much anything you can imagine.
If you're interested in finding other affiliate programs, the posts below may be helpful!
Some of the best affiliate programs, are definitely those with recurring commissions, (see above).
That means, you get paid every month, for as long as your referral remains a paying member.
As you can imagine, some people stay with the same product or service for many years and you can continue to make commissions for as long as they do.
What If You Don't Have Any traffic?
Before you get too excited about which affiliate programs to join, you need to be getting traffic to your website or blog.
You can't make any sales…. without visitors.
There are many ways to get traffic, but many website or blog owners will tell you you need to learn basic SEO to get your site any chance of being seen in the search engines.
Too many bloggers completely ignore this and focus instead on social media.
The problem of solely relying on social media, is that traffic can be erratic.
While Google can certainly throw you some curve balls as well, it's a good idea to still have your organic traffic to fall back on.
I learnt some affiliate marketing & SEO skills, on this training platform.
I hope you found this post useful.
Please let me know in the comments, if you have any other affiliate programs that you love.