Is YourSayPays Legit, Will You Really Make Money Here?
I actually had never heard of this site recently. But have been trying to find more UK-based survey sites that are actually good. 
This is partially due to me struggling to fill my top 10 UK surveys post… I have some I mention in that post, which are available Worldwide, (well, if they're good, why wouldn't they be?).
….  But I really wanted to include more sites that were UK only, or at least paid pounds rather than dollars.
The problem is, so many of these sites have really have negative reviews from their customers  – take some of the Worldwide ones that are also available in the UK, like Global Test Market, or Ipsos I-say… they're legit sites, but they do have their fair share of negative feedback.
I have come to expect this with all survey related sites to a point.  None of them are perfect and you just have to weigh up the pros and cons.
In my YourSaysPays review today, I will share my own experience with this site and take a look at what other people have to say about this platform.
Review In Brief:
Website: https://www.yoursaypays.co.uk
Cost: Free to join.
Money Making Opportunity: Pocket money – at best.
Overall Verdict: This is a legitimate paid survey website, which has fairly short surveys and a lower rate of disqualification than some sites. One issue for some, is a lack of surveys. So, you may take a while to reach their £20 payout threshold.
What Is YourSayPays About?
Well, if you got this far in the review, I presume you're aware that YourSayPays is a paid survey website. This means, they will pay you a small amount of money to completing surveys via their website.
Businesses will pay YourSayPays a commission, for gathering information from a particular demographic.  YourSayPays then shares some of their commission with you – and that's how you get paid and how they get paid at the same time.
Because companies/businesses are generally looking to find out about a certain sub-section of the public, (e.g. women aged 20-25, earning under 20k per year… just an example).  It means that you're not going to manage to qualify for all surveys you do.
For the most part, you may have to try out several surveys before you manage to complete one all the way through!

Getting Started With YourSayPays:
You can sign up easily via linking your social media account, or simply by adding a few of your basic details – email/password and then confirming your email address.
It all took around a minute or two and then I was on the platform.
Before you do anything at all, you need to complete your profile. If you don't, you'll find there may not be any surveys available to you at all.
When I arrived, there was one survey available and after I completed my profile, there were eleven surveys there for me!
Your profile includes some basic questions such as:
Your Occupation,
Household income,
Birthday,
Children,
Gender.
Again, it took me a minute or two to complete and I then made 20p for filling that in.
Completing surveys:
Once you've competed your profile, you can go ahead and complete surveys.
There was a bunch available for me to do – nearly all of them worth 50p, (a few 20p and 15p).
The only thing is, on the main page, you can't see how long any of them are likely to be!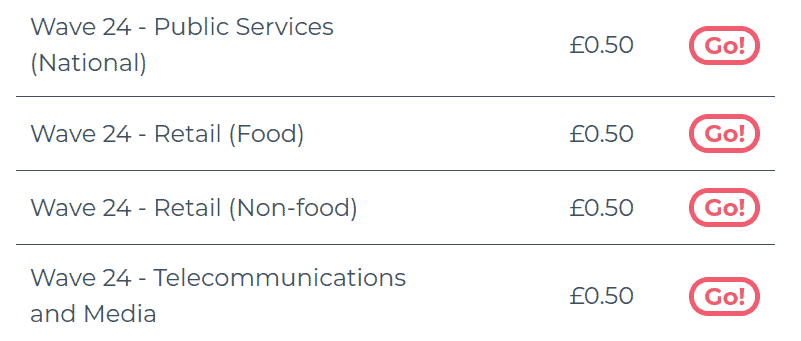 I decided to go and choose a survey relating to food…. (well, I was feeling a bit hungry… Almost lunchtime!).
When I went into the survey, again no time was mentioned at all, which is a real downside.
You don't want to walk into a 50p survey that takes half an hour.  There is no way to tell how long these surveys will take?
On the other hand, I was hopeful it would be fine – as many people have said that the surveys here are short.
Well, it took me 10 minutes in total and I made it right through.  I made the 50p for that survey,
50p for 10 minutes is not very much, but at least I wasn't thrown off the survey – which is pretty unusual.
On many sites, you will get chucked off several surveys before you manage to complete one.
Related Post:  My Top Extra Income Sites.
Refer A Friend?
I've seen it mentioned on other sites that you can earn 50p for each friend or family member that you refer.
However, I have seen no link to a referral program available when I signed in and had a look around the website.
I will update this post if I find out otherwise!
How Much Can You Make?
The surveys typically pay around 50p  each.
How much you earn will depend on how many surveys are available at a given time, (this will vary!) how many you qualify for and how long they are.
You do need to get to a £20 threshold before you cash out – which is relatively high.
Once you do reach the £20 – you can cash out via an Amazon voucher-code, PayPal, or donate to charity.
What Do Other People Say About YourSayPays?
There isn't a huge amount of feedback online about this site and what is there is varied.
The negative comments seem to surround a lack of surveys and it take a long time to reach the payout threshold.
On the plus side, members say the surveys are cheap, much easier to qualify for.
This website only has a three star rating on surveypolice… but there are only 8 ratings at the time of writing anyway!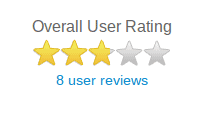 Most of the negative feedback I read seemed fair enough.  There are going to be less surveys here than some of the big sites.
However, members also talk about how they don't get screened out of surveys nearly as much as other sites, which will save people time in the long run.
PROS VS CONS:
PROS
Quick sign up.
Surveys as soon as you fill out profile.
Easy to navigate.
Quite short surveys.
Less disqualification than some websites.
There are additional earning opportunities, if you do a telephone survey.
They run competitions at times
CONS
You still won't earn much.
It could take you a long time to reach the £20 threshold.
They don't email you about surveys, you have to check.
YourSayPays Review Conclusion – Is It Worth Your Time?
This site doesn't look very exciting and doesn't have the bells and whistles of some of the sites – however, the surveys are relatively short and you will likely earn 50p per one you do.
To me, it looks like a site you may use in addition to others, to make up the numbers.
Although, the fact they have less disqualification is a HUGE pro for me.
Whether it's worth your time, really depends on what you're after.
Some people take a year to make £20 on this site and actually cash out… some may not mind this, because they enjoy doing the surveys and the money is a bonus.
If you're trying to do surveys because you actually really want to boost your income – then no, it's not really worth it for that.
If You Want To Make More Money Online….? How Do You Do It?
Some people love survey panels and aren't interested in making much money online, just the odd few pounds here and there is enough for them.
That's fair enough… but if you're interested in making more in the long-term, you might be interested in trying something else!
I make money online every day of the week… but I don't work every day!
I probably work around 4 days a week, part-time hours. The reason I make money every day, is because I have a website that makes me money in a variety of ways… even when I'm not working on it at all.
This is what passive income is all about, but it does take work to get to that stage.
If you'd like to learn how to do that – this is where I got started!
Is there anything you'd like to share about Yoursaypays? Let me know in the comments.
All the best,