Check out these 10 fiendishly good ways to make money online at Halloween!
Halloween can be a great time of year to make some extra money online, many people will have specific seasonal niche sites that will largely be profitable at certain times of year – such as Halloween and Christmas.
But niche sites aside, you can also pull in some great profits by selling directly online, such as via Etsy,  Amazon FBA or Ebay.
There are a variety of ways you can make a very decent extra profit this year, so why not dive in and see what you can do?
*Psst…. if you want to make $$$ any time of year:  don't miss this training*
#1 Sell Halloween Related Items On Amazon
Some people make an absolute bundle of cash over Halloween by selling on Amazon, often using the fulfilment by Amazon program.
You send Amazon the stock, they deal with the packaging, customer service and returns.  This takes such a huge load of hassle over everything.
First though, you need to source your stock at a good price.  One place to do this is Alibaba – where you can source products very cheaply and sell them for a profit.
If you're interested in selling on Amazon in general and don't have a clue how to get started, there are some good value courses on Udemy – find them here!
#2 Create Halloween Costumes
So many Halloween costumes you can buy look cheap and badly made, don't they?
People looking for something extra special will be happy to pay a premium price for something really special.
You could sell your amazing creations online – and even offer custom made options.
Amazon, Ebay and Etsy  are all good possibilities for selling on.
If you have some creative flare and already make clothes of your own, this may be an interesting & profitable venture.
#3 Sell Second Hand Halloween Costumes
After Halloween is over, people are selling their old costumes for a fraction of the price.
You may pick them up on online auctions, garage sales and so on, then you can save them up for next Halloween and sell them online.
You could also consider drop shipping, which means you wouldn't have to deal directly with the packaging and selling.
Check out my post on how to make money with a Facebook fan page, you could build a business around having an Halloween specific fan page and selling Halloween related items – such as t-shirts and accessories.
#4 Make Halloween Treats To Sell
I've noticed plenty of homemade treats being sold on ETSY – whether it be sweets, cakes fudge, or biscuits.
You could really make a decent profit from this over Halloween.
There can be strict regulations when it comes to selling food, so just make sure you check all the details out prior to taking the plunge.
For example check out these super cute Halloween biscuits on Esty.
#5 Create your own Halloween decorations
If you're good at craft, Etsy again is a great place for you to get started.
Halloween decorations are incredibly popular – but so often the stuff you can pick up in the shops is not great quality and all pretty generic.
If you could create something with more longevity and a bit more individuality, you could find your products in hot demand.
For example, check out this cool Halloween lantern from Etsy below.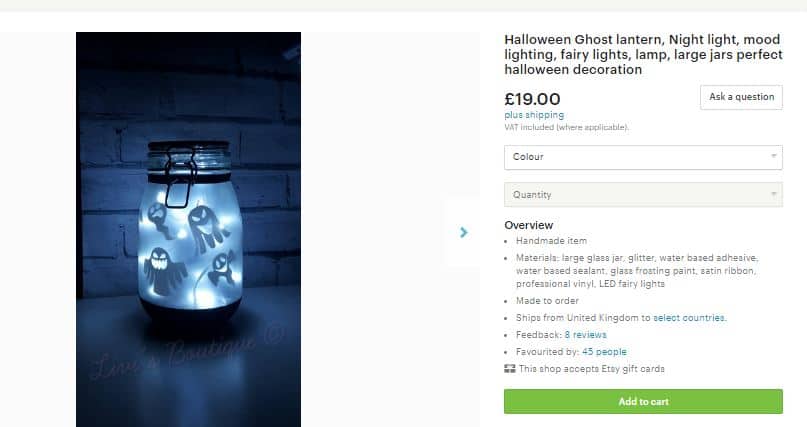 #6 YouTube – Terrifying Videos.
You have to be a bit careful with this one, (if you've seen the recent scary clown phenomenon eeek)…
But creating scary videos by playing pranks on the public, (for example) and putting on YouTube could turn out well for you, if the video goes viral.
Obviously, this isn't really one to rely on or a short term plan, you do need a lot of views on YouTube in order to make a decent profit…
Thousands and thousands in fact.
However, as a long term plan, you could dedicate a channel to Halloween and add extra things, such as making Halloween treats/recipe videos, Halloween decoration advice and funny videos.
Link these to your own Halloween Niche website and you could create an additional income stream, via making sales via your website with website with affiliate marketing.
#7 Fiverr Gig At Halloween
If you haven't already got a gig on Fiverr maybe it's time you started!
There are a bunch of Halloween related Fiverr gigs out there.
There are a whole host of gigs available – gigs like, creating Halloween styled videos, Halloween party video invites, voice overs, flyers or logos.
While you start selling gigs at $5, you can create add-on extras that can make it more profitable for you.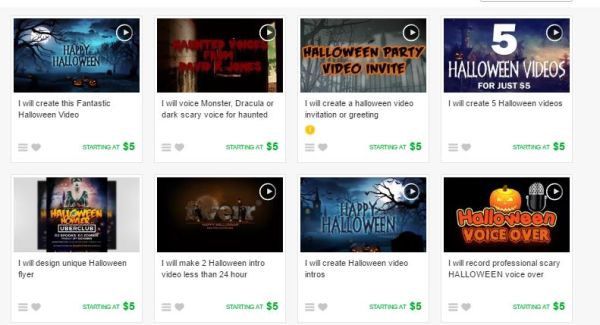 #8 Affiliate Marketing At Halloween
Affiliate marketing makes you the middle man and means you don't need to deal with purchasing any goods, packaging, delivery or returns.
You can just suggest products or services to people and if they do make a purchase, you can make a commission.
What you will need to get started affiliate marketing is a blog or website – although some people have been said be accepted on to the amazon affiliate program with just a large social media following.
Even so, having a website is a good idea long term and setting one up these days is incredibly simple and fuss free… you don't have to know any coding like you did in the past.
You could promote any number of Halloween related items – or you could stick to one particular area.  For example, by having a Halloween costume related website.
#9 Blog About Halloween
If you already have a blog or website, now will be the time that you should be writing your Halloween related posts.
Themed posts can be popular, you may find yourself having more shares of your posts, so make it fun and relevant to your niche.
For example, obviously a foodie blog would work great for Halloween recipes, a parenting blog would work well for kids crafts or Halloween costumes, a home decor site could have a Halloween decor dedicated post.
You can monetize your blog using affiliate marketing,  google adsense or other related PPC Ads.
#10 Create Halloween E-books
Self publishing your own e-books is a great way to make money and seasonal e-books are a huge hit!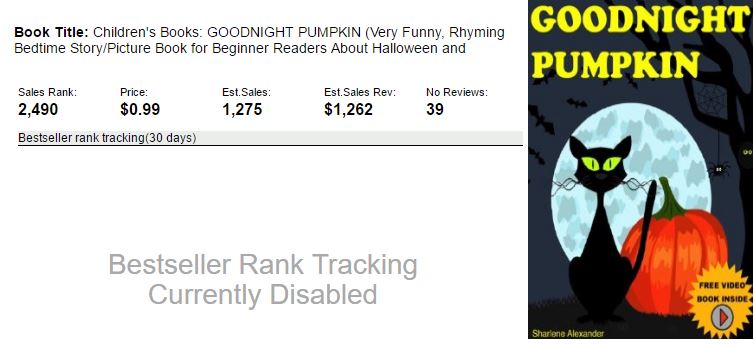 As you can see via the image above, (I spy on authors using a great tool – kindle spy) this self published kids ebook has made $1,262 in the last 30 days.
You don't need to be an illustrator, or even a writer, in order to put a book out on Amazon.  You could actually outsource the content by hiring someone on Upwork – I personally found a very talented illustrator on Upwork.  
Amazon also have a free childrens picture ebook creator, that makes creating illustrated kids books easier than ever.
You don't just need to focus on kids books if that's not your thing – supernatural style romance, recipe books and spooky grown up stories can be popular too.
If you're interested in Kindle publishing; I recommend this program.*
Another course you may find useful is picture ebook mastery.  Which focuses specifically on children's books.
Get Your Spook On!  Make More Online?
So, there you have it, plenty of ways you can think about generating more cash this Halloween.
When it comes to making money online though, there's a place you can learn everything from scratch, step-by-step.
The training has directly led to me making thousands of dollars online and building an online business from scratch.
How are you thinking about making money online this Halloween?
Leave me a comment below!
All the best,

PIN ME! 🙂