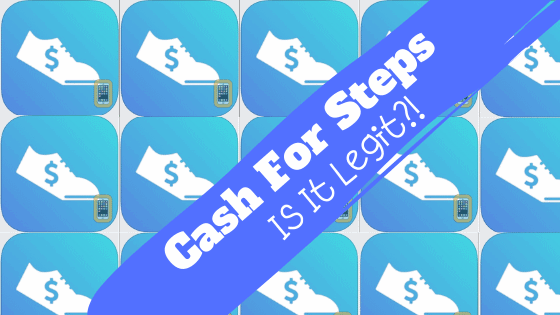 Is Cash For Steps Legit… Can You Really Get Paid To Walk?
I have checked out several Apps that reward you both for running and walking in the past.
While browsing the App store – I came across another I'd not come across before called, "Cash For Steps."
While it may have the word, "CASH," in the title….
This is only something that is going to pay you a small amount and is more of a motivational tool, than an income opportunity!
This App reminded me of a few different Apps I have reviewed recently;
Including..
Sweatcoin,
Lifecoin,
and Stepbet.
With this particular App, you are able to link up with certain devices too…
For example; if you have you have an Apple health, or a fitbit, you could set it up so that the App will also log your steps.
From the get go, this is going to be an App that's going to encourage you to be more active, rather than make you any real money.
The only fitness related App I've found, where people have the potential to make more money, – is the Healthy Wage App.
That's where people place a bet on themselves to reach a goal weight and could potentially make hundreds or thousands in return.
With this though, you're talking about a few extra dollars, (well, if you're lucky… Which I will explain in a moment!).
If you would like to learn how to make more money online long-term; these are my top two training resources for beginners:
So, I downloaded this App and decided to check it out for myself.
Please let me know in the comments, if you've had any experience with this APP and whether you like it!
Cash For Steps App Review – Signing Up:
Signing up was simple for me.
Once you've downloaded the app, you can either link up via social media, or simply use your name and email address.
You then will need to confirm your email address, before you can login.
You'll be directed to the main dashboard, where you are able to see how many steps and kilometers you have done that day so far, you're also able to share this result with others.
How Does Cash For Steps Work?
You can generate points for walking, but also get bonuses for things like, sharing via social media and following them on social media.
You can also get a daily check in bonus for 100 points – just for checking into the App each day.
Now, having read up on some feedback on this App, I was under the impression you needed to be at the top end of the leaderboard each day, just to make a single dollar.
THAT IS NOT THE CASE.
At the time of writing, there are a couple of ways you can make money.
1/ reach certain levels of achievements. Each time you get five stars, you get a dollar added to your account.
Achievements that I know of right now include:
checking in for 21 days and getting the check-in bonus – which will make you $1 after 21 days.
A Loyalty bonus for having the App installed for 50 days minimum.
Top 50 for 20 days = $1
Top 5 for 7 days = $1
Over 30,000 steps in a single day = $1
Although, I'm a bit confused by something in their T&C's that says they can't convert steps into cash – or it can lead to abuse of the system.
But couldn't someone abuse the system to reach 30,000 steps in a day!?
2/ The other way you can make money, is to stay within the top 100 on the leaderboard. Because each day, 10 people are chosen at random from the top 100 and given $1 each.
But how much do you need to be walking or running to be in the top 100?
Considering there will be a lot of people in this App, you would presume that the top results could be high.
I mean, the people at the top of the leaderboard are regularly have 50,000-60,000 points.
However, I noticed that 100th at the time of writing had 6229 points.
So, points don't actually just equate to steps – because you will get points for other things aside from steps, (like checking in and sharing on social media) but it's still not that different.
For example; right now I have 348 steps for today and a total of 548 points.
You get 1 point for 1 step – plus you get the bonus amount on top for completing other activities, (like sharing).
However, I would need to be doing a lot more moving today to have a chance of reaching that 6000+_points and get into the top 100 on the leaderboard.
I'm guessing how many steps you need to get to the top 100 on the leaderboard is going to depend on a lot of things and change depending on the time of the week and even, the time of year.
As for the achievements, you can only get paid for those one time— but they do plan to add more of those in the future.
How Much Do You Need – To Cash Out?
Even though you may or may not win this $1 for being in the top 100 or getting achievements… it's not like you can cash it out!
You will need to wait until you reach $10 to cash out anything.
Supposing you do reach that cashout threshold, (and I imagine many don't stick with this long enough to do so) you appear to only be able to cashout via Amazon USA giftcard at $10 – or Itunes for $15.
You will only be able to cashout for an Itunes gift card, if you are in the US.
PROS VS CONS OF CASH FOR STEPS:
PROS:
May encourage you to go out and walk or run more.
You may earn a small amount of money, which may motivate you more.
You only need to be in the top 100 in order to have a chance of winning the dollar for the day. For this, it looks like you'd need about 6,000 steps. Which isn't too much if you're reasonably active.
CONS:
You need $10 to cashout at all and that may take you sometime – plus only 10 people out of the top 100 on the leaderboard will get a dollar.
Not many payout options.
You won't make very much, no matter how much you walk.
App seemed a bit basic to look at, not very exciting.
What Do Other People Say About Cash For Steps?

Cash For Steps currently has 4.4 stars on the App store right now, which is great – but there are under 100 reviews, so not a great deal to go on so far.
One review that I saw did complain that you need to do too much via achievements to actually get a single dollar.
I couldn't find this App available on Google Play at this point in time.
Is Cash For Steps Legit…. A Scam…. Or Just A Waste Of Time?
Cash for Steps is legit, but it is more of a motivational tool than any sort of method to make money.
If you want the chance of possibly making a bit more, I'd recommend something like Step Bet, where you can win bets that you make with others.
I also quite like Sweatcoin and Lifecoin as alternatives to this sort of App.
But ultimately, any of theses options are only going to be making you pocket money, at best.
If you're someone who regularly walks 6,000+ steps every day, then you may make it to the top 100 in their leaderboard.
But even then, you only get a 1 in 10 chance of winning a dollar.
So, every 10 days that you walk those 6,000… Maybe you win a dollar.
Maybe that is enough to motivate you? It's not really in my case.
Want To Make More Long Term – Minus The Apps?
I like the fact that there are many Apps out there now, that try and make it possible for us all to make a little extra money, just doing things that we enjoy already.
But so far, a majority of Apps I've ever looked into, pay a minute amount for your time and, for most people, it's just not worth it.
If you're interested in other ways you can make money – here are 40+ ways you can start online.
Or you may be interested in the ten side hustles, that have recently made me money.
If you'd like to start learning from scratch, I recommend the training here, which is where I first started.
That concludes my Cash For Steps review today — if you have any experience with this App, or would like to recommend something else, please let me know in the comments.
If you'd like to discover more ways you can make money online, subscribe to my 5-day free course below.