Welcome! Today, we're taking a little look at Cinchbucks!
Cinchbucks is a GPT, (get-paid-to) platform.  This makes it distinct from your usual survey panel, as it incorporates other ways to make money too.
This includes – paid/free offers, cashback, playing games, (as well as the usual survey options!).
In my Cinchbucks review today, I share with you exactly what is available on this platform, how you sign up, how much you can make and what I think of it.
Is Cinchbucks worth your time, or should you give it a miss? Hmm… We will soon see.
If you stick with me until the end of this post, I will link you up with some other ways you can make more money online.
Cinchbucks Review In Brief
Website: Cinchbucks
Cost: Free
Overall Verdict:  Cinchbucks is a legit GPT website and in comparison to others, matches up OK. But it's not perfect, I explain in more depth as we go.
Related:  My Top 10 Survey Sites USA here, OR UK here.
What Is Cinchbucks About & How Do You Make Money
You can make money by completing certain activities, such as signing up to an offer, watching videos, or doing surveys.
Gradually, you can build up points by doing these activities.
Over time, your points will build up and you will be able to exchange them for gift cards, or even cash.
The points you make are "cinchbucks," and you need 100 of these in order to make $1.
One good thing about this site is that it's open Worldwide – which is a bonus.
it has a lot of the same features as you'd expect of a GPT, such as Swagbucks, (which is my personal top choice).
While there are plenty of opportunties here though, the income potential is always going to be really low with these sites.
Which is why I'd typically recommend you consider thinking about ways you could make more money online.
How Do You Sign Up With Cinchbucks?
Signing up is easy to do, you just enter your email address and choose a password and then you just need to confirm your email address to enter.

On the main page, they have plenty of info about the site, which you can check out.
It was good to see so much info available on the main page.
I was actually offered a code when I signed up, it was for an extra 50CB. 
 It said I only had 49 days left of the offer, I'm not sure if that's true, or if it's always there – but you may get extra CB's when you sign up.
Once you're in, you can start looking around.
What Is Available At Cinchbucks?
There isn't a shortage of different options, as it links up with many other providers that you generally see on GPT websites.
Company's such as…
Tap Research 
Your Surveys …. to name a few.
Remember that 100 CB's is worth $1… So, think about that when you're looking at the available options and see if it's worth your while.
You will need $10 before you're able to cash-out.
Here are some of the main options:
1. Surveys: (of course! 🙂 ). 
There were a large number of surveys, some only a minute long, (although I can never qualify for these quick ones!… ).
Be really careful answering questions, it can be so easy to lose concentration and give conflicting answers.  
This will usually result in you being chucked off of the platform!
As with all survey panels, qualifying can be incredibly difficult and time-wasting. (for no screening out, try this site).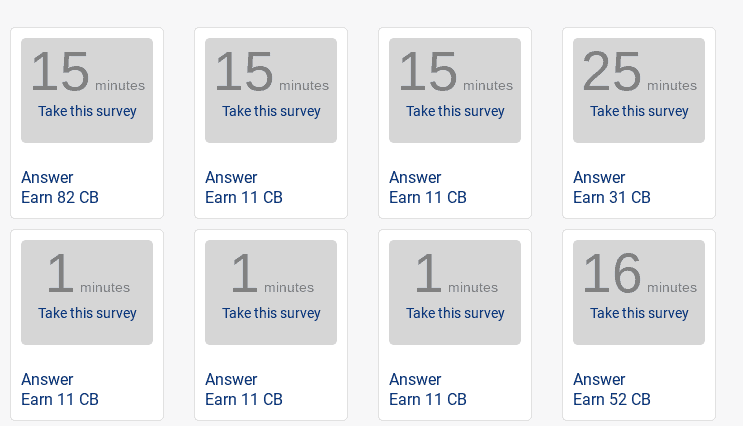 2. Playing games:
This is going to be very low pay – just for fun really!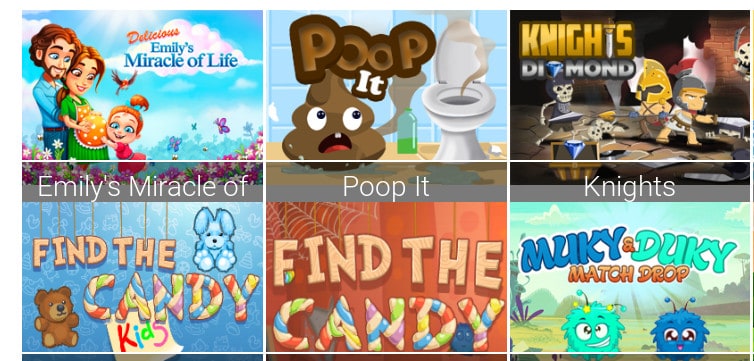 3. Offerwall:
These are always going to pay the highest, but the highest offers will involve you purchasing something as well – although, there are some free offers too. 
I believe people in the US will get the highest amount of offers).
Offers will include things like free tirals, signing up with other survey panels and GPT sites, usually a lot of casino type offers and prize draws.
Be careful with spam, (I talk about this a little further down!).

4. Cashback:
This is where you can get cashback for making certain purchases or signing up to membership sites or services.
Weirdly, they were all internet marketing related for me, (I don't know if that's always the case!).
So, there were offers for things like Wealthy Affiliate, SEMRUSH, Ninja Outreach and Bluehost!!
5. Referring others:
Cinchbucks will pay you 10% of what your friends and family earn, (if they sign up via your link).  
Unfortunately, you won't tend to make much on deals like this, as a majority of people joining these sites don't stay active.
If you're interested in sites that pay you to refer others, (which is particularly helpful to you if you have a blog, or large social media following) I wrote a post about survey panels with referral programs here.
However, there are many ways that you can make money from recommending products and services to others and I first discovered how to do that here.
6. Videos:
You can make a teeny weeny amount to watch videos, (such as 0.7 CB's!)… So, it's not going to make you much there.
7. Coupons:
There were some coupon offers, but there were for the US.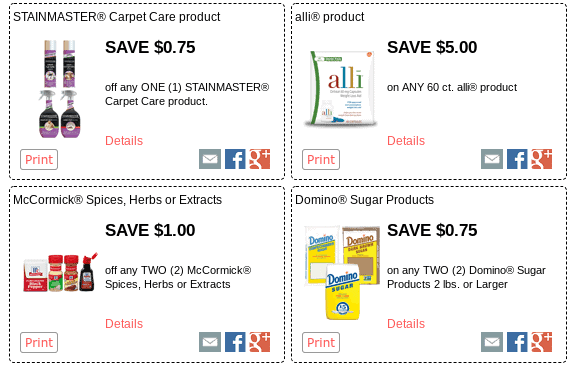 Beware – offers not all what they seem.
I joined an offer to be a secret – tester for a restaurant, (although it actually really just seemed to be a gift card IMO).
It led me to a website called OfferX, (which I know from my comping days is on the SPAM list on the *money saving expert* website).
Some believe the company has draws for fake prizes and that how they really get their money, is via selling off your information. 
So, be careful when you sign up for any offers, to set up a completely separate email account and I'd be really weary of giving a telephone number.
I'm in the UK and there were also limited offers available. So, you may well get many more options, depending on location.
If you've already joined many websites like this, you'll notice that a lot of offers tend to be the same on GPT sites.

PROS VS CONS
PROS
Lots of choice available,
Many cash-out and reward options – including PayPal, if you prefer cash to gift cards.
You can join Worldwide.
The website is simple to navigate.
There is a referral program.
CONS
You won't make very much, (same with all sights liket this).
Qualifying for surveys will be difficult.
Depending on your demographic/location, you may struggle to qualify for things and there may be more limited options.
You can get spam for signing up for certain offers.
Concluding Thoughts – is Cinchbucks worth your time?
This site seemed pretty similar to the tonnes of other GPT sites that I have looked at…
But it is still a site with good feedback, it's legitimate and has a bunch of different earning options.
This site is going to have less available to you in certain countires and I imagine is most suited to people in the US, although it's a good thing that they do accept members Worldwide.
$10 is a low enough payout threshold, although it would be good if they could compete with some other GPT sites that have a $1 payout.
While this site does pay out and I believe is safe to join, just be aware that you won't be able to make much overall.
Alternatives To GPT Sites and Surveys!
GPT sites and survey panels are small-time opportunities and generally will make you pocket-money AT BEST.
For the most part, people will do them to pass time when they're bored, or even for fun…   
But it's not a serious money-making opportunity.
Which is why I'm passionate about trying to help people find additonal ways that they can make money online.
Why settle long term for just making the odd dollar here and there!?!
I personally make the most money from having my own website and I explain step-by-step how I do it right here.
If you're not sure how you want to make money online, I give you 40+ different options here.
If you're motivated to make money in the long-term and prepared to put in the work, then I highly recommend this training for beginners.
I hope you found my Cinchbucks review helpful!
All the best,