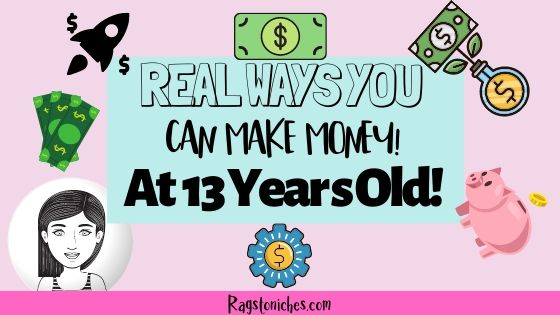 Some ways that people tell you to make money as a 13 year old, (or as a kid in general) aren't always that simple.
For example; many ways that you get paid online these days, is via PayPal. But did you know you need to be 18 to have a PayPal account?
Now, you could use your parents account. But that would be kind of lame….
So, what legitimate ways can you make money WITHOUT having to rely on your parents?
At first I will only include things where you do not need your parents involved and then I will mention a few things where you do.
None of the initial methods will involve needing a PayPal account OR any start up cash…
It may be that you have no problem with your parents looking after the financial side for a while, so stick with me until the end for that.
Ways to make money as a 13 year old….
Sell your old clothes…
BORING! Ok, I hear you, you have probably heard this one SOOO many times already.
But still, have a rethink. Am I the only one who literally has unworn shoes and clothes with the labels still on stuffed under the bed? I think not!
With Ebay, you do need to be over 18 to sell on there, (without using a parents Paypal account).
But some kids now are selling their clothes on instagram stories, (for example) and social media.
This is a safer way when you have private accounts, as you could just sell to people you already know.
You could also just set up a sale in your front yard or create an online marketplace with your friends and family on Zoom, for example.
Everyone can take turns sharing their items and the price and even bid on items. Either way it's simple to do and you don't even need to leave the house.
Vlogging…. YouTubing In General…
An easy way for beginners because its pretty much you taking a camera around with you and commenting on what you do.
What are you interested in? One of my favourite vloggers goes around the world vlogging about his theme park experiences.
It's called Theme Park Worldwide and as a theme park geek and enthusiast myself, I absolutely love this channel.
Now obviously, that's not the sort of channel you're going to likely start as a 13 year old…
But the chances are, that if you have a hobby or interest, plenty of other people out there are also going to share your interest.
Many people searching youTube are interested in watching people participating in, or talking about, their favourite hobbies & interests.
You only need to be 13 in order to have a YouTube channel and there also aren't age restrictions on certain ways you can earn money from your channel – for example; via Amazon associates.
However, if you wish to earn money via advertising, (which is one of the most common way people do) you will need an Adsense account.
In order to have an Adsense account, you need to be 18 – but you could have a parent or legal guardian look after this aspect for you.
Helping out others… Babysitting, odd jobs, dog walking….
There are lots of options here, but I'm just putting them down as one because, it all involves offering to help out within your community.
Maybe your parents could put the word out to your family and friends that you're keen to help out for a small sum.
Ultimately, hiring you to watch kids for a couple of hours, or help clearing out the yard, or picking up some groceries — is going to be a more affordable option and easier than hiring from an agency.
Also… What about offering tech help?
Many older people have zero idea about how to set up certain things online and really struggle with this.
Could you set up a WordPress website, for example? Or could you learn?
(umm – setting up a WordPress site is really easy btw – find out 14 ways to make money from WordPress here).
Cafe Press:
With some print on demand opportunities, there is a minimum age of at least 16+ and some 18+
But Cafe Press is different, they don't ask you for your birth year when you register and apparently don't mind if teenagers use their platform.
Here you can upload designs to the platform on a variety of different items – such as tshirts and mugs.
You can then sell these products, without ever having seen them in real life.
Cafe press prints and ships the item to your customer and deals with customer service too.

You might be thinking that this isn't an option for you, because you have no idea about design, or how to create them.
Well, don't let that stop you – because you can create simple text based designs on platforms like CANVA.
However, unless you pay for their pro subscription, you cannot download your designs with a transparent background, (necessary on POD platforms).
But there are free places you can create a transparent background. Such as Luna Pic.
As far as getting your designs actually found, there are many videos online, (such as YouTube) that can teach you about optimising your listings.
You want to be creating designs that people are already searching for and for this, you need to do some research too. (Again – YouTube provides some great recourses).
You need permission from a parent to join cafe press from 13 – but that appears to be it.
As long as you have a bank account and debit card you can do it and any teen is able to set up a bank account with parental permission and help.
However, you could also get paid by check if you like.
Lastly, before you go sticking designs up on Cafe Press or other platforms – it's really important to check you aren't uploading anything that is copyright and trademarked.
This trademark and copyright article from Printful, really helps make things a lot clearer.
Create An Online Course & Sell It!
Online courses are growing all the time – no matter how much you can find online for free.
You can join Teachable for free and create an online course, (they have a free plan and a paid plan…).
You only need permission from your parents and be 13 to sign up.
Is there something you could create a course on? If you don't – why not learn the skills you need in order to.
The video below outlines how you can set up a Teachable account and create a course.
Fiverr:
You can create a gig on Fiverr at 13 and it doesn't appear you even need parental permission.
By gigs – I mean services or digital products you can sell on this online marketplace.
The variety of gigs is VAST and growing all the time.
It could from something as obvious as writing a blog post….. to as unusual as putting a photo on a piece of toast…
You can really create all sorts of stuff on there and I wrote about some various gigs on Fiverr here.
Try and go for gigs that people aren't already doing – look at some of the categories that aren't completely saturated with other people on there.
You can get paid via bank transfer – which you will be able to do if you're under 18 and have a bank account.
Where you need parental help getting started…
So, I've given you a few ways that you can legitimately start building an income online, or from home, when you are 13 with no start up costs and no parental help.
But what if you're totally fine with getting parental help with this and your parents are keen for you to get started?
Take a look at some alternative options below…
Starting An Etsy Shop – 13 minimum, but must have an over 18 set up account.
You need your legal guardian in order to do this one, because Etsy needs credit card details.
So, this can't be entirely independent until you're over 18, but still entirely worth doing.
I've had a couple of Etsy shops, one I'm just growing at the moment.
Their fees can get hefty but, if you sell digital products – you can start a very hands off business, which can eventually generate passive income and give you the freedom to develop other income streams.
Most people think you have to sell crafts or physical products you make at home on Etsy – but that's not the case.
While you can completely do that if you're keen to do so, my feeling is it's going to be better to sell something online that you don't need to constantly make over and over again.
With something digital – you upload once and sell it multiple times over, with zero extra work.
With the physical items, you need to constantly reach that demand. You get 1000 orders, you need to create 1000 orders. 😮
With a digital download, of course you will have to answer questions and queries from your customers, but it's going to be a lot less work overall.
I've been learning about creating printables and digital files for several months now – I found the below video particularly useful when it comes to generating ideas for digital downloads.
Redbubble – 16 and over:
Redbubble is a print on demand platform that I've only recently started to take seriously myself.
Now, I should just mention that it doesn't appear that Redbubble actually check your age when you sign up.
But it is in their T&Cs that you need to be 16 and presumably you could get your account closed down – if they were somehow to discover your true age.
So, if you are under 16, then I'd recommend using a parents account and simply uploading your designs to that.
Redbubble is only ONE other print on demand platform, but there are many you can try.
Merch By Amazon is the very first one I joined and I do recommend it, but you do need to register to sign up and you may not get accepted for several months or longer.
Also, you do need to be 18 for Merch, so your parent or guardian would need to sign up.
related: The best print on demand platforms to try.
Ebay:
You need to be 18 to sell on Ebay as I mentioned before, but you could certainly do this with your parents account, if they provide permission.
Maybe they will even let you keep the profits from listing the junk they don't want.
I knew someone who had a business listing other peoples items on Ebay for them and taking 50% of the profits!
Check out some weird things that sell on Ebay.
Affiliate Marketing:
As I mentioned earlier, you don't actually need to be over 18 to join certain affiliate programs, but there are many where you do.
Affiliate marketing is basically where you can recommend products and services to people and earn a commission if someone clicks on your link to the product or service and makes a purchase.
Sometimes it may not even be a purchase, but could be just signing up to a website or providing an email address.
If you want a more in depth explanation about affiliate marketing – this post will help.
Also, if you're serious about affiliate marketing, then you should set up your own website, which will take a small investment.
You would need to purchase a domain name and hosting, which involves a small initial investment.
However, this is not very much and more than worth it for the chance to build something that can pay you multiple times over in future.
If you're considering having a YouTube channel, having a blog or website in edition to this is a great way to create an additional income stream and also build and email list and audience.
Related: A FREE in depth blog guide here.
Self Publish Books – Low Content & More:
I make it no secret that I have started generating a decent income from selling low content books online via Amazon.
I don't mean selling second hand books… Although that is an option.
I'm talking about creating and selling your OWN books on Amazon.
Now, you would need an adult to create an Amazon KDP account, so you may want to bear that in mind and even hold off doing it until you're older.
The one reason for this is that you can only have one KDP account per household.
So, if you're still living at home and decide you want to open an account then in your own name – you won't be able to do that at the same address.
You also won't be able to do it if someone else in your household already holds a KDP account.
But, if you're totally OK with sharing an account with a legal guardian and doing it that way, then this is possible.
Low content publishing involves creating books like journals, notebooks and planners and uploading them to the Amazon KDP platform.
KDP then prints and ships your book out to customers, who find and purchase them directly on Amazon.
If you'd like more details about KDP, I wrote an in depth post here about it.
You don't need to be a designer, although it certainly helps and there is a learning curve involved.
That said, it's really worth taking the time to learn about it.
You don't only have to publish low content books either – you have the opportunity to create your own books whether that be children's books, fiction or non fiction and upload those as well.
So, there is really a lot of opportunity when it comes to self-publishing and its fast become one of my most enjoyable ways to make money.
Pin Me For Later:
This Just Scratches The Surface:
This post just scratches the surface to what opportunities there are online and how to make money as a 13 year old – or ANY age.
Age needn't be a barrier to you – because you can certainly get parental help at starting many things and some things, you don't even need that!
So, what's stopping you?
If you're interested in learning about a tonne of other ways you can start making money – this post shares 40+ ways you can start making money online.
Is there some experience you'd like to share? I'd love to hear from you – let me know in the comments.