How To Start An Affiliate Website In the UK – Is It Hard?
It is a common misconception for people starting out to think that – just because you're in the UK, you can only sign up for UK affiliate programs.
Fortunately for us, that's completely untrue.
While I am signed up to plenty of UK specific companies, I am also signed up to various companies in the USA as well.
You could also choose to base your site more for the US market, rather than the UK, depending on where a majority of your audience is coming from.
Most of my audience is from the USA, so that's who I tend to target the most, (even though I am UK based!).  You will figure this out as you get started.
With the Amazon affiliate program, for example, I am affiliate to Amazon USA, Amazon Canada, Amazon UK and Amazon France.
But, you can sign up to any Amazon platform that you like – so long as you're getting traffic from those countries, you could make a sale, (you would need to redirect your customers depending on location though – I use Geniuslink for this).
Many programs in the US of course, pay in US dollars.  This is no problem at all.
You will often have the option to be paid via methods such as PayPal, cheque or directly into your bank account.
While Amazon USA only pays the UK by cheque right now, (no idea why!) you can exchange these cheques in any bank, for a small fee per check, (around £7 in my bank).
I tend to think in terms of dollars now 🙂 …. but some programs do pay in straight pounds too!!
Find my step-by-step guide to starting a money-making blog here – it's packed full of info.
So, how do you start your affiliate website in the UK?
Many people think that you need a tonne of money to get started online.
If you are clueless about how to build a website for starters, that alone may be enough to stop you in your tracks.
In reality, getting started in affiliate marketing is as cheap as chips.
Well, not quite as cheap as chips :).  But not far off!
It's the time investment and the effort that's the difficult part.
People come into online business somehow thinking it should be easy and expect you can just start making money right away, (that's what plenty of programs online will tell you as well).
It's not easy or quick to make money online.
Those that tell you that it is, are just feeding the get-rich-quick mentality and often getting very rich themselves, by scamming people.
For some reason though, some people think that if it DOES take a long time to make money online, it must be a scam and they give up before they've made a penny.
That's not the case either.
Think about all the time and effort you've invested in your education, your regular job, learning new skills in life.
They all that took considerable time and effort.
You may have invested YEARS and even decades of your life to these things… but that's considered the "norm," so people expect it.
If you're putting a tonne of time and energy into an online venture, many people around you may consider it a waste of time, unless you get instant results!
Generally that is because they have no idea what making money online really involves, or how it works.  It's out of their comfort zone!
Even now, when the internet seems to dominate so much of what we do; most people still don't see "working online," as a legitimate venture or career choice.
I have pretty much given up talking about what I do to people, because  I can slowly see their eyes start to glaze over.
A majority of people do not understand it and they don't want to either.
So, if you do go down this road, know that most people around you probably won't have a clue what you're doing.
So, it takes effort, we know that much.
But what about the cost?  What about setting up your website?
I'm sure you don't need me to tell you that hiring a web designer can cost a small fortune, let alone the upkeep if you have no idea what you're doing.
But many people don't realise that you can set up a professional looking website (yes, even with zero experience) and very minimal instruction – in minutes.
So, what you need to get started with an affiliate website in the UK is the same as what you'd need anywhere else in the world!
You need to choose a profitable niche.

 

This will be the key topic or area of interest that you want to base your blog or website around.  
Useful post:  How to choose a niche online – passion vs profit.
You need a website.  You could start off with a free website in the beginning, but in order to progress, you will need a domain that you own eventually – however, you can switch over at a later date, if you want to just get your feet wet and see what this is all about.
Useful post:  How to make money with a simple blog.
You need some decent training.  This could be free or paid.  For example, there is tonnes of info out there online, via blogs, websites and YouTube about how to get started online with affiliate marketing.
Useful Platform:  This is where I got started.
I personally spent months trying to learn for free from blogs and YouTube and ended up more lost than ever.
The main reason being, there are so many varying opinions about what you should/shouldn't be doing.
There are so many conflicting messages!
There are also a vast amount of people trying to promote push-button systems and get-rich-quick type products as well.
Many people will be lured down that path because the promise is – that it is easy and quick to make money with the next new "system."
Who wouldn't want to take the easy and quick road to wealth and riches?
The long and slow road to wealth doesn't quite have the same ring to it….
But unfortunately – easy and quick are simply not the reality when it comes to creating an online business.
Just the same as in the real world!
Once you DO know what you should be doing, it's very easy to sift through the fact from fiction and from the good advice, to bad advice.
But as someone brand new online, you have no idea and it's very frustrating.
So, to get a handle on what you're doing, getting some sort of legitimate training or joining an online community can be very useful.
What Will You Learn In Your Training?
Some things you may learn in an Affiliate Marketing program may include – (and should include!):
How to set up your website correctly/website theme etc.
How to set up google webmaster tools and google analytics.
To learn how to generate organic, FREE traffic to your website via SEO methods. (search engine optimisation) .
How to drive traffic via social media.
Email marketing.
How to sign up for affiliate programs.
How to use your affiliate links.
Copywriting skills.
Options for paid methods of traffic.
If you're unfamiliar with a lot of this, the basics are pretty straight forward to understand and implement.
But- as you do learn, what at first feels like a massive effort, does become second nature over time.
You really won't stop learning though, there is always more to learn and ways to improve.
It just takes time.
Time and a willingness to always keep adapting and improving over time.
Any training you receive, as long as it's legitimate, will provide you with step-by-step in depth training.
And, ideally, you'll want to be able to connect with other people in the same boat as you.
I don't know how I would have coped, had I not been able to easily talk to people in the same boat as me.
Reaching out to people for help and support, IS VITAL!
When you do get started in Affiliate marketing, you will probably feel overwhelmed and that's completely normal.
Several months in, you will undoubtedly wonder if you're doing everything wrong.
But, I promise you that, that if you persevere… It will start to make a lot more sense!
People tend to quit around the three month mark; when this is exactly the same time it often takes people to make their first sale.
PIN ME 🙂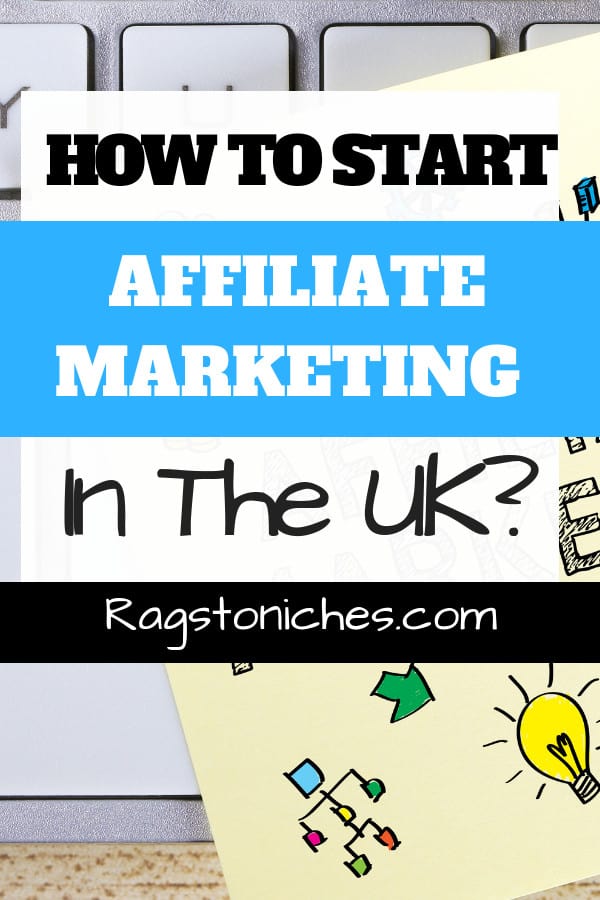 Signing Up With Affiliate Programs:
Once you get started building your website, you will feel as though you want to sign up to affiliate programs immediately – but many programs want you to have a decent amount of content on your site before they accept you.
There are a couple of exceptions –
Amazon tend to accept fairly quickly, in fact I have heard of people signing up to Amazon with just a large social media following, (no website) and being accepted — but this is not the norm.
Clickbank doesn't have any eligibility criteria, you can just sign up with them instantly, (they sell digital products).
Amazon is a very popular starting point for new affiliate marketers and it's a great choice in my opinion.
Amazon does a brilliant job at selling, as long as you can get people through the door, Amazon does the rest.
The greatest aspect to the Amazon affiliate program is – you get compensated for anything that the customer buys within 24 hours.  It doesn't have to relate to anything you've linked to.
One of the UK's largest affiliate networks is AWIN – I'm an affiliate with them myself.
I use them primarily with another website where I am affiliate to Etsy, Truffle Shuffle, Wayfair, John Lewis – to name just a few.
But there is a massive choice of companies on there and you wouldn't struggle to find a relevant company to apply to within a majority of niches.
Before you decide on your niche, check that there are enough affiliate programs that can sign up to.
A couple of useful posts…
Before You Start With Affiliate Marketing:
Make sure you keep it in mind that you can't expect overnight results.
You may spend several months without having made a single sale – longer if you're not spending enough time on your site, (writing at least 3+ quality posts per week on your website/sharing via social media and so on).
After your initial sale, the gentle initial trickle of sales may start to come in and you will start to see that there is potential to scale up.
The more you work, the quicker you learn, the faster you can start seeing results.
It's that simple and that hard.
Remaining motivated month after month can really get tough at times, which is also why being able to talk to others in the same boat helps.
The other thing is, if you're relying on generating free traffic with the search engines via SEO – SEO takes time to work for you.
For example, you may create a post tomorrow and it will go in on page 6…
Several months down the line, it's gradually moved up to page 1.  Even when you haven't touched the post since you published it!
In the meantime however, your have been working hard on your website and your site has grown in authority.
While you weren't looking, Google started to trust you and gave you a boost!
Once you do have a site that's got some authority, you can sometimes see your posts go straight on to the first page and that's such a great feeling.
You will go through every emotion you can imagine on this journey – it can really be a real roller-coaster of emotions.
So, you had better hang on for the ride.
My advice best for you getting started is…
Don't get too hooked up trying to pick your ideal niche, (it probably won't be your last!); get some decent training and be prepared to be both focused and determined, (for a long time!!!).
Do not expect quick results, it's a process that can take months and years….rather than days.
I wish you all the best on getting started, please let me know how you get on!
Take care,
Some other posts you may find helpful: