What Is Panel Payday: Scam Or Legit Easy Cash?
So, maybe you've come across Panel Payday and it sounds a bit too good to be true, so you're wondering if it's a scam?
I look into a lot of sites like this, there must be thousands of variations of websites just like it.
Some are blatant scams, some are just over exaggerating your earning potential and some are completely legit.  So, which is this?  Keep reading and I will share my own experience here.

What is Panel Payday About?
Well, it's yet another portal survey-related site.  By portal I mean – it's just a website that links you to lots of other websites, without having much going on, (if anything) within their actual site.
The reason Panel Payday link you to these other websites, is because they will get rewarded for sending you there.
They will be paid some sort of commission, whether it be a one off payment, or a percentage of your earnings.
There is nothing wrong with this at all, that's what affiliate marketing is about and the way thousands of people make money online.
What's wrong in this case is that they are actually misleading you into thinking you can make decent money by joining these survey sites that they recommend and that's not the case.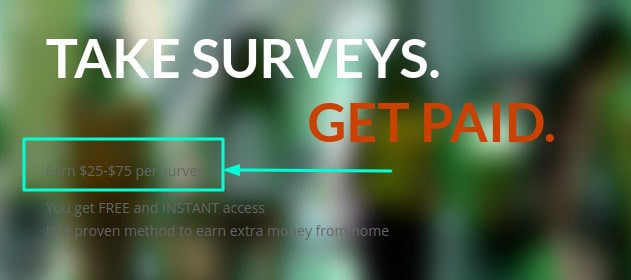 As you can see in the image above, panel payday claim you can make $25-$75 a survey.
This is a huge overestimation of what you make per survey.
In all my experience testing various survey sites, I've not made more than $2 a survey and in a vast majority of cases, I've made under $1 a survey.
There are some cases in which you can make more than this.  For example; some survey sites also have offers – which may pay you a certain amount for signing up to a free trial, membership, or service of some kind.  Sometimes these require your credit card details and they're not always free.
In some other cases, survey sites pay more for candidates to be part of focus groups and I've seen some of those which could pay $75 or more, but these are rare scenarios.
Generally, you're just talking about completing basic surveys for a very small sum of money.
How Does Panel Payday Work?
Often with sites like this, they may just ask for some basic details, (email address/name) and you can get started.  But with Panel Payday, it's a bit different.
When I went to sign up, suddenly you're asked whether you want to sign up to various offers.
This is unusual for sites like this and not something I've seen before.  But it's a way to boost their profits before they've even signed you up.
Unfortunately, they're also linking to some blatant scams here too.  I actually said "yes," to some of the ones I didn't recognise in order to get more information about them.
(If you sign up to any offers like this, be sure not to use your regular email.  I use a particular email for subscribing to any sites that could potentially send you SPAM).
You then go into a section where they suggest you join certain panels.  A couple I didn't recognise, (but will check them out and link back when I can) but when I tried to go to the links, my computer warned me that the websites I was going to did not look safe.
Here was one example of the message:
"We have found that this website contains potentially harmful content. This means it may contain a virus or be a phishing site designed to steal your personal details."
Hmmm… doesn't fill you wil confidence does it!!
The thing is, you didn't actually need to sign up at all, (or go through all those offers) because they have a list of survey related sites on their homepage and you are just redirected to those sites from the main page, you don't have to become a member of Panel Payday.

>> I previously reviewed VIP voice here.

>> I also wrote about earning station here.
So, panel payday have no actual surveys of their own.  They merely redirect you to other websites where they can earn a commission from you.
Some of those websites are legit and some are not!  In every case though, you will not be making $25-$75 for completing surveys.
Is Panel Payday A Scam?
Well, I couldn't label them as a complete scam, because they do link you to SOME legitimate websites, where you will be able to earn a small amount of money.
However, they are deceiving you on a number of levels….
They say you'll earn $25-$75 a survey, but you will not.
They link you to some clear work from home scams.
They make you think they're connecting you to websites that they recommend, but it appears that they will actually recommend any website to you as long as they believe it will be profitable to them.
They're directing you to websites that appear to be potentially harmful and could put you at risk.
Can You Make Decent Money – Taking Online Surveys?
You can make pocket money entering surveys online.
Even if you worked at answering surveys from 9-5, you would not make good money and it's unlikely you would stick at it for long, because you'd get fed up at how often you wouldn't qualify for surveys and at how frustrating it can be.
A majority of people that ever give survey websites a go, don't stick it out long enough to even make their first withdrawal!
On the other hand, affiliate marketing is a popular way that people make money online and that's essentially the model that Panel Payday are using to make money from their website.
Unfortunately, many people will recommend anything whether good or bad, just in order to make a commission.  But it's not always that way!
Personally, I will only recommend things that I know are legitimate and that I consider to be good value for money.
There is a lot of hyped up products out there that will go out of their way to bleed you dry and not actually teach you anything.
There are many programs and websites that also do have a certain amount of legitimacy, but then fall short with the training, because it's not step-by-step enough for people brand new online to grasp.
They will often try and tell you that it's almost impossible to make money online unless you have an email list of thousands already, or paid traffic, or the money to hire copy writers and website developers….
They tell you all this, so that you'll buy into their system.
But do you think that's how they got to where they are?  By buying into a system?
Hell no, they learnt everything themselves from scratch and that's exactly what you should want to do if you really want to make money online in the long term.
The good news is… you really don't have to spend a fortune on all the things they tell you.
You can build your own email list from scratch, you can write your own content, you can build a business around something that really interests you and you do not need a website designer to get started at all.
You'd be amazed just how much you can learn and how it will seem so much more simple than you ever imagined, (or were ever told).
If you'd like to learn how to get started online in a hype-free-zone, this is where I got started online – it's one of the biggest internet marketing communities online today and you can check it all out for free.
Alternatively; you may want to check out my 40 ways to make money online.
If you have any comments, or any experience with Panel Payday that you'd like to share… please leave me a comment below!
All the best,

Other posts that may interest you: