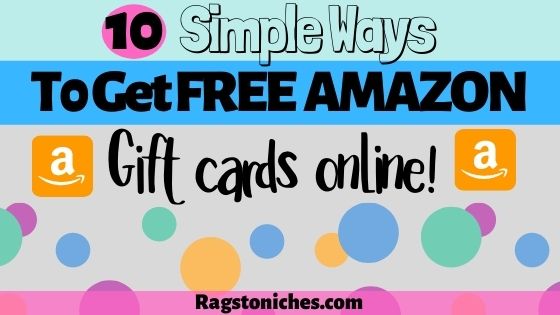 Amazon gift cards are the best – what can't you really buy on Amazon these days?
Whether you're in need of general household items… Or, most frequently, birthday, Christmas and holiday gifts, they can really come in handy.
Personally, I've used my top rewards site Swagbucks for many years now to build up their virtual currency, (naturally called "Swagbucks!") which I exchange for gift cards.
I almost always exchange my Swagbucks for Amazon gift cards, because they are so convenient.
However, if you really want to expand on the potential to earn gift cards, then you can join several sites and participate on them all.
Because, you will often find that sometimes sites are lacking in good Surveys or other opportunities and and having more than on go-to, means you shouldn't be left with nothing to do.
So, what are some FREE ways that you can get Amazon gift cards online? Below I share ten different legitimate ways you can do it!
Want to make MORE in the long term? Discover the exact method I used to make thousands of dollars with Amazon & other companies here.
1 – Swagbucks:
As mentioned above, Swagbucks is my no.1 recommended rewards site that I continue to use and the platform where I have downloaded the most free Amazon gift cards.
When you have Swagbucks, you will be able to earn gift cards from amazon by doing simple activities – such as playing games, searching the web, shopping, surveys, and free and paid offers.
You can also earn a small amount of points by things such as, playing games or watching short videos.
With Swagbucks, it's completely free to join, you just need to sign up as a member and get started.
The payout threshold at Swagbucks is really low, as many other companies require you to at least have $10 and some up to $50 or more before you can withdraw your earnings!
At Swagbucks, you can get a gift card with a minimum balance of 3 dollars, – but I'd recommend saving up until you have a more substantial amount.
You can also get a free $5 bonus when you sign up.
2 – Sweatcoin:
Sweatcoin is a unique and popular App, where you can earn "sweatcoins," (their virtual currency) simply by WALKING.
Save up your Sweatcoins and you can eventually redeem rewards & offers.
PayPal and Amazon offers are not frequently available, because they disappear almost as soon as they arrive.
However, you can also earn Amazon gift cards by referring your friends to download the App also.
Besides potentially helping you to redeem rewards though, this one can encourage you to get fit and walk more often – which has to be a good thing?
The downside is, it can kinda drain your battery – so, it's a good idea to keep a portable one with you, so you never miss out on steps!
3 – Nielsen National Consumer Panel:
This is a very well known company that gathers statistics about different behaviours.
They're commonly known for monitoring radio and TV habits, but they're also interested in learning about your buying habits also.
One way that they can learn about your buying habits, is by actually paying you to shop and provide them with data and this has become a popular way some people have made additional cash.
With a speical scanner, you scan all the items that you buy and this information is fed back to the Nielsen consumer panel – this is how they can discover info about peoples buying habits.
After you scan your shopping, you just need to answer a quick survey and then you can move on and carry on with your day as usual.
The more shopping you can do, the more you can build up points and the more consistent you are keeping it up the better.
One of the rewards you can benefit from by joining this platform – are Amazon gift cards!
Join Nielsen Consumer Panel US here or in the UK here.
4 – Receipt Hog:
Receipt Hog is a cute App, where you can take photos of your receipts and earn points for doing so.
This is a way for receipt hog to collect data about your shopping habits and many other peoples.
This can be valuable information about consumer behaviour, that can be beneficial knowledge to some businesses.
They also have cute little bonuses – such as a little slot game, where you can win extra points and even win free shopping trips & $100 in cash.
Eventually, you can exchange your points for gift cards – yep, including Amazon!
You will need at least 1000 "receipt hog," coins to cash out $5. Considering the fact that $100 receipt only earns you 20 coins… It will clearly take you some time to cash out anything!
This isn't going to be a quick way to get an Amazon gift card but it's a pretty fun one and it can become quite additive adding your receipts – as well as playing the cute slot machine.
5 – Ibotta app:
The Ibotta App is on of the biggest money saving Apps available in the US and very popular, (unfortunately you cannot use this one outside the US).
This is where you can earn money from shopping in various stores – and even via restaurants and pharmacies – as well as your regular grocery shop.
As well as saving money by using Ibotta, you can also save up your earnings and exchange for amazon gift cards too.
In order to build up bank, you need to take photos of your shopping receipts – Ibotta can also give out cash bonuses when you buy certain products.
Keep an eye on the Ibotta monthly bonus page, for any additional bonus points you could have earned.
You can also use the Ibotta App to actually pay and instantly earn cashback rewards.
6 – Amazon Mechanical Turk:
Amazon Mechanical Turk is a lesser known about way to make money with Amazon, by doing simple online tasks.
Some tasks may only take a matter of minutes and could involve things such as data entry. There are also some paid surveys available.
The amount you make per task is certainly small, but you can build up your skills on the platform, in order to be accepted on to more challenging and better paid jobs.
It's likely going to take a while for you to build up enough to get a decent Amazon gift card, as tasks pay from as little as $0.01!
Some higher paying tasks you can apply to qualify for, but you may need to have completed a certain number of tasks, have a high approval rate and be in a particular location, for example.
Check out Mechanical Turk here.
7 – Survey Junkie:
Survey junkie is a legitimate survey panel that's been around a long time and is still one of the most recommended out there.
This site is said to have plenty of surveys and you don't have to be waiting for years and years just to get a teeny gift card worth next to nothing.
Here you do need to make a minimum of 10 dollars before you can get an Amazon gift card – but at least there are plenty of surveys to choose from.
You can also get paid via PayPal, if you prefer!
However, you do need to be a US resident to join Survey Junkie – if you're in the UK, you may want to check out these options.
8 – YOU GOV:
This isn't going to be the quickest way you're going to make Amazon gift cards, but You Gov surveys are some of the most interesting I've ever done.
This is another survey panel, but a bit different to others of its kind and one of the few that I've actually enjoyed doing!
One positive thing about it, is you do not get thrown off surveys – which is the case with many.
Also, you get to share your opinion on interesting topics, such as Politics, currant affairs, or even just what you're watching on TV!
The downside is, that in the UK you need £50 to cashout! Which would take such a long time….. By contrast, you can cash out at only $15 in the US.
Join You Gov US Here — Or Gov UK here.
9 – Amazon Coupons:
For the Amazon Coupons, you get immediate discounts but you can also get Amazon gift codes but only when you buy the selected products.
For example; maybe Amazon will state that when you buy a particular product that they recommend, you will get a free gift card.
Certain categories on Amazon have more gift codes than others. For example; gift codes are more prevalent in the grocery, health and beauty categroies.
You can also increase the odds of getting gift card offers, if you're an Amazon prime member and being a prime member also comes with tonnes of perks that you may find worthwhile.
10 – Prize Rebel:
Prize Rebel is very similar in nature to Swagbucks and had a whole bunch of similar ways to earn poitns.
This includes things like Surveys and paid offers.
They also have a low cash out threshold and you can choose from a variety of gift cards when you get there – including amazon gift cards.
They also have a pretty decent referral scheme – which means, if you are successful and getting other people to join, you could generate a lot more points and get to those gift card targets.
You only need $2 in order to cash-out an Amazon gift card with these guys!
Pin Me For Later!
Will You Get Some FREE Amazon giftcards?
So, there we have 10 ideas, to help you start generating Amazon gift cards for FREE.
What if Amazon isn't your thing? Well, maybe you are into something else… What about Starbucks?
I wrote a post a while ago explaining how you could start generating Starbucks gift cards too – see that here.
In general though, most sites I've mentioned will have a variety of gift card options – not just Amazon!
So, you'll likely find something that's more of interest to you.
Making More Money With AMAZON?
I earn Amazon gift cards now every single month…. But it's not usually from doing small tasks and surveys!
I also earn Amazon gift cards via the Amazon Associates program… This is just one affiliate program out of many that I am a member of.
When you're an affiliate for a company, you send customers to a product or service, (for example; link to amazon) and earn a commission if a purchase is made.
Amazon is actually one of the lowest paying affiliate programs out there now, since they changed their commission structure in 2020.
Nevertheless, I still manage to earn gift cards every month.
BUT there are thousands of other affiliate programs to choose from, that pay much higher commissions.
If you'd like to find out more about how affiliate marketing works with Amazon and other programs, this platform showed me the ropes!