Today I'm going to explain how to: make money surfing the web! 
Is that really a thing?
Before I knew much at all about how people made money online, I'd occasionally see Ads saying something like..
."get paid for browsing the net," and "get paid just by surfing the web."
For most people seeing those Ads, they'd probably assume that means literally meant getting paid for surfing the web.
So that, every time they'd order their groceries online, they'd get paid.
Or just get paid for checking out their favourite online shops and websites.
Or maybe playing their favourite online games.
But, in reality, this is not how it works at all!
While you may be told that you're going to get paid for surfing the web, you'll actually need to do set tasks that are asked of you – not just anything you want.
There is one exception to this.  You can be paid from via websites to use their search engine. 
So, if you use their particular search engine, you will get paid a certain amount every now and again while you search… and in this case, you could be searching for anything.
The only company I use in this way is swagbucks and that's because you can download a handy chrome extension that makes it super easy to use their search engine.
Every now and then, you will be randomly be awarded points for searching via their search engine.  You save up those points and can then exchange them for Amazon vouchers, PayPal payments, or other gift cards.
So, aside from literally searching the web, what are the other ways you make money from surfing the web?
Cashback And Offers:
You can be rewarded  by both taking up cashback offers, but also for posting offers online.
So, with cashback, if you go through one of the links on a cashback website, you can earn a certain percentage back for the money you spend.
Sometimes this may only be 1% cashback, but sometimes it's significantly more.

One popular place to generate cashback in the USA is Ebates, you can also earn extra money for signing up your friends and family.
You can also find my full review here.

Another place that I regularly use for cashback is Swagbucks.  I always use them every time I order food from Just Eat!
You can get a $5 bonus by signing up here,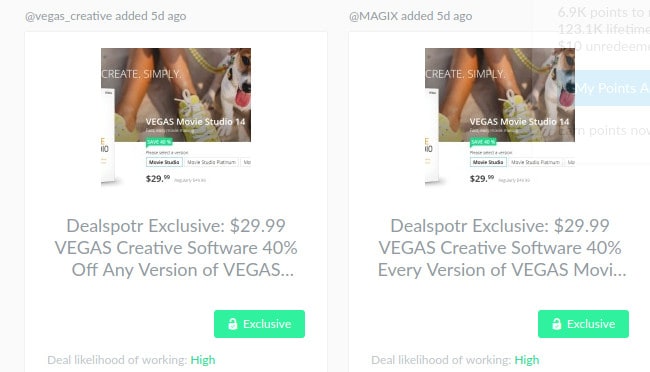 Dealspotr has added an interesting spin on cashback and deals online.
They have turned this idea on its head and actually pay the members to post and edit deals on their website.
If you're looking for deals anyway, it's not going to be a problem to simply upload it on to this site and you can also find some good deals there too.
You can earn an additional 5,000 points when you sign up via this link, complete your profile and your first deal.  There are step by step instructions on how to do this.
Alternatively, you can read my full review here.
If you're a blogger, you may also be interested in becoming an influencer on Dealspotr, which can bring you significantly more pay and rewards.
Reviewing Other Peoples Websites:
Probably one of the best ways to make money surfing the web, is by literally checking out other peoples websites and giving feedback on them.
Some companies will pay you to look at companies websites, sometimes that are often in the development phase and complete certain tasks and answer questions.
So, for example, your task may be to find a product on their website and complete a transaction, (don't worry, it will be a fake transaction, you don't pay anything).
You're then asked questions on things such as, how easy the website is to navigate, what stood out to you.  What you liked and what you didn't like.
Your screen is recorded while you surf these websites and you need to give your feedback via microphone.  So, if you're an extremely shy type, you may find this uncomfortable.  Some websites also want to record your face as well.
At User Testing, you are paid $10 for around a 20 minute test and in comparison to most lower-income opportunities online, that isn't bad at all.
There are various websites that I've looked into that pay various amounts for testing sites online.  The following ones I have previously reviewed:
I personally really enjoy giving feedback on websites and it's a good way to check out new websites and companies that could be just in the beginning phases.
Plus, the feedback you give to them can really make a positive difference.
It's not just start-up companies asking for help though, you can also be asked to give feedback on well-known brands.
Paid Online Surveys:
I talk about paid surveys a lot and have reviewed many related websites.
With a paid survey, a company will pay you a small amount, to answer questions about certain topics.
This may be about what sort of restaurants you like, or your opinion on certain products and services.
are one of the more frustrating ways to make money online, but yet somehow still insanely popular.
There are thousands of survey websites popping up all the time – some are better than offers, but many share some of the same problems.
Common problems with survey sites are:
Payment problems and high threshold payouts.
Poor customer service.
Always getting screened out of surveys for not qualifying and not being compensated.
A lack of surveys to complete.
Low pay potential – can take ages before you can take out any reward and many people give up before this point.
I suggest joining sites where surveys are NOT the only thing on offer.
For example; some survey-related sites will also have other ways that you can make money online.  Via cashback, paid offers, or watching short videos and playing games.
I've added a selection of sites below that DO offer more than just surveys.
These sites below will give you a much better chance of actually reaching the payout threshold.
You won't be rolling in cash by completing tasks here, but can generate a bit of pocket money!
You should also check out:
Paid To Click – reluctantly, I'm including this!
There are various websites online that will pay you to click Ads.
However, I would say that these are generally a total waste of time and many pay to click sites have also been closed down for being scams.
The Ads you have to click on are often scam related, or they're just Ads for other pay to click sites and sometimes survey related sites.
PTC sites are regularly closed down for not paying their members, but some have managed to hold it together and run for many years.
Generally, you're going to be making FRACTIONS of a cent per click, the money is abysmal.
The only way you can make any real money from these sites is by hundreds of referrals to do all the clicking for you.
Most people give up on these sites very quickly, due to the extreme boredom factor and lack of pay.
So, that means to have any success at all, you'll need a method of generating hundreds of new referrals regularly.
I just don't really understand why you'd do that when you can make so much more of a commission with affiliate programs and offers.
Here is a small selection of related sites I've reviewed in the past:
You can go and check these out for yourself, but I don't recommend them as a reasonable way to spend your time!
Especially not if you're actually looking to make reasonable money!
If you have a way of generating hundreds of referrals and have no issue with sending people to these websites, then you may have more of a reason to check them out.
Listening To Music:
There are a few websites that pay you to listen to and share your opinion on music.
Musicians are keen to get feedback on their music and this is one way they can do that.
The pay again, is extremely low.
So, I wouldn't recommend this unless you really enjoy listening to music.
Slice The Pie

– This website used to pay better in the past.  But they also pay you to write short reviews on products as well, such as home items and clothing.  I've used this site a fair amount in the past and found it quite fun.

Music Xray

– this is another site that will pay you to listen to music and it can be a good way to discover new bands and support them too.
So, You Don't REALLY Make Money Surfing The Web?!
If you're just looking to get paid what you normally do, visiting your regular websites and buying things online, then you can't really get paid in that capacity.
Yes, I'm afraid it's typically used as a marketing ploy to get you to sign up to various other opportunities… like joining survey related sites.
But there are ways of making money while you are online, such as by picking up on cashback deals, using particular search engines, or reviewing websites and so on.
As someone who started looking for real ways to generate an income online quite some time ago, I couldn't really justify spending too long on these low-income generating sites.
Because, there is so much more you could do with your time.
The best thing to do is to really spend time learning skills online, in order to be able to build a long-term sustainable income and your own business!
The good news is that you CAN get paid online for things that actually interest you.
If you have a certain area that you're passionate about – whether it be writing, sports, health, or even computer games.
There is a way that you can use that interest and generate an income from it in the long term.
Want to learn more?! – then don't miss out on this free training*
If you have any questions, let me know in the comments!