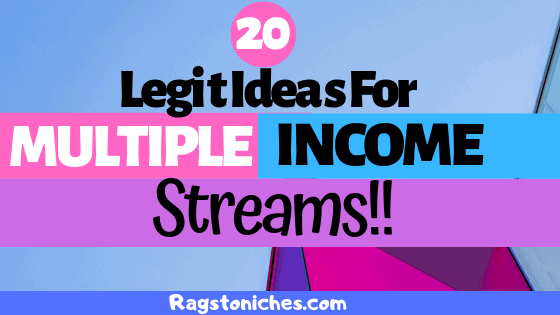 Besides being at home working for an agency and making a decent (or mediocre) income…
You can create legit multiple income streams in multitude of ways – both at home & online.
There are ways you can generate an additional income, while you are still working in a regular job, taking care of the kids, being a full time stay at home parent – and more.
In this post, I will be sharing 20 legit multiple income stream ideas, that you can start-up this year! Let's get started!
Before you go, be sure to check out my two top training resources...
Let's dig into this list!!
1. Rental – income from property:
With such websites like hometogo.com and the very popular Airbnb – posting up your property for rent couldn't be more easy….
Whether people are looking for a vacation in your area, or just looking for an alternative place to stay in order to check out your town or city – there is opportunity for every type of property.
Whether it's a cottage, town home, apartment, condo, or house… If you have it available for a certain month, week or weekend, it would be a perfect opportunity to leasing out and reap the benefits.
In fact, some people continue to stay in their home and just rent out an extra room!
So, you don't even need to have the property entirely free to profit from this.
Nowadays, real estate income is booming online because of easy access for local, national, and international travelers all around the world.
People want more choice now to the conventional hotel and motel options.
They want to really experience the places they are visiting and staying in someones real home, provides a completely different experience.
You also get the opportunity to really stand out and offer your guests something unique….
Some landlords go out of their way to make stays extra special by baking a cake, providing grocery items, or by offering things like private tours of the town, picnics, or a home cooked meal.
Getting the best reviews you can is key to your success, so going above and beyond what is expected – can get the reviews you need to propel your business.
2. Buy and rent out expensive equipment:
Buying and renting expensive supplies or equipment for another company or business can rake in more money than you think.
The amazing thing about this rental equipment, is that you can make thousands of dollars per year!
Just by owning things that people would rather rent out than purchase.
If you're looking for a way to profit from items that you may already own and have on your property, this opportunity could be for you.
You could also buy some of these items for a longer term investment.
Here are some examples of items that you could potentially rent out….
kids party supplies/equipment,
construction equipment,
recreational vehicles,
movie props,
musical instruments,
printing office equipment,
surfboards, skateboards, bikes, canoes and kayaks,
hiking/camping equipment.
If you're interested in renting out your stuff – you could check out Fat Llama, where they say you can buy, rent, or sell just about anything.
3. Sell your own products online:
Selling online through such websites like Etsy, Ebay, and many others, is a legit way that you can make money online.
Some people do sell enough to make it their full time gig.
With creating and selling in mind, you may have a craft, a skill, or unique selling idea, that sets you apart from the rest.
Learn to sell on Ebay – Step By Step.
4. Dividend income:
This is a common method used to generate an additional income stream and also passive income online.
It's one of the most old-fashioned ones you could consider – as it basically involves investing your money in the stock market, with a fluctuated risk.
Although the rewards can be incredibly rewarding and could be worthwhile looking into, if you have the funds to invest.
Check out Dividend Investing For Beginners.
5. Advertising on your website/blog:
Online advertising is one of the oldest ways to make money on the web and probably one of my favorite ways these days, (as it's so passive!!!).
In the beginning, the only thing anyone had ever heard of, was Google Ads!
Time has advanced now and there are multiple different Ad networks that you can join, some with specific requirements.
For example; you may need a certain amount of traffic on your website or blog, in order to apply to the biggest and most profitable networks.
Here are 10 great Ad Networks To Choose From.
6. Affiliate marketing:
To be an affiliate marketer, you work as a middleman between product and consumer.
You direct people to the product or service and can earn a commission when they perform a certain action.
One way you could do this is via using affiliate marketing on your blog/website – doing product reviews is one way to make money in this way.
Amazon probably has one of the most well known affiliate programs and you don't need a really established blog to get accepted.
But there are many affiliate programs that are suitable for beginners, you can find some here.
Click here to learn how to make your first affiliate sale.
Pin Me For Later 🙂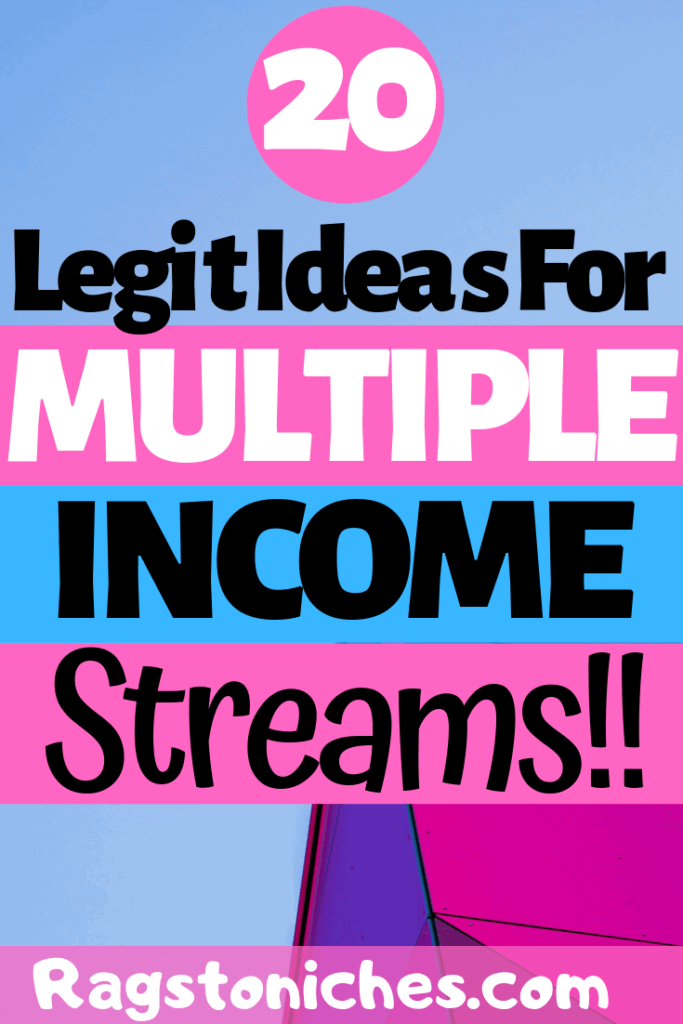 7. Print on demand:
There is a way for your to sell your designs on t-shirts and products, without ever having seen the product, nor needing to ship it.
That's how print on demand works. You can upload your designs to a print on demand service and they deal with the handling, shipping, or even customer service in some cases.
One of the most popular print on demand platforms right now, is Merch By Amazon.
However, people are also having significant success now on Etsy – where you may not have imagined you could do print on demand, (you can connect your Etsy store with Print on Demand providers).
Another popular option is Redbubble. Which also has a certain amount of organic traffic – making some sales without advertising possible.
This is a really, "hands off" method and while it's quite competitive – there is still opportunity here to make money.
Furthermore, it can certainly lead to passive income.
As once your designs are live, they can sell multiple times over, with no extra work required from you.
Find a complete guide to getting started on Merch here.
8. Sell digital downloads on Etsy:
Digital Downloads are a great option to sell on Etsy, because you can add products that can be downloaded time and time again.
Consequently, you avoid the work load required when you're creating your own physical products to sell on the platform.
Popular options could include things such as:
Educational stuff/home schooling,
Sewing/knitting patterns,
Coloring sheets,
Invitations,
Fonts,
Vector images,
Wall art…. etc!
If you are creative, talented in graphic design, or have any previous experience in some of these areas – this could be the ideal opportunity for you to create an extra income stream quite easily!
Learn how to sell digital downloads on Etsy.
9. Get paid to complete online surveys:
There are thousands and thousands of online survey companies out there that claim you can make money with them.
Be careful of any claiming you can make thousands of dollars, there are plenty of survey scam sites out there.
However, many are legit and will pay you a small amount of money.
It's not a great way to make money, but you can make some extra pocket money and some can be enjoyable to do.
The highest paying site I have found is called Prolific.ac
An extra income site that I recommend for cashback, surveys, offers and more is Swagbucks – you can get $5 for signing up free.
You can find some other options here –
10. Write a book via Kindle Direct Publishing:
Writing and selling books online, is one way you can make money time and time again for work that you put in once.
Furthermore, you don't necessarily even have to WRITE a book, to publish one on Amazon for sale.
What do I mean?
Well, you could outsource the writing and creation of your book quite affordably on somewhere like Upwork.
But also, you could create low-content books such as notebooks , diaries, journals, coloring books and more.
You can learn more about Kindle Publishing here.
11. Create a dropshipping or ecommerce Store:
Dropshipping is a great opportunity that appeals to many – and while there is competition out there, there is still opportunity!
How does it work? You create an online store and sell products from dropshipping suppliers.
This means, you do not have to hold any stock yourself. You only make an order with the dropshipping supplier, after a sale has been made.
Your supplier, will then ship the product to your customer.
You may be getting ordering your stock from China, while you are living anywhere else in the World.
The downside can the the long shipping times, (when sending from China) and also driving traffic to your store.
Because, you will need to get to grips with paid advertising to get the best out of it.
Many dropshipping experts advise you to work with Facebook advertising – although there are some free methods you can try as well, such as blogging.
You can easily and affordable create your own dropshipping store with Shopify.
Shopify also has tonnes of awesome resources to help you get started – on their website here.
12. Sell images online:
There are tonnes of different websites and even Apps, where you can now sell your own photos online.
Many platforms you have most likely heard of before.
Ones such as…
This is a great way to benefit financially from a passionate hobby!
Again, this is a situation where you can do the work once, (doing the Photography) and potentially sell that product multiple times over – over months or years!
Discover 40 ways to make money from Photos here.
13. Build apps or software:
If you can build a helpful app such as a specialist app, or even a consumer application… Of course you can get paid well for it.
There are megabucks in this type of online income and could be a great income stream.
However, if you have no idea how to build apps, you may feel stuck and have zero idea how to get started.
But remember; it's not like App developers were born knowing what to do – you can learn these skills, just like you can learn anything!
You just need to seek out the right information and challenge yourself to start learning, step-by-step.
You may find this info useful as a beginner…. How to make an App, (in 9 steps!).
14. Physical products sold by you:
We have already talked about Dropshipping and Affiliate marketing – but what about another way to sell physical products.
Well, another profitable way to sell products in a hands-off way, is via Amazon FBA.
This is where you can get your products shipped over to Amazon warehouses – where they will store your products for you and ship them when they are sold!
You then need to concentrate on creating your listings and getting good reviews.
But when a sale is made, Amazon ships off your product for you.
Not sure how to get started with FBA? There are many affordable Ebooks you that can give you a good introduction!
15. Become a life coach or adviser:
Get paid to help those who need your experience, expertise or simply to listen!
There are many popular websites and blogs out there, designed to help people manage their lives and reach their potential.
Some people need that extra motivation and advice about which direction they should take their life in.
If you are good at offering advice, are a great motivator – or perhaps have a background in this area already, then it may be something you'd be interested in.
There are many affordable courses and training online, that can help you become an online life coach.
16. Teach online:
IF you have a degree in a popular subject such as Math, English, Science… and so forth, you can teach it online.
If you have a teacher's certificate, this is even better.
Teaching English as a foreign language, is also a popular option.
By tutoring online, you can choose your own hours to work and often teach students from all around the world.
Some tutors even decide to teach at unsociable hours, that would fit into their routine – such as very early in the morning, or very late at night…
Meaning they can still maintain their day job and earn an additional income stream at the same time!
If you want to make money tutoring online, there are a bunch of different websites you can join here.
17. YouTube Channel:
There is endless opportunities on YouTube that you could get into… and actually far less competition than you have with a blog.
(The best option is to combine YouTube AND a blog….).
Some ideas for your YouTube channel could include…
Product reviews of all kinds,
Health and beauty, (make up tutorials etc),
Comedy sketches,
Motivational,
Workout/fitness,
Diet, what you eat type videos,
Recipes of all kinds – certain niches, gluten free, special diets, vegan, healthy eating, family recipes, crockpot,
DIY,
Crafting,
Sports,
Frugal living/saving money,
Pets/animals….
Most people will have some interest that they could turn into a YouTube channel.
People tend to focus on getting paid via paid advertising – which, although is possible, is only ONE way you can make money on YouTube.
Plus, you need many thousands of views to make anything reasonable at all.
Other ways you can make money on YouTube include….
doing sponsored videos,
affiliate marketing links in your description, (e.g, to products or services that you recommend), getting people to sign up to an email list and become repeat viewers/subscribers/fans…
A link to your own website/blog, which could bring in additional traffic and income.
18. Work part-time for a remote company:
Some people are interested in trying to find remote work that they can do part-time…
Perhaps even in addition to their regular job, or as something that could fit in with having a family.
There are many companies out there that do look for remote workers – but be careful in your search, because there are plenty of work-at-home-scams out there.
Remember, no real job opportunity will ask you to pay any fee to start work.
Some options you may want to look into include…
19. Get paid to answer questions online:
If you're a professional, or an expert in your field, you can get paid to answer questions online.
For example; Justanswer has experts ranging from doctors, to lawyers, to teachers, to financial advisers.
Customers could pay between $15 and $50 for a single answer and you can build up to a 50% commission over time.
There are some other websites about that have some similarities – but many I've seen have mixed reviews and are not something I'd recommend just now.
Let me know in the comments, if you know of a good platform like Justanswer, that will pay you for answering questions.
20. Buy a website or blog, that's already profitable.
If you have some knowledge already about running a blog or website, even if it's a small amount, you may already know enough about how to maintain a website.
If you have some money to invest, investing in buying blogs or websites that are already profitable could provide you with additional long term income and multiple income streams.
Even better, you can buy a website that you know you can improve.
Let's say you buy a website that is only making $200 a month – but that looking at it, you figure you can tweak certain aspects and grow it to make $1000, or $2000+ per month!?
What you could do then, is sell the website on as a profit. This is known as website flipping.
Whether you're looking to buy an established website for a long-term investment – or looking to buy and flip, checking out Flippa is a good place to start.
Flippa has over 1.5 million users and are still the #1 place to sell a website online – they have also sold more websites than all of their competitors, (and that's combined!!!).
Do You Have Any More Income Stream Ideas?
There are 20 legitimate ways you can start making an additional income on the side…
If you're still hungry for more, check out these 40+ ways to start making money online.
For me, the best income stream ideas, are the ones that take the least time and effort to maintain, but provide ongoing, recurring profits!
The two ways I make the most extra income from right now, is paid advertising on my website and affiliate marketing.
Some affiliate programs have recurring commissions – which means you can get paid multiple times over. Find some of those here.
If you'd like to learn more about affiliate marketing long-term, I recommend you start with the free training here.