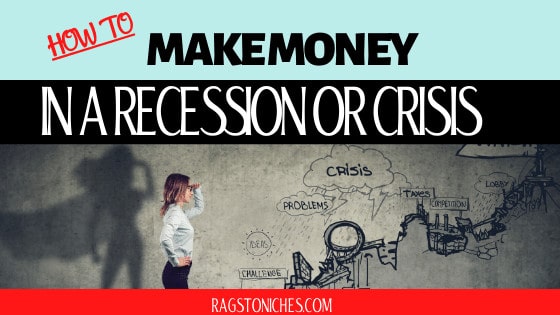 With all the worrying events going on in the World currently, it made me think about the potential of a Worldwide recession but also how people make money in a financial crisis in general.
Many people will lose their jobs and their business and some will feel in a desperate situation & need to make quick cash.
Many people who lose their jobs, or feel they are unstable; may be also thinking about alternative ways to make money in the future, or starting their own business.
It can take a crisis situation for us to take a real look at our lives and make a big change.
I've never felt more thankful that I made the decision to try and make money from home back in 2015. 
 It took me a really long time to start making even a consistent part-time income online, but what I have learnt from learning everything myself, from scratch, has been huge and continues to grow all the time.
The first way I learnt how to make money online, was via affiliate marketing. 
 I learnt about that here and there is a free course you can take there, if you want to learn more about it.
Over the years since, I've tried out various side hustles and I do think that by staying aware of current trends and new ways that people are making money online, has helped me to know about things sooner.
Because I have experience, I can also quickly figure out what is a real opportunity and which is not.
Whereas, people who haven't made money online before, may be worried that something isn't legit and they're also the most vulnerable to scams.
The only way to really know these things is via experience and that comes in time.
If you're interested in different ways you can make money from home, some of the posts below may help!
Some important things you need to do first!
– Sort out any immediate cash problems:
For example you could renegotiate interest rates on loans and credit cards. 
If there are any zero interest rates you can take advantage of and make some balance transfers, this could free up some much needed cash. 
If you're paying hundreds in interest and you have no balance transfer options and are unable to get a loan – talking to your creditors can help. 
You can explain you're going through a crisis and ask them to freeze interest for a certain amount of time, until you're back on your feet. 
You can negotiate a lower amount of money to pay back each month, depending how much money you have left after all your expenses.
– Abandon all unnecessary expenses:
How many subscriptions and services are really essential right now? 
From gym memberships, App memberships, TV service subscriptions & streaming services & expensive smartphone monthly payments, all these things really add up. 
Take a good look at all your outgoings and see where cuts can be made, you may be amazed at just how much you could potentially save by making a selection of cuts here.
For example; rather than upgrading your phone to an even more expensive model, you could keep the same smartphone and go onto a sim only deal for big savings.
– Make extra savings where you can:
Use cashback sites and apps that can save you a little bit of money.
While there are plenty of apps out there that can help you make a small amount of money, it's generally pocket money at best.
That being said, small savings can and will add up over time and have been a helpful boost for me.
My go-to site & app for helping me save money online and earn Amazon gift cards, is Swagbucks.
You can get an extra $5 bonus when you sign up, it's free and they have a great chrome browser extension which will alert you whenever you're on a website, where you can make money.
It's not just available to US citizens either, it is available in the UK, Canada, Germany, Australia, Ireland and India – Check them out here.
If you're in the US, many people also recommend the Ibotta app, for getting savings on your shopping – learn more here.
– Sell your Stuff!
This is the perfect opportunity to have a clear out.  
There's so much stuff we cling on to, that actually could be sold on Ebay or other sites for good money.  
You may even have things in your home that you wouldn't imagine that people would EVER want to buy either…  check out my Ebay post for examples.  
What about old gadgets, laptops, smartphones and appliances that are just gathering dust?
For example; I currently have several old broken laptops that could be sold for spare and repairs, a quality juicer that is never used & a couple of game consoles gathering dust…… and that's just for starters.
It can feel like an effort to list these things to sell, but it is generally a lot easier and quicker than you think.
– Build An Emergency Fund:
If you have the ability to save anything at all, building an Emergency fund should be a priority. 
Ideally, you should start saving enough money that you will be able to get by, pay rent and survive for several months – should the worst happen and you lose your job.
Around 10 years ago, my husband lost his job and I was at home with my one year old son. 
We had no emergency fund and were unable to keep up mortgage payments.
We ran up thousands in debt and had no choice but to sell our house and go back to renting.
Had we had an emergency fund to keep us going for at least a few months, we may have been able to avoid this outcome and be in a much better position today.
Being covered for 3 – 6 months is really the minimum amount we should all have saved up for circumstances changing that are out of our control.
Saving up this sort of money when you're living paycheck to paycheck is going to be a real challenge – but if you do have the means, then it's a wise choice.
– Micro Investing:
If you don't have very much money to invest, or are generally intimidated by the idea of investing then you could start out small.
Apps such as, Acorns App allows you to invest your spare change, save for the future and earn extra money.
It's been downloaded over 5 millions times and is rated at 4.5 stars on Google Play, with over 100,000 reviews.
However, I noticed some negative reviews recently regarding customer service and the fact you need to pay a small monthly fee.
However, it does allow you to save without even thinking about it – simply be rounding up your purchases and I love this idea.  Find out more about Acorns App.
Short Term Ways – To Make Money Quickly:
Making money in the long term will take some planning and isn't going to happen overnight.
Therefore, if you're really struggling for money right now, you might want to look into some short term ways to boost your income right now.
I've linked below to a post that shares with you 11 ways that you can generate some additional money.
Read: 11 ways to make money fast right now.
What Now?
After you've got your basic financial concerns in control and you've started building your emergency fund, you can start looking ahead.
If you have no work at all & are not just worried about losing your position – the most important thing is to get into work.
You need to find a way to cover your basic expenses, as quickly as possible. This may mean, taking a job that pays lower than you're used to.
It may be that you're hoping to build your own business right now, but with zero money coming in, the stress would likely lead to you making poor decisions.
While some people thrive on this type of stress and can make it work, many people would find the stress negatively impacted their progress and their mindset.
For example; once I recently started having success in a new side hustle, it completely took the stress off some of the other areas I was struggling.
Rather than feeling frustrated and resenting the time I had to spend on certain tasks, I started to enjoy them once the pressure to make money was removed.
By having an income to at least cover your expenses, you will be able to enjoy the process of building your business.
Of course, you can still set aside time to start your business while you're also seeking employment.
Online Business Vs The "Real World."
Once your basic expenses are covered, I would recommend thinking about creating some kind of online business & income.
WHY?
Here are some reasons I would opt to creating an online business, rather than a brick and mortar business….
Generally, starting an online business has very little start up costs.
Starting an online business can be incredibly low-risk.
You can build an online business & run it, from anywhere in the world with an internet connection.
Online businesses are less "hands on," – many options can continue to run and make you money, without you constantly being present, or working. You have to put a lot of work in initially, but the goal is to build up passive sources of income.
You can usually turn a profit with an online business FAR more quickly than a business in the real world. Partly this will be due to having fewer expenses and overhead costs.
Over time you can build up more than one online business, that could potentially be just run by you, or a relatively small team.
What Sort Of Online Business?
There are so many different ways you can generate an income online.
The types of ways that I would recommend above others, are ones whereby you will eventually be able to generate passive income.
That means, the work that you initially put in, can pay you multiple times over – with you doing only a small amount of work to maintain it.
Some examples of this could be…….
– Building a blog or a website.
I recommend your website or blog is on a topic about things that people will always be interested in, or helps them with a problem or need they have.
Whatever business you have, having a website to support it is also a good idea & offers opportunities for additional income streams.
Popular ways to earn from your blog include: writing sponsored posts, affiliate marketing, paid advertising & developing your own products.
Read my complete to starting a blog guide here.
– Writing/creating/publishing books online.
You create a book once, you get paid multiple times over as it sells.
It's possible to completely self-publish your book for free online and publish it on Amazon.
Personally, I have focused on creating low content books, such as diaries, log books and guided journals and this is currently one of my primary sources of income.
Now that I have a portion of books that sell well, I don't have to continuously create books in order to have an income come in.
Actually, this month, I have barely uploaded anything, but continue to make sales and that can be extremely helpful when you're unable to work.
It's not for everyone, but if you're a creative person and love the idea of self-publishing, it could be for you.
– YouTube.
Building a YouTube channel is a long term venture and best done in combination with having a blog or website as well.
YouTube is far less competitive these days, in comparison to blogging for example, because people are still less keen to be in front of a camera.
The thought of thousands of people watching & judging is enough to turn many people off the idea.
But if you aren't camera shy and have something to share that you feel would help or entertain others…… Why not give it a go?
See how some are making money on YouTube.
– Starting an Etsy shop:
While I don't think you should completely rely on one platform to make money, they can be great used in combination with other income streams.
Some print on demand services can connect to Etsy so that you can, for example, upload designs on to clothing and have it printed & shipped to your customer.
There are also opportunities to build up some largely passive income here too, by selling digital products.
For example, by selling printable download products, or even things like digital planners.
If you're more into creating and making things, Etsy is a great platform too, (although this is more hands on and not passive).
If you're interested in making things to sell online take a look at: 10 DIY craft ideas you can sell on Etsy.
– Build A Business With Amazon:
there are so many ways to make money with Amazon, I thought I'd bundle them up here.
I don't think you should entirely rely on Amazon for your income, so this should also be done in combination with something else.
Read: 8 ways to make money with Amazon.
The above post also includes another way that I've made money with Amazon, which is via Merch By Amazon.
This is where you can upload designs to them and post on to the Amazon platform to sale on t-shirts & some other clothing items.
If an item sells, Amazon will print the design and ship it to your customer and you will earn portion of the profits.
I've certainly struggled with Merch in recent times, which again is why I wouldn't recommend entirely relying on one platform for an income.
Even if all the other platforms closed down, I would still have my website for example, which is why I feel building your own brand/blog/website & audience, is the best long-term plan.
I started my very first website here & the training helped me to get started and understand how to first make money.
These Options Only Scratch The Surface Of What Is Possible:
The above is simply a very small selection of ideas that I have had the most experience of, but there are far more possibilities out there.
These are 10 of the main side-hustles I've tried – some worthwhile, some not so much!
Don't forget too, that one of the best ways to get started is to base your business around something that you love…. What are your hobbies & interests?
If you're still looking for more ideas still, I wrote a post outlining 40+ ways you can start making money online here.
Whatever path you take, just remember that it really does take time and you shouldn't be lured into short term quick fixes.
While some things may bring you success quicker than others, all will require work, persistence and long-term dedication.
If you have any questions at all, let me know in the comments!
All the best!
Pin Me For Later: