Today, I'm going to outline some surefire ways that you could generate some extra income during the Christmas period, (and beyond!).
I'm updating this post for 2020 and it's certainly been an interesting year… In many ways, it feels like Christmas was just yesterday….
And yet, who could have predicted the events that were about to unfold, when we merrily welcomed in the New Year?
While Christmas may well be very different this year, it could well be that families need to make some extra money, more than ever before.
Apparently, the average Brit spends over £800 during the Christmas period and the average American spends over $900.
As a result, many families feel there is no option but to go into debt and a large number do! (I know I have many times).
But what if you could make extra money to cover the costs? 
Perhaps you could make enough money to pay for the big food shop… .some presents… or enough to stock up on wine and spirits for the festive season!
Sounds good to me, so let's dig in!
Useful Related Posts:
#1 Cashback Online:
An essential way to make back some money back this Christmas –  is through cashback.
This is where you can get a percentage back on your purchases.
My #1 choice for this is going to be Swagbucks.
It's free to join an their handy browser extension notify's me of any cashback available to me – at any website I happen to land on.
There is also other ways you can earn there via surveys, surfing the net paid offers.
Lastly, you can earn from referring your friends and family to – you can earn 10% of anything they do for life.
Useful Related Options:
#2 Find Out Awesome Deals – With Honey:
I do love a good chrome extension and one of my great new browser extensions is called honey!
How does it work?
Well, you can go directly on to their website and find any discount deals available at all your favourite stores online, (simply by searching them up).
However, the really cool thing is…  That when you have the browser extension, Honey will notify you whenever there are deals available on the web.
When you arrive at the checkout at thousands of stores online, honey will notify you of all best deals available.
Often it will say there are several deals available and it will find the best possible one for you.
It's brilliant, never will you have to miss out on a deal again!
What's more – you can earn $5 for every friend you recommend honey to.  
And who wouldn't want it?  A free browser extension that can both make and save you money…. seems like a no brainer….
#3 The Highest Paying Survey Site I've Found – Prolific!
This is really a find and it still seems that not enough people know about this site yet, (at the time of writing).
A UK based site, but accepts people from many countries. 
You're paid in pounds, but it's no problem because you're paid into PayPal, (and can easily change currencies from there).
I don't know of any similar sites that have a set minimum wage – they can't pay less than £5 per hour.
So, if you do a 30 minute test, they cannot pay you any less than £2.50 to do it, (around $3.19).
In my experience, I've had far shorter tests pay well though.
Also… the HUGE bonus is, you won't be screened out from these surveys and the surveys are all really interesting.
This is because the surveys are created for academic research purposes, (so they're not just companies looking for info to increase their profits!).
It's a great site, but you do have to be incredibly careful how you answer questions. 
If they don't think you're paying attention – they will ban you very quickly. I should know – they banned me!
I've joined and participated in hundreds of survey panels and this is the very first time I've ever been banned.
However, it's like they do try hard to trick you with the type of questions they ask – to ensure you're 100% concentrating.
Understandably, they only want those people that are 100% concentrating and focused on what they are doing and they seem to have zero tolerance otherwise.
But I continue to recommend them, because I'd never been paid so much from a survey before, nor had I enjoyed them so much.
It is a way that you can make money on the run up to Christmas… but be very careful your answers don't conflict!
Other Useful Posts:
Pin Me For Later! 🙂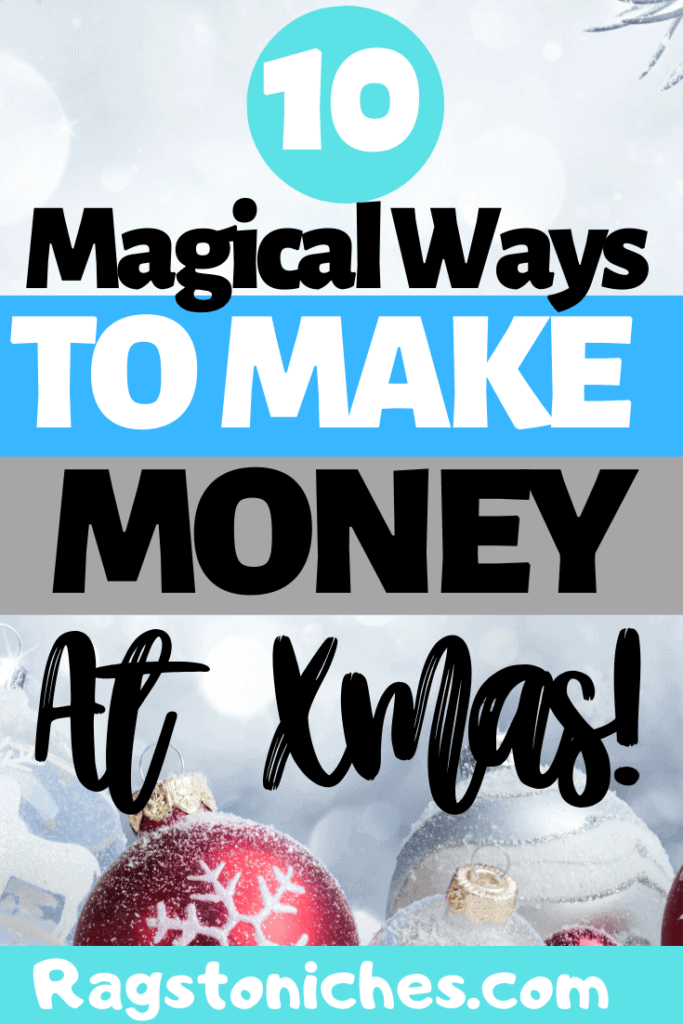 #4 Make Christmas Related Items On Etsy!
If you're good at crafts, (or even if you're not frankly…) there is bound to be something you can create and sell on this platform.
There are TONNES of YouTube tutorials online, showing you exactly how to create homemade items that you can sell on.
So, even if you have absolutely zero talent, you can certainly learn.
I had a little look on the Etsy store and these were some things I found….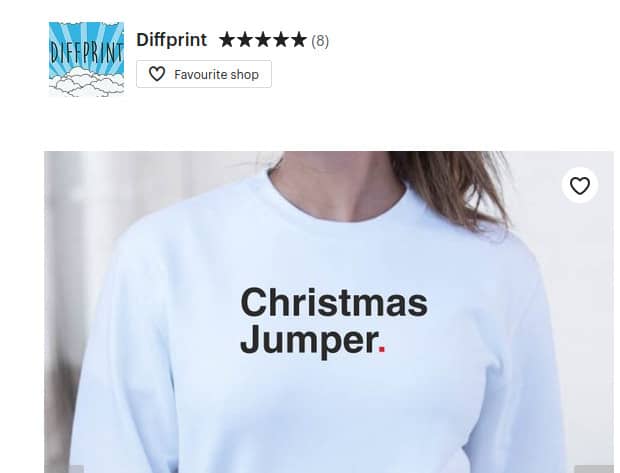 Nope…  As you can see above…  you don't even need design skills to sell on Etsy!
There are lots of plain text design shirts and clothing items that sell well on Etsy.  
And you don't have to print and distribute the shirts yourself either!   
You can sign up for free for a print-on-demand service like Printful, which you can integrate with Etsy.
You simply upload your designs to Printful, (which you can create easy with something like CANVA) and THEY will do the printing and the shipping.
If you prefer something sightly more creative, but still simple…. What about something like this!?
This would be a simple item to create and there are lots of other items you can check out… Just have a browse on Etsy below.
I'm not going to pretend that you can just jump on Etsy and start selling, but it's definitely something to consider in the long-term too.
Take a look on Etsy and take a look at items that you may be interested in creating.
If you have no idea how to do it, I suggest you check out YouTube for step-by-step tutorials.
This Etsy tutorial is really helpful, if you're interested.
Another idea for selling on Etsy, would be to design and sell printables – I wrote a post about Etsy Printables here.
#5 Sell Your Old junk:
Christmas is the PERFECT time to have a clear out.
Also, do your kids have Xmas related items, like Christmas jumpers, or Xmas PJ's that are now too small?
This will be the ideal time to sell them on, as people will now be looking on Ebay.
It's also a good opportunity to sell old unwanted toys, or ones your kids have outgrown – as this will be exactly when people will be looking to buy and make some savings.
If you can't be bothered to list things on Ebay – Music Magpie will pay you for your old DVDs, Tech items and even Lego… 
But you don't have to worry about listing things and postage and packing, Music Magpie will actually come and collect your items, from your home!
While you won't get as much as you would selling it yourself, it's a way to get rid of your junk very easily and make a small amount in the process.
Learn more about Music Magpie.
Useful Related Posts:
#6 User Testing:
Usability Testing is a really great little side hustle, that not enough people talk about.
Sites like User-Testing pay you to complete small tests on websites and provide feedback about them.
This feedback helps the website owners to improve their sites, (many of which may not be fully completed when you do these tests).
You need to be able to record your screen and your voice – User-Testing are able to record your screen, but you will need a decent microphone.
You get paid $10 per 15 minute test completed and you will receive a star rating.  The higher the star rating you achieve, the more tests you will be sent.
There was a time when I wasn't always sent that many, now I'm sent loads of them and don't have enough time to check them out!
So, if you have a little extra time on your hands, I recommend you check it out.
They also have some tests that you're able to complete on their App.
Learn more about User-Testing.
Useful Related Posts:
#7 Job Spotter App
I talk about lots of Apps over at this post and one is the job spotter app.
It's really only worth doing if you are in a fairly large town, or city…  but you can get paid for snapping job Ads in shop windows and uploading them to the App.
You may make roughly around $1/£1, but it will vary.
Seeing as it's Christmas, lots of companies are looking for extra staff at this time of year and it could be an additional way for you to earn a bit more.
You can then get paid in Amazon vouchers.
Find out other ways to make money with Amazon here.
Learn more about Job Spotter App
Useful related posts:
#8 Sell Low & No Content Books On Amazon
I started selling low content books seriously on Amazon back in October 2019.
I was fortunate enough to see my first sales that very month and in the month of December, I made close to $1000 – just three months after putting in the effort.
Last month I made over $2500 and had my highest month yet.
Low content refers to things like activity books, guided journals and planners. No content refers to things like lined notebooks, bullet journals and sketchbooks.
You design the covers and interiors – upload those files on to amazon and they take care of all the printing/packaging and shipping to your customer.
Your books appear on the amazon platform — and it's all FREE! You simply make a commission, when a sale is made.
Therefore, this is one of the limited opportunities that exists whereby there are potentially zero start up costs.
It's also completely possible to start seeing a return, in your very first month.
Useful Related Posts:
#9 Make Money Selling Print On Demand Products:
As I mentioned via #8, KDP is a type of print on demand…. However, in this case I'm not talking about Amazon.
Merch by Amazon is one platform you could use, but it's not something you could do immediately, as you have to apply.
By print on demand – I'm talking about uploading your art work or designs on to various platforms and customers purchasing them on things like, T-shirts, mugs, dresses, Canvas, shower curtains, bags and much more!
Aside from Merch, the main platform I've recently fallen in love with is Redbubble!
Redbubble is completely free to join and they have a massive range of products that you can upload your designs on to.
Recently, I've had more luck selling on Redbubble, than I have with Merch – and with far less designs!
I personally made my initial sales within the very first month of trying and I'm sure you can as well.
I wrote a detailed post, showing how you can get started – right here.
Useful Related Posts:
#10 Make Money Writing Online!
You find many industries looking for extra workers over the festive season an the online world isn't so different.
You don't need to be an amazing writer to construct a blog post – but many bloggers will be looking for some extra help creating posts over Christmas, which can be the most lucrative time of year for many bloggers.
There are many ways to get paid for your writing beyond just blogging of course and I will link to some useful posts below that may help you to get started.
You could start by pitching to me! I am keen to find a writer that can help me with ideas and posts for my blog here — if you're interested, simply reach out to me via the contact page with your ideas and rates!
Useful Related Posts:
Will You Make Extra Cash This Christmas?
If you want to make money with these options, you may want to try a few in one go and see how it goes.
Obviously, Etsy would be the longer term plan and if you want a seasonal shop, you may want to create shops for other seasons as well, or in other niches.
The quickest way to make a smaller amount, would be to join Prolific, or User-Testing.
Some of the highest paying options, (in my experience anyway) have been self publishing and print on demand – although there is a learning curve involved.
Do you have any other ways you make money online at Christmas? 
Let me know in the comments!